You've probably heard of love languages, but they explain how you feel love not how you show your love. As a mother of five, I find that I'm in my element when I am in the kitchen preparing food for my family. There is something special about making a healthy meal that nourishes the bodies of my loved ones. It just fills me up and so, in turn, I pour my love into whatever it is that I am creating. One of our new favorites on busy school mornings is healthy Greek yogurt parfaits.
Make Your Own Parfait- A Breakfast Your Whole Family Will Love
This post is sponsored by FAGE; however, all thoughts and opinions are my own.
Breakfast is the most important meal of the day, it fuels your body and sets the stage for a good mood. It's also a meal I love to sit down for together before everyone hurries off to their busy days.
The trick is finding something that is nutritious, delicious, and easy to make because mornings in a house of seven can be super crazy. Thankfully, FAGE Total Plain Greek Yogurt sets the stage for my popular Make Your Own Parfait Bar. Double bonus if you take it outside- it honestly feels like you're on vacation.
How to Create the Perfect Kid-Friendly Yogurt Parfait Bar
The key to creating a nutritious and delicious yogurt bar that your whole family will enjoy is starting with a yogurt base with no added sugar.
FAGE Total Plain Greek yogurt has been my go-to for years. Not only does it have no added sugar but it is also protein-rich, is made with only milk and live active cultures, and it's non-GMO Project Verified so I feel great serving it to my family. And, they love the distinctively rich, creamy, and delicious taste FAGE Total Plain Greek yogurt is known for.
*A quick note about FAGE Total Plain Greek yogurt- you will notice it comes in three fat varieties FAGE Total 5% Whole Milk, FAGE Total 2% Low-Fat, and FAGE Total 0% Nonfat. Really there is no wrong choice you could match it to the type of milk you typically purchase or the diet you follow. We typically choose the 2% variety personally, but I have swapped it out for 5% and non-fat and we've all still enjoyed our parfaits.
Toppings!!!
With the perfect base at your fingertips, the rest is super easy. You just offer a variety of fruit toppings. Some favorites in our family include banana slices, blueberries, sliced strawberries, raspberries, apple slices, kiwi, and sliced peaches.
Then you want to set out something crunchy like walnut or pecan pieces, granola, toasted coconut, chia seeds, flax seeds, or your favorite cereal.
Lastly, I like to set out good quality honey either locally sourced (helps with allergies a ton) or high-ranking manuka honey which is said to have a stronger antibiotic effect (although the debate is still out if that's true). The only rule at my yogurt parfait bar is mom is in charge of drizzling the honey bc a little goes a long way.
My favorite thing about this super easy breakfast set up is it ensures I get to see each of my kids before they head off to school. I also love that it takes hardly any effort to set up and yet it looks amazing. And, of course, the kids love that they get to make their very own yogurt parfaits. They have competitions for most creative and best-tasting concoctions.
You can find FAGE Total Plain Greek yogurt at your local grocer. For a list of stores near you click here. Or to find more delicious recipes featuring FAGE check out these here.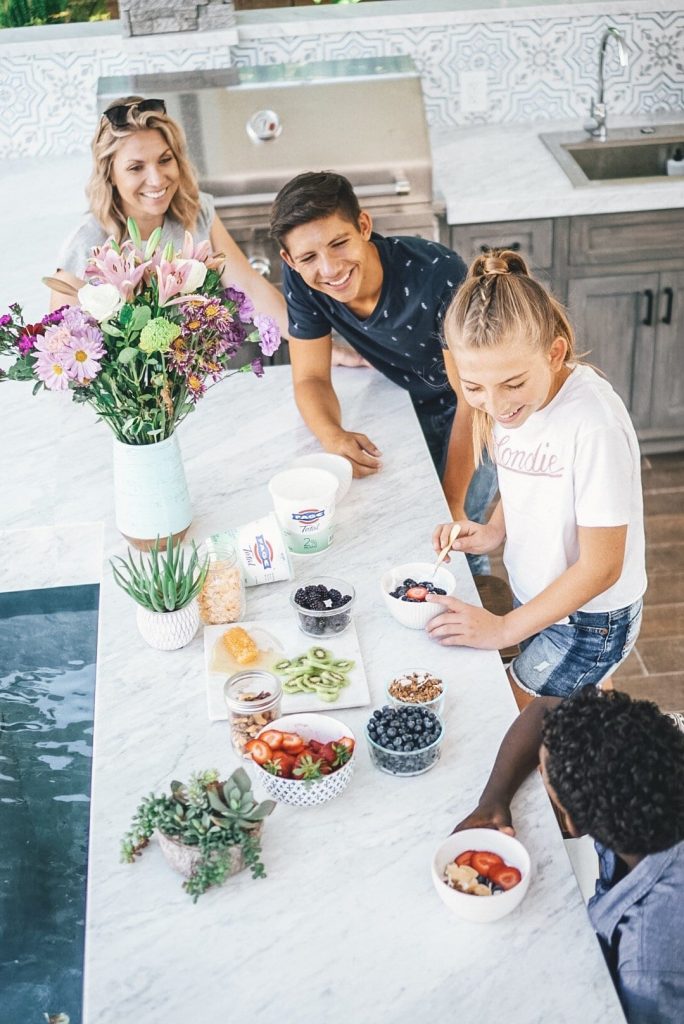 How do you show love to your family? Tell me in the comments below.