Thank you LG for sponsoring this post.
The amount of laundry that used to pile up in my house was insane! It was the one chore I never felt any satisfaction from because it was never complete, there was always more laundry to be done. That is until I finally made the decision to rehaul my laundry room complete with a brand new LG WM3900 4.5 cu. Ft. Front Load Washer and matching dryer. Total game changers!! Read how these incredible machines have given me my sanity back. Also check out Fresh Mommy Blog on how to turn your garage into a family friendly laundry room.
Got a ton of laundry? How my LG Front Load Washer (with TurboWash technology) has made my life way easier & cleaner!
Ability to handle big loads of towels
We added a pool to our backyard last fall and the one thing I hadn't anticipated was how much the pool would impact my laundry. The kids are constantly in the pool with friends with means I have a ton of towels constantly needing to be washed.
That is where the Ultra Large Capacity feature has made a huge difference. I now have the ability to toss in a big load of towels all at once, versus having to split the loads like I was doing with my previous washing machine.
This means fewer loads of laundry and that is something every mom needs in her life!
Reminders of when the cycle is complete
One of the features I have been using a ton and love is the SmartThinQ® app. This app is connected to my wifi enabled LG washer & dryer and it notifies me when a cycle is complete.
This tiny feature has made a huge difference in the amount of time it takes me to get the laundry done. The LG SmartThinQ® app sends a notification to my phone and also to the Alexas we have around the house allowing me to put a new load in pronto.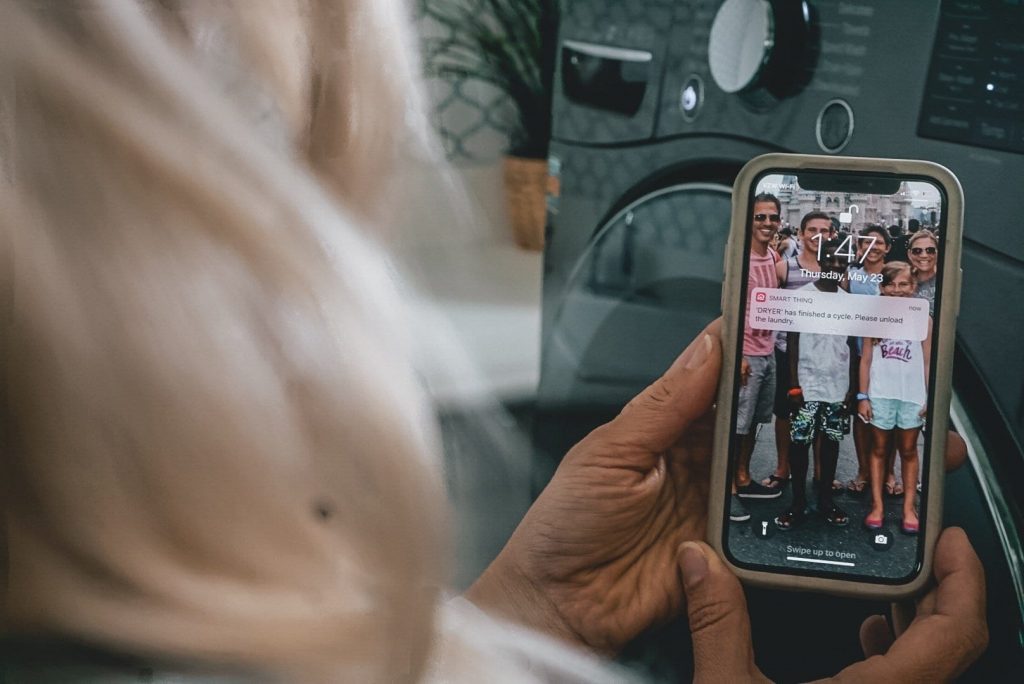 I am shocked by how much time my laundry used to just sit. Now I can get all 7 of our loads done in just a few hours over two days time. I can only do so much folding, otherwise, it would all be done in a day- ha!
The ColdWash™ Option
I have talked about sustainability and the importance of doing our part many times on the blog before because it is so important in order to preserve our beautiful planet for the next generations to come.
That is why the ColdWash™ Option makes my heart so happy. As badly as I wanted to wash our clothing on cold before it just never really cut it. I would try but the clothes would come out a little stinky still or stains would still be on the clothes.
Thankfully, LG gets it and with my new LG WM3900 4.5 cu. Ft. Front Load Washer I don't have to compromise having clean fresh-smelling clothes in order to help save the planet. The ColdWash™ option actually cleans just like warm washes normally do. And, you can use it with almost any wash cycle and with all types of fabrics too!
Sportswear Cycle
Another cycle I am totally obsessed with is the Sportswear Cycle. My husband recently joined an intense fitness Bootcamp which means our laundry is filled with stinky workout wear, so much so I legit had to buy a separate laundry basket for his Bootcamp clothes.
One day I was getting ready to throw in a load and I noticed the "Sportswear" Cycle on the washer's dial. I figured I would give it a shot. I am so glad I did because his Bootcamp clothes came out smelling super fresh. I was thrilled.
So now I have been washing all of the boys' athletic clothes on this cycle. I am pretty sure my happiness level has increased a good 20% because of this.
My guess is the LG 6Motion™ Technology is to thank. This technology uses up to 6 different wash motions ranging from a powerful Scrubbing motion that helps get rid of stains to a gentle Swinging motion that is perfect for your delicate items.
You can learn more about the features and technology of LG's WM3900 4.5 cu. ft. Front Load Washer here.
*Another tip for creating a clean-smelling environment is to use essential oils. I am loving this list of Essential Oil Recipes over on the Fresh Mommy Blog.
Don't Miss Out on the Upcoming Memorial Day Sale!!!
I am not even kidding when I say that my new washer & dryer have completely changed my life and my feelings towards the laundry. You can ask the kids, I literally smile every time I walk into my new laundry room to see those beautiful machines waiting to help me.
It's why I am encouraging you to take full advantage of the upcoming Memorial Day Sale event (ends 6.5!)! I want YOU to get the laundry room of your dreams for a great price so that you can start power cleaning those big loads in under 30 minutes.* (*see lg.com for more details)
With LG's WM3900 4.5 cu. Ft. Front Load Washer you'll be at the cutting edge of technology so that you can clean with confidence in less time. Check out where you can buy yours right here.
Are you happy with your current laundry room situation? Let's chat about it in the comments below or send me a DM on
Instagram
.
Latest posts by Mama Munchkin
(see all)