This post was created in partnership with Sylvan Learning. All opinions are my own.
Raising lifelong learners has always been a top priority for me and Mike. However, the past few years we have gotten a bit off track so when we were planning our intentions for 2022 we decided to put more effort into reigniting our kids' excitement for learning. 
Here are a few things that you can start implementing today to help increase your child's love of learning.
Daily Affirmations (+ FREE Printable)
Confidence is key when it comes to learning. Especially, when you have a child who is struggling, the last thing we want is for them to stop trying or not put forth their best effort. To help your child show up and do their best, try creating affirmations.
I started reciting daily affirmations with Olivia this past January. I do them with her each morning while I do her hair. I was surprised by how much a few sentences bolstered her self-esteem! I knew we were on the right track when her teacher mentioned that Liv was choosing to participate in the classroom much more.
Lately, I have taken it a step further. In order to help her confidence last throughout the school day, I started printing affirmations and sticking them into her lunchbox. 
Olivia has been so excited to come home each day and tell me what her affirmation for the day was. She usually follows it with a story of how she demonstrated those words at school as well. I seriously look forward to picking her up each day just to hear what she has to say.
Free Printable! Lunchbox Affirmations
Find A Mentor or Tutor
Another thing we did was reach out for help. My sister-in-law is a teacher and she has mentioned, on multiple occasions, that students often accept instruction better from people other than their parents. As parents, we are typically emotionally invested and our kids often are more stressed about letting us down.
Taking her cue, I researched online and found a nearby Sylvan Learning Center. I scheduled an appointment with the director and immediately booked an assessment for Olivia. I loved the idea that I would be part of a team along with Olivia's Sylvan tutor and together we would help support Olivia.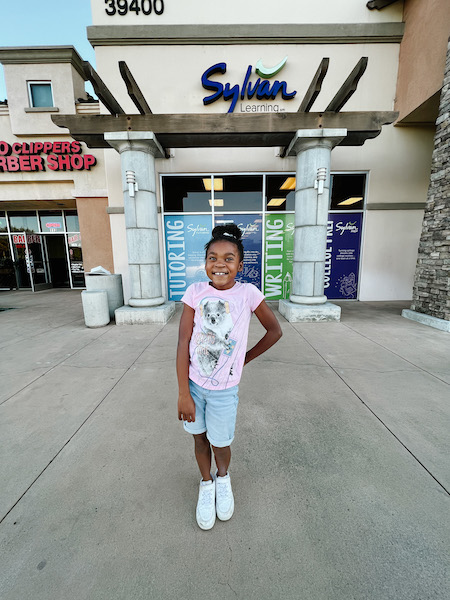 I loved hearing that Sylvan guarantees results and knowing they have worked with millions of families gave me the confidence to move forward.
Another reason I chose Sylvan Learning was the flexibility they offered. It is good to know that Sylvan offers effective support whether your child attends in-person or through live, online tutoring sessions.
Of course, affordability was also something we considered. And, Sylvan offers programs to fit a variety of budgets and they offer flexible monthly payment options and payment plans too!
Olivia has her first assessment this week to get a baseline of where she is academically in order for her Sylvan tutor to create goals. Liv will be reassessed after 40 hours of tutoring so that we can see her progress. I am really excited to see how much she will improve.
And, the best part is Olivia is super excited too! She loved visiting Sylvan with me and can't wait to go back. I will make sure to update you on her progress as we go.
Another neat program I learned about, that I am looking into for my teens, is Sylvan's Study Skills Program. With this program, students learn skills like time management, note-taking strategies, project planning, organizational tools, and more! 
After getting through high school with my oldest and sending him off to college this past fall, I have learned how important these strategies and tools can be when it comes to a student's overall success.
Homework Games
You know we love a good game (see here for our family chore challenges). Considering we were able to make chores fun, my husband decided to take on homework as well by creating spin-offs of our chore challenge games to help get our kids excited about homework.
The only difference is instead of playing to earn the chance at no chores now Liv plays for the chance to win prizes. She doesn't win every day but the idea that she has a chance keeps her motivated and in a better mood when it is time to do homework.
Prizes include fidget toys, pencils, and art supplies. She also can earn extra screen time, 30-minutes with mom or dad to do any activity she chooses, or she could win the opportunity to stay up an extra 30-minutes that night.
How do you help get your kids excited for school?