We recently went back to Maui for the first time in 2 years. Normally a twice a year visit for us, 2020 through everything out of whack, but we were so excited to be back and so excited to dine on Maui. There are so many things to do, wonderful places to stay, and of course so many delicious places to eat on Maui, so we are going to break down the best places to eat on Maui for many different types of meals.
Best Shave Ice – Uluwani's Shave Ice
Hands down the best shave ice in Maui and all of Hawaii in my opinion is Uluwani's. Uluwanis has the softest shave ice you will ever find and incredibly delicious flavors. Their flavors do not use any corn syrup, rather they make it their own using natural cane sugar. The water they use for their ice is triple-filtered to create that incredible soft ice everyone loves.
Uluwani's has 6 different locations on the island and one location on Kona.
---
Best Breakfast on Maui – Kihei Caffe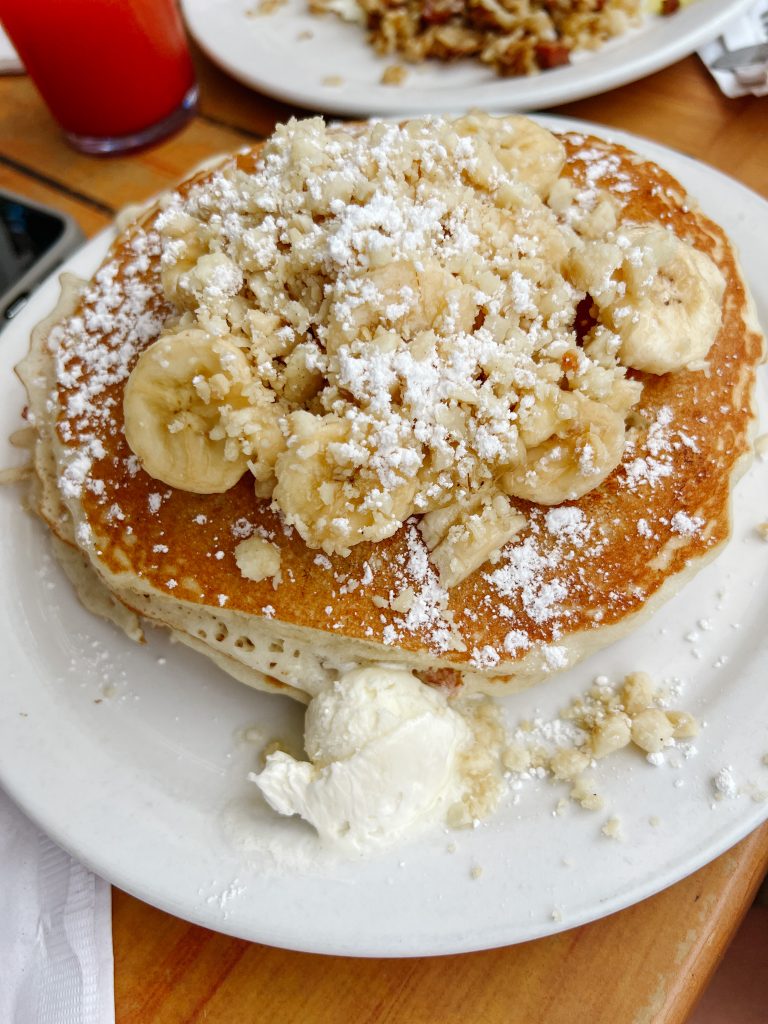 You will notice a long line as you approach Kihei Caffe, but don't let that discourage you as this line moves fast. Kihei Caffe is known for their Banana Mac Pancakes & French Toast, Pork Fried Rice and Loco Moco. Pro-tip, avoid the Huevos Rancheros, they aren't our favorite.
The ordering process is similar to the Soup Nazi episode of Seinfeld, as you should be prepared for what you are going to order before you get to the counter. This location is not your typical island pace, they move quickly and your food will come out fast. The food is very delicious and you can head next door to Island Java for some delicious lattes.
Kihei Caffe is located at: 1945 S Kihei Rd, Kihei, HI 96753
---
Best Fish Tacos on Maui – Coconuts Cafe
One of the best places to eat on Maui is Coconuts Cafe. They simply have the best fish tacos on the island. This is another place where you should expect a line, but once again they do move through the line very fast.
Not only are their fish tacos good, but their steak tacos are delicious as well. Coconuts Cafe has three locations on the island with 2 in Kihei. We recommend checking out the easy-to-see turtles in Kihei in the afternoon and then heading over to Coconuts for a delicious lunch.
---
Most Unique Restaurant on Maui – Cafe O Lei at the Mill House
This is my absolute favorite restaurant on the island. Cafe O Lei, has taken the old Mill house and converted it into a beautiful restaurant. You walk through a jungle-like trail as you approach the restaurant. Inside you will find a beautiful restaurant adorned with artifacts from the old mill including two train cars.
Not only is the setting amazing but the food is delicious too. I had the Macadamia nut glazed Mahi served in a Thai curry sauce and the blackened shrimp pasta is probably the best thing on the menu. You also have to try their calamari, it is by far the best I have ever had.
In terms of dessert, the banana cream pie is out of this world.
Cafe O Lei is located at – 1670 Honoapiilani Hwy, Wailuku, HI 96793
---
Best Pizza on Maui – Paia Flatbread Company
Sometimes you just want something simple and delicious to eat rather than an extravagant meal while on Maui. Our favorite place to grab some pizza is in Paia at Paia Flatbread Company. The atmosphere is great and their pizzas are delicious and they have some pretty unique flavors as well as the classics.
You are probably wondering why we don't have pics of this delicious place…. well we were a bit too hungry and completely forgot to take pictures. (sometimes, we aren't very good at our job)
---
Best Mai Tai on Maui + Best Restaurant in Wailea – Monkeypod Kitchen
Since we typically stay at the Grand Wailea in Maui, we spend a lot of time in South Maui in Wailea. Wailea has some pretty incredible restaurants, and Monkeypod Kitchen is the one that tops our list.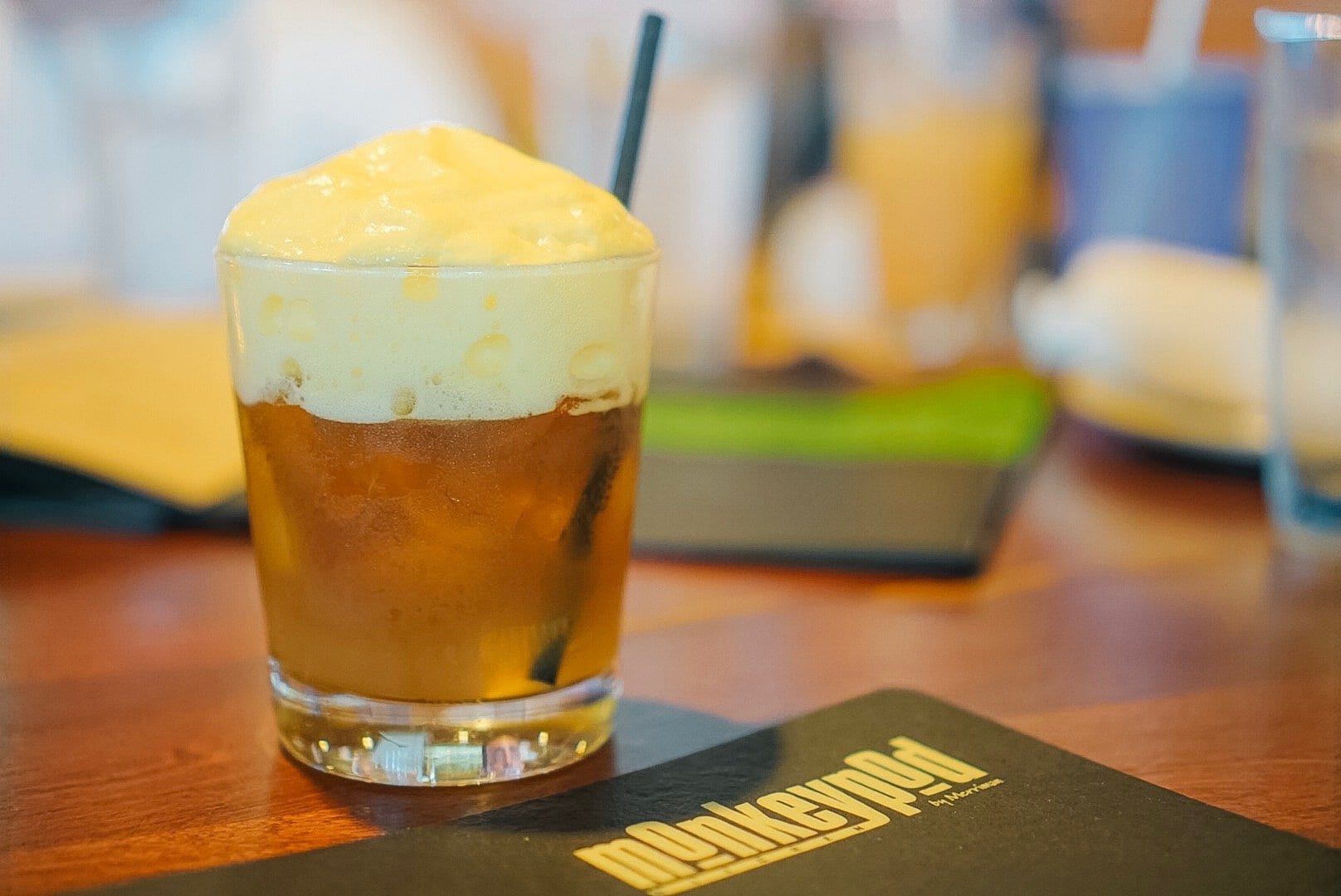 You really can't go wrong with anything on the menu, but you have to try some of their wood-fired pizza and handmade cream pies. They also serve the Best Mai Tai on the island (pictured above). The Lilikoi foam that tops the Mai Tai is simply amazing.
I also recommend trying the Pork tacos and their island fish sandwich. Head to Monkeypod between 3:30 and 5 pm to enjoy happy hour and get $10 pizzas, half-off appetizers, and $10 cocktails.
Monkeypod Kitchen has two locations on Maui, one in Wailea and one in Kaanapali
---
Best Restaurant with a view on Maui – Table 70 at Humu Humu
There are a lot of places to enjoy an amazing view on the island, but no restaurant quite matches up to the beauty of Humu Humu at Grand Wailea.
If you really want the best dining experience, I recommend calling to reserve table 70 which is considered to be the best seat in the restaurant, and let me tell you it truly is. You sit out on what seems like your own little island with some of the most spectacular views you can imagine. 
If you want this seat, call as far in advance as possible. Keep in mind that this does come with an additional cost, but is known to be an amazing dining experience always with a different 5-course meal and wine tastings.
---
Best Place to Eat if Price Does Not Matter – Mama's Fish House
I love Mama's Fish House, but in my opinion, it is so expensive that I can't justify the cost. The food is top notch and the view itself is ridiculous.
We used to visit Mama's every once in a while but they have raised their prices so much (probably because you have to book 4 months in advance) that we no longer dine here. However, if price does not matter, this is the place to go.
---
Best Place to have Fine Dining with kids
Fine Dining with kids seems like an oxymoron. However, the Hailemaile General store has a relaxed down-home feeling but with incredible fine dining food. It has a super relaxed upcountry Maui feel, but the food is out of this world. The short rib might be the best I have ever had in my life and you have to try their burrata cheese and tomato. You will often find the chef and proprietor, Bev Gannon, greeting guests.
This is a great place if you want fine dining in a relaxed atmosphere, perfect for little ones as they have a large grass area the kids can play on when the kids need to get out some energy.
---
Have a Place You Love to Dine at in Maui, let us know in the comments.
You Might Also Enjoy:
The Best Luau in Maui [Here are the top 5 choices]
Maui Snorkeling – 5 Amazing Spots to see Incredible Fish & Turtles