Who needs an ugly Christmas sweater when there are so many options for ugly Christmas tee shirts out there? Well maybe most of the country would prefer a sweater, but here in the sunny states, we're preparing for a warm Christmas. We are ready for fake snow machines, a sandcastle snowman, holiday flavored iced coffees, and of course 25 of the best ugly Christmas tee shirts. We have all the bases covered with this list from the classics to shirts for sports lovers to the best jokes of the year.
25 of the Best Ugly Christmas Tee Shirts- Perfect for a Warm Christmas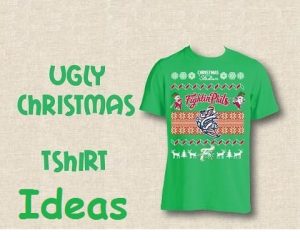 Unless you are hiding under a rock, you have seen this new dance move take over. (I wish I was hiding under a rock after seeing my husband attempt to perform this dance) You have got to love Santa and his reindeer demonstrating their "flossing" on this tee. Available on Amazon
---
Being single during the holidays can be pretty tough, but we say it's best to just embrace where you're at in life! That's what makes this one of the best ugly Christmas t-shirts. Well that, and of course the fact that it will keep all those lingering questions from your aunts about your relationship status away. Available on Amazon
---
Sometimes you just need a shirt that says it like it is. This shirt comes in 5 different colours with the classic sweater pattern in the background. Available on Amazon
---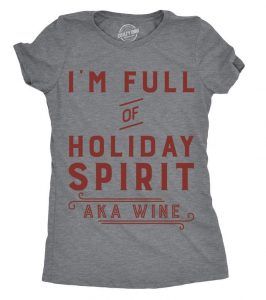 We all know that wine is what gets moms through Christmas. In fact, we think it might be the very source of all their holiday spirit. Available on Crazy Dog Shirts
---
 Just because you are having a warm Christmas doesn't mean you have to leave behind your usual Christmas look. This shirt looks just like the ugly sweater your great aunt always knits for you, except considerably less itchy. Available on Amazon
---
Your kiddos will need an ugly Christmas t-shirt too, of course! We can't lie though, this one is actually kind of cute. Available on Amazon
---
 Warm Christmases are still festive, even Santa himself agrees. We love this cozy women's plus size t-shirt from Old Navy. Check Current Price Here!
---
 'Tis the season for all your favourite Christmas classics. We know you will be putting all your usual Netflix programming on hold, but there's still plenty of chilling going on. Available on Amazon
---
 Tell it like it is. We love a sassy Santa Claus. Available on Amazon
---
 You might be obsessed with cats year round, but the holidays are an extra special time. Merry Catmas to you! Available on Amazon
---
 Santa rocks the dad bod and now you can rock this perfect t-shirt for your warm Christmas. Available on TipsyElves
All your favorite Christmas characters on one t-shirt… dabbing. It comes in men, women, and youth sizes so the whole family can sport this one. Available on Amazon
---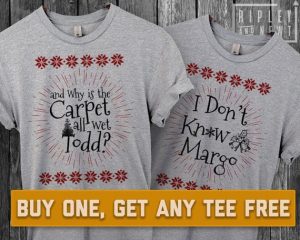 There is always that couple at holiday get-togethers. Bring out your inner Todd and Margo and be thankful your family isn't quite as crazy as the Griswolds. Available on Etsy
---
Reaching home for Christmas is almost as sweet as reaching home plate in a game. Available on Amazon
---
 No need to walk around the Christmas tree when you can go guac'n instead. After all, it's always a good time for an avocado. Available on Amazon 
---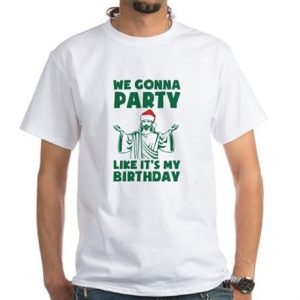 Any birthday is cause for celebration, but of course, the birth of Jesus is cause for the biggest celebration of all. 
---
 To Do lists aren't any fun usually, but we think the Grinch pretty much had it down. Check this one out. 
---
 Elf is hands down one of the best Christmas movies, so you can't go wrong with this tee. Anyone who doesn't like it is a cotton headed ninny muggins. Available on Amazon
---
 Another Elf tee for your warm Christmas. Son of a nutcracker!! Available on Target
---
 This tee has the typical ugly sweater pattern, but if you look just a little closer you'll see some robots have been added to the mix. The perfect addition for all tech lovers. Available on Amazon
---
 According to my teenage son this t-shirt may, in fact, be the greatest of all time, and also one of the funniest. Available on Amazon
---
This one kind of grosses us out, but we can't deny how funny it is. This link will take you to a couple different options, but our personal favorite is the fake deep v-neck t-shirt that gives the illusion of a considerable amount of chest hair. Available on Groupon
---
 Old Navy has great tees for every holiday, and this gingerbread and milk shirt is one of our absolute favourites ever. Available at Old Navy
---
Well, I guess you could say our list ended in the toilet. Moms of boys, this is one you have got to check out. You probably don't usually support poop jokes, but in the name of Christmas humor, I think you will make an exception for this shirt. Available on Amazon
We hope you enjoyed our list of ridiculous Ugly Christmas Tee Shirts! If you have any other great options let us know in the comments.
You Might also Enjoy!
7 Amazing Things to do at Mickey's Very Merry Christmas Party 2018!
Top 7 Things to do at Knott's Merry Farm This Holiday Season
Why Universal Studios Grinchmas is the best time to visit Universal!
Pin for Later –
Latest posts by Mama Munchkin
(see all)