Luxury, speed, versatility, and functionality all wrapped up in one trendy vehicle. That is how I would describe the new INFINITI QX30 AWD after having driven it on our recent road trip to Buena Park. Truth be told I have been a total INFINITI fan ever since I purchased my first car from them, an M45 back in 2006. Our family grew and we eventually had to trade the M in for a larger vehicle. We owned or leased several luxury suv's before finally getting wise and purchasing our second INFINITI this time the big daddy, better known as the QX80. Man did I LOVE that car. It was everything!! Although, when push came to shove and we were in the process of adopting Olivia I could no longer afford my beautiful car + the adoption so we had to sell it. So, when INFINITI contacted me and asked me to test drive the QX30 AWD you can bet I jumped at the chance. Anything to get back behind the wheel of an INFINITI. Check out how this model handled with a family of 5.
Road Tripping in the NEW INFINITI QX30 AWD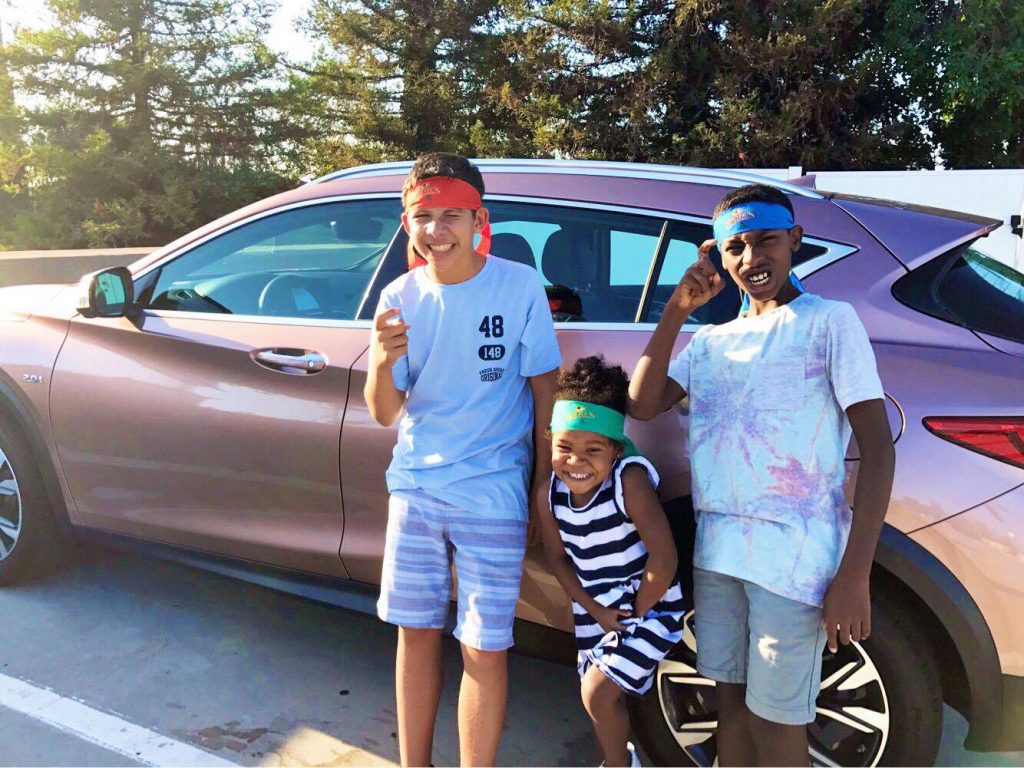 Moms will love the QX30 AWD by INFINITI for its sleek look, superb handling, top-notch safety features, and functionality. This crossover SUV packs in a whole lot of punch in its tiny frame including a standard 208-horsepower 2.0-liter turbocharged engine, available Intelligent All-Wheel Drive, standard panoramic moonroof, and purposeful design with 34 cubic feet of cargo volume.
Check out the features we loved after driving this car for a week including on a 2-hour road trip with three kids in tow.
5 Features I Loved on the QX30 AWD from INFINITI
1- Push Button Ignition & Keyless Entry
With the INFINITI Intelligent Key Fob you can not only lock and unlock your vehicle with the push of the button but you can also start & stop the engine without having to use a key as well. And, while this has become pretty standard on most luxury vehicles these days I think it is worth noting because, for a mom, the ability to unlock the car door and start the engine without having to dig through a diaper bag or purse is a major bonus!! Plus, on the INFINITI you can set the mirror and seat position settings  per key fob allowing the car to automatically change the configurations depending on which driver hops in the car. Pretty sweet!
2- Around View® Monitor with Moving Object Detection
This optional feature is worth every penny! I loved using the Around View® Monitor with Moving Object Detection. It allows you to see 360 degrees around the entire vehicle in drive under 5 mph and when you put the car in reverse which is super helpful when you are trying to park the car or back out safely without running over anything the kids left in your path. The moving object detection (aka MOD) is also magnificent because it could literally save lives. The MOD detects moving objects to help you maneuver in parking garages, parking lots and more. I could see it being useful while backing out of my own driveway with as many kids as we have in our neighborhood. I also loved their other available QX30 safety, security and driver's assistance features including Blind Spot Warning, Lane Departure Warning and Forward Emergency Braking too.
3- Power Adjustable Front Seats (8-Ways)
Comfortability is huge for me with all the driving I do shuffling the kids around town for school + sports + all the road trips we love to take. So I was super impressed with the available settings to customize the front seats in the INFINITI QX30, eight to be precise, plus a 4-way lumbar system on top of that. And, if you opt for the Luxury and Premium grades you also get heated front seats as well. Much of that comfort is thanks to an advanced seat design utilizing INFINITI's spinal support research and "Zero Gravity" technology. I felt like I was driving on a cloud!
4 Easy to Use LATCH System Anchors
As a parent of a three-year-old, I am always interested in the vehicle safety features including how easy the LATCH system is to access. Unlike so many vehicles that tuck their LATCH system anchors into the seat making it hard (read as nearly impossible) to find. I applaud INFINITI for designing them in a way that makes it incredibly easy to safely and securely latch a child's car seat into place.
5 Ample Trunk Space

Ample trunk space is a must for parents and I have to say the QX30 AWD totally exceeded expectations when it came to trunk space. I was very pleasantly surprised when I opened up the back the first time to find as much space as I did. We were able to fit a full-size stroller, large suitcase (enough to fit a weekend's worth of clothing and essentials for a family of 5), plus several tote bags and a laptop in the back without any problems. There is also a compartment in the second-row middle seat that can be opened for transporting items such as skis. If you fold down the second-row seats, which lay flat, you get a total of 34 cubic feet of cargo space. Not bad for a small crossover.
Who Should Buy a QX30 AWD
The INFINITI QX30 AWD is a fantastic car for small families (parents + 2 kids), singles, couples with fur babies, and retired couples. It would be an ideal first SUV for millennial families looking to get out of a sedan but who aren't willing to commit to a larger SUV quite yet. As well, as families living in big cities where a parking and getting around in a larger vehicle prove to be very difficult. The QX30 crossover design maximises its space very well, and thanks to the standard panoramic moonroof it also feels very open and spacious inside too.

Overall
A luxurious ride with a host of safety features, top-notch technology offerings and stellar look this crossover is sure to turn heads while keeping you and your family comfortable and safe. The INFINITI QX30 starts at $29,950.00 MSRP and is definitely worth a test drive.
Learn more about the INFINITI QX30 AWD + all the other gorgeous INFINITI models on their website here.
*Disclosure- I received a media vehicle from INFINITI for the purpose of this review. All thoughts and opinions expressed above, as always, are 100% my own.