I kept clippings from magazines tucked away in a folder that I kept in my dresser for the past 17 years. When we purchased our home it was brand new from Lennar and it was one of the "Everything Included" homes so while the kitchen came with upgraded cabinets and granite countertops you weren't allowed to make any choices on the color palate. So, while I was grateful to have such a beautiful new home I always dreamed of a white kitchen. After 16 years I finally made that dream a reality!
Above is my remodeled kitchen it is bright, white and feels super open and inviting and it actually has enough space for not only my whole family (all seven of us) but we actually have room for guests too.
In order to accomplish that feeling, we had to work with our trusted contractor AGC Built to remove a weight-bearing wall between our old dining room and kitchen to create one massive open kitchen space. But, as you can see from the video below the cost and hassle of removing the wall were so worth it. I can't even begin to tell you how much more inviting our kitchen is now and I love all the additional lighting it has allowed.
Watch our Coastal Farmhouse Kitchen Video Reveal
Key Features & Appliances We Love In Our Coastal Farmhouse Kitchen
One of my favorite features in our newly remodeled Coastal Farmhouse Kitchen is this custom faux-finished island. Not only am I OBSESSED with the gorgeous faux-finish and the way that the wood tones warmed up the cool white cabinetry, but this microwave drawer was a total win with the kids.
With five kids, the microwave gets used quite a bit. Previously we had the over the range microwave hood and one thing that always bothered me was the kids trying to reach up and grab hot food. I always felt like they were going to get burned.
With the microwave drawer, the kids can reach all of the buttons with ease and they can safely remove their food which makes my life a lot less stressful. The only thing I wish this microwave did was to have a turntable inside. Instead, we have to rotate the food ourselves.
I did purchase this heat-resistant nonslip mat which I love and, this Microwave Mama lives up to its Amazon reviews helping to keep the microwave clean. I highly recommend both.
Let's talk dishes- I hate doing them! So, when we were looking at dishwashers I knew I wanted something that wouldn't require pre-rinsing- and since our family room is right by the kitchen I also wanted something super quiet. This Monogram Dishwasher is incredible!!!
Not only is it quiet but it's also super-efficient with 90 powerful jets to get every corner leaving your dishes sparkling clean! I also love the 3rd rack. It is convenient and adjustable, easily accommodating an entire flatware collection, plus carving knives, soup ladles, and other cooking, serving tools for the ultimate clean.
Next up is the range. Initially, I had wanted to squeeze in a double-oven since Ella and I love to bake. But, we just couldn't make the traditional one oven on top of the other style work, so when I saw this Monogram Freestanding Double-Oven I fell head over heels in love with it!!

The smaller (every day) side oven turned out to be a huge win because it heats up super fast and so the kids use it to re-heat food all the time. It is also just the right size for 9″ x 13″ casserole dishes which is perfect for holiday baking too.
The Caterer's oven is uniquely sized to accommodate three full-size sheet trays. Which saves me a ton of time on my famous Sea Salt Chocolate Chip Cookie recipe. I always bake huge batches and with the even heat distribution thanks to the reverse-air convection technology and six heating elements I get consistent baking results on all three heavy-duty full-extension racks.
Now let's talk range. I am a bit obsessed with the Monogram Freestanding Double-Oven's range because it delivers a full spectrum of heat settings, from an ultralow 140°F simmer to intense 18,000 BTUs. One of the grates can also be flipped for use with a wok which is super fun to use.
Design Elements- Backsplash & Custom Cabinetry
After we chose our appliances, which you will want to pick first to ensure all of the spacing for our design it was time to pick materials. As I mentioned in this article here backsplash can be tricky. We wanted something that would be easy to wipe down and also something that looked great.
I really love the tile we ended up choosing from Jeffery Court Tile (you can find it here). I went back and forth on some fun mosaic pieces but I wanted to make sure out kitchen looked timeless. While they are subway tile-like which is a little played out they are unique in their texture and glaze.
Another design element I am super happy with is our floating shelves. It took some convincing to get my husband on board but we couldn't be happier with how they turned out. They make the kitchen feel so much more open and the wood tones warm it up a bit too.
One thing I love about working with a craftsman that specializes in kitchens is the customization opportunities like this pull out column spice rack. I have one for each side of the double-oven so I keep savory spices on the left and sweet on the right. It comes in so handy.
I also have a slide-out rack to hold my cookie sheets and cutting boards. The convenience is amazing!!
Speaking of convenience this pull-out pan rack is the coolest. It stores all of my pans thanks to the deep pocket that had previously been wasted space. These little add-ons really helped us maximize our space which we needed badly because when we opened the kitchen up we lost some cabinet space.
I am almost done… one more fun pull-out we incorporated was for the trash cans. Again, totally in love with it. I initially wanted a trash compactor but our contractor advised us that they break often and are also really smelly. Turns out a house full of teen boys provides many happy helpers when it comes to taking the trash out. So, long as I feed them well 🙂
Since we lost some of our cabinets, our coffee bar and our walk-in pantry in the remodel, I needed to figure out a place for all of our snacks. I had this idea for a cabinet with shelving and a coffee bar with its own electrical outlets and I am so happy with how it turned out.
The cabinet also has three pull out drawers which are perfect for all of our snacks and canned goods. To maximize this space I used these clear bins I got from The Container Store. You can read all about our kitchen organization here.
Our Farmhouse Sink
Now let's talk about sinks. I have been a fan of farmhouse-style kitchen sinks for as long as I can remember. So, I knew exactly what I wanted when it came time to choose, or so I thought. You can read about my journey to find the perfect farmhouse sink and learn all of the different things you should consider before making your purchase here.
I finally chose the BLANCO Profina 36″ Apron Front and I could NOT be happier. This gorgeous sink is not only beautiful but it is functional as well with its built-in ledge that holds a cutting board and dish drying rack.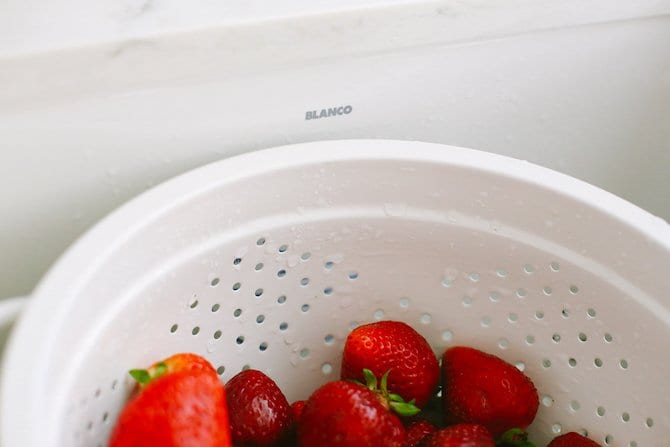 It is also made out of Fireclay which is cheaper than porcelain, offers a similar appearance, and it requires less maintenance. It was an excellent solution for our young family. Fireclay sinks are created using high firing temperatures and hand-finishing techniques. They are stain and chip resistant and have a luxurious appearance. To me, it was the best of both worlds and with the lifetime guarantee offered by BLANCO it was an easy decision.
Door Hardware (Knobs & Levers)
We were lucky in that our house came with pretty decent doors. However, our knobs were in bad shape after 16-years of use. They initially were cheap brass-colored knobs but, at one point years ago I sprayed them with Rust-Oleum for a faux rubbed bronze finish. Initially, they looked decent but over the years the Rust-Oleum had worn off and they were looking pretty bad.
So, I talked to my contractor (AGC Built) about switching out the knobs. He recommended Emtek Products. He said they looked amazing and always stood the test of time. Now they were not the cheapest option but I am all about bang for my buck and since I knew these would last we decided to splurge. I am so glad that we did our Emtek Helios Levers really elevated our doors and I couldn't be happier.
Let's Talk Flooring
After we figured out the layout and configuration of our kitchen the next step was choosing all of the aesthetics like flooring, backsplash, counters, hardware, and appliances. We knew the goal was bright, white, and airy which made many of our choices pretty easy but when it came time to flooring we really struggled for a while.
I knew we needed to ground the space because there was so much white. I initially started looking at tile but after bringing home a ton of samples nothing seemed to give us the coastal comfortable vibe we were after. Then we happened to stumble into Lumber Liquidators where we learned that hardwoods were actually an option.
Turns out while hardwoods are not recommended in bathroom spaces they typically do very well in kitchens. We brought a few samples home and one immediately stuck out to us as "the one".
To be sure we logged on to Lumber Liquidators Picture It technology which allows you to take a photo of your space and upload it onto the computer where you can click different flooring options and see a rendering overlay right over your photo allowing you to get a pretty accurate idea of what your finished room would look like. It was so helpful in making a decision.
In the end, we chose these large engineered wood planks from Lumber Liquidators. The brand is Virginia Millworks and the color is Barcelona White Oak. We actually loved it so much we installed it throughout our entire home (minus bathrooms). You can learn more about our floors and the myths surrounding hardwood flooring here.
Overall I could not be happier with our new kitchen. The space is so open & airy and the light flows through the kitchen making it bright and cheery. If you are considering a remodel and have questions please reach out. You can find me on Instagram– just DM me there or you can leave a comment below.
Full List of Products Featured (and LOVE)