*This post is in partnership with Oprah Magazine and Holland America Line Cruises, however, all thoughts and opinions expressed are 110% my own.
A Girls' Getaway becomes harder and harder to do as husbands and kids enter the picture but the truth is that is when you need that time the most. I realize this after escaping for a week on an Adventure of Your Life Cruise to Alaska with my best friend. Which turned out not only to be an adventure but also a restorative and transformational experience as well. Now I feel like I need to scream it from the mountain tops- mama's you need to vacation with your girls' & WITHOUT your hubby and kids and to make sure you understand why I have listed out 3 of my best reasons for you below.
3 of the Best Reasons to Prioritize a Girls' Getaway NOW
1 Connect with Yourself Again
As wonderful as marriage and kids are there are definitely sacrifices you make personally as you take on the role of wife and mother. Pair that with the demands of our fast-paced lives and years that seem to pass by faster and faster and you begin to lose pieces of yourself along the way.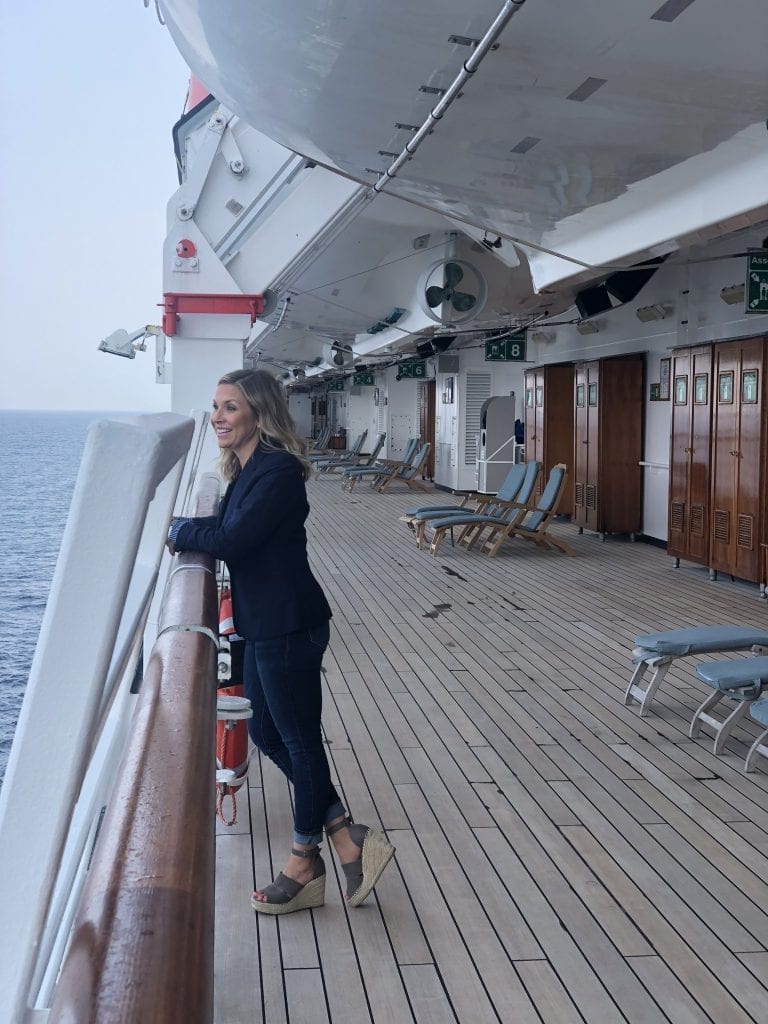 When you are given the chance to escape with your best friends the weight of those responsibilities falls off of you and instead of needing to be mother and wife you are, for once, only responsible for yourself again. I had no idea how restorative that would be.
You see, the truth is your besties are there to support you, laugh with you, share cute clothes & makeup with you, and stay up late reflecting on topics your hubby and kids probably care less about like the latest wrinkle cream you are obsessed with or how you would trade one of your children for a white kitchen with shiplap walls (okay, not really- but see your girls will understand you when you say that out loud- ha!).
The other thing about traveling with friends is most of the time they are okay giving you some personal space. I found quiet mornings reading my book with a good cup of coffee while gazing out at the raw vast beauty of Alaska was the perfect way to let my mind wander.
As I stared out those floor to ceiling windows at the gorgeous landscapes I found myself reflecting on my life. I pondered where I have been and where I wanted to go. You want to know something crazy? It was the first time I had the chance to actually realize some of my accomplishments things like a successful marriage, five healthy & happy kids, and a successful career as a business entrepreneur. I had been so busy with my head down laser-focused on getting ahead in life that I never had a chance to actually pause to realize, and celebrate, my successes. How sad is that?
After realizing where I had been I was able to concentrate on some of the things I wasn't very proud of in life- things that I wanted to improve on and/or prioritize moving forward. Things like building in time for self-care, putting my phone down more in order to be fully present with my kids, stress management, taking responsibility for my own happiness, and speaking up about things that made me happy, like turning off the tv and turning on the music while I make dinner each night- turns out when you ask your family is happy to oblige. I also realized how much I wanted to share what I had learned with other moms. How I craved that womanhood connection.
I know this insight would not have been possible without the amazing and lifechanging girls trip that I took with my best friend.
My trip on the Adventure of Your Life Cruise (a partnership between O, The Oprah Magazine and Holland America Line Cruises) gave me the time that I needed. I mean a week-long cruise to Alaska with the O, The Oprah Magazine staff onboard giving inspirational and educational seminars and leaving Oprah's incredible quotes on your pillow each night is pretty much the best way for any woman to re-connect and transform her life-right? (you should probably just go book yourself on one of their ships right now- before you read on. You can do that here)
If you are crazy lucky, like I was, you may even get the chance for a total makeover!!! Yup, that's right I took place in the O, Beautiful Presentation which was one of the onboard experiences. That meant the O, The Oprah Magazine Beauty Director Brian Underwood and his team of incredible Beauty Experts (including celebrity hairstylist Mia Santiago and Celebrity makeup artist Joseph Carillo) helped to make me over with a fresh new haircut that I LOVE and pampered me with a fresh face of makeup fit for a star!
Not only did they make me over but they also helped educate me on products and techniques, I could tell they were truly passionate about helping all of us women they were making over understand how to re-create these looks ourselves at home. The below image is me on stage, which I was totally freaked out about (I didn't know if I could go out there in front of all of those people) but it turns out the cheers and support from the awesome crowd was a boost of confidence I didn't know I needed.
I left that cruise with a new sense of self and a promise to make some small shifts in my life in order to become a more joyful version of me! One of the things I promised myself was to set time aside every Sunday for self-care. It could be time spent listening to SuperSoul Sunday (my fav podcast), heading to lunch with friends, wandering the aisles of Target-alone!, or taking a nap. It really didn't matter what I was going to do what mattered was it was my time and I could use it however I wanted. I also wanted to inspire other moms to do the same so I created my Self-Care Sunday Series on Instagram. I would LOVE if you joined me- you can do that here).
2 Deepen Your Relationship with Your Best Friend(s)
When is the last time you had a sleepover with your best friend? Probably not since your days in the dorm and if you are like me your bestie is someone you may have met long after those days and so the truth might be never. Why does this matter? Because sleepovers are where the good stuff happens. It's the time you let loose, dive into deep conversations, laugh harder than you ever have, gossip about trashy celebrity magazines and your current love of every single thing on the shelves at Target. It's the easiest route to deepening your relationship that's for sure!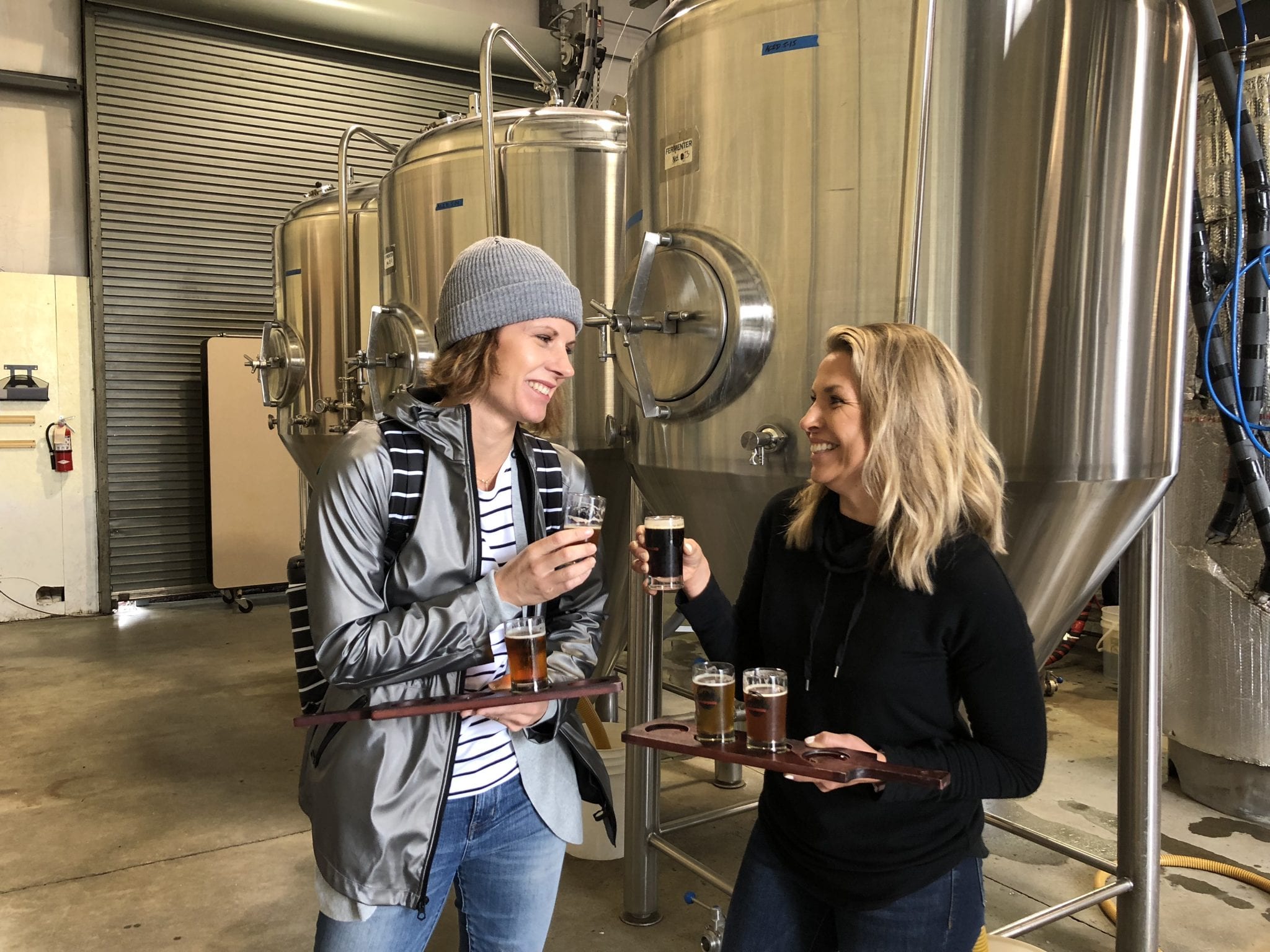 There is also something about being with your best friends that shoves you out of your comfort zone. I don't know if its the unwavering support, the boost of female empowerment, or too much caffeine but you may just do something crazy AND it might just be good for you!
A great example of this is one of the excursions I booked for my best friend Harmony and I. The past few years of traveling have made me a bit more adventurous but I knew Harmony might be nervous when we pulled up and were told we needed to drive hour own boat. With a little encouragement Harmony suited up and not only joined me but she drove the boat the ENTIRE time!
When we were done she told me that if she would have been with her husband and kids she totally would have sat that one out, but she was so happy that I had convinced her to give it a try. You see that is what best friends do best I think. They push us a little out of our comfort zones because they know what we are capable of even when, sometimes, we don't know ourselves.
You can see this in action by watching this hilarious clip of Harmony and me below where she figures out her calling is moving to Alaska and driving a Zodiak Boat full-time-
Of course, Harmony reciprocated the favor by pushing me out of my comfort zone as well. I have been a HUGE fan of Dr. Shefali's for years now. I think her philosophy and parenting books are some of the most profound and fantastic guides for raising happy and healthy children available. I also LOVE listening to all of her interviews with Oprah (you can check them out here).
Well after listening to her speak I mentioned to Harmony how much I would love the chance to meet her in person. I assumed she would be headed off the ship at the first port when I said that- well, turns out she stayed on the ship and at the end of the cruise Harmony happened to spot her. Of course, I was too afraid of being a total annoyance so I refused to go introduce myself. But, as any good friend would Harmony went right over and told Dr. Shefali what I big fan I was and to my shock and awe I ended up having a wonderful conversation with Dr. Shefali and I am now working with her to help promote her event in Long Beach this October- grab that info here (I hope you will join me there- it's going to be AMAZING!!!).

Deepening relationships isn't all about stepping out of your comfort zones. It's also about experiencing new things together. One of my favorite moments from my girls' trip was the opportunity we had while on a tour in Sitka to visit an incredible rescue center where we fed a 900 lb brown bear by hand!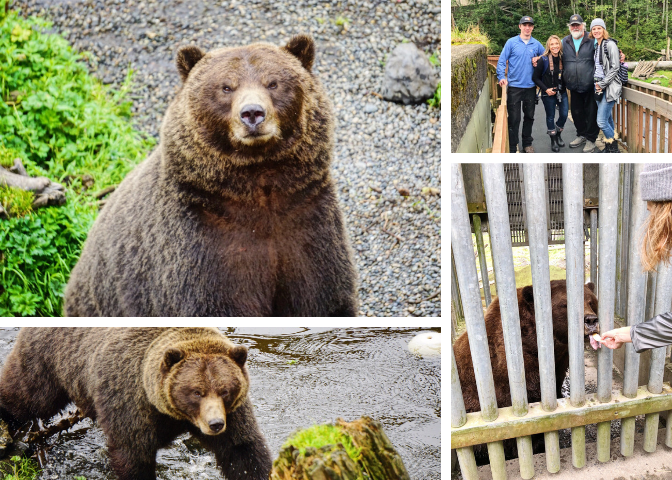 Do you see his tongue down there gently getting the apple slice out of Harmony's hand? You can bet my heart melted ten times over and I am now also obsessed with sharing Fortress of the Bear with the world so they can have the funds to keep caring for these incredible bears who were supposed to be euthanized by state law. They are fighting hard to not only give these rescue bears a chance at life, but to hopefully change legislation and be able to rehabilitate and release bears in the future too.
Experiences like this don't happen as easily or often in every day life. But, I have been traveling long enough to know they have a magical way of turning up when you travel. So, my advise is don't wait around for amazing things to happen- go out there and seek them out for yourself!!! Or even better seek them with your BFF!
3 You Will Have SO Much Fun!!!
Besides pushing you out of your comfort zones, trips with friends are simply a lot of FUN!! I think some of this has to do with having similar interests. I can bet you have a lot more in common with your best friend than with your husband and kids.
For example, you both understand why even though dinner was included with one of your tours you still MUST head to the Tracy's King Crab Shack to try the crab legs because Gayle recommended them in O' Mag. No other option!
Unlike, husbands and kids your best friends also understand the value of a nap, they find joy in long conversations, love to window shop, and they will not only drink cosmos with you but also understand your need photograph every scene even if it means you have to climb on top of a barstool in order to hit that angle (lighting is everything!). Best friends just share so many of the same interests typically, so its a little easier to be uncompromisibly YOU!
I could seriously go on and on and on about how much fun we had together on our cruise. But, I think, by now, you get the point.
Final Thoughts
If you have been putting off a girls' trip because you feel like its too selfish or vacation time is too limited I hope you will reconsider. A girls' trip may be exactly what you need in order to give your family the best version of yourself. I know that was true for me.
And, if you are looking for the perfect girls' getaway I think you'd be hard-pressed to find anything better than an Adventure of Your Life Cruise.
Our time in Alaska was so incredibly special and full of SO many amazing experiences. Between the knowledge we learned attending the wonderful O-inspired activities onboard, to being pampered by the fantastic service you can expect onboard Holland America Line Cruise Ships, to the breathtaking scenes and amazing wildlife encounters that seem abundant in Alaska I can't help but urge other women looking for ideas for their next girls' trip to book ASAP!! Info below.
Holland America Line and O, The Oprah Magazine have partnered to pair the eye-opening wonder of travel with the soulful, inspiring content found in every issue of the magazine. Experience the power of carefully curated O-inspired onboard programming rooted in O's Live Your Best Life mission throughout 2018 on Holland America Line cruises sailing from North America. Plus, in October 2018 sail with O and Holland America Line on the final Adventure of Your Life cruise, featuring special appearances by O editors as well as thought leaders, visionaries, and members of Oprah's SuperSoul 100. Learn more at HollandAmerica.com/OprahMag
I am already booked for the January on Holland America Line's Girls" Getaway Cruise- I CANNOT WAIT!!!!
When is the last time you went on a Girls' Trip with your bestie??
For more great reasons to take a trip with your besties? Check out my fellow #OMAGinsider Tabitha's post over on the Fresh Mommy Blog.