Paris may be the city of love but that doesn't mean it is NOT an incredible destination for families. In fact there are a ton of amazing things to do in Paris with kids. You can check out the major landmarks, visit some of the world's best museums, there are a ton of public parks, Disneyland is there AND the food!!!! The kids will flip over all the delicious things there are to eat in Paris!! To make sure you don't miss out on any of the amazing things to do with kids in Paris check out our list below. If you are heading outside of Paris, check out these 10 places to visit outside of Paris.
5 Super Amazing Things to Do in Paris with Kids!
There are so many incredible places to see and things to do in Paris with kids. One of my favorite things about Paris is the amazing places to snap photos with kids. Check out Stroller in the City's Post on Paris and see her stunning images with her family. Now, on to the top 5 things to do in Paris with Kids.
1. Climb the Arc di Triomphe
One of the BEST activities to do with kids in Paris when you first arrive is head to Champs-Elysées. First of all its a gorgeous street with every type of shop and restaurant you could think of. Secondly, it's not too incredibly long and the sidewalks are huge so it is a nice easy stroll when you are jet-lagged. And, lastly at the end of the street you will find the Arc di Triomphe. A masterpiece in its own right the Arc di Triomphe is incredible to just walk around. The tomb of the unknown soldier is there and it is a great place to start an educational discussion with your kids about the history of the Napoleonic Wars.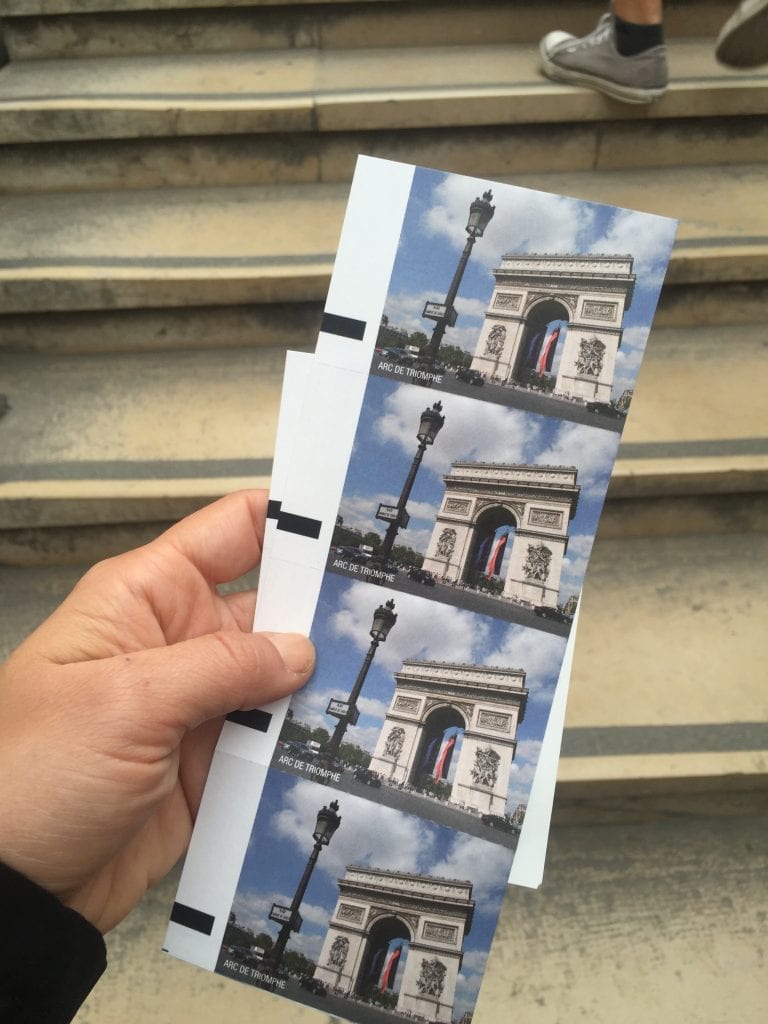 But, what many do not know is that you can actually climb the tower as well… AND KIDS ARE FREE!!! And, adults (18+) only pay 8 euro which is totally worth it!!!
The staircase looks a bit daunting but honestly it is not a bad climb. And, with all the carbs you will be eating in Paris you will need some stairs to offset the calories anyways- ha!!
The real reason you head up though (especially on day 1) is to get the most incredible views of the city. The landscape on top of the Arc is my absolute favorite because you actually get the Eiffel Tower in the background. As you can see by the look on my daughter's face, seeing the Iron Lady for the first time is a pretty magnificent experience!!!
It is also a great way to get your bearings for the city since you can get a birds eye view of every direction! And, once you are done you can head back inside the Arc di Triomphe to continue that conversation of France's history as you walk around and view the different soldiers uniforms they have on display. It is a pretty cool exhibit. Read more about our time climbing the Arc di Triomphe here.
2. Take a Bike Tour with Fat Tire Paris
Hands down the absolute BEST tour to take with kids in Paris is the Fat Tire Bike Tour. They are such an incredible company. Super organized and their guides hilariously re-cap the history of their beloved city in a way that your kids will remember forever. In fact a year and a half later my kids still rattle off facts on Napoleon or the French Revolution that they learned on that ride– pretty impressive!!
Fat Tire Paris has all sorts of bikes available for families including ones that attach to the parents bike and trailers for the really little ones. And, the pace is pretty mellow and the streets are flat so the ride would be good for all ages. Their Paris Day Tour includes a stop for lunch at a lovely cafe inside the Jardin des Tuileries too. This is nice because it gives kids a chance to re-boot halfway through.

I love the stop at the Jardin des Tuileries because it is such a fun place to walk around. The park is situated between the Louvre and the Place de la Concorde along the River Seine. It is filled with gorgeous greenery and flowers plus a ton of statues. No, not the crazy ones below but actual statues.

And, there is also a wonderful little playground where the kids can burn any excess energy after lunch and a pond with ducks you can feed and miniature sailboats you can rent. Depending on the day you may also see pony rides and marionette puppet shows as well.
*If you do end up at Fat Tire Paris say hi to Fraser for us. He was seriously the BEST guide we have EVER had. And, if you are lucky enough maybe they will add you to his group.
WIN a Trip to Paris for 2!!! Click the photo for details…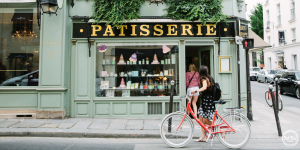 3 Visit the Eiffel Tower
If you did the bike tour above you will stop by the Eiffel Tower briefly. It is a great opportunity to get a family photo (see above) because your guide will happily oblige when you ask. But, you will need to return later to really experience the tower in all her glory as she lights up in the evening.
Lines for the tower can be ridiculous but don't be fooled. That is for all the people that are heading up the elevators. What many don't know is that you can head past the initial crowd to the much shorter line (we only waited 15 minutes) that allows you to climb up the first level of the tower. There are 668 steps (I didn't count- they're labeled) and it really isn't too bad. Plus, the kids thought it was so cool that they could say they actually "climbed" the Eiffel Tower so I guess you could say that the bragging rights made it worthwhile- ha!
After enjoying the tower's first level you can purchase tickets to ascend to the top via elevator. The line to purchase the tickets from the first floor is very short as most purchased them already at the base. Although, we decided to just chill on the first floor as it was really windy and the kids didn't want to wait in the long line for the elevators which unfortunately are unavoidable as you cannot continue taking the stairs up.
What you can do, if you are daring you can walk across the glass platform on the first level. Check out how tiny the little people look beneath us. They are like tiny ants. Read more about our experience on the Eiffel Tower here.
Younger ones will enjoy the displays on the first level as well. They have several different ones that rotate images to tell the history of the tower.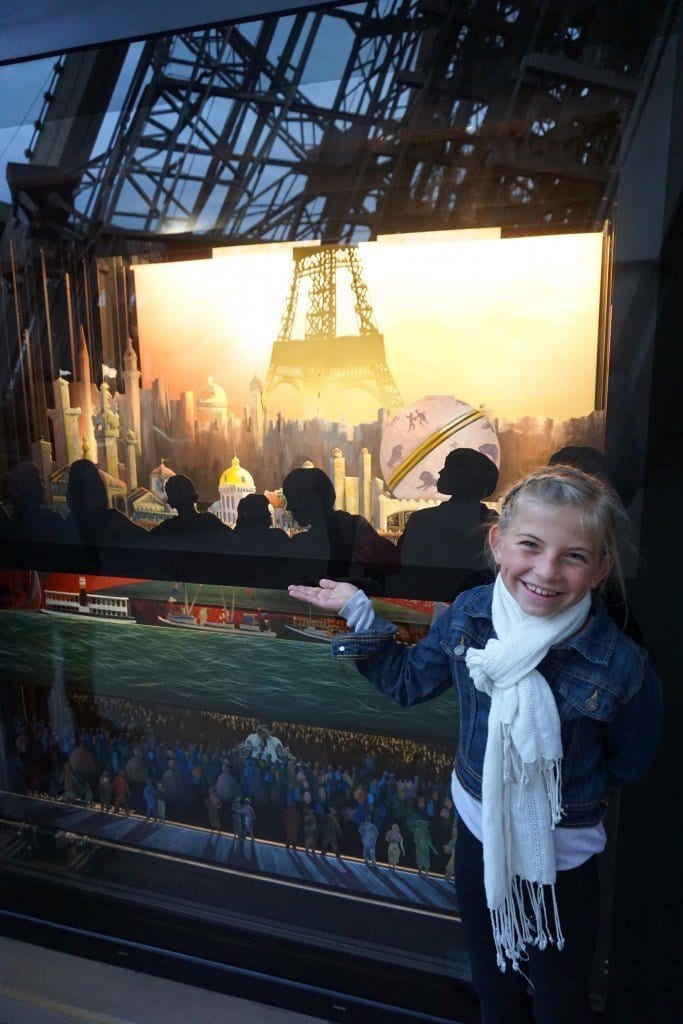 There is also a cafe and a gift shop on the first floor as well which totally surprised me. And, a fancy shmancy restaurant that was too pricey for us to take the kids to. Ella loved trying on a beret at the gift shop and claiming to be a true Parisian… this girl. She is too funny. She tells us all the time how she is going to move to Paris and be a fashion designer or run a pastry shop.
Whatever you do make sure you leave time to grab a jambon et fromage baguette and a bottle of wine or some delicious pastries and a latte and head to the lawns to view the Eiffel Tower light up at night. It is such an incredible experience and something you will NOT want to miss.
4. Tour the Louvre
Ahhh… the iconic glass pyramid. It's one of those photos like the Leaning Tower of Pisa that travelers love to have in their portfolio of keepsakes. But, tackling this massive collection of art is no easy task especially with kids in tow. Which is one of the reasons we booked a family walking tour from Context Travel.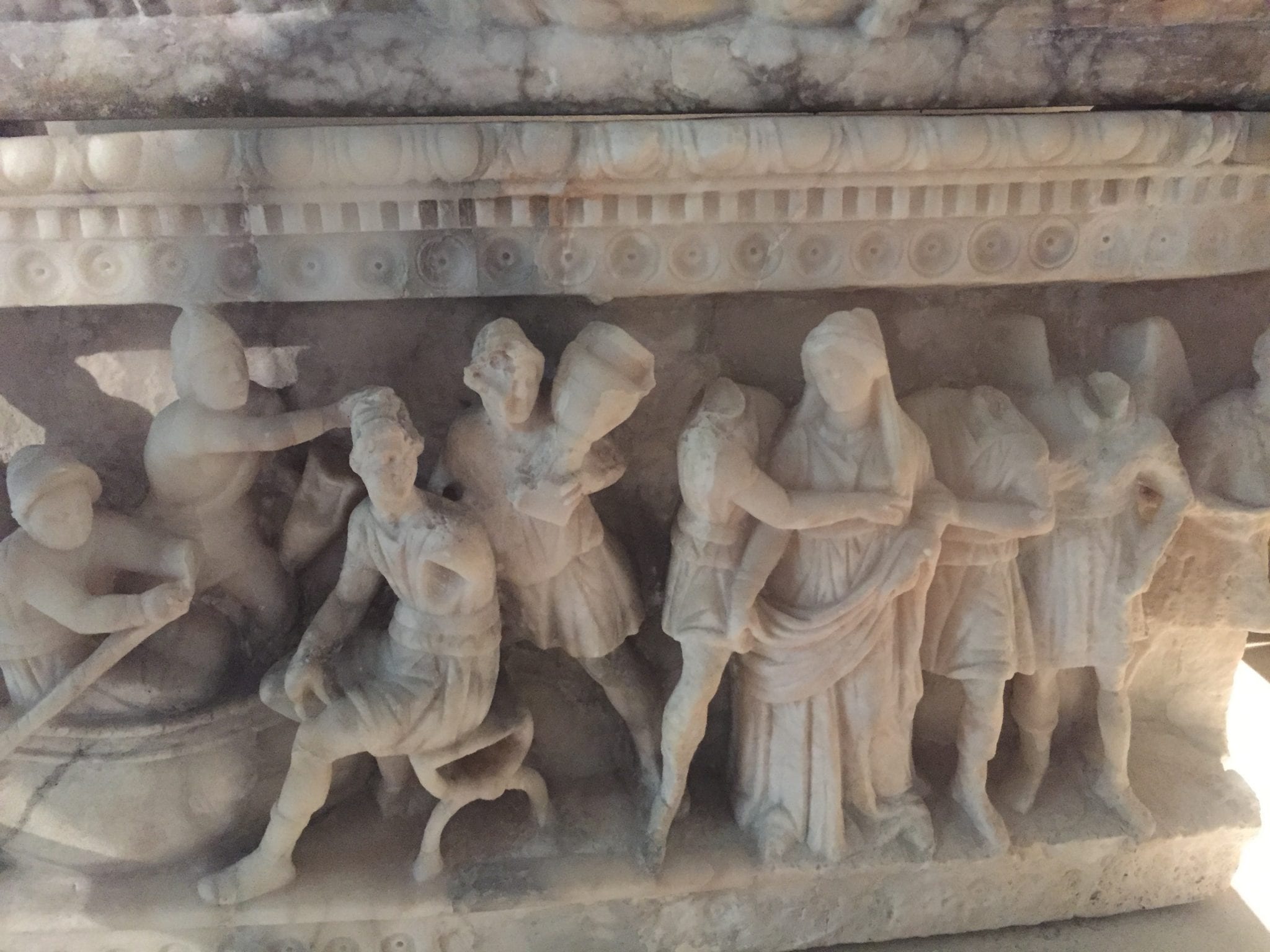 Context specializes in hiring docents who not only have an immense amount of knowledge about history and art but who also know how to work with children. We had worked with Context previously in London when we toured the Tower of London and so we knew what we could expect in regards to the experience. And, we were not disappointed. The Louvre is so gigantic even finding a bathroom can be difficult. They say it would take 30 days to cover the entire museum and see each work of art displayed so imagine how helpful it is to be with a guide that can whiz you through in 2.5 hours and walk away feeling like you saw everything you wanted to see and learned way more than you ever could have imagined!! Pretty awesome right! Check out more about our tour of the Louvre here.
One of the most glorious statues I came across while walking through the Louvre was the one below known as the Winged Victory of Samothrace also known as Nike. Isn't she glorious? I learned from our docent that she dates back to the 2nd century BC and is actually an original Hellenistic sculpture. Whereas most are Roman copies. Proof that its not just the kids that learn something 😉
5. Visit Disney Paris

Of course when you find yourself in Paris with kids you also may want to head over to Disneyland Paris. It is a little outside the city center so we decided to travel by train and spend a few nights next to the property. It is pretty easy to get to Disneyland Paris from the city. You simply hop on the RER train for about 30-40 minutes and then you arrive right at the gates of the park.
The kids were out of their minds excited when we arrived and I have to admit my hubby and I were pretty stoked as well. As fantastic as Paris is the streets can be nerve wracking with all the traffic and it was nice to be somewhere familiar where the kids could safely roam a bit. We live in Southern CA so Disneyland feels sort of like home.
We were surprised to see how similar this park was to ours in Anaheim (view my Disneyland posts). Main street looked so similar. It was also nice that so many of the employees spoke English. We needed a break from having to use our poor French for awhile. As we continued through the park it became a game to point out things that we found that were the same or different between the Disney Parks. Like Disneyland Paris calls their future land "Discoveryland" where as Anaheim calls it "Tomorrowland".
And, the "Haunted Mansion" as we call it in Anaheim is known as the "Phantom Manor" in France. *TIP- And, FYI this one is quite a bit more gruesome than ours. So, if you have little ones beware.
The castle inside Fantasyland was pretty similar except for the fact that you could walk out onto the balcony and overlook the land. I am pretty sure Ella was picturing herself as Sleeping Beauty or Repunzel as she stood up there 😉

We also enjoyed riding some rides that we don't have in the states like this Ratatouille ride, a bunch of Toy Story themed rides and the Crush roller coaster. That one was probably our favorite ride!! Read more about our time in Disney Paris here.
Bonus!!
6 Hit EVERY Bakery + Macaron Shop You Pass
You are in Paris… the mother of all glorious pastries, croissants and baked goods. Do yourself a favor and don't pass a S.I.N.G.L.E. O.N.E.!!!

Sure you will come back a little more round. But, by gosh you will NOT regret a single bite you ate. Trust me on this one!! And, for kicks take your kids to a McDonald's while you are there… really!
Our oldest Camden has made it a thing to eat at a McDonald's every time we are in another country and he spots one. It dates back to our first trip with him to Dubai. He thought it was hilarious that McDonalds was there. **NOTE my kids don't even eat McDonald's in the states so how this became a thing is pretty odd, but it's fun nonetheless. But, the main reason you should visit it in France is because even the McDonald's has a whole display case of French pastries including macarons!!!
You Might Also Enjoy:
The Ultimate Guide to Disney Paris
Pin for later-
What are your favorite things to do in Paris with Kids?
Tell me about them in the comments below. I read every single one 😉
*Disclaimer some of the activities noted we received complimentary. That does not in any way hinder my honest reflection of our experience in any way.