Travel pants are one of my favorite things, hands down. It's a mixture of a little bit of style and a whole lot of comfort. I think I also love travel pants because every time I put them on it symbolizes VACATION! Now, finding the perfect pair will be a little bit different for everyone though because their biggest quality is comfort, and that means something a little different to everyone. So, let's check out some of the best travel pants for us ladies.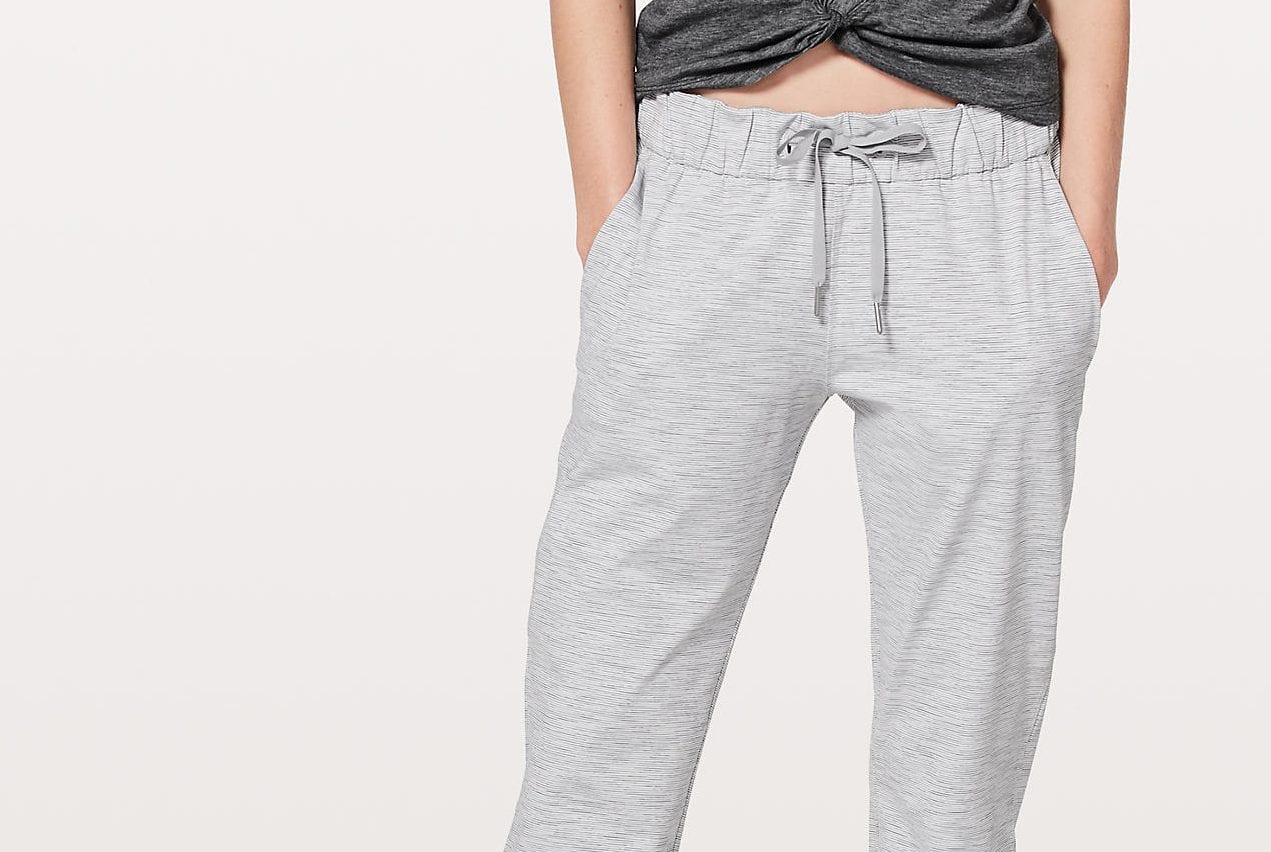 The Best Travel Pants for Women – [18 of the Best Pairs]
This category is all about the best travel pants that work well for the actual traveling part of travel; car rides, long nights in airports, or anything else to do with transportation.
These Nike capris have become some of the most popular loungewear in the game, and loungewear is the new travel go to. We love these in both the white and grey, which go with just about anything. The material is super soft, so you won't mind being stuck in them for a long day. Keep in mind when ordering they run a bit big. Check Current Prices Here!
---
If you are looking for travel pants that don't look too much like loungewear but still offer maximum comfort, the Bettona's are a wonderful option. They are meant to look pretty much like jeans and even have belt loops, but are made of a stretchy material instead. A big bonus is that they have 2 pockets in the back and 2 in the front. Check Current Prices Here!
---
When I think of travel pants, these Athleta La Viva's are exactly what I imagine. They are the perfect amount of slouchy and super light weight. They are also the ultimate mom pants with 4 hidden zip up pockets giving you the ability to carry pacifiers, snacks, and anything else that might keep your child sane while on the move. Check Current Prices Here!
---
Wunder Unders are a favorite out of the Lululemon legging options. According to their description, they fit just like a "second skin" with their super smooth feel. Getting them in Hi-Rise is key if you are purchasing them for travel because they offer so much support. They come in a ton of fun colors and patterns.
---
These taper legged pants are pretty perfect for any type of casual wear, but especially travel. I love the gorgeous olive color that they come in. They are made of a lightweight flowy fabric, so definitely check them out if you will be headed to some warm destinations. They are meant to sit a little higher on your waist making them perfect for cute summer-y crop tops. Check Current Prices Here!
Lululemon is a go to brand for so many different things, but when it comes to travel pants their On the Fly Pant reigns supreme. First of all, they're 7/8th pants which is the perfect length for any kind of travel. On top of that they are so comfy and have just the perfect amount of stretch to them. They come in 8 chic pretty colors and to be honest I might just go buy them all. Oh, and last but not least they have pockets which sadly isn't the easiest thing to find in women's pants. Go Lululemon!
Best Pants for Beach Travel
Beach vacations are some of the most relaxing, leisurely trips. Whether you will be chasing after kiddos making sand castles or chilling by the pool bar with pina colada, you are going to want to be lounging in comfy flowy pants. Here are some of our absolute favorites!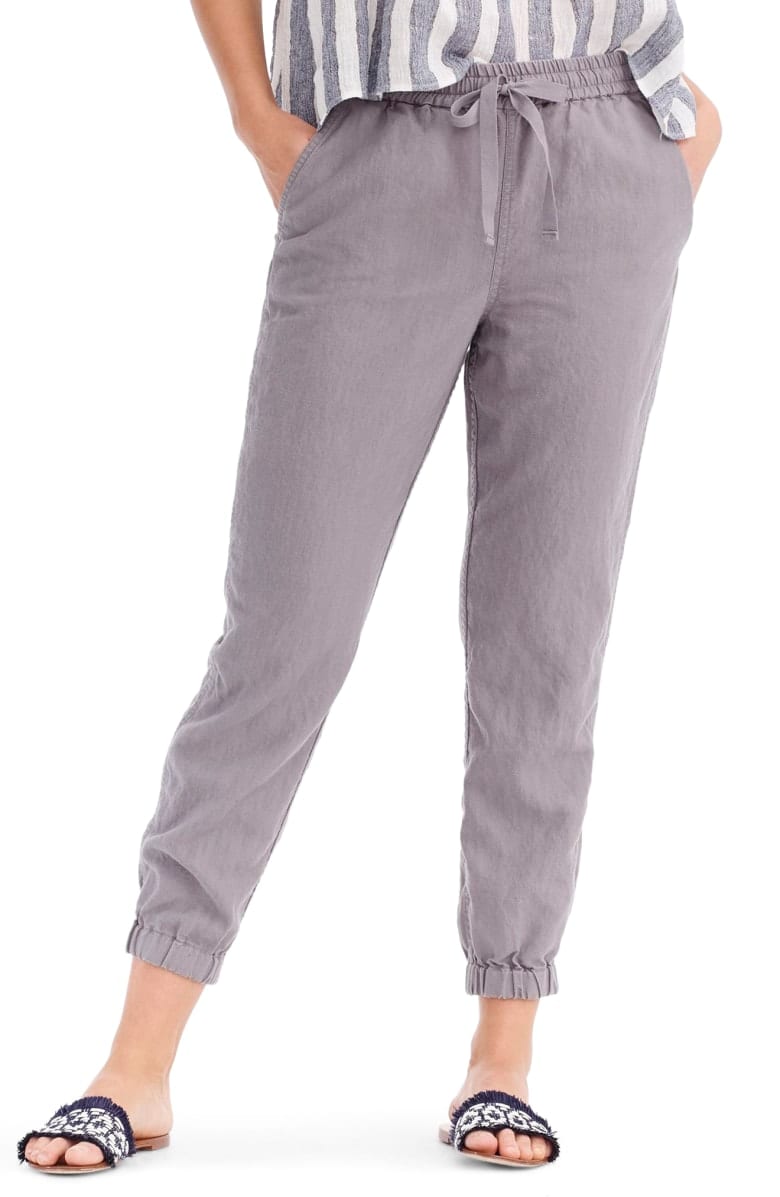 Just like the name says these pants are meant to be worn by the seaside. They come in a fun purplish slate color. They're stretchy in the waist and have a stretchy cuff right about the ankle. Even though they're perfect for lounging and made of a comfortable linen material, they don't wrinkle easily so they're always ready to pull on for a slightly polished look. Check Current Prices Here!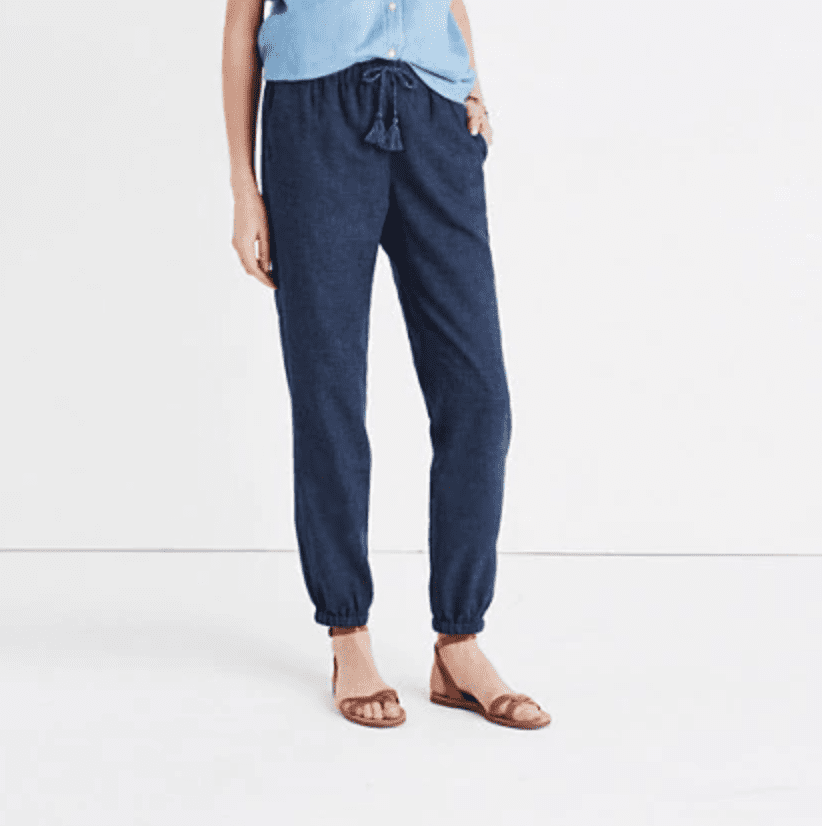 You cannot go wrong with Madewell and these beach pants are no exception. I absolutely love the tie around the waist with the tassel ends. Check Current Prices Here!
---
It does not get any more comfy than a wide waistband and a soft cotton material. They come in a pretty white cream color perfect for any occasion that involves the beach. Check Current Prices Here!
---
The beach is the perfect excuse for extra flowy wide leg pants. They are comfy enough to lay out by the beach in, but cute enough that you can still head to dinner in them. Check Current Prices Here!
---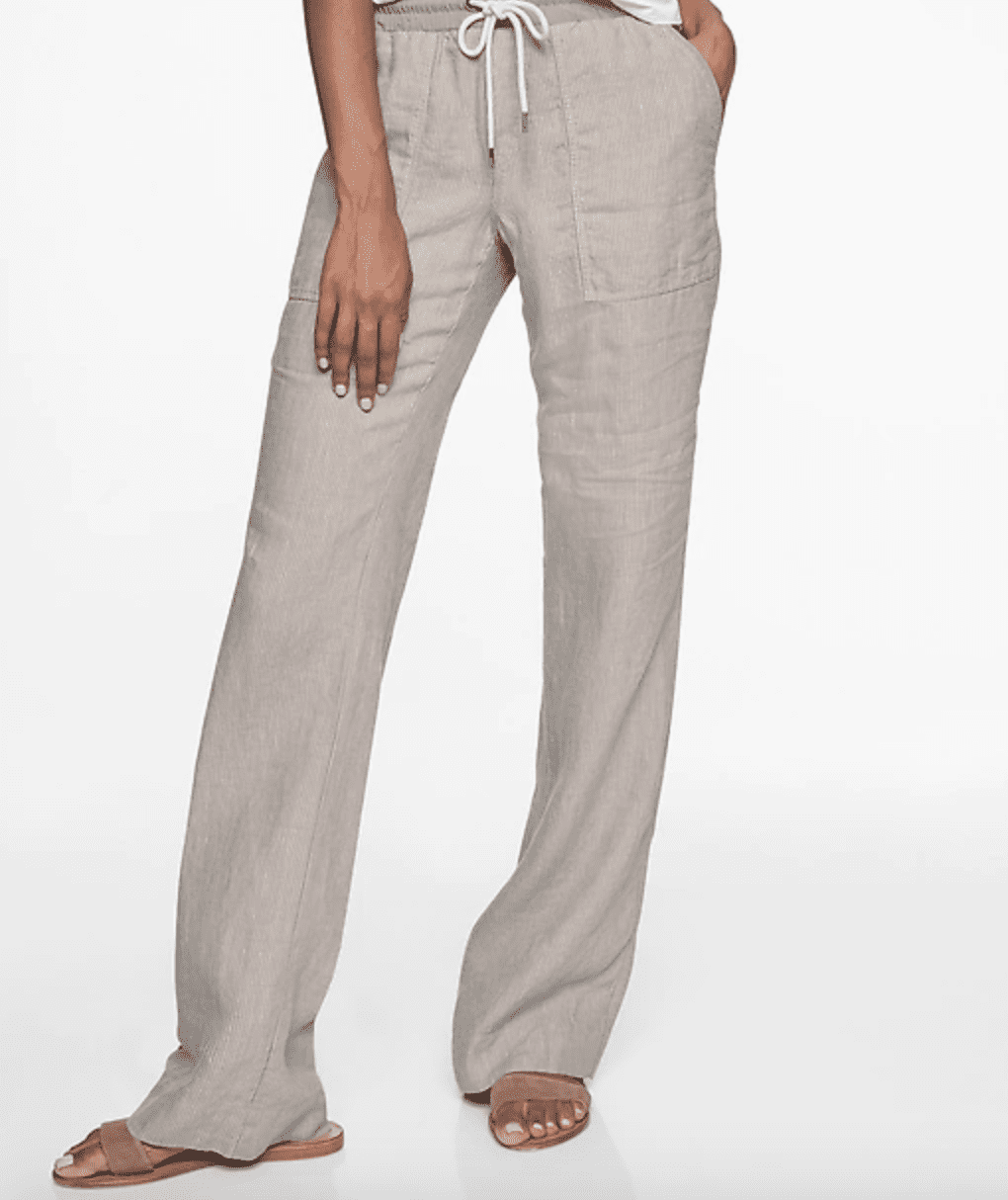 One common problem with beach pants is fit when it comes to length. That's why these pants coming in regular, petite, and tall is a game changer. No more pants dragging in the sand! Check Current Prices Here!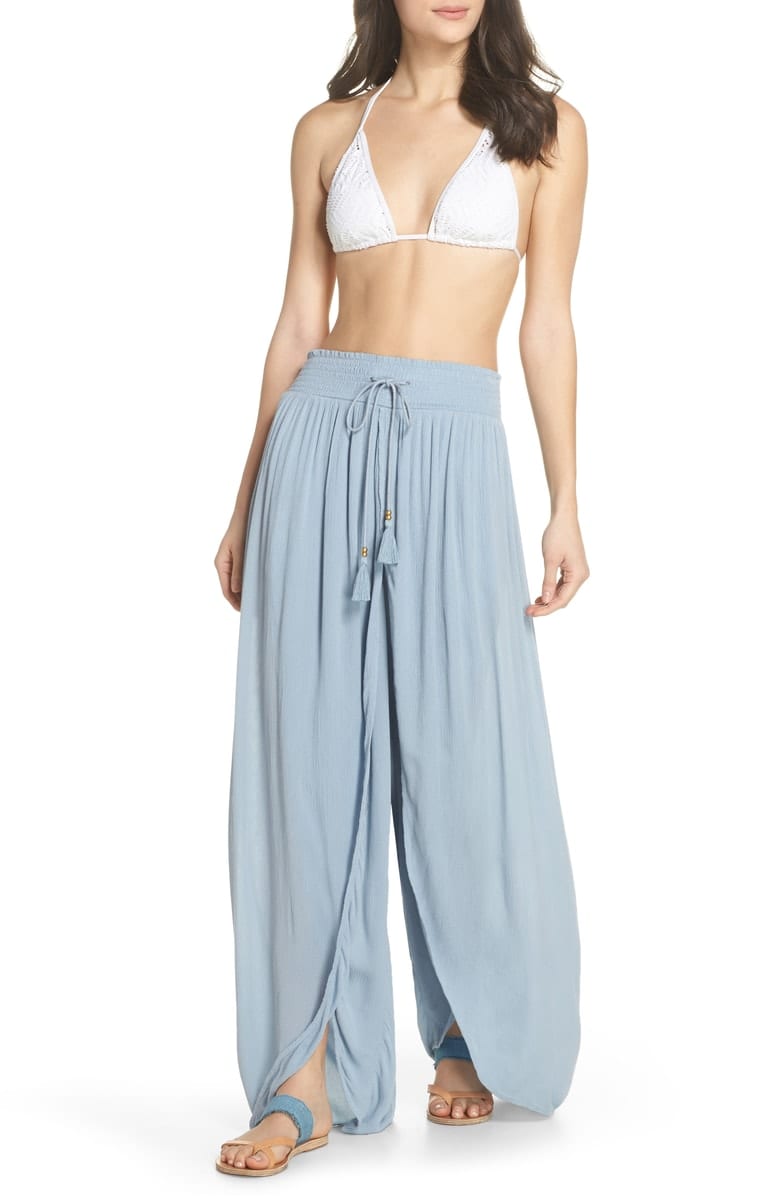 These gauze pants are made perfectly as a cover up for the beach, but they are absolutely gorgeous. Seriously, you will probably feel like a princess in them. They come in a pretty blue and crisp white color, neither of which you can go wrong with. Check Current Prices Here!
Best Travel Pants for "Roughing it" Travel
Travel that involves hiking, biking, or pretty much anything else having to do with the outdoors require a specific kind of travel pants.
If you like joggers as loungewear, then you have to check out these joggers made specifically for hiking. They cuff right above the ankle and have pockets that can be secured shut. They're made of a recycled material that wicks away water too. Did I mention they are actually pretty cute too? An all around win. Check Current Prices Here!
---
Okay, so maybe these do not really belong on the best travel pants list but sometimes you might just be feeling shorts. This pair is perfect because they're short and cute, but you will still feel fully covered while hiking or being active in them. They stay right on your waist through any terrain.
These best travel pants are a bit like a jogger too, but fit full length instead of hitting above the ankle. They're made of a really sturdy material, so you can rest assured they will last through all your adventures.
---
You know you can rely on North Face products when it comes to adventure and these pants are no different. They're built to last, to keep you dry, and most importantly keep you comfortable. I absolutely love the way these look with hiking boots!
From yoga to hiking these pants will stay in place and keep you looking stylish. These best travel pants actually have 50+ UPF built into them to keep your skin protected. On top of all that, they're really lightweight so you won't feel weighed down at all.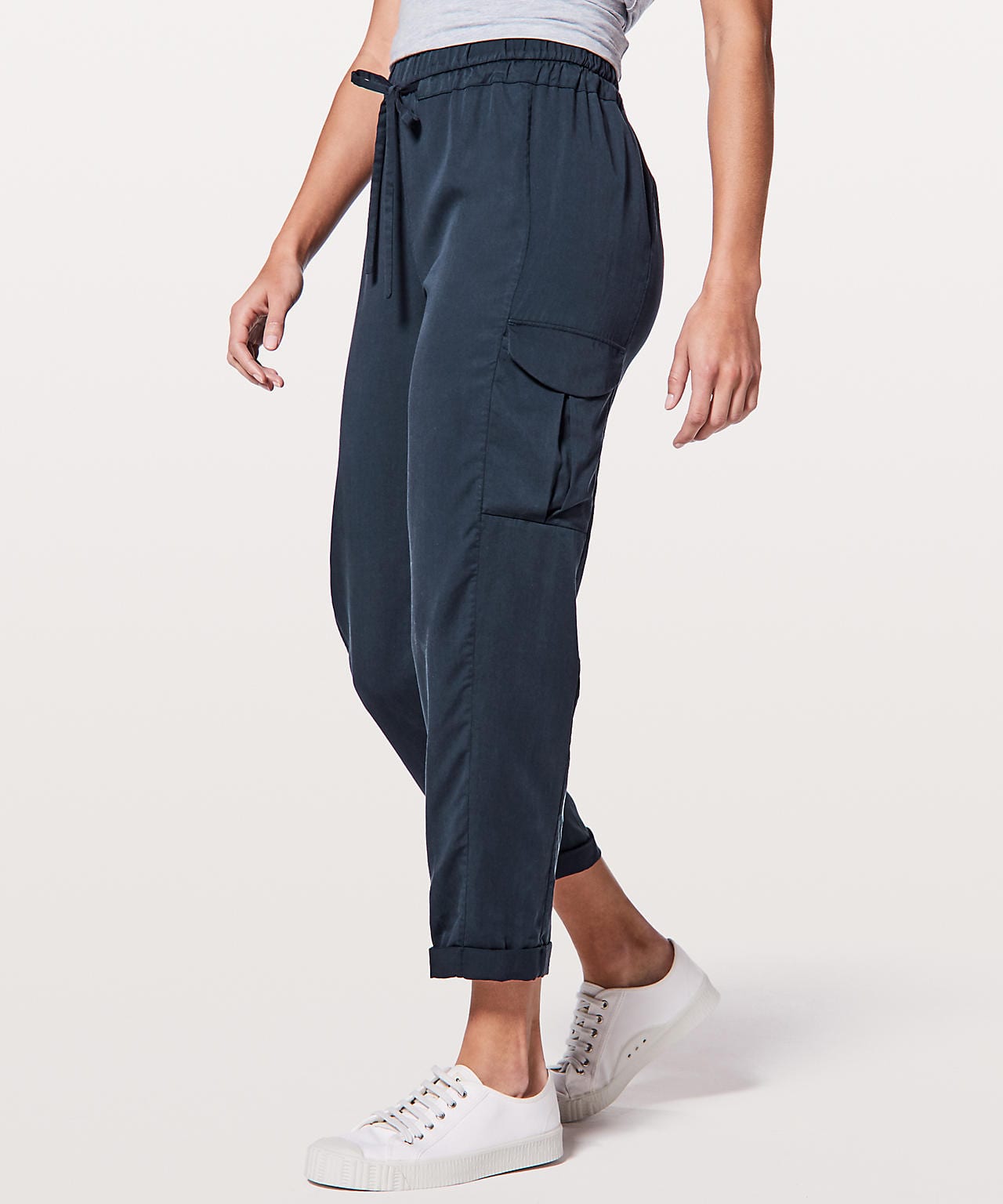 These pants are on sale at a great discount enough, but if that's not reason enough to check them out just know they have amazing pockets and are made of a silky smooth material that's very breathable.
You might also enjoy
The Best Lightweight Underwear + Other Travel Gear You Didn't Know You Needed!
Best Packing Cubes & Why You NEED Them in Your Life
The Best Organic Fashion Line for Moms [+ prAna Promo Code]
Pin for later – The Best Travel Pants for Women – [18 of the Best Pairs]
Latest posts by Mama Munchkin
(see all)