I'm calling it. Glacier National Park is the best National Park in the US. Have I been to all the parks? No. But do I think that any other park can compare to Glacier's snow-covered mountains, shimmering wildflowers, and turquoise waters? There's no way. The hikes are absolutely incredible and there are so many different hikes for different skill levels. Here are the best hikes in Glacier National Park
The Absolute Best Hikes in Glacier National Park
Glacier National Park is a destination for families with varying abilities. You can easily soak in the beauty from the comfort of your car on the Going to the Sun Road. The road winds through the mountains and valleys of Glacier, giving you insane views around every corner. There are turnouts where you can stop and take some photos along the way, and even littles hikes that are wheelchair accessible.
If you'd rather soak in the views than be gripped at the wheel of your own car, the park offers a free shuttle service. Just park your car at St. Mary's Visitor Center or Apgar Visitor Center if you're on the west side, and enjoy the ride! I wouldn't recommend parking at Logan Pass as it is the busiest visitor center. It also quickly runs out of parking spots.
If you're a family that's itching to hit the trails and head into the beautiful wilderness with just you, your kids, and the grizzly bears. Here's some of the best hikes in Glacier National Park.
Wait… grizzly bears? Yeah, grizzly bears. Being on bear turf is a reality of hiking in the Rockies, Before going on, here's a few safety tips that you should consider before starting off on your trek.
Staying safe while hiking in Glacier National Park
Grizzly Bears
They look cute and cuddly from the safety of your car, but running into one of these on the trails is probably the last thing you want to happen. The good news is the grizzlies don't want to see you either, so they are easy to avoid by making a lot of noise. They sell bear bells (cheaper here on Amazon). They attach to your bag to cause a constant ding noise while you walk. You also can do what we did and catch up on conversation or sing the entire Hamilton soundtrack as loud as possible.
In case preventative measures don't work though, I would definitely carry bear spray on you while hiking, If nothing else, it will give you security. Bear spray is basically pepper spray for bears and will force a bear to go on it's way if it feels threatened by you for any reason. Buying it online is also cheaper than purchasing it at the park. You can find it here:
Water
This is obvious for any hike anywhere, but be sure to bring enough. Remember that even though the streams that you pass by look sparkling clean they are not. Unless you use a portable water filter, that water could very easily give you giardia.
Changes in weather
Layer up! Weather changes quickly depending on your altitude, so be sure you and your kids are prepared for warm, cold, and rain with some light but insulated layers.
Darkness
Luckily, the best time to hike in Glacier is in the summer months when the sun sets at around 10 pm, giving you some serious hiking time Take advantage of it! I personally like to have the security of light in case anything happens and we're in the woods later than originally expected.
A headlamp always comes in handy in that case, or just make sure your phone has a good charge in case you need to use the flashlight feature. I would also recommend starting your hikes early to both beat the crowds and beat the summer heat. Alright, let's get to what you actually came here for the best hikes to do in Glacier National Park.
Top 5 Hikes in Glacier National Park
Scenic Point Trail.
This is a perfect hike for many looking to escape the hub-ub of the super busy trails. Located in Two Medicine area of the park (and in my opinion the most underrated section) is this 8 mile out and back hike. It has a 2,500 foot elevation gain and loss. If that sounds intimidating, the beauty of the hike from start to finish will wash away your fears and leg pain. It's the kind of hike that is stunning from start to finish, giving all the beautiful views away at the beginning of the trail (as opposed to those prude trails that keep you below tree line for most of the hike). The Scenic Point Trail was a perfect introduction to the park for us and comes with a 3.5 star recommendation. .
This hike is a big one—an 18-mile loop—and it's divine. Wait! Don't skip to the next trail yet.. Hear me out!
We originally planned to do a 10 mile out and back hike up to Dawsons Pass. We thought we were pushing it with a baby on back, but once we got to the Pass, we wanted more. (A true testament to how beautiful this park is).
We got to Dawson's Pass after a consistent 5-mile climb through fields of wildflowers and tall pines. Once we reached the pass, we were rewarded by a 360-degree view of pure beauty that we took advantage of by stopping for a lunch break.
As we downed granola bars and PB and Js, we met someone who had already done the entire loop. He saw us gawking at the views and told us it was nothing compared to the rest of the hike (thanks Debby Downer). But, nevertheless, that intrigued us, so we ate our lunch, assessed our food and water supply, and decided to take the plunge and do the full 18 miles. I'll say this: it was worth it. The steep part was behind us, so for the rest of the hike, it was along ridges and down back to the valley.
So, let me leave you with this. This loop is for a fit family that is used to hiking. If you fit into this category, do this hike. It's the most beautiful hike in the entire park and it gets a full 5 stars from me.
The Highline Trail could be renamed the High Traffic Trail. The trailhead is at one of the most popular spots and this is an incredibly popular hike (for good reason), so sometimes it felt like we were herded cattle. I would recommend starting this hike early to beat the crowds.
The trail is pretty flat as it already starts off at a high altitude with impeccable views. Though it's easier on the legs, it's not for the faint of heart (or a really windy day). The hike starts out along a steep drop-off where you have to hold onto ropes anchored into the mountain. We were able to easily do it with our baby in the hiking carrier, but we're luckily not scared of heights.
This hike is an out and back hike, so you can make it as long or as short as you want. If you're up for it though, you can also do a 12 mile loop from Logan Pass, where the shuttle from St. Mary's Visitor Center drops you off, to The Loop bus stop where the shuttle would pick you up to bring you back to your car.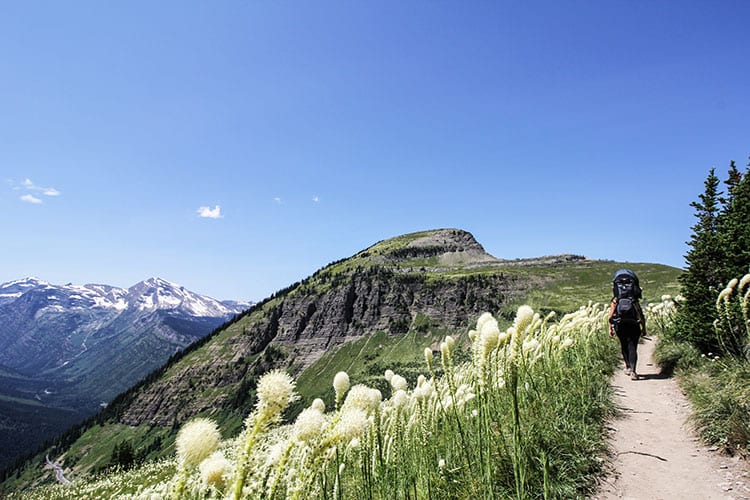 I should also give you the heads up that it was more complicated logistically speaking because the trailhead is at Logan Pass, one of the busiest spots in the park, so there is very limited parking, We took a shuttle there to avoid the crowds, which worked well (and saved us some gas money).
Iceberg Lake
This hike is located in the Many Glaciers area of Glacier National Park and is a 9.3 out and back trail. It may seem daunting, but besides a .1 mile area with a steep climb, this hike is quite flat and easy. And are you rewarded at the end? Oh yes.
Iceberg lake is appropriately named as it has icebergs along the shore and in the lake. The turquoise lake has a backdrop of grey rocky cliffs and glaciers. This provides a stunning juxtaposition from the green fields and wildflowers you just hiked through
This one is known for it's animal sitings. So keep an eye out for moose and keep that bear bell ringing (or your kid screaming). This one actually closes often if there are reports of multiple grizzly sitings in a short period of time, so make sure you check with a ranger or visitors center before heading out.
It's hard to continuously be "wowed" by a place. Eventually, the novelty wears off and you get used to the beauty. Cracker lake was our last hike of our Glacier stint and I figured we had seen all the beauty that Glacier National Park could possibly muster.
Alas, Cracker Lake blew us away.
It's a 6 mile out and back hike, mostly through the woods where it wasn't all that interesting or pretty, but once we reached the lake, our jaws dropped. The lake looks unreal. Definitely pack a good lunch for this hike and spend as much time by the water as you can. If you're so inspired, you can also get a permit to camp at the lake which would make for an epic view at sunrise.
You Might Also Enjoy:
The Best Glacier National Park Lodging
The Ultimate Guide to a Banff Summer; The Best Time to Visit Banff
The Best Dude Ranch in Wyoming, Montana, and Colorado
Canmore Cave Tours; One of the Best things to do near Banff
Amazing Airbnb Rentals in Yellowstone from our friends at Crazy Family Adventure Blog