Universal Orlando is just coming out with new attractions and parks left and right it is SO much fun!! I happened to be in Orlando for the Mom 2.0 Summit (my favorite blogger conference btw) a few weeks ago and I was invited by the TODAY Show Parenting Team to an awesome event where we got to ride the NEW Jimmy Fallon Ride + we also got to hang out in the Wizarding World of Harry Potter with our new wands they gifted us AFTER THE PARK WAS CLOSED + we got to try new Island-Inspired Food from Volcano Bay!!! It was an AMAZING Experience!!!
Universal Orlando's NEW Jimmy Fallon Ride + The Wizarding World of Harry Potter VIP Style
Almost every summer since our oldest was a toddler we have headed to Orlando to experience all the theme park fun. It was never my intentions to become theme park junkies but it turns out we have such an incredible time with our kids when we go that we don't really want to stop, at least anytime soon. Lately, it has been even more INCREDIBLE to visit the Universal Orlando Resort specifically as they have been opening so many new lands (Wizarding World of Harry Potter Diagon Alley & Hogsmeade), new rides (The Jimmy Fallon Ride), and new parks (Volcano Bay).
photo credit: TODAY Show Parenting Team
Most of the time I have the kiddos with me while I am in the parks but for this particular visit I was sans munchkins and instead enjoyed the thrills with some of my favorite TODAY Parenting Team friends. There's me bottom row on the right second person with black top and maroon pants 😉 (above)
Race Through New York Starring Jimmy Fallon
photo credit: Universal Orlando
First I need to preface this review with a full disclosure, I AM HUGE JIMMY FALLON FAN!!!
Okay, now that we have that out of the way, let's move onto the ride. The whole TODAY Show Parenting Team crew was bused in behind the gates (super cool) and taken straight onto the ride. This was fantastic BUT I kinda wish we hung out in the AMAZING 30 Rock Building to get the same experience guests will have.
photo credit: Universal Orlando
You see Universal created a Virtual Line Experience for the Jimmy Fallon Ride which means NO STANDING IN LINE!!! Instead, you are given a color tab or you download the Universal App and then you are free to roam upstairs/ downstairs in the 30 Rock Building. Once you get an app notification or the color from the NBC peacock logo starts flashing, it's your turn to ride. Pretty amazing right?
photo credit: Universal Orlando
The ride itself is similar to the Minions Ride, so a computer-generated simulator type ride. The gist is you follow Jimmy in a super cool racecar through New York City. What I loved about it was that you really got to see a ton of iconic New York places like Time Square, the Statue of Liberty, and the Empire State Building. I also thought they did an awesome job of throwing in a bunch of fun Jimmy Fallon assets like Thank You Notes, The Roots, even Hashtag Panda makes an appearance. Overall, I think the ride is a total WIN!! Below is proof from my Instagram stories (follow me on Insta for more behind the scenes, make sure you message me and say hi too).
SECRETS!!!
Did you know that when Universal replaces a ride in their parks they place "Easter Eggs" inside the rides as a throwback to the legacy of the old ride?? Race Through New York Starring Jimmy Fallon has a few Easter eggs: watch for Fallon's family makes an appearance in the ride, look for the blue shirt similar to the one worn by the late actor Bill Paxton in Twister- it's hanging up in one of the window displays, and see if you catch the Twister reference.
Wizarding World of Harry Potter- after dark
Our fun didn't end after testing out the all new Jimmy Fallon ride. Next up we were taken to Islands of Adventure to try out the new Harry Potter wizard wands we were gifted. The BEST PART- the park was already CLOSED so we had the whole place to ourselves it was AWESOME!!
Hogsmeade and Diagon Alley are both absolutely incredible lands to experience. You truly feel like you are in the movie it's unreal!
They call it a total immersion and I get it because they hit you with sights, sounds, and even tastes!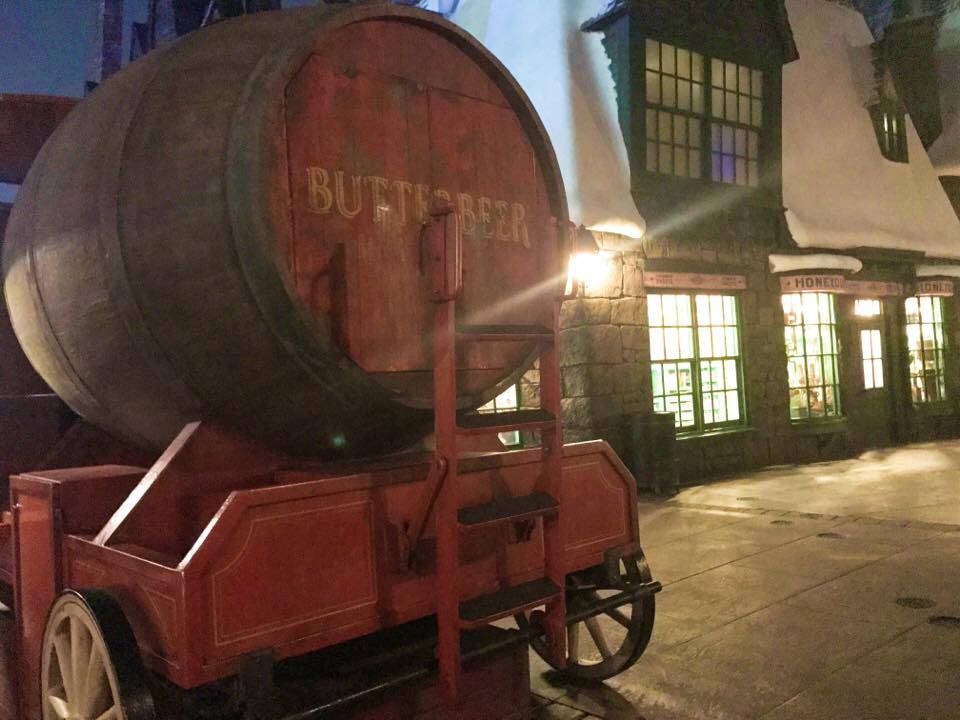 The Butter Beer is DELICIOUS, especially on a hot day. It tastes similar to butterscotch to me and has a yummy marshmallow topping 😉
The first one I was actually able to drink since I usually order them for the kids and they DO NOT share with mom. I can't blame them though these drinks are addictive. While downing my Butter Beer I also took a spin at my wand skills. Turns out my kids are much closer to becoming wizards than I am. Looks like I'll be needing some lessons when we visit this summer- ha!

Sorry, the pics are not great, I really need to take classes in nighttime photography. But, isn't this castle incredible??
New Island-Inspired Cuisine from Volcano Bay
If you read my last post about Volcano Bay you know I am ABSOLUTELY THRILLED about this new water park. I mean NO LINES, No Carrying heavy tubes + a toddler up the lines + good food. It sounds too good to be true, but it's not. Anyhoo, much of the information I shared with you in that post I learned at this cool event.
We taste-tested a bunch of the island-inspired cuisine that will be featured at Volcano Bay and I was seriously impressed. Picture Poke Bowls, Red Curry Shrimp, Plantains- YUMMY!!!! It is definitely NOT your normal theme park food. Although, I know they will have some of those items there too if that is what you fancy 😉 I also loved the delicious craft brew I tried.
We returned to our hotel rooms with full bellies, a night full of amazing memories, and a super fun swag bag. Now I am super excited to return this June for our #MunchkinsSummer17 trip so the kids get to experience all the amazing new attractions Universal Orlando has.
Pin for Later-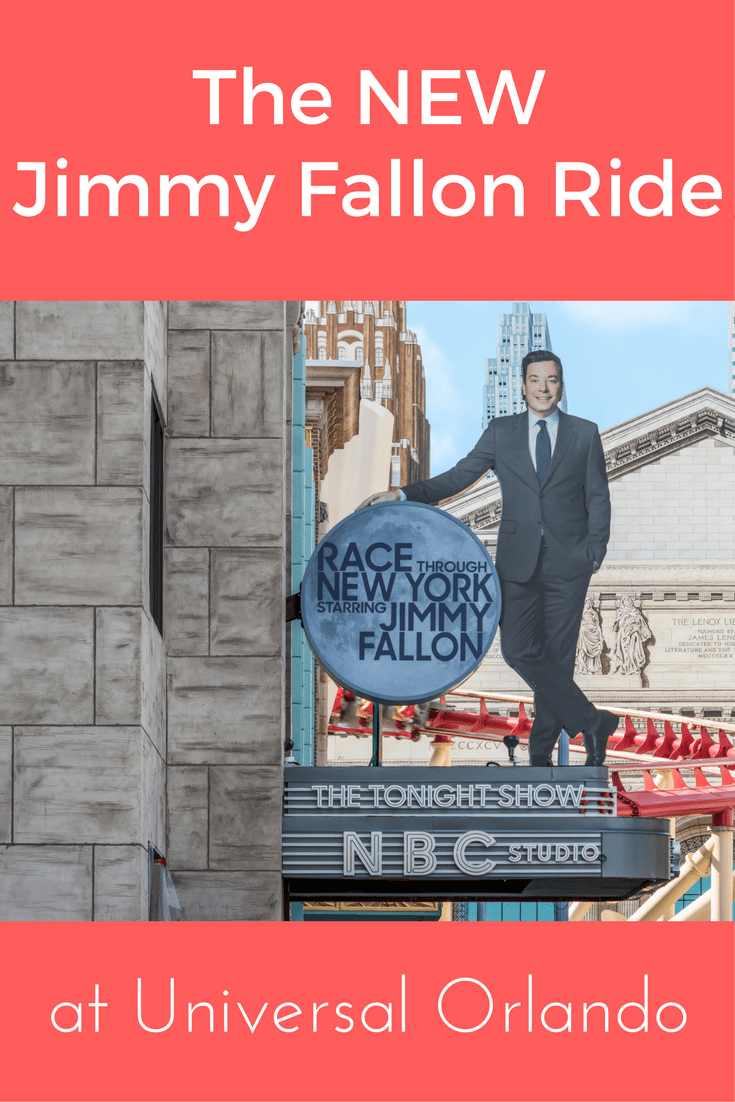 Have you visited Universal Orlando or the new Jimmy Fallon Ride??? Tell me in the comments below.
You may also enjoy these Universal Orlando Posts: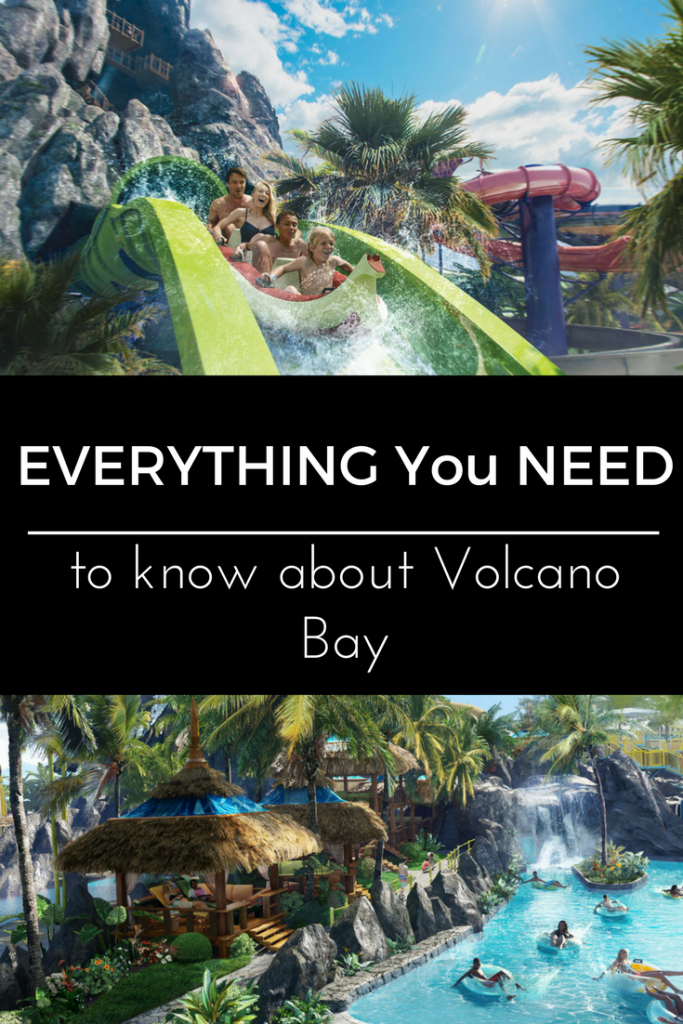 *Full Disclosure I was a guest of the TODAY Show Parenting Team and Universal Orlando for this event. I received complimentary entry as well as some swag. However, all thoughts and opinions reflected above, as always, are 100% my own.
Latest posts by Mama Munchkin
(see all)