Spring break is here and SoCal families or those visiting our lovely state are looking for some good old-fashioned family fun. What better time for Knott's to whip out the celebration of their beloved berry than by hosting Knott's Berry Farm's Boysenberry Festival. Now the kids can enjoy the rides while you get to enjoy some delicious food, wine, and craft beer! Not bad for a day at a theme park right?
Read on to see why you NEED to head to Knott's from March 29th – April 28th, 2019!
5 Reasons to Visit Knott's Berry Farm's Boysenberry Festival
When you think of heading to Knott's with 5 kids in tow you imagine a day full of thrill rides, Snoopy and crappy theme park food, right? What if I told you our experience at Knott's Berry Farm's Boysenberry Festival was completely the opposite!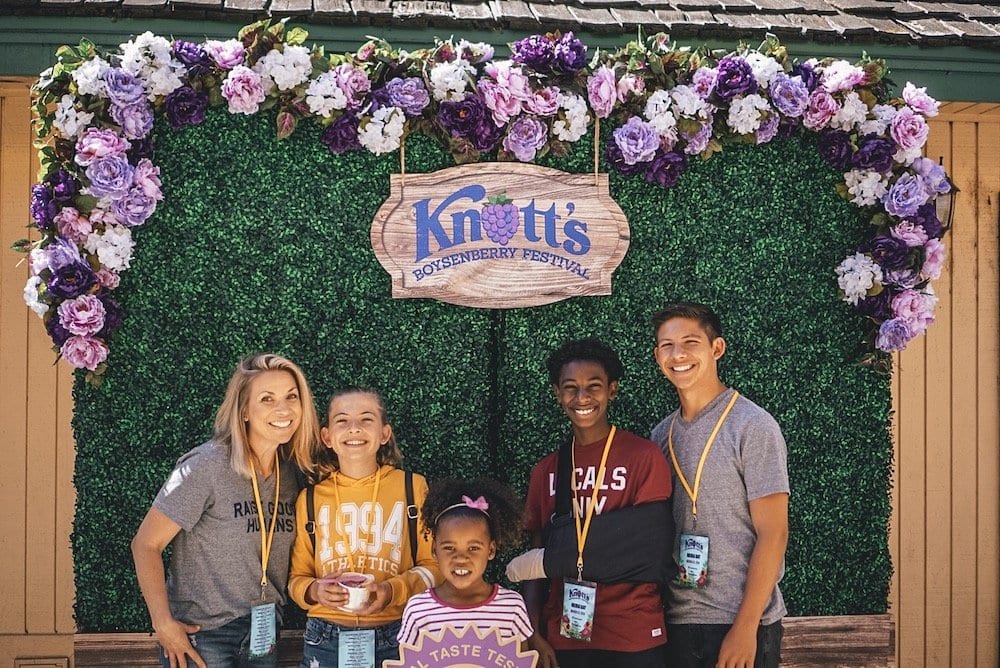 In fact the kids only rode 3 rides total the ENTIRE day… and instead, we enjoyed an incredible day of eating, learning and laughing. Here's why…
1. One of a Kind Boysenberry Offerings
Upon hearing about the Boysenberry Festival I imagined a ton of dessert type offerings and maybe some juices thrown in the mix. So, I was pleasantly surprised to learn that the festival features over 75 new & returning unique boysenberry offerings. Everything from Boysenberry Jerk Chicken Wings to Boysenberry Cinnamon Sugar Flour Tortilla Chips with Boysenberry Ice Cream. Our favorites included the Boysenberry Jambalaya and Boysenberry Waffle with Boysenberry Maple Cream Cheese Syrup.
You can purchase individual tastings or for a better value, you can purchase a Tasting Card with 8 tastings (from a selection of 14) for just $35. Beer & Wine Cards are also available too!
You can purchase items a la carte or you can buy a tasting card which includes 8 offerings for $35. It turned out to be a great value as the serving sizes were very generous. It actually covered our family for lunch and dinner.
Here are some of the items you can purchase this year from Knott's Boysenberry Festival!
Boysenberry Chili, Boysenberry and Lemon Hummus, Boysenberry Dry Rubbed Flank Steak, Boysenberry Elote, Boysenberry Jerk Chicken Wings, Boysenberry Sausage, Boysenberry BBQ Chicken Skewers, Boysenberry Pot Roast, Boysenberry Glazed Salmon, Boysenberry Jambalaya, Boysenberry Pulled Pork Tostada, Boysenberry Habanero Baked Mac and Cheese, Boysenberry Waffle, Boysenberry Cinnamon Sugar Tortilla Chips & Ice Cream.
Looks like the wings have been a favorite check out these then and now pictures of Shea and Owen.
2017 Boysenberry BBQ Chicken Wings

2019 Boysenberry Jerk Chicken Wings
*Tip- bring lots of wet wipes… bbq sauce + powdered sugar = Well you get the idea 😉
A look back on 2017… Where Else Can the Kids Try Alligator?
Seriously, this was a highlight for us. As soon as we received our tasting cards I knew the foodie of the family was going to be S.T.O.K.E.D.!!!! Owen loves any opportunity to try new and exotic food. He has eaten everything offered to him in every country we have visited. As expected when he saw there was alligator on the menu that was the first place he wanted to go.
Would your kids get a kick out of trying fried alligator… or watching you eat it??
Here is Owen trying it out: (click image to watch)
2. Unique Family Experience

Where else can you ride roller coasters, sample unique food offerings, enjoy wine and a craft brew with your spouse, listen to live music and still fit in some awesome hands-on educational experiences?? I mean what a fantastic family day out. And, did I mention entry into the Knott's Boysenberry Festival is INCLUDED in your theme park admission!!! You can learn about how to get discounted Knott's Berry Farm Admission Here
Who would think kids would enjoy a food festival? Not me, I truly underestimated how much kids love food I suppose. Generally, my kids are pretty good eaters but still, I thought roller coasters and pizza would trump what the festival had going on. Boy, was I wrong!
The kids loved talking to the chefs and learning about the dishes. They would rate them after a few bites and explain to each other what they enjoyed about the dish as well as what they would do to make the dish better. It was really funny to listen to their conversations.
Mike and I enjoyed the wine and craft brew area. I mean a little booze doesn't hurt to keep you relaxed when dealing with 5 kids at a theme park. Knott's did a great job decorating the area with market lights and a gorgeous array of spring flowers that brightened up Ghost Town. To top it off they also had live music which created a wonderful atmosphere to hang out in. In fact, we hung out in Ghost Town almost the ENTIRE day.

The other great thing about the festival being hosted in Knott's historic Ghost Town is all of the educational opportunities the kids came across. I suppose we normally head to the rides and don't give much thought about this area of the park. On this trip, I learned that is such a shame. The kids watched the blacksmith demonstrations twice and I had to pull them away each time we needed to leave. They also loved watching the woman spinning thread, learning about all the geodes and talking to the sheriff!

3. Purchase a Boysenberry Plant
After being surrounded by all the boysenberry inspiration you may be tempted to bring a boysenberry plant home and become a farmer 😉 If that's the case Knott's is prepared and has boysenberry plants for sale. I can't think of any other place I have ever seen one being sold. I think coming to this festival may be your only chance!
4. Learn How Knott's and the Boysenberry Came To Be

Did you know Knott's started as a berry stand in the 1920's? In fact, Mr. Walter Knott cultivated the world's first boysenberry. That same year his wife started serving fried chicken dinners out of her kitchen. Eventually, evolving into their restaurant and attracting millions of visitors. To help entertain the crowds and lessen the lines Mr. Knott created Ghost Town and the rest is history.
Pretty amazing story right? It definitely gave me a whole new appreciation for Ghost Town. And, also explained the strange visitors we ran into in the parking lot 😉
5. Don't Forget to Bring Some Boysenberry Goodness Home

After sampling all of the boysenberry goodness you will most definitely want to stock up on a few of your favs before heading home. Here are my treats!!!
Remember the Boysenberry Festival is March every year. Don't Miss Out!
You Might Also Enjoy:
25 Things To Do in Buena Park with Kids + 9 of them are FREE!
Pin for Later-
*A special thanks to Knott's Berry Farm who hosted the Munchkins so that we could review the festival. As always my thoughts and opinions are 100% my own.