There's only one place in the world where I will willingly and might I add happily walk over 10 miles outside in the Southern California heat; Disneyland. It's the place that can fill your heart with joy can also fill your feet with pain. No joke, it's estimated that guests walk 10-12 miles per day when visiting the parks at Disneyland or Disney World. Just check out this article written by a Buzzfeed writer documenting her average Disney day with the help of a Fitbit! As you've probably guessed, all this walking is going to require some seriously good shoes. That's where our list, the best shoes for Disney, comes in… and don't worry we made sure that they're all Instagram worthy too. After all, half of the reason to go to Disneyland is to take some fun photos right?
Below you will find our guide to the best shoes for theme parks with options for men, women, and the kids!
Essential Tips
Broken in- I know how tempting it might be to wear your cutest new pair of sneakers to Disneyland! However, the best shoes for Orlando theme parks are definitely ones you have already broken-in. You're going to want to grab a pair of trusty kicks that you've worn on at least a few other occasions and walked a few miles in.
Support- Whatever shoes you feel offer the most support are a good option of Disney. We know that this can be a little different for everyone because feet can be extremely different.
Stylish- Last but not least, I want to emphasize again that you don't have to sacrifice style for comfort when it comes to shoes. All the shoes we included on the list below are perfectly on-trend right now.
Best Disney Shoes for Women

Reebok Classics – My Personal Favorite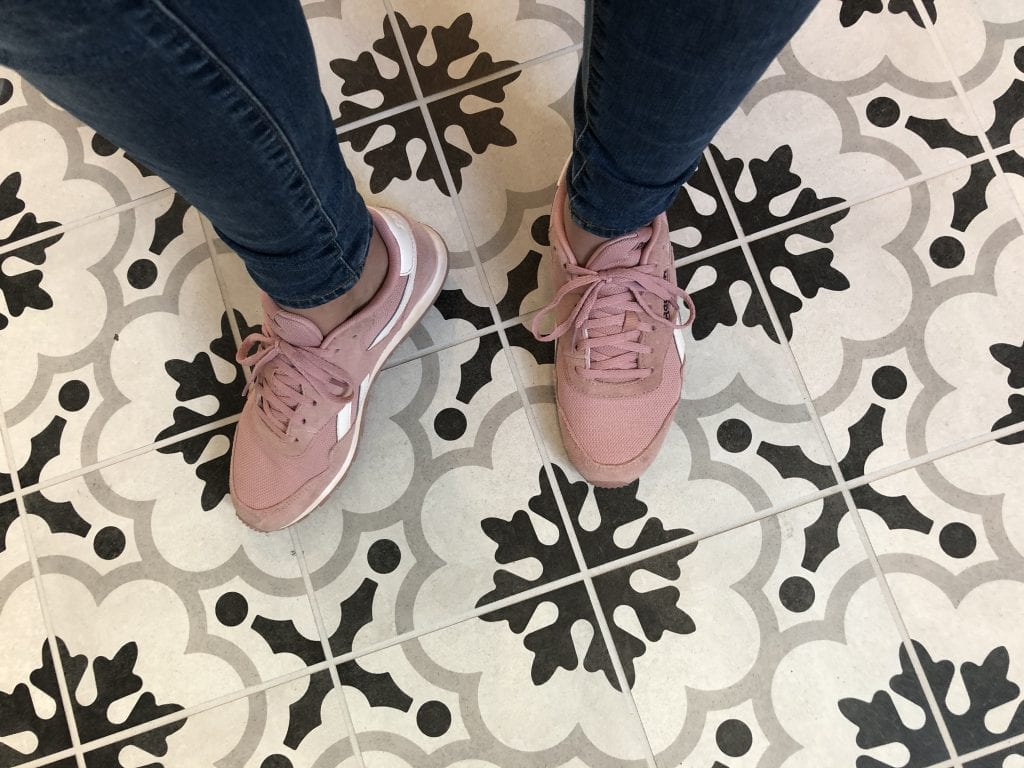 I can not tell you how much I love this pair of shoes. These are my absolute favorite and I wear them for any long walk. Even after a full day of Disney, my feet aren't sore.
Not to mention after many vacations and Disney adventures, they are still holding up well. Check Current Prices Here
---
New Balance shoes have become extremely popular over the last couple of years and one look at these will prove to you exactly why. They are so cute and the perfect balance between an athletic shoe and a fashion statement, perfect for all the photo opps in the Disney parks.
The midsole foam will have you feeling like you're walking on clouds all day and the deconstructed heel makes them so easy to slip into. Check current prices here!
---
Like walking on clouds, these will keep you comfortable without trading for style. Shop the current selection here.
---
A classic for a reason. These slip-ons are comfortable, supportive, and super easy to get on and off. Make this popular style uniquely yours with seasonal colors and patterns here.
---
When you want comfort, but sneakers aren't going with you look, these platform slip-ons are the perfect solution. They come in a few different colors and fabrics to choose from here.
---
These Minnie shoes are so lightweight and comfortable. They are great for water rides as they are made with rubber.
Native Shoes features their injection molded EVA construction that is shock absorbent, odor resistant (a must for Disney Days), and hand-washable.
---
There is nothing going wrong with the time tested Nike trainer. Especially these super cute Revolution 5 FlyEase shoes, which by the way don't have any laces to tie! Instead, they have a zip closure, so you can be sure you won't have to stop the fun because your laces are undone. Check current prices here!
---
Vessi 100% Waterproof Cityscape Sneaker
Stay light on your feet in these ultra-lightweight kicks. And when we say lightweight, we mean it. These sneakers are 100% waterproof and breathable, perfect for the water attractions. This color sells out quick, check for the restock here.
---
If you are planning on going to go on some water rides or just planning on being in the Florida storms, a leather shoe is a great option. On our recent trip during Hurricane Dorian, there was plenty of rain and those of us with leather shoes did not have sopping wet feet.
With this pair of cute comfortable shoes for Disney World, we're moving away from the athleisure look. These sneakers offer tons of support and comfort, but their look makes more of a fashion statement. The leather laces are a great touch and they won't look dirty even after a crowded day at Disney. Check current prices here!
---
On trend, sporty sandals that provide great arch support. The quick dry webbing made of earth-friendly materials make these a super practical sandal for the park. Shop here before they're gone for the season.
---
---
Go for comfort and function with these Chaco sandals that are on trend.
Taking things in a whole new direction, we offer you the best comfortable sandals for Disney World! We don't recommend wearing this shoe if you're going for a full day all-out Disney experience, but if you're an annual pass holder or someone who just wants to have a leisurely day in the park this Beek Finch Sandal will do just fine. Not to mention, it's probably a shoe you will get a ton of wear out of in your daily life as well.
They are handcrafted from beautiful vegan leather and actually have an arch for support, which isn't common in sandals. Beek donates a meal to a child in need with every shoe purchased, make sure to check out their charity partners! Check current prices here!
---
When thinking about the best shoes for Disney World or any other theme park for that matter, you should take the word "cloudfoam" very seriously. We have already mentioned feeling like walking on clouds with the New Balances, but these Adidas take it to a whole new level.
They mold to your foot for maximum comfort and are very breathable. Plus, they are cute in literally every color option they come in from ice purple to raw grey. Check current prices here!
---
You can actually wear ballet flats to Disney and be comfy. Tieks Ballet Flats are seriously one of a kind. From the top, they look like your average ballet flat but they offer so much more. They're made of extremely soft leather, have a cushioned heel, and rubber soles that offer plenty of support.
These are the perfect shoes if you are planning to head to a nice dinner or something after spending time in the park. We linked the matte black, but there are tons of color and pattern options worth checking out as well. Check current prices here!
---
On to our next pair of New Balance sneakers, we bring you the 574s. Women have been rocking these shoes since their creation in 1988, and I don't think they will ever truly go out of style. They have great support and foamy cushioning, along with being a very durable shoe.
When ordering, keep in mind that they fit true to size and are great for those of us with wider feet. Their reasonable price is one of the many reasons we added them to our best shoes to wear to Disney list. Check current prices here!
---
For a day when you have fastpasses booked from dawn to dusk, these are the best women's walking shoes for Disney World. The Ultraboost is ultra-comfy and ultra great for a day of walking around. The toe area is a knit material which makes them lightweight and breathable right where you want them to be.
Another great aspect of these shoes is that they have great traction! So rain or shine this is a reliable shoe for a day at a theme park. They are great for running as well, just in case you plan on getting a little extra workout in… or possibly just have a two-year-old to chase after literally all day long. Check current prices here!
---
Quality construction and this knit fabric that helps your feet stay cool. Comes in many different seasonal colors including this soft sunny shade perfect for Summer days at the park. Check out the current color selection here.
---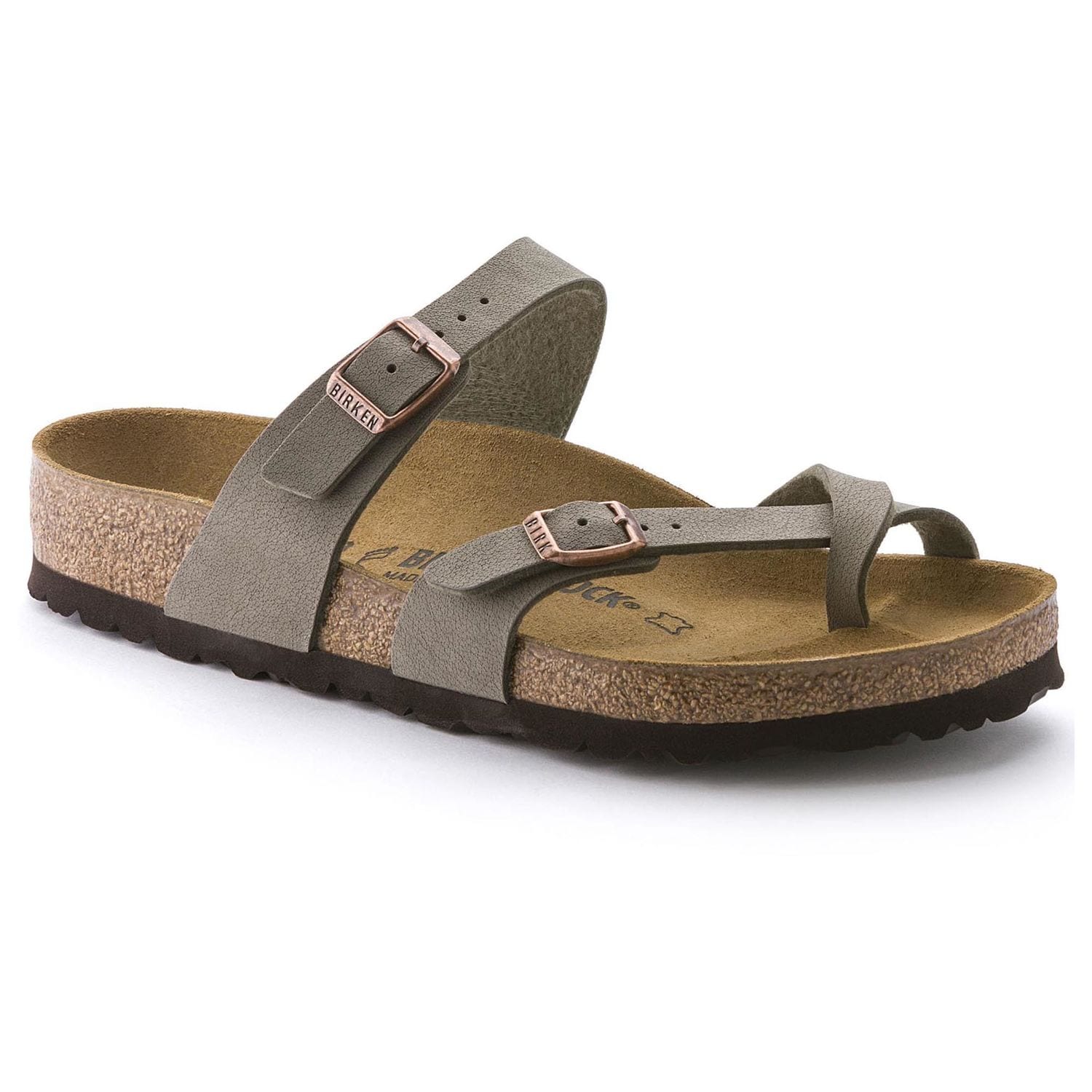 Looking for the best shoes for Disneyland on a hot day? There is nothing wrong with a little Birk love. Although, we highly recommend that you ensure they are broken in before a Disney day.
We chose the Mayari model for our list because the toe loop and double strap will help to keep them on your feet. Both straps are adjustable so every foot can find the perfect fit.
All Birkenstocks are made with their original footbed model from 1774 which maximizes comfort and support and has obviously passed the test of time. Check current prices here!
---
Another pair of the best shoes to wear to Disney World; Dr. Scholl's Madison Memory Foam Slip Ons. The insole has that Dr. Scholl's technology with three zones of comfort to keep your feet happy. Since they come in so many different looks, they are made out of a variety of materials but each is very high quality. Check current prices here!
---
Ah, the sneaker of the stars. This has become the ultimate casual shoe of Hollywood. Beyond Hollywood, even Kate Middleton has been spotted in these. Only for the very best reasons of course, like their sturdy canvas or leather uppers and comfortable soles.
They are another option perfect for rain and shine offering good traction with every step making them great womens theme park shoes. Check current prices here!
---

Best Mens Theme Park Shoes
When looking for Disney shoes for adults, chasing kids around is one big factor to consider! These shoes will give dad the boost he needs to keep up while staying super stylish. They are super lightweight which makes them easy to wear all day long. Check them out here!
---
Breezy mesh construction provides cool comfort all day. We love the drop-in heel for the convenience. Comes in multiple color options found here.
---
Ugg has definitely made some huge strides in moving away from their classic winter boot. I mean, just take a look at these cool sneakers. Staying true to Ugg, these shoes are super comfy with a cushiony sole and lamb leather lining. They look trendy, but they are built for a lot of walking around. Check current prices here!
---
They are so comfortable and work for people with all different kinds of feet, including flat feet and wide feet. They are a little pricey, but it is worth it for the comfort. I would go as far as to say these are the best men's walking shoes for Disney World. Grab them here!
---
Lightweight, breathable, and comfortable enough to wear all day long. This bold pop of color will be sure to turn heads and makes the perfect color combo for a day in the park. Check out the current colors offered here.
---
The sneaker made for (you guessed it) everyday. Designed with a cushy sole to keep you comfortable all day long. These are 100% waterproof and breathable, you won't have to stop the fun when your feet get wet at the water attractions. They've sold out 3x this year, grab yours here.
---
New Balance Fresh Foam Roav
The Fresh Foam cushioning creates a soft underfoot feel and the stretch fit allows you to slip them on without unlacing.
---
We've always been a fan of the flyknit, and this updated version provides the high-foam foam sole for maximum support and long-lasting comfort with the breathability where you need it.
---
A versatile shoe that offers sleek, stylish uppers and unique heritage details. Built on a rubberized EVA outsole, its Extreme Comfort footbed offers unbeatable cushioning for all day comfort.
---
Ojai is built on an ergonomic and supportive LUVSEAT™ footbed, which promotes healthy alignment and arch-support. It features recycled and planet-friendly components, so you can feel even better about causing around in these all day.
---

Best Kids Shoes for Disney
Three things we love about this shoe. First off, the adorable Minnie style. Second, slip on shoes at Disney are a dream. I can't tell you the number of times I've heard "my shoes are untied. Lastly, they are Adidas and are super comfortable. These are definitely my favorite kids shoes right now. Check Current Prices Here!
---
When it comes to little ones, the best shoes for walking around Disney World or Disneyland will be durable, comfortable, closed-toe, and versatile like these Jefferson Native Kids Shoes. For one, these shoes don't have laces so you won't be pausing in the middle of Main St to tie shoes. They are also lightweight and the perforations make them very breathable (and perfect for a day at the water parks!).
Say goodbye to stinky shoes after a long day at the theme parks. These are super easy to clean because they can just be hosed off! Check them out here.
---
The whole family can be twinning in this comfort with this style, and the kiddos will especially love the themed Star Wars print.
---
Such a cute design, and currently on sale here. We love the straps that make it easy for little ones to put on themselves.
---
New Balance 574
We love a good classic style that the whole family can match in. This retro red color is especially fitting for a day at the park. See more colors available here.
---
Got a Superman or a Spiderman fan? These are a must! From the fun colors to the famous Adidas quality, you can't go wrong with these!
---
Make their day extra special and extra comfy with these toddlers' adidas shoes. As they run, dance, tumble, stumble and get up again, Disney's Tinkerbell is along for the ride, blowing glittery fairy dust with every step.
---
Again, having no laces is definitely a good idea for kid's shoes at Disney parks! This classic shoe comes in tons of colors, you might even be able to find a Disney themed pair if you keep your eye out. They break in really quickly and unlike many other slip-on options, they do not squish your toes.
These are a few of my teens' go-to shoes, but anyone in the family can rock them. Grab your pair here!
---
The last addition to the best shoes for Disney search, the most classic theme park shoe of all; converse. They're undeniably cute with any outfit and easy to wear all day long once broken in. Men, women, and children alike can wear these iconic shoes. Anyone else thinking a matching family day might just be an awesome idea?
The charcoal pair is our absolute favorite because they never really look dirty. Also, even though they are made of canvas they seem to be a shoe that will last you forever. Check current prices here!
If you need help planning and booking your magical Disney vacation, contact our friends at Tink's Magical Vacations. They are truly Disney Experts, and not only are their services FREE, but they will save you both time and money setting you up for the most magical day at Disney World.

You might also enjoy
The Ultimate Walt Disney World Packing List [Over 50 Must-Pack Items]
15 Super Cute Disney Back to School Supplies for 2018
12 Ways to Beat the Heat + Outsmart the Disneyland Crowd
Pin for later – Best Shoes for Disney – A guide to the best kicks to save your feet.