When you're getting ready for a "rope drop to fireworks" kind of day at Walt Disney World's Magic Kingdom park, it's wise to start the day off with a great breakfast. Fortunately, the Magic Kingdom, which is arguably the most fantasy-filled of all Disney parks, offers a wide variety of options to start your day right. Whether you're interested in visiting a quick-service kiosk so you can use your first Lightning Lane Pass right away or you want to savor a meal inside the castle, there's something for everyone! You'll learn more about the best Magic Kingdom breakfast options in this guide.
Character Dining and Sit Down Breakfasts in the Magic Kingdom
Cinderella's Royal Table
The crown jewel of all Walt Disney World dining experiences! Cinderella's Royal Table is inside of Cinderella's castle. You will enter by walking down an elegant spiraling staircase. Then, your little princesses (and princes!) will get the chance to meet and mingle with Cinderella, Rapunzel, Ariel, and some of their friends! There will also be plenty of time to grab an autograph and snap some priceless photos as the characters make their way around the restaurant.
The menu for this table service breakfast includes delicacies like caramel-apple stuffed French toast, shrimp and grits, goat cheese baked quiche, and assorted baked goods. It is definitely one of the most delicious breakfast menus offered at any Character Dining Experience!
The full menu is available here. Keep in mind, Cinderella's Royal Table is one of the most popular dining options in all of Walt Disney World, so we strongly encourage reservations. You can use 2 Table Service Credits per guest to dine here on the Disney Dining Plan.
Be Our Guest- Highest Quality Magic Kingdom Breakfast Menu 
Be Our Guest restaurant, located in Beast's Castle in Fantasyland, offers a delicious dining experience in one of three themed dining rooms. During breakfast, this restaurant is technically quick-service and you will order off a tablet. However, reservations are recommended and the ambiance resembles an upscale dining experience. For these reasons, we've included it on the "sit down" section of our list.
During breakfast, you can still sit in the ballroom, the infamous West Wing, or the gallery. Each space at Be Our Guest has a unique feel, from the dark foreboding of the West Wing to the bright open concept of the ballroom. Pro-tip! You probably want to avoid the West Wing if dining with little ones as it is dark and may frighten them.
For breakfast, menu options include Feast á la Gaston (scrambled eggs, bacon, sausage, and roasted potatoes paired with fresh fruit) and French toast (made with brioche bread and served with fresh fruit and small pastries). A favorite on the kid's menu is the Crêpes de Cogsworth (chocolate hazelnut ganache crêpes, berry compote, and whipped cream served with a curated collection of pastries) or Scrambled Eggs de Maurice (scrambled egg and cheese, bacon, and pastries).
The full menu is available here. We recommend making reservations as far in advance as possible for this dining experience. Some dining plans are accepted at Be Our Guest.
Crystal Palace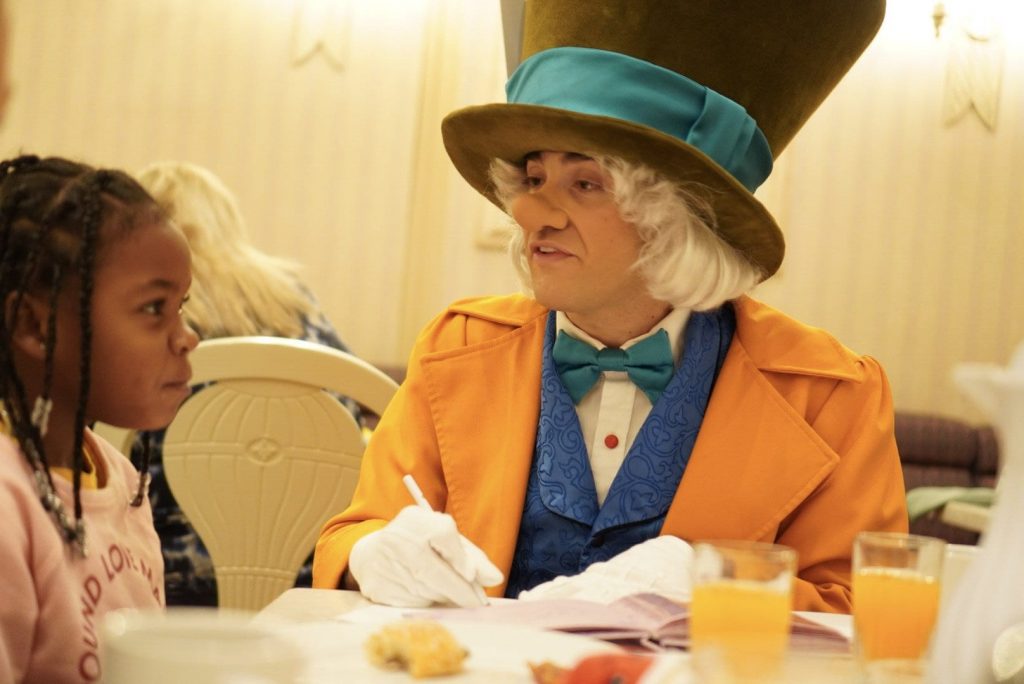 You will find the Crystal Palace near the park entrance on Main Street USA. This buffet-style character breakfast features Winnie the Pooh and his pals from the Hundred Acre Wood, making it one of my favorite options with little ones! This is also an especially fun breakfast experience for multi-generational groups since A.A. Milne's beloved characters transcend age.
On the menu, you will find scrambled eggs and an omelet station where you can choose your own toppings. There is also a variety of pastries, breakfast meats, hash browns, and standard cold cereal options. There is something for even the pickiest of eaters!
The full menu is available on the Walt Disney World website, here. Reservations are strongly recommended and some dining plans are accepted at the Crystal Palace.
Fun fact! This restaurant is themed to resemble the original Crystal Palace from London's 1851 Great Exhibition.
Quick Breakfast Bites in the Magic Kingdom
Sleepy Hollow Refreshments- #1 Grab-n-Go Magic Kingdom Breakfast
The Sleepy Hollow Refreshment Stand is located in Magic Kindom's Liberty Square and is a great place to chow down on some delicious breakfast food while getting in a great view of the castle. As for the menu… say hello to your new breakfast favorite; waffle sandwiches! The Breakfast Egg and Cheese Waffle Sandwich is a savory favorite, while the Fresh Fruit Waffle Sandwich with Nutella will satisfy any sweet tooth.
They have got a couple of other delicious options as well, find them on the menu here! This is a great place to use some of your Disney Dining Plan snack credits. Just keep in mind, they make the waffles fresh so the wait can be a little long!
Gaston's Tavern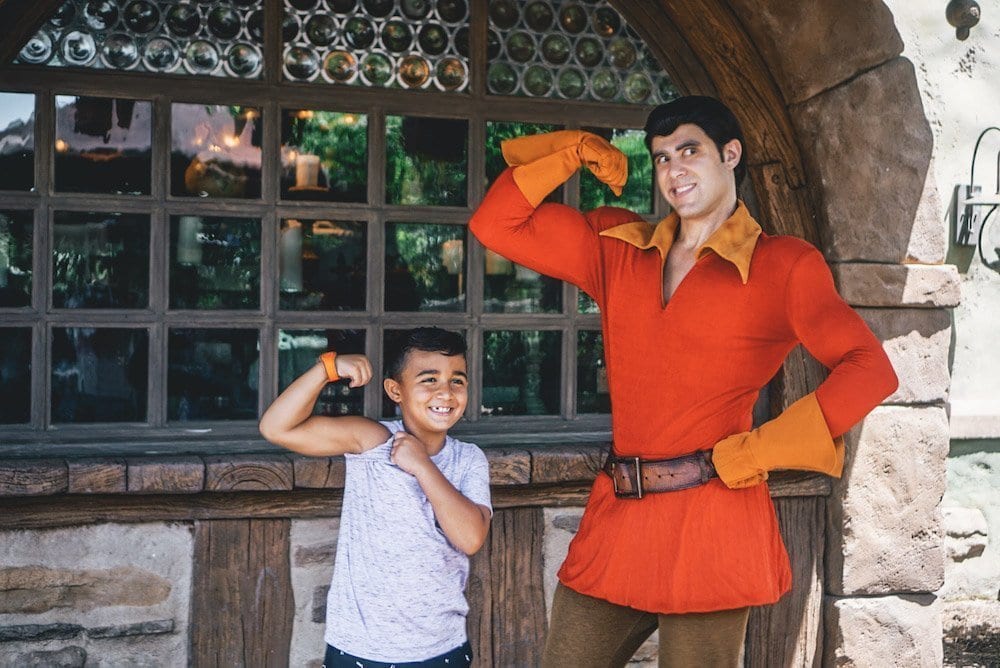 Located near Beast's Castle in Fantasyland, Gaston's Tavern is most famous for its cinnamon rolls (they are huge, gooey, and delicious) and their signature LeFou's Brew. Lefou's Brew is a blended drink with hints of apple and marshmallow that comes in a souvenir cup! Other breakfast options at this quick-service establishment include chocolate croissants, sliced apples with caramel sauce, apple juice, and hot coffee.
The full menu is available here and some dining plans are accepted at Gaston's Tavern. You can use a snack credit for one of those delicious cinnamon rolls!
Cheshire Cafe 
The Cheshire Cafe is a quick-service kiosk, themed to resemble a fairytale cottage. There are several umbrella tables with seating available to guests who want to sit and enjoy their pastries and coffee beverages.
Available for sale are hot and cold brew coffee or orange juice, but the real reason to stop here for breakfast is to try the establishment's signature pastry. That would be the Cheshire Cat Tail, which is a breaded pastry with a yummy chocolate filling. They cover the top in purple and pink icing along with chocolate chips!
Dining plans are not accepted at the Cheshire Cafe, but this little snack is worth paying out of pocket for.
Main Street Bakery 
The Main Street Bakery also doubles as the Magic Kingdom's Starbucks location. It is located right on Main Street USA and looks like it could have fallen out of a storybook about turn-of-the-century small-town America. 
All of your favorites, including signature lattes, Frappuccinos, and La Boulange pastries and breakfast sandwiches are for sale. Yes, that means you can get your Bacon and Gouda Breakfast Sandwich even when you have an early morning Magic Kingdom Fastpass!
The full menu is available here and some dining plans are accepted at the Main Street Bakery. Bonus! You can also purchase highly sought-after Starbucks souvenirs, such as the Disney Starbucks mugs, at this establishment.
Liberty Square Market
When you are really in a hurry or just too excited to eat a big meal, you can make a quick stop at the Liberty Square Market. They offer a variety of fruits like apples, oranges, and bananas. You could also grab some trail mix to go!
Aloha Isle
Who says you can't have ice cream for breakfast? I mean Dole Whip is made out of pineapples, after all! The Aloha Isle stand opens at 10 am, so if you get a slow start to your day this is the perfect morning snack option.
They've got more than just your basic Dole Whip. Check out the whole menu here! Keep in mind, dining plans are not accepted.
Now that you have a roadmap to guide you to the perfect breakfast location for your next Magic Kingdom visit, all you have to do is choose one! Easier said than done, right? If your desired restaurant suggests reservations, you can go online or call 1-800-407-W-DISNEY up to 180 days before your scheduled arrival. Have a magical vacation!
Have more questions about Walt Disney World vacation planning? Feel free to leave a comment or reach out to me on Instagram!
You May Also Like:
Try the Grey Stuff, It's Delicious- The 7 Best Magic Kingdom Restaurants
Over 100 Disney World Tips & Tricks for 2020! [Save Time & Money!]
The Best Rides at Magic Kingdom [Top 11 Most Magical Choices]