It's funny… I never considered myself a Disney fanatic or a Disney Pro. Until friends began approaching me to help them plan their Disney World Vacations.
Turns out my 40+ visits to Disney World + a few inside Disney World tips from my Imagineer dad qualified me to help families make the best of their Disney World Vacations.
Here is a list of all our best tips, tricks, and a few Disney World hacks. I hope you enjoy it!!
---
My 11 Best Disney World Tips to Have an Amazing Disney Vacation!
In order to save you time and keep things organized, I am going to start with my 10 best Disney World tips and then I have divided the rest of the Disney World tips up by the Walt Disney World parks and hotels. Read through them or skip to the areas that you are interested in
Skip to Disney Money Saving Tips
Jump to Time Saving Tips
Skip to Magic Kingdom Tips
Head Over to Epcot Tips
Skip to Animal Kingdom Tips
Jump to Hollywood Studios Tips
Skip to Disney World Dining Tips
---
1. Save up to 50% OFF On-Site Disney Resort Rooms!
Disney Vacation Club RENTALS –
One of my favorite tips for visiting Disney World is DVC Rentals. Disney Vacation Club is a Disney timeshare that offers stays at their deluxe resorts. However, you don't have to be a member to reap the benefits. Members are allowed to book resort stays for their guests.
There are several sites that allow you to "rent" points from a member. This can save you a considerable amount of money if you are planning to stay on property. Our favorite DVC Rental site is the David's Vacation Club Rentals.
Before we had the Disney Vacation Club, we used DVC Rentals. We booked a studio at Beach Club Villas for $184 a night and the regular price was over $420 – See how much you could save by renting points by clicking here or clicking the banner below. You can check out my full review of the DVC rental here!
---
2. Do not Book your Vacation directly through Disney! (you are throwing money and time away)
This sounds counterintuitive, but booking a Disney Vacation directly through Disney is not the best way to book, it might be the worst. Instead use a Disney Travel Agent, they know all the special offers, they will save you a boatload of time and they cost absolutely nothing.
The travel agents get paid by Disney and the price they offer is the exact same as the price offered by travel agents. Some even include little perks like Disney Gift Cards when booking.
Not all Disney travel agents are created, the same. Our personal favorite is Best Day Ever Vacations, but you can check out all of our top 5 here.
---
3. Save Hundreds of Dollars on Stroller Rentals –
If you are bringing some tiny humans along on your Disney World trip, there is no doubt you will need a stroller. Disney World can put a beating on your stroller at home, so I recommend renting one.
Renting at the parks can cost quite a bit and you can only use them at the parks, so I highly recommend renting from an offsite vendor.
Kingdom Strollers has been around for over 20 years and they will save you a ton of money plus they deliver the stroller to your hotel or Airbnb! You simply place your order and then meet them at your hotel at one of their 5 daily meetup times and grab your stroller.
If that is not convenient enough you can grab the stroller directly at their onsite locate inn the Orlando Airport
It couldn't be any easier Check em out here!
---
4. How to Get Pictures in front of the Castle without a giant crowd behind you.
If you are on Main St. you might try to grab a picture of the castle but unfortunately there are tons of people surrounding you. Here are 5 spots where you can take pictures with out 1,000 people behind you in your shot.
You can check out the full video here. https://www.tiktok.com/t/ZTRKsFYgR/
---
5. Make Yourself Glow at Pandora
This might not seem like one of the Disney World tips that is worth being in the top 10, but let me tell you, your kids will love it.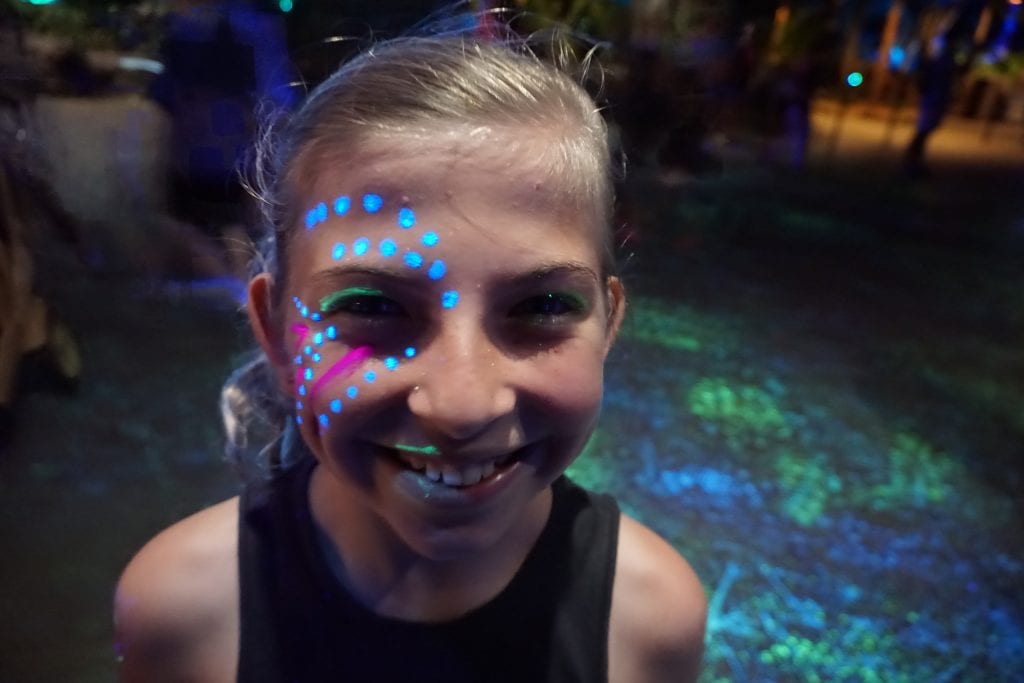 Order some glow in the dark paint from Amazon before your trip and then apply some fun designs to your kids before you head to Animal Kingdom at Night (or pack it in your day bag, if you are spending the day at Animal Kingdom)
At night, Pandora glows and so will your child. They do not sell the paint at Disney World so make sure to order it before your trip.
---
6. How to Get a Restaurant Reservation Anywhere!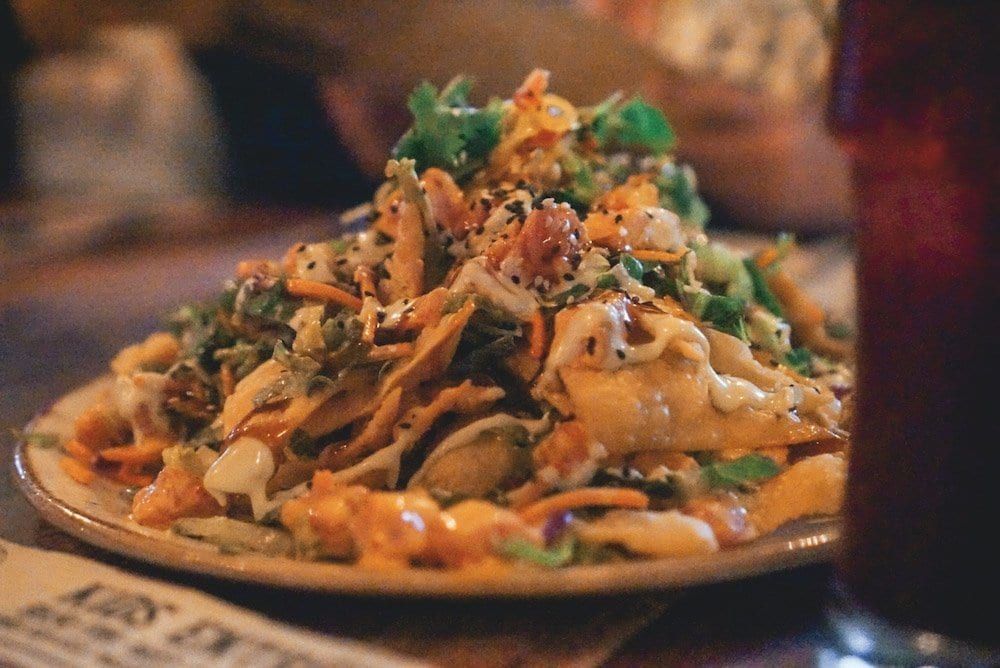 Getting a restaurant reservation at some of the most popular Disney World restaurants can be tough. Reservations get booked at some places 180 days in advance. But don't worry if your restaurant is booked, there is still a way to get that reservation.
Head to touring plans and sign up for a basic account (It's FREE)
Then visit their restaurant finder
There you will put in the reservation details you are interested in. You can set as wide of a range (multiple days) or as narrow as you prefer.
If there is a cancellation (which happens a lot) you will get a text.
Click on the link and book your reservation directly on your My Disney Experience App
****Bonus Restaurant Tip – At Disney Springs Restaurants, many of the restaurants also take reservations via Open Table. There are many more openings when you check on Open Table, some even the same day.
---
7. Watch Fireworks at Magic Kingdom with no crowd
I love the Magic Kingdom Fireworks but I don't love being smashed between thousands of people trying to watch the show. If you head towards Fantasy Land, plop yourself down in front of the Dumbo Ride and enjoy a pretty much private viewing of the fireworks show.
---
8. The Best Magic Kingdom Parade Viewing Location
This one is a little more known, so you will need to plan ahead if you want this spot. Head to the flag pole at Magic Kingdom and park yourself on the curb facing the castle. We learned this from our friends at Best Day Ever Vacations who saved us this spot for the Mickey's Very Merry Christmas Party.
From this location, you will be able to see the parade head directly to you with the castle in the backdrop. It is an absolutely amazing view.
---
9. Affordable Snacks or Meals
Disney World is expensive (not really shocking news there). So, I am always on the lookout for the best deals to make the trip more affordable including on snacks and meals.
In Epcot, you can grab a Baguette in France and it will feed a few people for only $2.00.
Grab a Chimichanga in Frontierland for $5.00. I often use that to feed my teenage boys for dinner.
Order tortilla chips from Pecos Bill and then load them up at the toppings bar for full fledge Nachos.
If you love popcorn, snag the refillable popcorn bucket on the first day too! A souvenir popcorn bucket costs $10-$17 but once you have it refills are only $1.50, so you can enjoy a tasty snack for under $2
Adults can order Kid's Meals at any food location.
---
10. Free Water
One of the best Disney World tricks is that you can get water for FREE. You don't need to pay $3.00 per bottle for Dasani water. Head to any quick service dining location and ask for a cup of ice cold water.
---
11. Visit During Low Crowd Season (even during the Holidays)
Yes, you can actually visit Disney World when it is not too busy, although it is getting rarer each year but it still can happen. There are several times per year where crowds are low, even during the holidays.
Of all the Disney World tips this is the most important if you want to visit while the parks are decorated for the holidays. Visit after Thanksgiving Break and before Christmas Break and you will find yourself filled with holiday joy as the parks are all decked out but the crowds are not there. Check out my full crowd calendar here!
---
12. Head to the Back of the Park to Start Your Day
If you arrive at the park around opening time. Head to the back of the park first and typically go in the opposite direction of the newest ride. There you will find no crowds and be able to knock off some great rides before the crowds come.
Most people visit the newest ride or the most popular ride simply head the opposite way and have a great day.
---
Disney Reopening Tips! (as of May, 2023)
With the new policies being put in place for Disney's Re-opening, we have updated our tips with the latest information to help you navigate your Disney Vacation!
---
MOST IMPORTANT – Make Park Reservations
Disney World will be limiting the number of people in the parks for the foreseeable future. To help control park crowds you will have to make a reservation online with your park tickets or annual pass.
Here is how to make park reservations:
Create a My Disney Experience Account (Login if you have one)
Link your park tickets
Create Your Party (Choose all individuals coming with you to the parks, they must have a ticket)
Select a Date and the Park you are planning on visiting
Confirm Your Plans
You can get complete details on the park reservation system here!
Download the My Disney Experience App
The My Disney Experience App is going to be pretty essential with the reopening. You will be able to get into virtual queue, order food, scan your tickets all with the My Disney Experience App. We have more detailed info about the My Disney Experience app below.
---
Money-Saving Tips at Disney World
Now on to some money saving Disney World tips. Any trip to Disney World can get costly, so we have some tips on how to save you some serious money. on your vacation.
Disney Resorts – Money-Saving Tips on Resort Reservations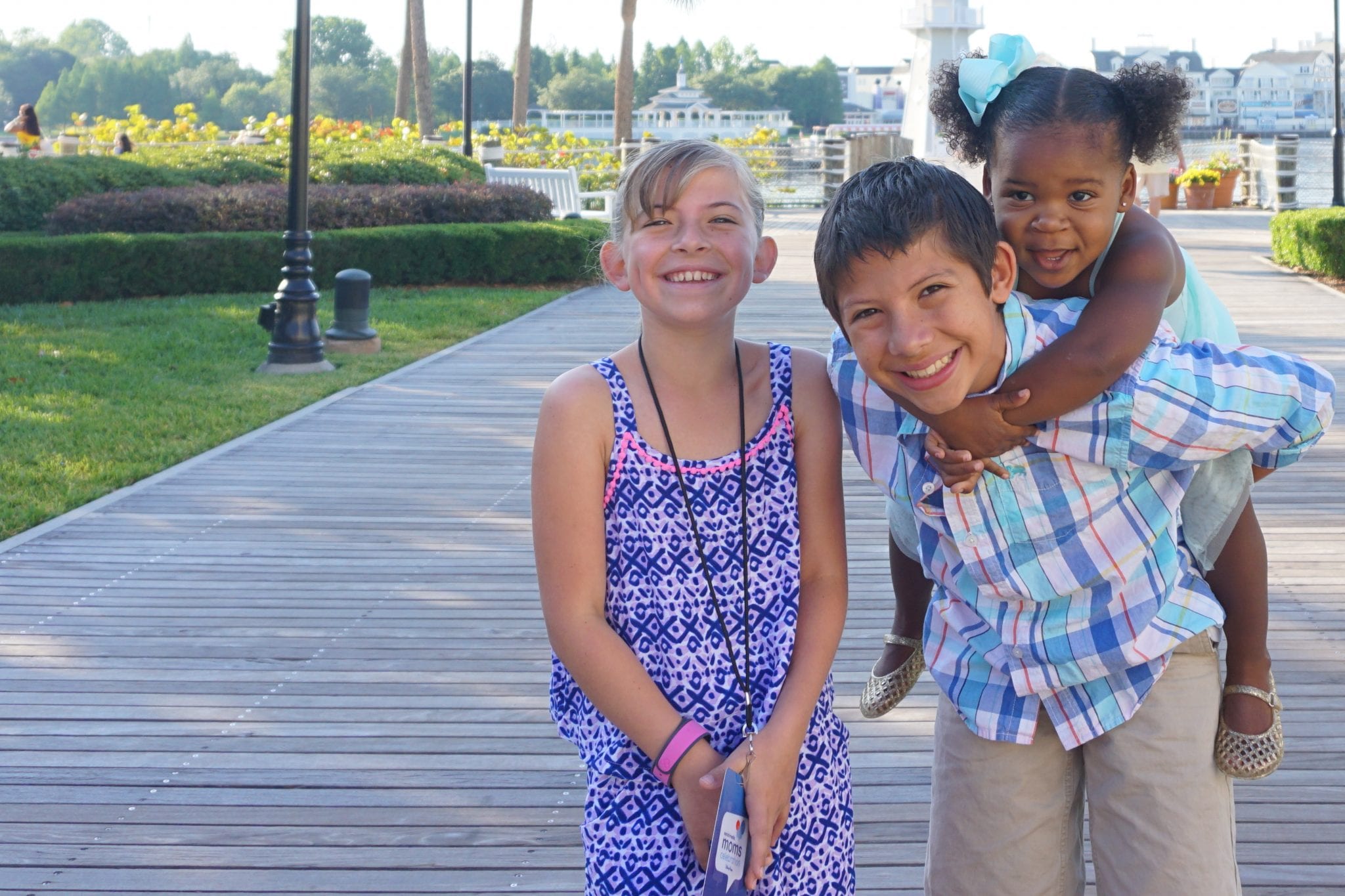 One of my favorite Disney World tips for first-timers is to stay onsite. Staying onsite at one of the Disney Resorts is probably my favorite thing in the world.
I have stayed at both onsite and offsite hotels, and there is just something magical about staying on site. I think it's that the Disney service, decorations, begins the moment you wake up and continues throughout the day.
Now, staying at a Disney Resort can be costly, luckily we have a few tricks up our sleeve to help you out.
---
Save up to 50% OFF Your Disney Hotel Stay
Disney Vacation Club RENTALS –
As I mentioned above, One of my favorite tips for visiting Disney World is DVC Rentals. You can save up to 50% off rooms at Disney World, Disney's Aulani in Hawaii or Disneyland's Grand Californian by renting points.
Our favorite DVC Rental site is the David's Vacation Club Rentals.
Before we had the Disney Vacation Club, we used DVC Rentals. We booked a studio at Beach Club Villas for $184 a night and the regular price was over $420 – See how much you could save by renting points by clicking here or clicking the banner below. You can check out my full review of the DVC rental here!
---
Use a Travel Agent for traditional Room Reservations!
We mentioned this above, but a travel agent is the way to go when booking your Disney Vacation. Best Day Ever Vacations is who we use for all of our Disney Vacations. Not only are their services completely FREE, but usually they save you money + they will also guide you with booking dining reservations and Disney Genie + and so much more.
They save you time and money and they know Disney better than we do…… and we have been a lot of times. But, don't just take our word for it, check out all of their guest testimonials. They truly are the best!
---
Stay Off Property
While we love staying on property it tends to add up really quickly. So, occasionally we book off-property. One of our favorite offsite hotels is Caribe Royal Orlando it is an all-suite hotel with spacious 2-bedroom private villas (perfect for families), a great pool, and included park transportation. Plus, with the included full kitchen you can save on food costs too!
---
Disney Money-Saving Tips in the Parks
Purchase Discounted Tickets from a verified vendor
We have a full breakdown of where to get discounted Disney World Tickets, however, typically Undercover Tourist is our go-to resource for discounted Disney World tickets. Check Current Prices Here
Rent a stroller from an offsite vendor:
Don't want to pack that big stroller on your trip, save some serious dough by renting from an offsite stroller company. There are two offsite stroller companies that we recommend and they will save you up to 65% off.
Kingdom Strollers has been around for over 20 years and they will save you a ton of money plus they deliver the stroller to your hotel or Airbnb! You simply place your order and then meet them at your hotel at one of their 5 daily meetup times and grab your stroller. It couldn't be any easier Check em out here!
**Update** Now Kingdom Strollers is available for pick up and drop off at their onsite location at the Orlando Airport. Simply hop off your flight, head to their location at Terminal A and pick it up.
---
Dining at Disney – Money Saving Tips
Adults can order kids meals at Disney
Whether you are health conscious or trying to stay on budget ordering off the kid's meal can be a great choice. There are a number of healthy options available and the portion sizes were just right for me.
If you love popcorn, snag the refillable popcorn bucket on the first day too!
A souvenir popcorn bucket costs $10-$17 but once you have it refills are only $1.50, so you can enjoy a tasty snack for under $2
---
Check out Disney's Dining Plan if you are staying on property.
If you have a big appetite, it's a great value. If not I'd say pass. The Disney Food Blog, has a great article on the best Disney Dining Plan restaurants
---
Bring your own snacks into the parks
Check out our Disney Packing List + the learn about our FAVORITE Grocery Store near Disney World here (*you don't even have to leave your car if you use their online ordering).
---
Need a Mobility Scooter – Save Hundreds of Dollars on Rentals
Disney World charges $50 a day for a fancy-schmancy electric scooter, you can get a scooter for as little as $15 a day with Florida Mobility Rentals
---
Staying for more than 3 days, get the Memory Maker – PhotoPass Plan
Disney has professional photographers throughout the park ready to capture your special moments. They will give you a photo pass or link your magic band so you can view the photos on the Disney Experience app or website at a later time.
Money Savings Pro Tip- Did you know these photographers will also take a photo of you using your camera or phone? Pretty cool right & it's FREE?
Another Pro Tip- If you can afford it, the Memory Maker is an AMAZING tool!!! It tracks the photos you take on the rides, while meeting characters and any photo you take with a Disney Photo Pass Photographer.
The photos come directly to your My Disney Experience app or can be viewed online almost instantly. From there you can download the photos to keep with just one click! There is an additional fee but with all the special photo memories we brought back I would say it's totally worth the cost. I won't even bring my big camera next time we go.
Here are some of the moments our Photo Pass captured.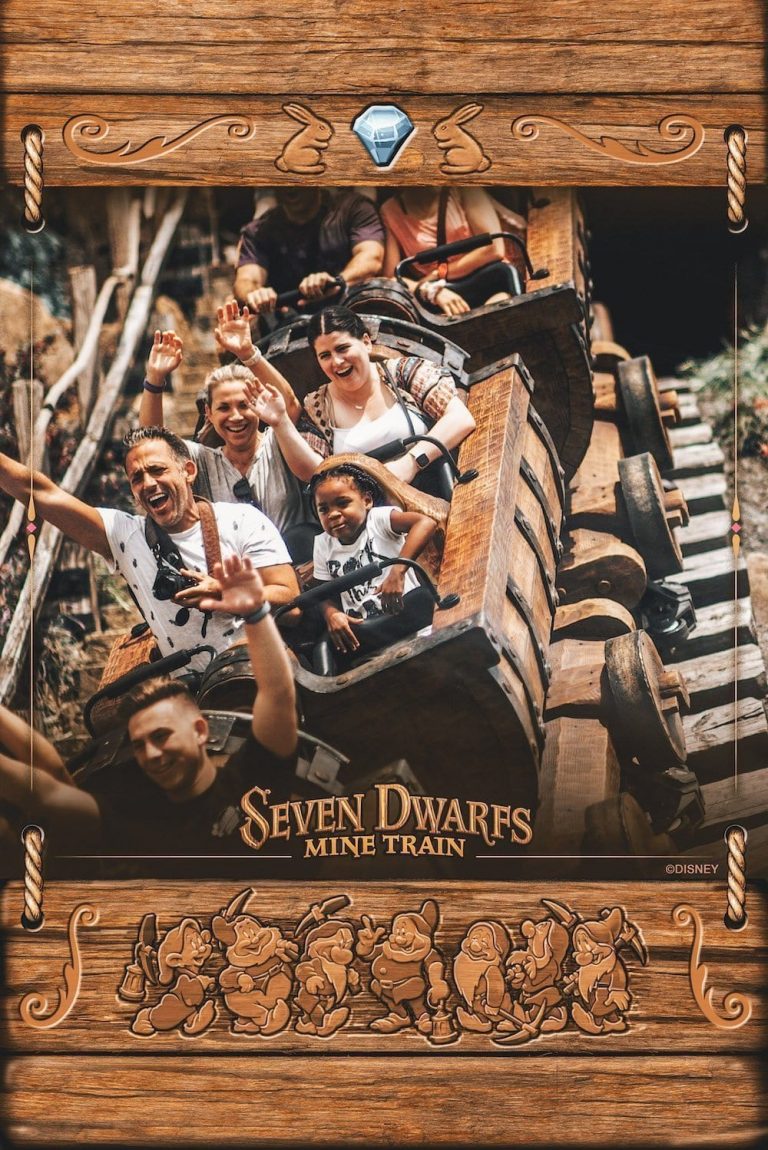 ---
Packing Tips for Walt Disney World
I have a complete packing list for Walt Disney World with printable to make it super easy to pack for this once in a lifetime vacation. In the meantime, here are a few items that most people forget that are definitely needed for a trip to the Happiest place on Earth
The Best Disney Shirts are online + you'll save a ton of money!
If you want to find a unique and fun Disney shirt, the best place to get one is not at Disney World. In fact, pre order your shirts from some very creative people on Etsy. Check out our favorite Disney Family Matching Shirts and Disney Couple Shirts. They are amazing!
Pack a strong but compact umbrella –
It rains in Florida…a lot! Let me tell you something. I have done every type of umbrella/poncho. I packed the giant ones but they were a pain to take on the planes and the Disney buses. Also, I did the cheap ones from Disney (cheap made, not price) that broke after a few days. The best umbrella to pack is this one from amazon.com. I have had it for years and every time I use it, whether its to block the sun or the rain.
If you are planning on hitting up a parade, Fantasmic, or even as a little cover for your little one at night, this portable blanket is perfect. Simply click it to your backpack or stroller and unpack it when it is time to sit back and enjoy the parade without having to sit on a ground stepped on by millions of people. Once the parade is over, it is super easy to smush it back into the bag it comes in. Check it out here!
There is surprisingly a lot of phone usage happening when in the parks. When you are using the my Disney Experience App to check your wait times, book Lightning Lane passes, check on dining reservations, you will find your battery can get drained fast. Snag a great portable charger (this is our fave) and everyone's devices will be charged all day.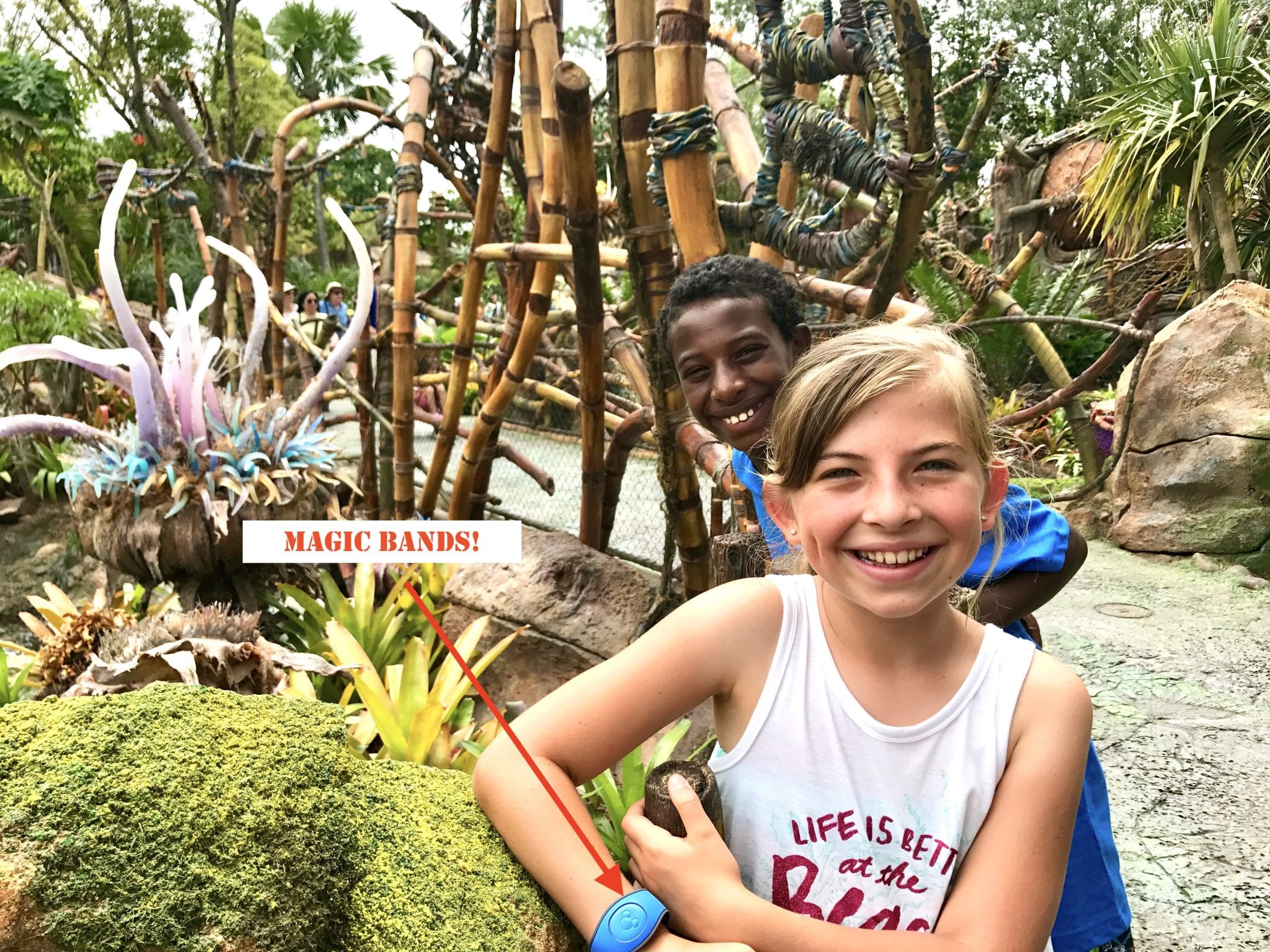 Time Saving Tips – More time for fun rides!
Order your Personalized Magic Bands and book Disney's Magical Express ASAP (Disney Resort Guests Only)-
Your magic bands and luggage tags need ample time to arrive before you leave. Your magic band will be your most prized possession. It is your room key, park ticket, payment method, photo pass, memory maker tag & more! Magical Express luggage tags mean you won't even have to go to baggage claim when you arrive- SCORE! (Check out 13 Amazing things Disney Magic Bands Can do)
---
Time Saving Tips
Download the My Disney Experience App it's AMAZING!-
The app is available here. And, it links your reservations, lets you search ride wait times, book dining reservations, purchase souvenirs, and send them to your room or mail them home and it's linked to your photo pass!!!
**Disney World 2022 Tip & Trick**
Use the My Disney Experience App to get your boarding time for Rise of the Resistance. Arrive 30 Minutes before the park opens and once you enter the park request a boarding group for Rise of the Resistance!
Stay away from the EXTRA Magic Hours Parks-
The parks with Extra Magic Hours for Disney Hotel Guests tend to be the busiest the entire day. If it is an early morning magic hour and you are staying at one of the Disney resorts you can take advantage of the early morning and get out because it gets packed, however, if you oversleep and don't make it to the early entry, change plans and go to a different park.
Early theme park entry is a great way to enjoy your Walt Disney World Vacation.
Visit the Next Day after Extra Magic Hours Evening
On the same note, if a park has an Extra Magic Evening, visit that park on the next day because a ton of guests were just there late into the night so the morning should be a lot quieter.
Single Rider Line
Single Rider Lines are usually half the wait sometimes even more. Test Track, Expedition Everest, and Rock N Rollercoaster all have a separate line for single riders.
---
Riders Switch Pass
Have little ones that can't or don't want to ride? Have one parent and said child wait outside while the rest of the party walks through the queue as normal. Then let a cast member know you are doing Rider Switch. They will give you a Rider Switch Pass (like a Lightning Lane Pass).
You simply enjoy the attraction as normal and exit. Then, you hand the person waiting with the child outside the Rider Switch Pass and they go through the Lightning Lane pass line with up to 2 additional riders. This way everyone gets to ride and you DON'T have to wait in line twice!!
---
Mobile Food Ordering
One of my favorite Disney World tricks is not waiting in line for food. Nothing is worse than being hungry and then having to wait in line. Lucky for you, Disney has rolled out Mobile Food Ordering directly from the My Disney Experience App. Simply place your order, head to a specially marked window and pick up your yummy food.
---
Make all of your dining reservations 6 months in advance
There is nothing worse than being starving in Disney World with no reservation plans (trust me, I know) You end up eating food you didn't want to after waiting in a long line or trying to stop by 5 places that are already booked. You can make reservations on the My Disney Experience App, online here or by calling (407) WDW-DINE.
*Bonus tip – Check out availability one day before reservations because people have to cancel 24 hours before their booking
---
Disney World Resort Tips – (Staying on Property)
I love staying at Disney World hotels. It's a great way to carry on the magic throughout your entire stay. Here are some fun tips to help enhance your stay at the Disney Resorts.
Buy the refillable drink mug the first day you arrive-
Great for morning coffee, sodas, tea, and hot cocoa at night! Plus, a fun souvenir to take home. I think this is my kids favorite Disney World Tip because they remind me to get the mug the moment we arrive. See below.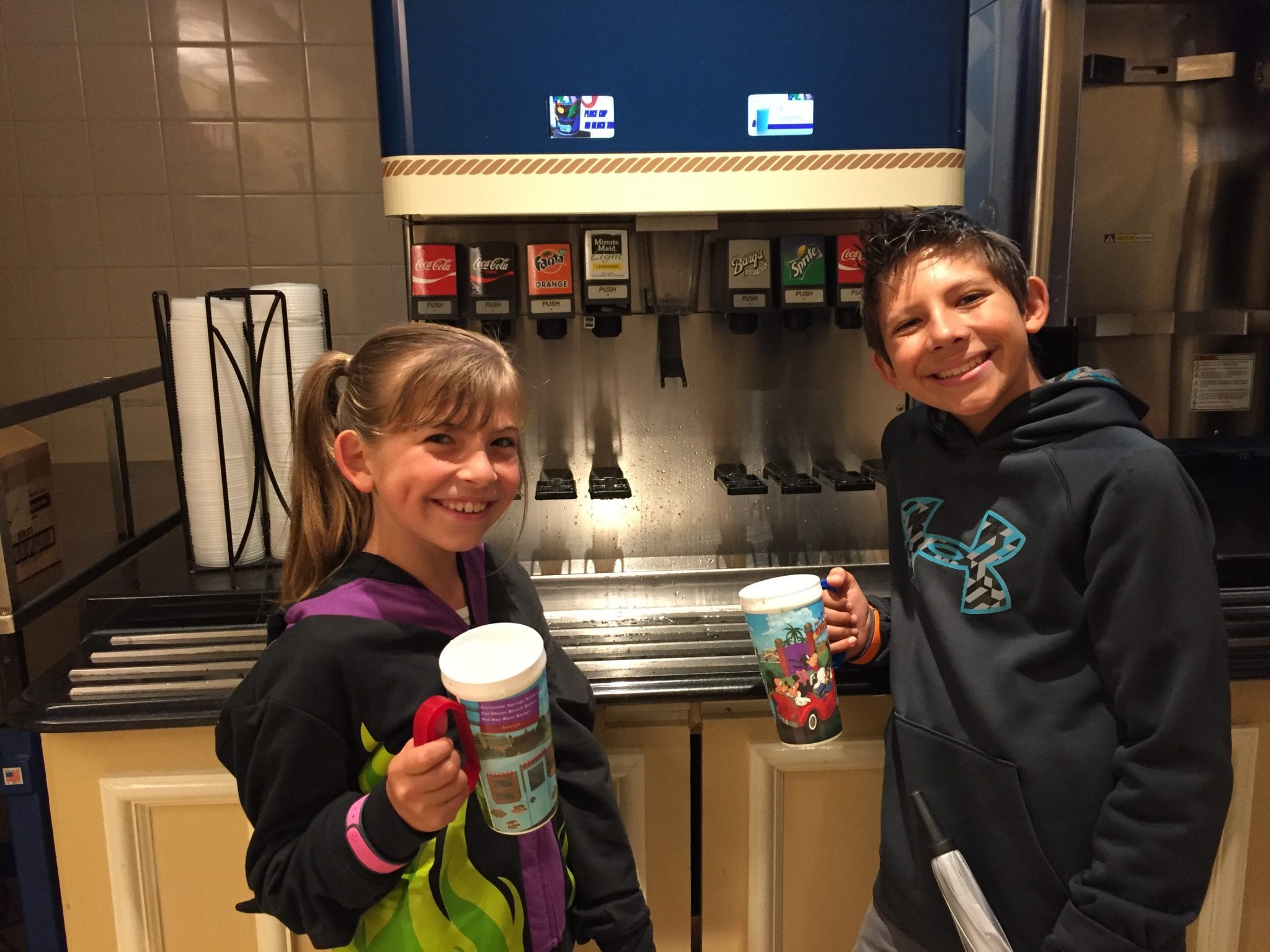 Plan Extra Time for Disney Transportation-
Plan more time than you think you need if using Disney Transportation. It is a great way to get around but buses only come every 20 minutes or so and sometimes they have multiple stops.
Sign up for a Character wake-up call (It's FREE!)
You receive a phone call in the morning from a Disney character and the kids will love it!
Souvenir Room Delivery- (FREE!)
You can have souvenirs delivered straight to your room from any Disney park. This way you don't have to carry them around all day! You can also order items straight from the My Disney Experience app and have them delivered to your room or items can also be mailed home directly.
Order Groceries or Snacks to Your Room- You can save money by ordering groceries or picking them up on the way in. Disney will place a mini-fridge in your room + DVC villas have a fridge in them already. Read why Walmart is our grocer of choice near Disney World here.
Take a Pool Day– Disney resorts have some of the best pools with Yacht & Beach club being the best. If you are staying for a full week at Disney World, enjoy a pool day and then visit the parks at night. It's a great way to break up the trip and recharge.
Our Disney Resort Faves!
Best Food:

Kona Cafe (Polynesian), Boma (Animal Kingdom Lodge), California Grill (Contemporary) & Sanaa (Animal Kingdom Lodge)
Top Character Dining: Chef Mickey's (Contemporary), Cape May Cafe (Beach Club), O'hana (Polynesian Breakfast Only)
Magic Kingdom Tips
---
Time Saving Tips at Magic Kingdom
How to Avoid the Crowds
Work the park from the back to the front and counterclockwise to avoid the crowds.
Also, plan to ride the big rides when others are watching the parades. I usually head to Frontierland where Big Thunder is and start working my way back through the park from there.
In midday when the park is packed rides/shows like Mickey's Philharmagic & Monster's Laugh Floor still have small waits.
Check out my Magic Kingdom Fastpass Suggestions Here!)
---
Tricks to Stay Cool on those Hot Florida Day
Most of the year it's pretty darn hot. Magic Kingdom Park has some awesome spots to cool off in that will help make your day much better. Try checking out:
Mickey's PhilharMagic
Monster's Inc. Laugh Floor
Country Bear Jamboree
The Hall of Presidents
Haunted Mansion
Small World
Buzz Lightyear's Space Ranger Spin
Pirate's of the Caribbean
Under the Sea- Journey of the Little Mermaid
Walt Disney's Carousel of Progress
Jungle Cruise has a nice shaded line, so that does help with battling the sun.
*And, honestly if it is just too hot head over to the Walt Disney World Water Parks.
---
Tips for Traveling with Little Ones
Hidden Play Area for the Littles while Big Kids are on Big Thunder or Splash Mountain:
Splash Mountain has a great playground located at the exit, underneath the train tracks you see below.
Seven Dwarfs Mine Train & Goofy's Barnstormer Rollercoaster are great rides for little ones who love adventure. The height limit for Dwarf's is 38″ and Barnstormer is 35″
This is one of my best Disney World TIps. You can view the fireworks from the Dumbo ride in Toon Town if you want to skip/ avoid the crowds. It is still a great view.
While most people go in front of Cinderella's Castle you can relax behind the castle with a great view minus the crowds right in front of Dumbo. Check out the picture below. It was taken in the middle of summer which is a Peak Season for Disney!
---
Parade Tip
Watch the parade at the second viewing time when possible. It is less crowded bc every one goes to the first one.
---
Magic Kingdom Food Tips
When we first started visiting Disney World, Magic Kingdom had some pretty subpar food. That has completely changed. They have incredible quick service options, sit down table service restaurants (I love the new Jungle Cruise themed restaurant) and of course amazing snacks.
Eat Inside the Castle at Cinderella's Royal Table– an amazing princess character dining restaurant. Little girls will feel like a real princess as you eat inside the castle!
Columbia Harbor House is a great option for lunch located near the Liberty Bell in Frontierland. With two stories there is always an indoor table available and the food is good too.
Be Our Guest has the best food in the park and the kids will love the way the waiters deliver the food straight to your table with a fancy food cart thanks to your magic rose locater. You do have to book a reservation for even the quick service dining which is served for breakfast and lunch.
Dole Whip is available in multiple locations in Adventureland. One across from the Swiss Family Treehouse and the other by the Magic Carpet Ride.
Get Delicious Cinnamon Rolls at Gaston's Tavern has the amazing HUGE cinnamon rolls that used to be on Main Street. YUMMY!!!
Epcot Tips & Tricks
---
The front of the park is GREAT for Hot Days!
Innoventions are full of hands-on educational games and simulators for the kids. The attraction is all indoors and air-conditioned.
Most rides are located inside air-conditioned buildings that are filled with smaller attractions as well. Giving you a much-needed break from the heat.
There is a playground inside Mission Space's exit that kids love.
Check out all the cars inside the exit of Test Track. Kids love pretending to drive them.
---
Spaceship Earth-
Some people love this ride, but sorry to burst your bubble but this ride is nothing special and EVERYONE goes there first. So, head to the back of Future World to Test Track, Soarin', and Mission Space and save Spaceship Earth for later in the day.
---
FastPasses
There are several shows and rides that offer Fastpass. I have a complete guide to planning your Epcot Fastpass here
---
Little Ones
The Seas with Nemo & Friends is a great ride for kids and usually a quick queue.
Turtle Talk with Crush is super fun and it's located indoors along with a giant aquarium offering ample time indoors.
Spaceship Earth is slow moving and if you go later in the day the queue isn't bad.
Innoventions
Gran Fiesta Tour- boat ride with Donald in Mexico. Our kids love it!
Plus, Frozen Ever After located in Norway!!!!
Pro Tip! Head to Frozen Ever After Ride in the morning, not many people head to the World Showcase in the morning so the line for Frozen is usually short (or at least reasonable) during that time.
---
Characters
Want to see the princesses? Book breakfast at Akerhaus in Norway and you'll see a bunch. Book the breakfast before the park opens to be one of the first allowed in the parks 😉
You will also find princesses throughout the worlds of Epcot
Unique Characters – Mary Poppins is often seen in England and the Three Caballeros are found in Mexico, check the daily Disney Park Guide for their location and times.
---
Kidcot
Kids love coloring the Duffy Bears (free) at the Kidcot Fun Stops in the World Showcase. You can start in any country and the kids get their bear and first stamp. The kids continue collecting stamps in each country they visit!
Pro Tip- kids can also ask cast members in each country to write their name in the cast members native language on the back of their Duffy Bear.
---
Epcot Food Tips


Epcot is home to some amazing food. I still have not tried everything I want to experience. There are over 30 restaurants and an endless number of food carts and quick service especially during special events like the Food & Wine Festival.
Here are some amazing treats to try plus some of my favorite affordable snacks to feed the family
---
Best Epcot Restaurants
Our personal favorites are Teppan Edo (fun for the kiddos), Chefs de France, and La Hacienda de San Angel. Schedule a dinner at La Cacienda de San Angel to coincide with illuminations show and request for a table by the window. Their tacos and margaritas are fantastic!
Dine beside a giant Aquarium – If you book a dinner at Coral Reef restaurant you will be dining next to an incredible aquarium
---
Incredible Snacks & Drinks!
Epcot has by far the best snacks and desserts of any park. Here are some you have to try: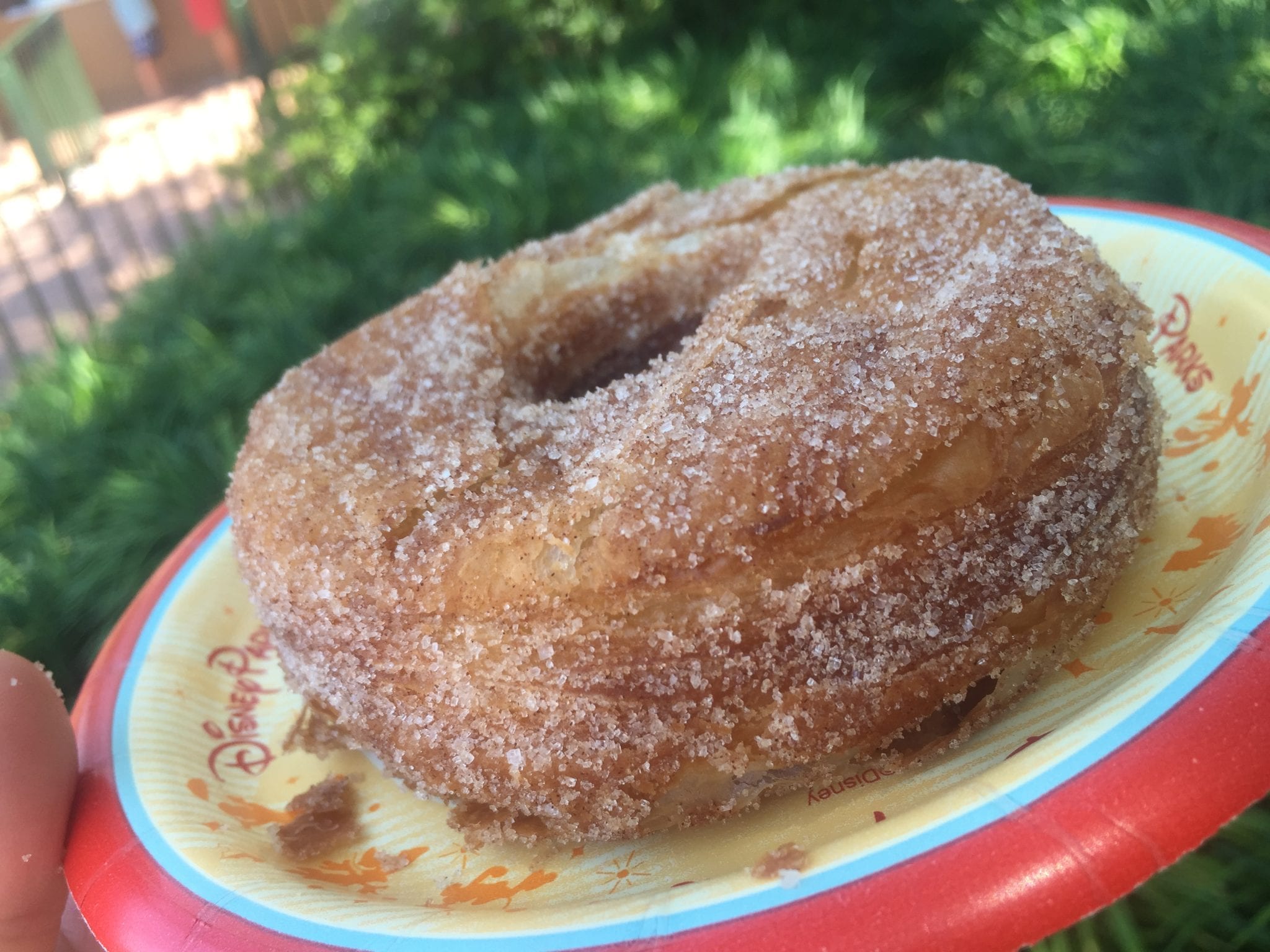 Spiked Dole Whip! they spiked the delicious favorite with coconut rum. Get one… it will make your day SO much better!!
Snack on a Croissant Donut available at a stand near Canada in the World Showcase.
For a couple of bucks you can get a delicious baguette in France and it will keep the family's bellies quite full.
Italy has the BEST latte, and a great walk-up counter to grab a slice of pizza
Check out the incredible sweets in Norway
Visit the Tequila bar inside the temple in Mexico for some incredible Margaritas
---
Epcot Quick Service Dining
When it comes to quick service dining, Epcot is the best as well. I have a full list of my favorite places to grab a quick meal in Epcot. my favorite spot is at LES HALLES BOULANGERIE-PATISSERIE in Paris, with some of the most amazing sandwiches on fresh baguettes and the quiche is quite good.
Afterwards, stop by next door for some authentic gelato.
Pro Tip- there is a back exit that drops you into Boardwalk which is a great place to walk around, grab a bite (we like picking up a whole pizza pie from the walk-up window) or watch the night time entertainment. You can also walk or take a boat to Disney's Hollywood Studios from here. Just make sure if you parked at Epcot you get back to that park before closing.
Disney Animal Kingdom Tips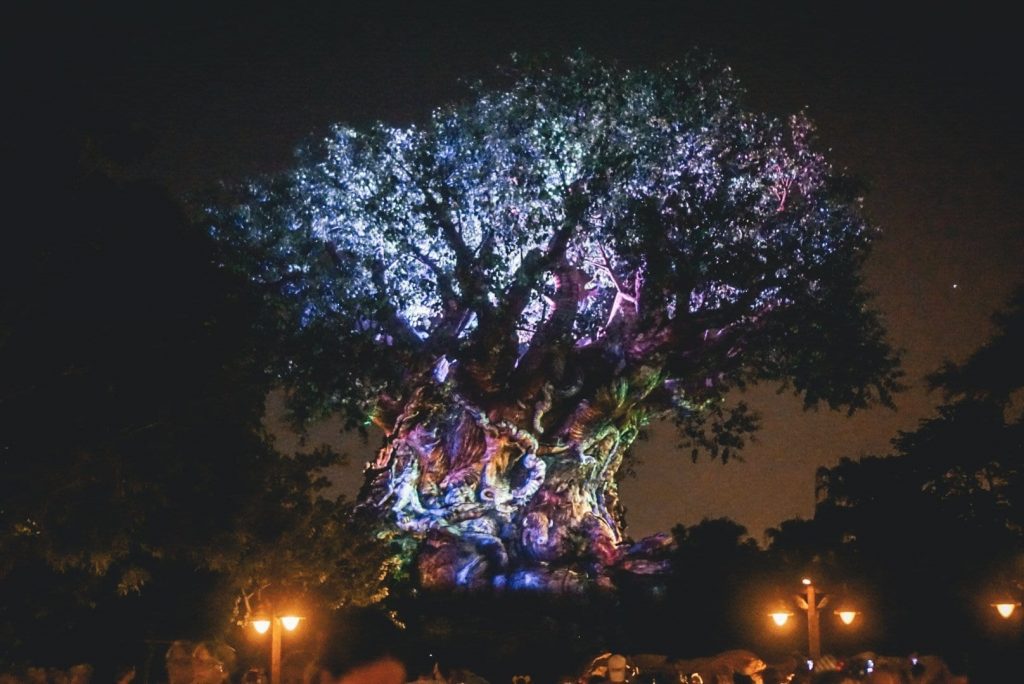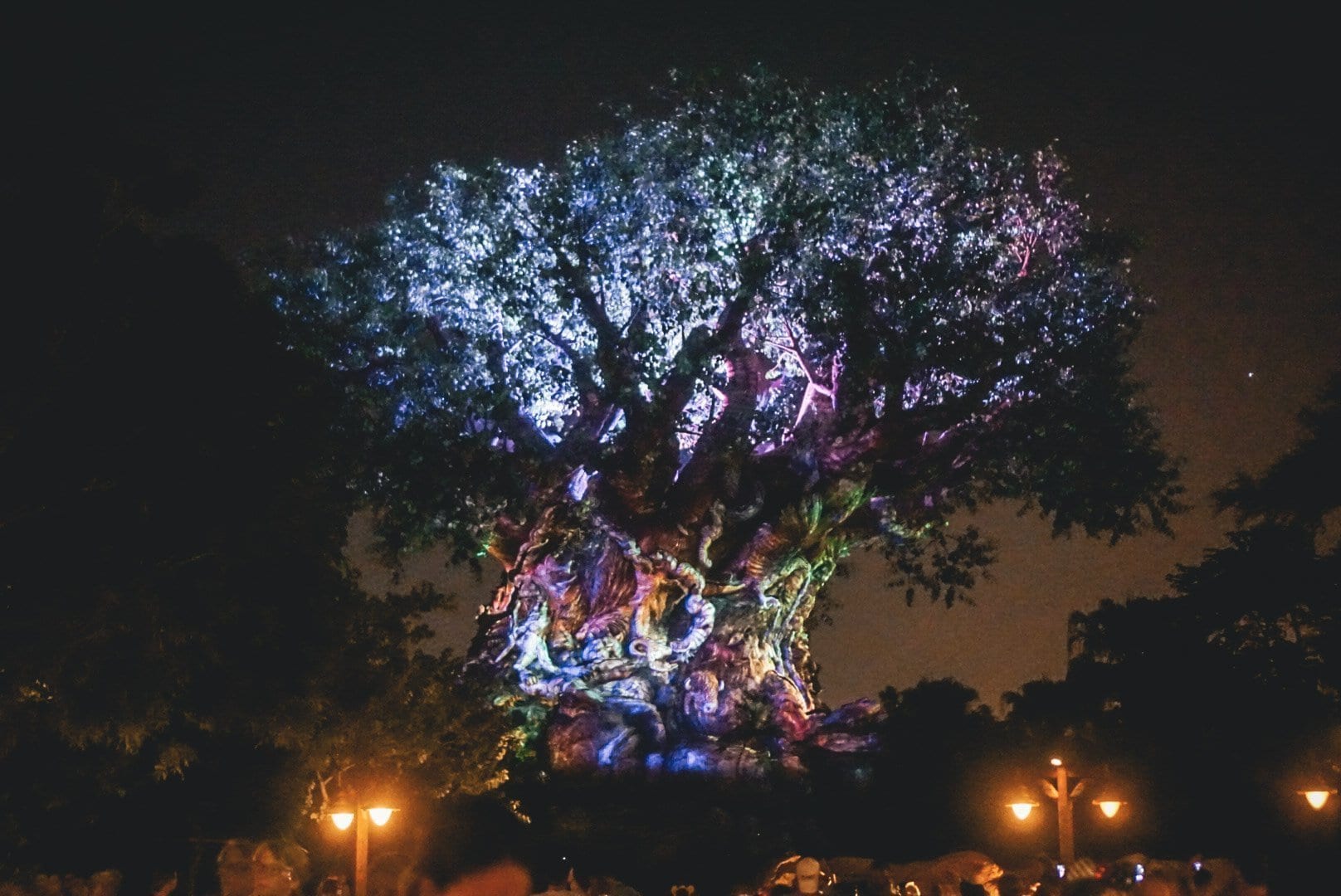 ---
Time Saving Tips at Animal Kingdom
Go on the Morning Safari – Instead of right at the rope drop heading to Pandora, where everyone else is going, walk right on to the safari. You can usually walk right on and their are so many more animals then normal. Because they are just being fed so many are out.
FastPass Scheduling – Schedule a FastPass for Flight of Passage, Expedition Everest and Kali River Rapids. My complete guide to Animal Kingdom FastPass Here Dinosaur typically has the smallest line of all the thrill rides, so it should be the last option for fastpasses
Pandora Tips

My tip, visit Pandora at night! Pandora opened in May of 2017 and has been quite popular ever since. The Flight of Passage ride is my absolute favorite ride in all the Disney Parks. The only problem, long lines. The lines are shorter, the weather is less hot, and the entire place glows.
Get Some Glow Paint before you go! – We purchased some glow paint and got our kids all done up before heading to Animal Kingdom. It's an absolute blast. Grab the paint here!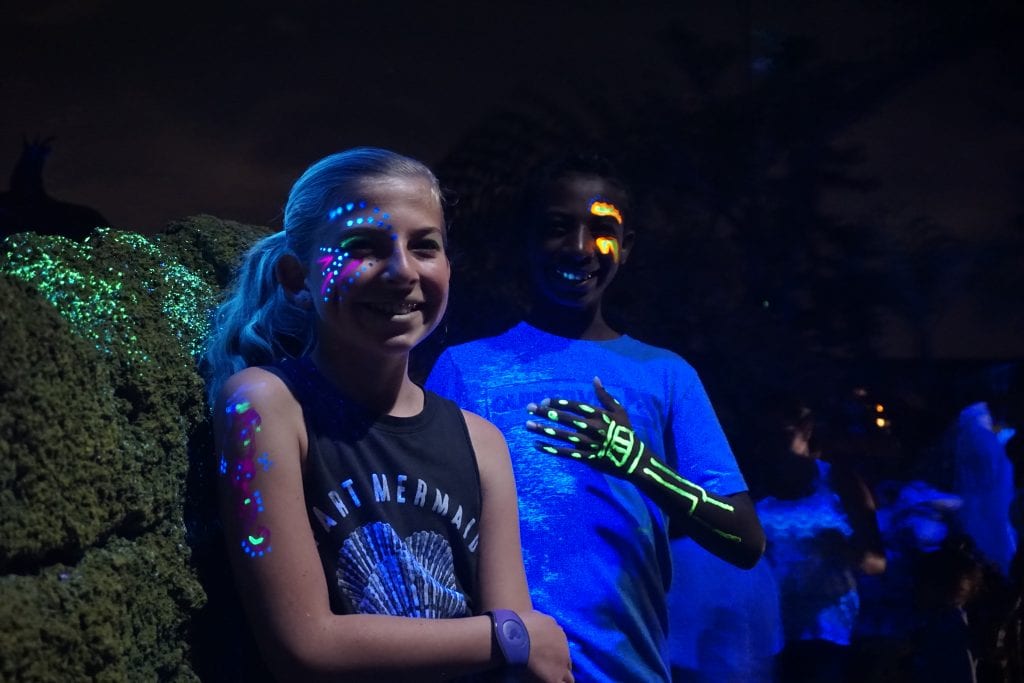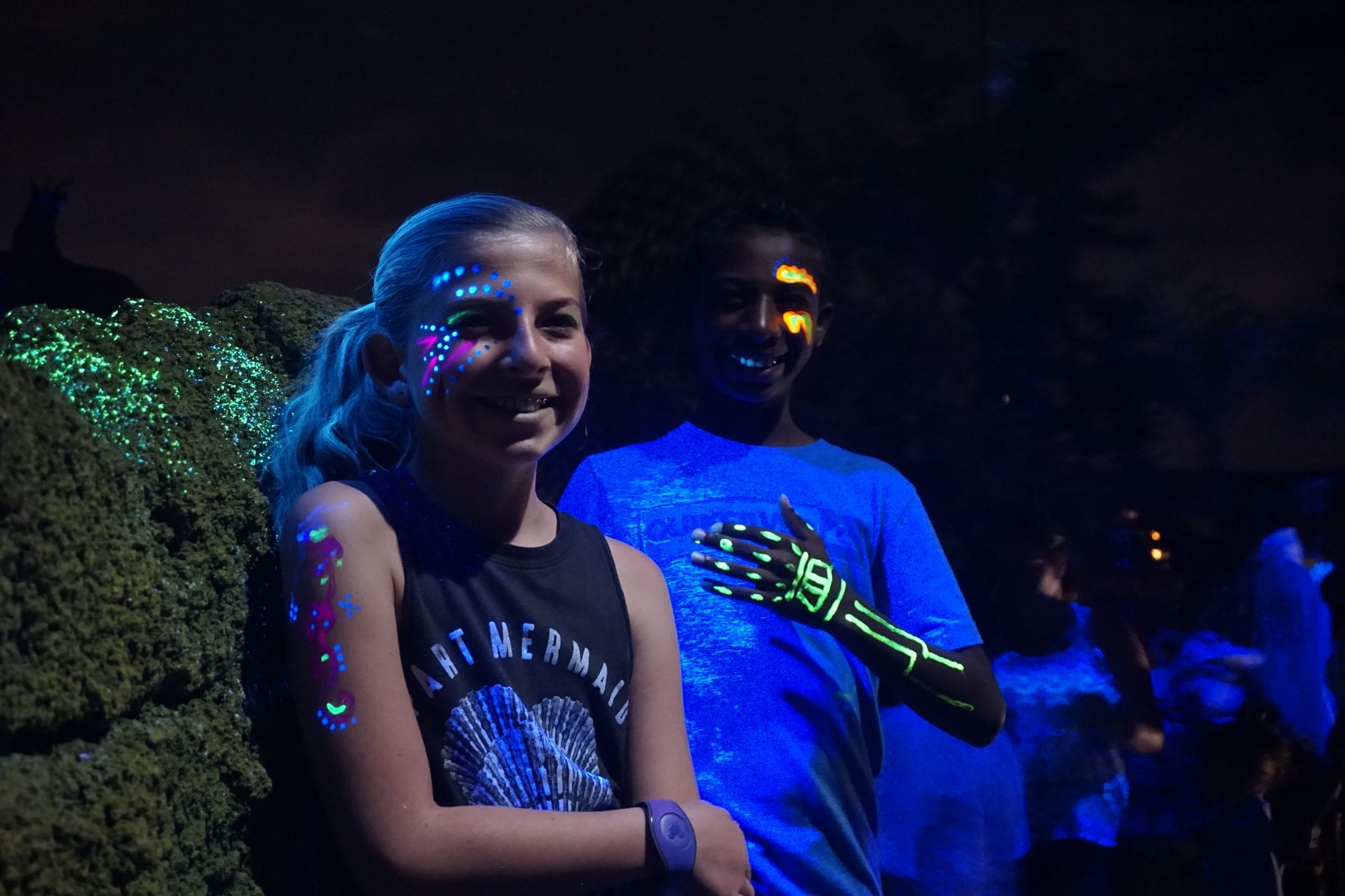 Please check out my insider's guide to Pandora, it has tips you need to know before you go.
---
Secret Entrance-
There is a second entrance at the back of the Rain Forest Cafe Gift Shop if the front entrance is crowded.
---
Character tips

This park is a great place to meet characters as it typically has much shorter wait times than the other parks.
Most are located at Discovery Island
You can also catch the characters by arriving early and heading to the Tree of Life. The characters arrive by car to kick off the day.
Or book a character breakfast at the Tusker House and see them there.

Pro Tip- book it before the park opens so you can be one of the first in the park!
---
Animal Kingdom – Food Recommendations
My favorite restaurant in all of the parks is at Yak & Yeti. It is incredible.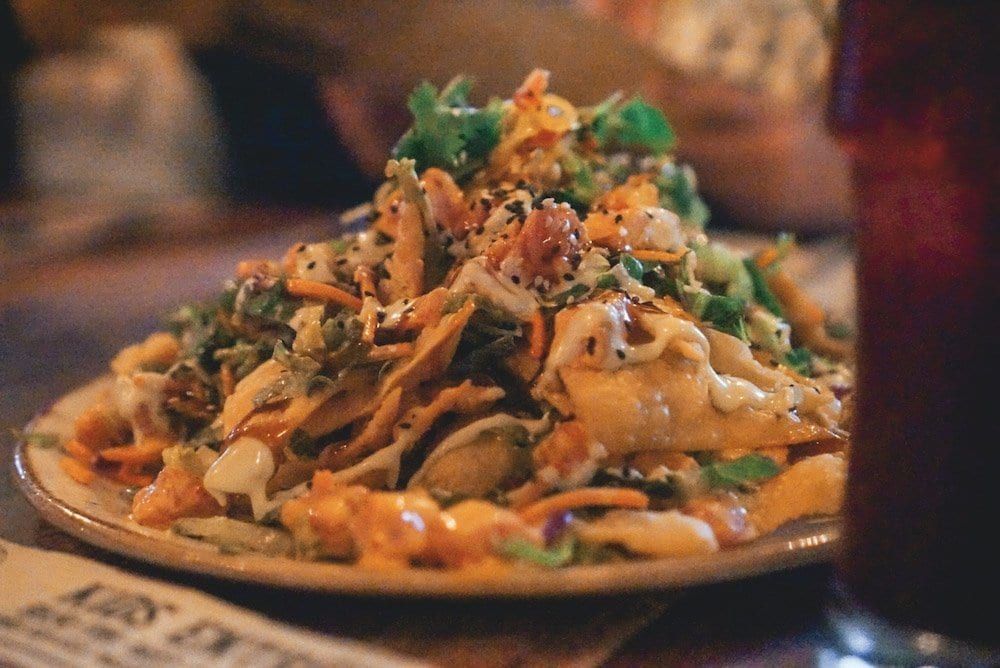 Find some great cocktails at the Dawa Bar
Satu'li Canteen – is great quick service dining and it's air conditioned! My kids love this place for the cheeseburger pods, my husband loves the chicken plates.
Harambe Market has excellent lunch. I love their Chicken Tikka Masala!
Grab Samosas from the food cart at the entrance of Africa.
Waffles and Ice Cream are tasty from Tamu Tamu.
---
How to Cool Off at Animal Kingdom
Animal Kingdom, for whatever reason, always feels like the hottest park to me. I don't really understand why as there are trees all around the park. So, I am always on the lookout for places to cool down.
Plan to get wet, really wet if you are riding Kali River Rapids. Plan to pack ponchos and spare clothing as necessary.
The Lion King Show is awesome- very entertaining and is in a giant air-conditioned theater.
It's Tough to be a Bug is also a great show to cool off in.
Disney World Recommendations – Hollywood Studios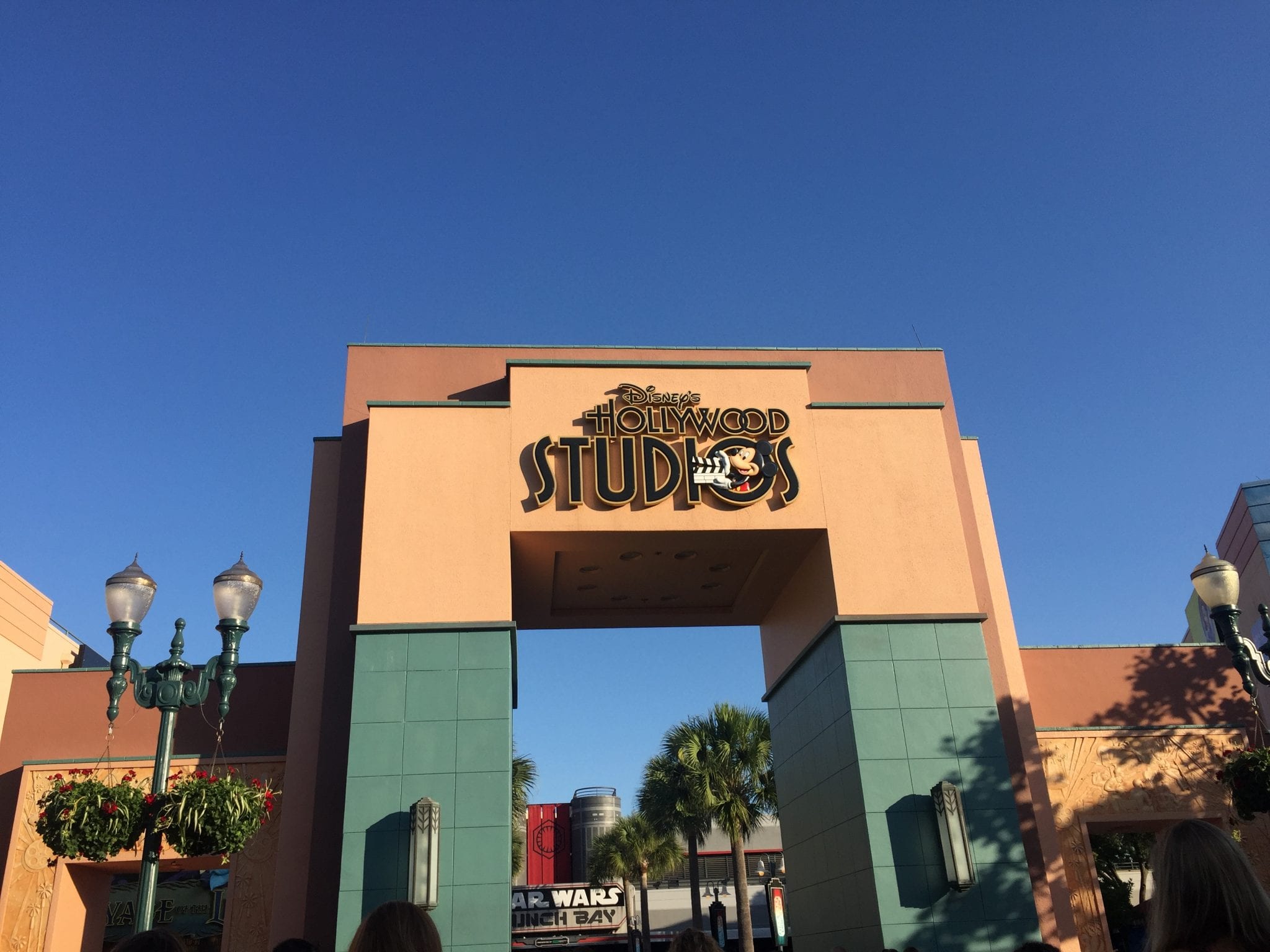 ---
Getting to Hollywood Studios 
The Disney buses will take you from any of the Disney resort hotels with the exception of Disney's Yacht Club, Disney's Beach Club, & Disney's Boardwalk Hotels where you can take a boat or simply walk. There is also the new sky way which will take you from the new Riviera Hotel and Port Orleans.
---
Hollywood Studios Time Savings Tips
Get there Early and Head to Rock n Roller Coaster, Tower of Terror, or Toy Story Mania first if you are at the park early as everyone else will run to Slinky Ride or the New Star Wars Land. Get Lightning Lane passes for those!
Ride Slinky Dog Dash at Night for the smallest wait times
The New Toy Story land is here and the area will be packed for the foreseeable future. If you don't have a Fastpass for Slinky Dog Dash, head over to Toy Story Land at night (not first thing in the morning) and you can hit up all three rides in less than 90 Minutes. Check out all our Hollywood Studios Fastpass Tips Here!
---
Rides/Shows to Cool Off-

Indiana Jones Stunt Show
Star Tours – the line is mainly indoors or in lots of shade
Muppet Vision 3D
Star Wars Launch Bay
Little Mermaid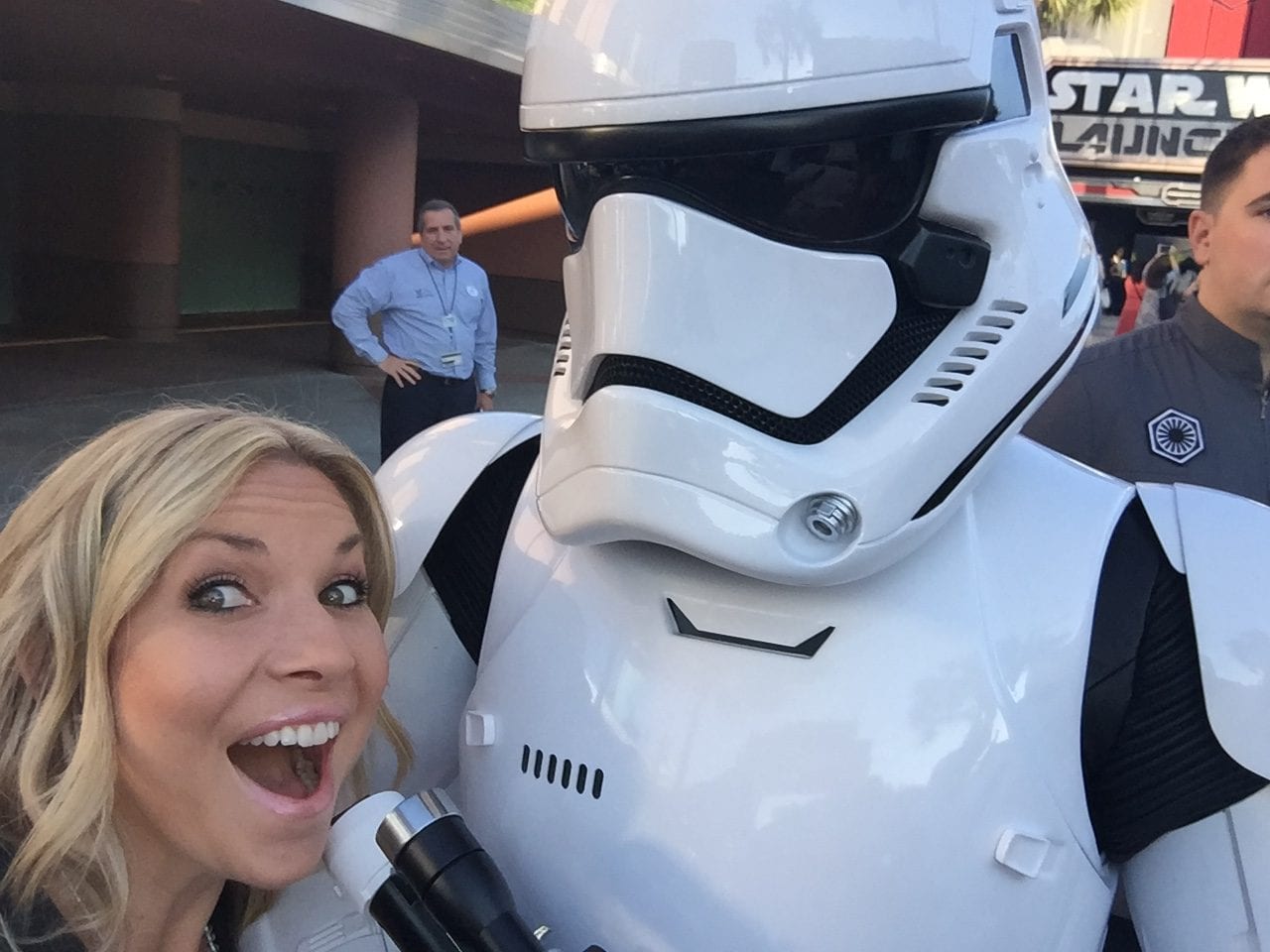 ---
Have Your Kids Participate in Jedi Training Academy

Does your little one want to learn to be a Jedi? If yes, then you better get to the parks early.

Although, the website says registration begins when the park opens I have found that they begin letting people in about 30 minutes prior to that time.
Registration is located at the Indiana Jones Adventure Outpost near the entrance of the stunt show. If you are walking into the park it will be on your left.
All participants MUST be present to register.
Participants must be 4-12 years of age
Space is limited and offered on a first-come, first-served basis
---
Hollywood Studios Food Tips-

On the dining plan? Mama Rose's Fantasmic package is included on the dining plan and your meal includes a Lightning Lane pass for Fantasmic!
The Brown Derby has the best food in the park in my opinion.

Pro Tip- they also have a bar called the Brown Derby Lounge where you can grab amazing cocktails and appetizers too!

50's Prime Time Cafe is a hoot especially with tweens as they get bossed around by the funny wait staff. Think "elbows off the table" "eat your veggies" type stuff.
Hollywood & Vine has character dining with the Disney Jr. Characters. It's best to book prior to park opening to be allowed in the park early or book lunch because it's a great place to cool down and relax.
---
Fantasmic-



Don't stress too much about seating because it's located in a huge stadium and most seats are pretty great. If there are two shows opt for the second. Most will go to the first and you can ride the big rides at that time with very little wait. Plus, because the shows are back to back you won't wait as long to sit down either.

Pro Tip– Watch out because if you sit in the first five rows you will get misted and splashed throughout the show.
---
Star Wars – Galaxy Edge!
Galaxy Edge is finally here! This land is a completely immersive experience that takes you to Batuu where the first order is battling against the resistance. Here are some of our best tips for Star Wars Galaxy Edge
---
Galaxy Edge Tips
Galaxy Edge is definitely a must-see, so these Disney World tips are extra important if you are a Star Wars fan.
Make Reservations Early! You can make reservations up to 180 days in advance for Oga's Cantina and Building a Lightsaber.
Be ready to be completely immersed in the land. Every cast member plays a role and rarely breaks character so you truly feel like you are part of Star Wars. It is a really unique experience
Interact with the stormtroopers, they are very funny and make the experience that much better
Visit and interact with a full-size R2-D2 inside the droid depot, our daughter absolutely loved it.
Request to be the Pilot for Millenium Falcon Ride, it is so much better than any of the other positions on the rides, but be prepared to fly the falcon
---
Rise of the Resistance Tips
Currently, you need a boarding pass to board the Rise of the Resistance. These are given out via the My Disney Experience app first thing in the morning to those that are in the park. Check out my tips on the best way to score a Rise of the Resistance Boarding Pass.
Check out the Disneyland version of Star Wars Galaxy's Edge below!
Use Mobile Order Dining to order any food, as lines will be long for food as well.
Visit the land towards the end of the day. This area will be packed non-stop but at around the closing time it will be less packed as people head home to get some shut-eye
Lastly, just take it easy, it might be hard with everyone rushing to Star Wars Land, but take it easy and enjoy the area.
Disney World Dining Tips
Like I said earlier, you can book reservations 180 days in advance, some restaurants are easier to book than others, here are the restaurants that you should book as soon as possible as they book up quickly.
Cinderella's Table
1900 Park Fare
Ohana
Be Our Guest Restaurant
California Grill
Chef Mickey's
Here are some of my favorite restaurants that I highly recommend visiting while at Disney World:
Animal Kingdom: Yak & Yeti
Magic Kingdom: Be Our Guest or Skipper's Canteen
Epcot: Chefs De France – Also check out Spice Road Table around 7:30 and you'll have an amazing view for Fireworks
Hollywood Studios: Brown Derby
Disney Springs: Morimoto, Frontera Cocina
---
What to Know before going to Disney World
How to Save your Feet & Legs:
You are going to do a lot of walking. First off, get some comfortable shoes, (we have a list of our favorites here). Second, when you are done with a day of Disney, lie down on your bed backward and put your feet up on the headboard for about 15 minutes. (trust me, it will make your legs feel so much better)
Take it Slow
Yes, I know, you are at Disney World, you have got to try to see as many things as possible but after my many many visits, I have realized the times we have had the most fun is when we take it nice and slow. We still get on pretty much the same amount of rides, except everyone has a much better time. If you miss one ride or a princess greeting, don't worry enjoy the time. It truly is a great place to be.
---
Best Ways to Enjoy Your Disney World Vacation- Hire a Professional (FOR FREE!)
Planning a Disney Vacation is, in my opinion, one of the hardest trips to book, especially if it is your first time. Heck, I've been over 30 times and it's still quite a challenge for me.
Between planning the Lightning Lane passes, ordering the magic bands, booking advanced dining reservations, figuring out how to get to the parks, it's just A LOT!
One of my best Disney World tips is to save yourself a lot of time and some money by booking with an authorized Disney Vacation Planner.
The best Disney Travel Agents will do an assortment of things for you that will make your trip so much easier. For example, Best Day Ever Vacations will provide:
How Disney Certified Travel Agents Help
Itinerary Planning
Lightning Lane Pass Recommendations w/ Height Requirement info
Give you recommendations on which Dining Plan is best as well as what type of Theme Park tickets are best for you and your family.
Remind you of your Advanced Dining Reservation (so you don't miss it and get charged $10 per person for a no show… that's not fun)
Even more Disney World Tips then we provided here!
Video Tutorials on how to use My Disney Experience App & Personalizing Magic Bands
Plus, they always are researching for promotions, so if they find a better price for your vacation, they will call Disney to get you that promo.
There are quite a ton of travel agents to choose from, I always recommend people using someone like Best Day Ever Vacations who has been to all the parks numerous times themselves. So make sure to ask the travel agent about their experiences at the park.
Want More Planning Tips? Order the Disney World Planning DVD on the link below.If you have any Disney World Questions, feel free to leave them in the comments orsend us a Direct Message on Instagram
You May Also Like These Disney Related Posts
5 Incredible Things to check out when visiting Disney's Pandora 2018
Disney Cruise Tips & Tricks [Over 100 of our Best Cruise Tips]
Magic Kingdom Fastpass! Tips and tricks to help you choose the Best Rides
Frequently Asked Questions about Disney World Tips
When is the Best Month to visit Disney World?
November & December Between Thanksgiving & Christmas Break
Late April
May
September
October
What should you not miss at Disney World?
Flight of Passage
Rise of the Resistance
Fantasmic
How many days do you need at Disney World?
Ideally one week is the right amount of time so that you can take your time and enjoy the parks. However you can probably get a lot done in 4-5 days
Which Disney Park is the Best?
1) Animal Kingdom
2) Magic Kingdom
3) Epcot
4) Hollywood Studios
Latest posts by Mama Munchkin
(see all)