If you are heading to Universal Studios City Walk, I would have to say Voodoo Donuts is a must stop (ok I guess they technically spell it doughnuts). Originally started in Portland Oregon, Voodoo Doughnuts is known for their delicious yet eccentric doughnuts. Their donuts are very large and most are decorated in the most unusual ways. They have so many selections of doughnuts to choose from (more than 50 different creations), and they will even have their doughnut artists create unique doughnuts upon your request.
13 Pics that will make you want to visit Voodoo Donuts City Walk TODAY!
Giant Voodoo Donut –
As you first enter the shop you will come across a giant version of their signature Voodoo Doll Donut which is a yeast doughnut shaped like a voodoo doll, topped with chocolate glaze, and a pretzel stake stabbing in its raspberry jelly filled heart.
Walking into the Rabbit's Hole – (that is what it feels like) As you walk into the voodoo donuts CityWalk store you will be taken aback by the amazing artistry of this doughnut shop. It is like you have stepped into a whole different world, and thank goodness this world is filled with doughnuts!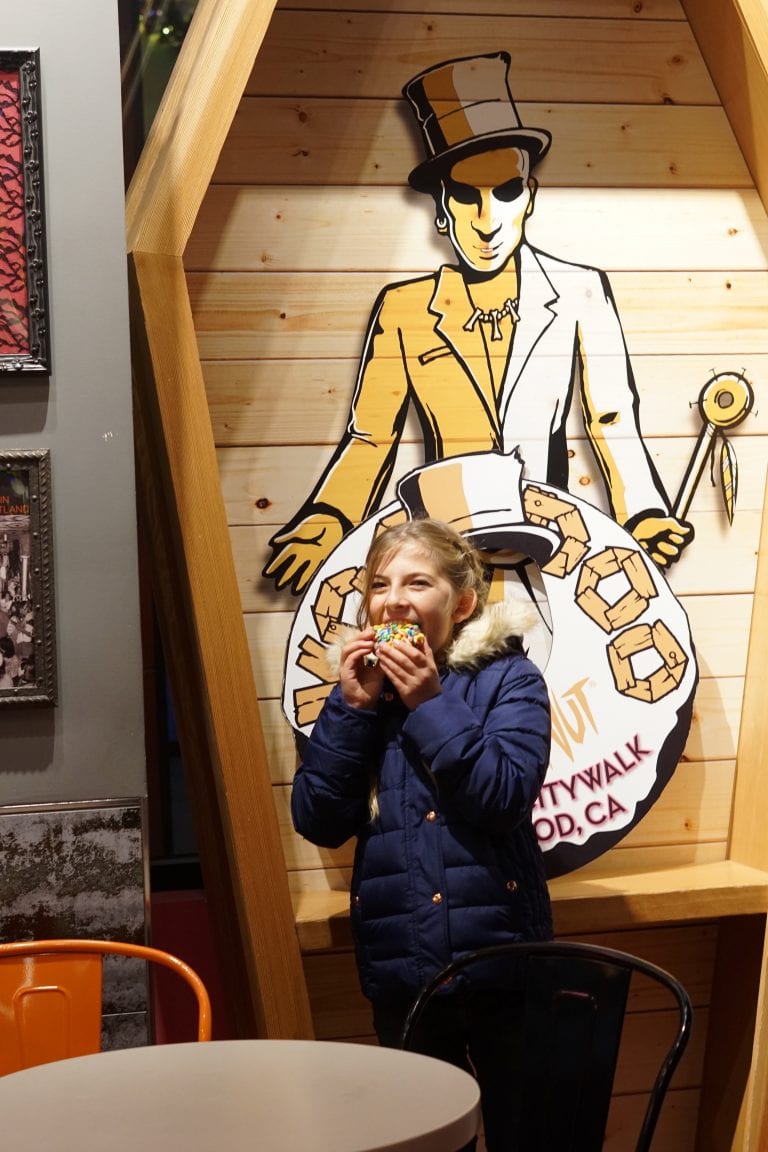 Voodoo Donuts Citywalk Coffin – Well, of course, you need to have your donuts next to a giant coffin, it's the perfect way to eat a donut.
Did you know? You can order a coffin full of doughnuts 
The rotating trays of deliciousness (or at least that's what I call them) – As you approach the counter, if you still haven't decided what to choose, fear not as their doughnuts are rotated around this old-school display case. If you can't speak out of pure excitement like my 4-year-old had, fear not you can just point to the doughnut you desire.
Classic Pink Doughnut Boxes – They offer three types of doughnuts: raised yeast, cake, and even vegan ones! All served in their unique Pink Boxes
What really sets them apart from other donut shops, aside from their unique decorating style, is the quality and freshness of their ingredients. Each one is hand cut and fried to perfection!
Here are the voodoo donuts we sampled! (luckily there is 7 of us so we get to sample a lot)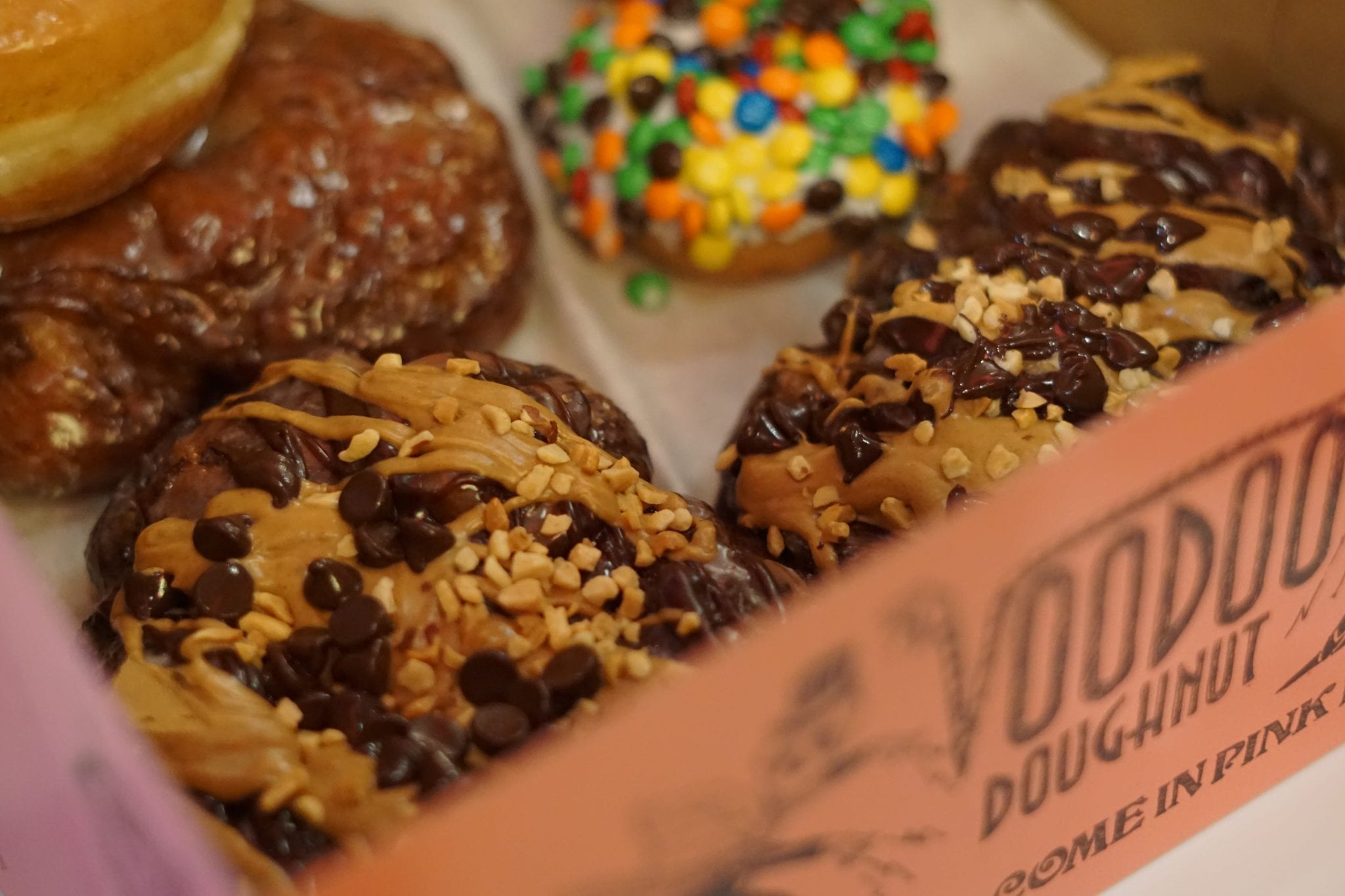 Memphis Mafia – This one was my oldest son's favorite. Hunk-a Hunk-a Fried dough with banana chunks and cinnamon covered in glaze, drizzled with chocolate and peanut butter with peanuts and chocolate chips on top. By the way, it is massive, you can easily share this delicious treat
Pic Source Universal Studios Hollywood
The Loop – is a colorful donut topped with crunchy loops of cereal covering its vanilla frosting.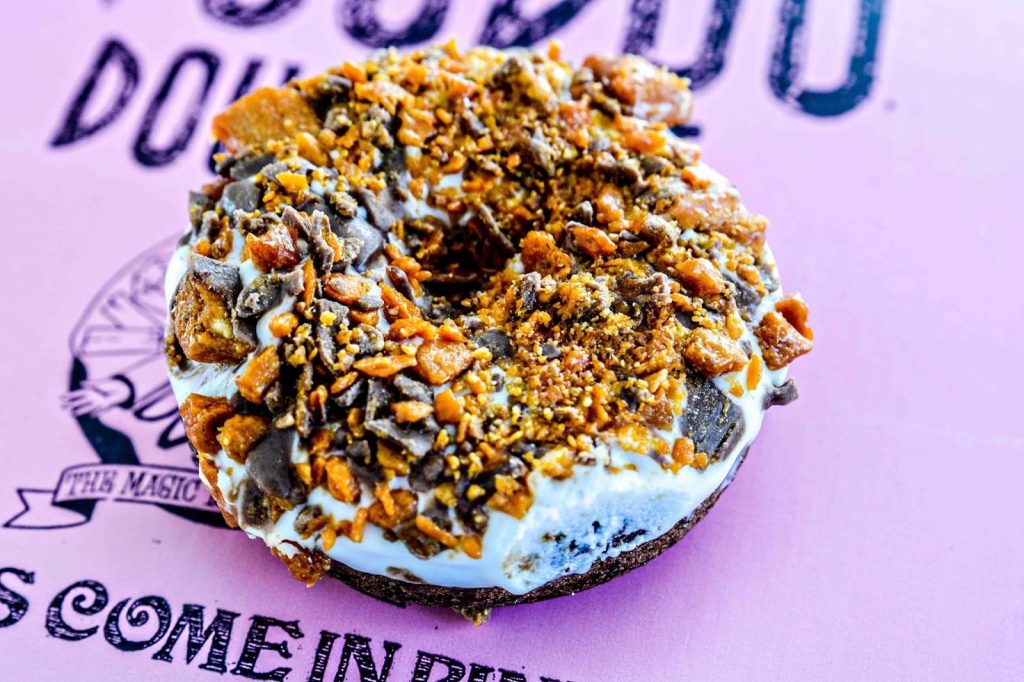 Butterfingering – A chocolate cake doughnut with vanilla frosting and Butterfinger crumbles.
We also enjoyed –
Old Dirty Bastard – Raised yeast doughnut with chocolate frosting, Oreo cookies, and peanut butter.
Marshall Mathers – Plain cake doughnut with vanilla frosting and mini M&M's®. and my youngest had a good ol' fashioned plain glazed doughnut!
Stumptown Coffee – And what goes great with doughnuts…..coffee. Stumptown Coffee is served at voodoo doughnuts and well I am a huge coffee fan so this might have been my favorite part.
Voodoo Doughnuts Swag – You can also pick up some voodoo doughnuts swag, including some voodoo underwear.
Doughnut Hole Mug! – And of course, you need to check out the doughnut hole mug
Voodoo Doughnuts City Walk is located at Universal Studios Hollywood City Walk.
(818) 622-6646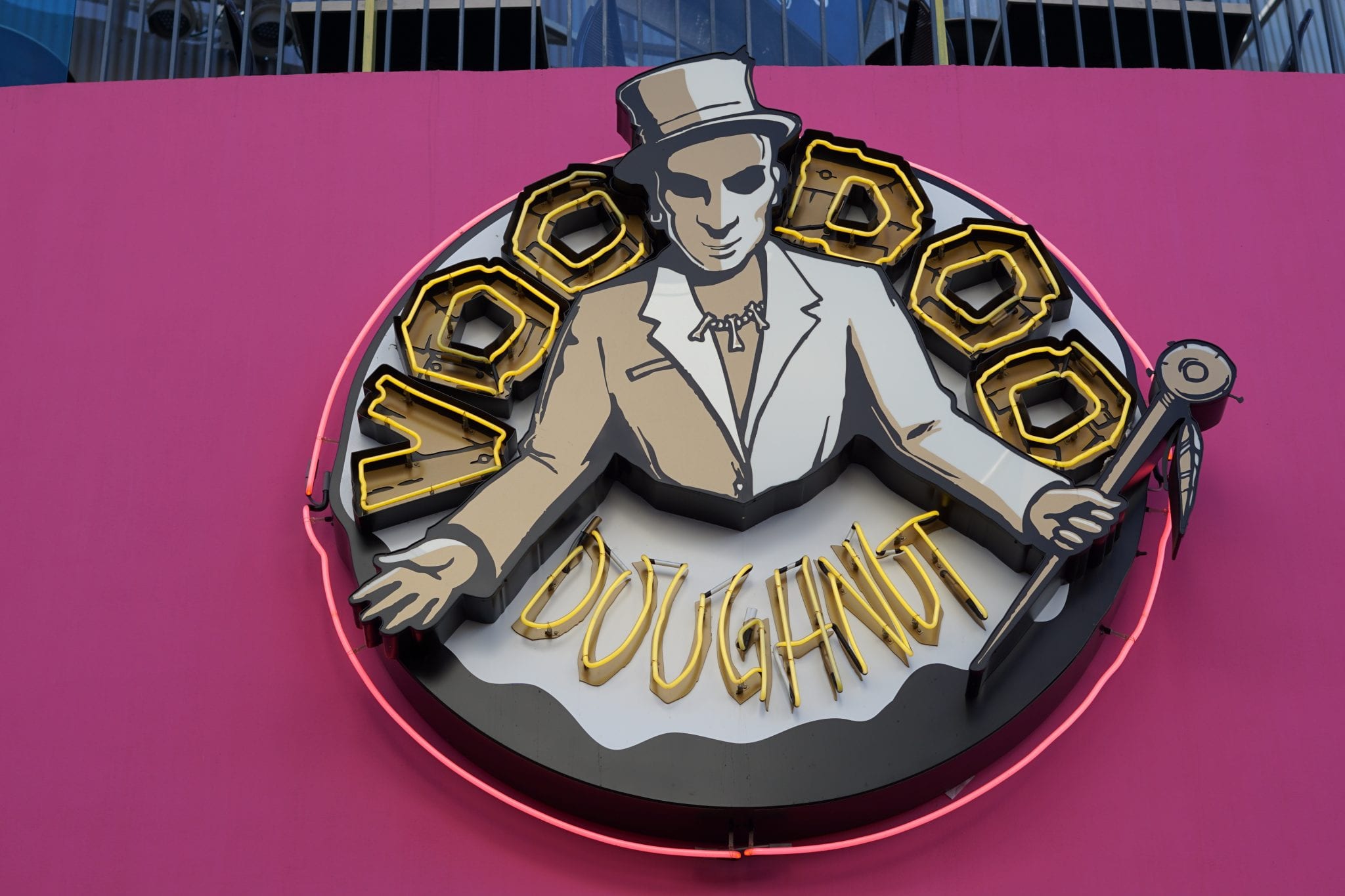 Check out my article on the 10 best bites at Universal Orlando
Coming Soon! – Check out the 7 best places to grab a bite at Universal Studios Hollywood