My husband lived in Lake Tahoe up until he was nine years old. So, almost every year we try to visit this beautiful "somewhat" little town so that our kids can have fun at the same spots he once loved. I personally don't mind because Lake Tahoe is absolutely beautiful during both the summer and winter.
While Lake Tahoe is gorgeous year-round, visiting in summer is especially wonderful, with perfect weather, great hiking options, crystal clear water, and lots of on-the-water activities. Here are the 10 best things to do in Lake Tahoe in the summer time.
The Best Things to do in are Tahoe in the Summer
Sitting on the border of California and Nevada and just one hour from Sacramento, Both North Lake Tahoe & South Lake Tahoe are stunningly beautiful places to visit. It is both the largest alpine lake in North America and the second deepest blue water lake in the U.S., which accounts for its amazingly deep blue color.
---
Emerald Bay State Park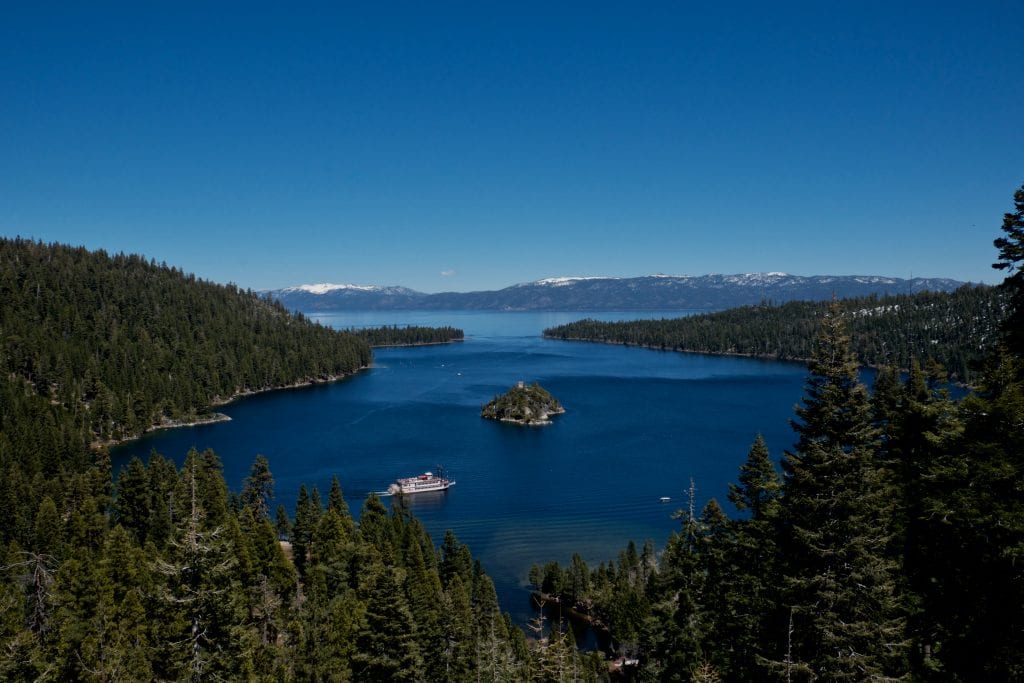 Located in an inlet along the southwestern shore of the lake, Emerald Bay State Park is one of the most popular summer spots for visitors – for good reason. Start off at the Emerald Bay Lookout where the views perfectly frame the stunning panorama of the waters of Lake Tahoe.
Below you will see the bay itself, surrounded by lush forests and with Fannette Island, the only island in Lake Tahoe, framed right in the middle.
At Emerald Bay, you can kayak, hike the scenic bay trail, check out Eagle Falls, visit the historic Vikingsholm mansion, or even go scuba diving at the Underwater Park, where you are able to see many old boat wrecks.
At Emerald bay you can take a journey along the rubicon trail, one of the more beautiful hikes you'll encounter.
---
Circle the Lake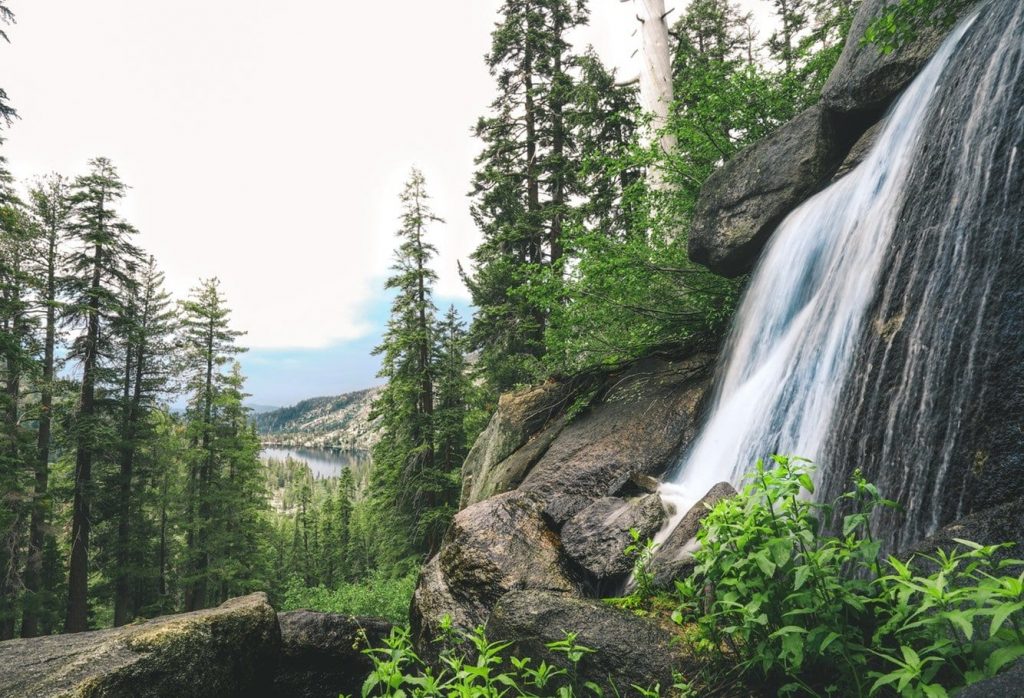 If you are looking for a short, but great summer road trip, check out the 72-mile loop around Lake Tahoe. Circling the lake only takes a few hours but with so many great places to stop and enjoy along the way, it's best to give yourself at least a full day.
Traveling through both California and Nevada, the full Lake Tahoe loop consists of three different highways – US 50, NV 28 and US 89.
All the roads are paved and well maintained but only two lanes for most of the 72-mile route. Traffic in the peak of summer can be a bit heavy on weekends so plan to circle the lake on a weekday if possible.
Be sure you stop and visit a few of the pull-off points for gorgeous views of the lake and plan to grab lunch in one of the many cute, small towns along the route.
My kids love stopping at the Cal-Neva hotel where the hotel actually crosses state lines. To be honest the hotel is nothing special but they love straddling the state line inside a hotel.
---
Jet Skiing
Jet skiing on Lake Tahoe is a favorite summertime activity with jet skis available for rent at a number of places along the shoreline. Popular spots to grab a jet ski include Timber Cove Marina on the South Shore and Incline Village on the North Shore.
Fly along the lake at your own speed and see what you can discover.
With plenty of hidden little beach coves and secluded shoreline, you'll be sure to find your own little piece of Lake Tahoe paradise. Jet skiers often get the opportunity to spot wildlife along the shore as well.
*Pro Tip – If you are bringing your own Jet Ski make sure it has the correct tags and also is fairly new. Tahoe is very strict about keeping their lake beautiful.
---
Hike Mt. Tallac Trail
Lake Tahoe is beautiful on its own but it is really the amazing mountain peaks surrounding and framing the lake that makes it spectacular. At 9,753 ft. above sea level and towering more than 3,000 feet above the lake, Mt. Tallac is one of the tallest peaks in the area and a popular peak to summit.
The Mt. Tallac Trail is a nine-mile round trip hike with an incredibly rewarding summit view of Lake Tahoe and the Desolation Wilderness area.
Hiking first through shaded forest and pass two small alpine lakes, you eventually hike the steep summit climb, gaining 2,000 feet in just 2.4 miles.
The most difficult part of the hike is sun-exposed terrain so it's best to start at sunrise or just after to avoid the midday heat.
---
Rent a Boat on the Lake or Take a Tour
With a lake this beautiful, you just have to get out on the water! Lake Tahoe is a large lake with plenty of places to explore and discover. The best way to do that is by getting out in the middle of it.
Renting a boat is possible in a number of places along the lakeshore. You can find all types of rentals from fast, speed boats to more relaxing pontoons. I
f you aren't confident in your boating skills, a number of rental companies also offer "captain service" where you can rent a boat along with a boat captain/tour guide in one.
If you don't feel like driving a boat yourself you can always take a tour. Check Current Prices Here!
---
Heavenly Mountain Gondola Ride
When visiting Lake Tahoe in winter, it's the ski resorts that top most people's must-do lists. In summer though, those same wonderful mountains still hold lots of fun. At the Heavenly Ski Resort, summer activities include zip line tours, rope courses, hiking, and the most popular option – the Heavenly Mountain Gondola.
The gondola ride is a top summer favorite for many visitors. The 2.4-mile long ride passes along the scenic mountainside and crosses over the Van Sickle Bi-State Park.
Reaching a peak of 9,123 feet, the gondola ride ends at an observation deck where you will be able to see sweeping views of not only Lake Tahoe but also Carson Valley and the Desolation Wilderness.
---
Go Tubing, Take a Coaster, Zipline, & More
Once you get to the top of Heavenly there are a ton of summer activities. You can do some super fun tubing, take on the mountain coaster (my favorite) and so much more:
Here is a list of all the fun activities available at Heavenly
Tubing
Mountain Coaster
Gemstone Panning
Ropes Course
Climbing wall
Zipline
---
Hit the beach
With hiking, adventure activities, high-speed jet skis, and much more to do, it can be hard to find a moment to just relax and enjoy Lake Tahoe. If you are visiting in the summer months, you simply must schedule a bit of downtime to hit the beach.
There are lots of beach options along the shores of Lake Tahoe, ranging from family-friendly spots to secluded beaches you might luck out and have to yourself.
For a dog-friendly option, check out Kiva Beach. In summer El Dorado Beach is lots of fun with barbecue areas, water sports activities, and live music events. Regan Beach isn't sandy but is a bit more secluded and a great place for picnics. We have really just scratched the surface here. With dozens of beaches to check out, Lake Tahoe has the perfect beach no matter what you are looking for.
---
Visit Sand Harbor
Located in Incline Village, Sand Harbor's eastern coasts provide beautifully serene swimming, kayaking, and scuba diving thanks to its gently sloping beaches, clean water, and intriguing rock formations.
From one of the park's two ramps, boaters, water skiers, and fishermen can easily launch their craft.
---
Donner Memorial State Park and Emigrant Trail Museum
For the history buffs out there, Lake Tahoe has a few options for you as well. In addition to a number of historic lakeside mansions open to the public, the Donner Memorial State Park and Emigrant Trail Museum are great places to check out.
Created in memory of the Donner Party, Donner Memorial State Park honors the victims of this legendary group of pioneers. En route to California, this group of nearly 90 pioneers were trapped in the Lake Tahoe area after hitting a severe winter storm in the winter of 1846 to 1847.
Only around half of the pioneers made it through the winter, with many of the survivors resorting to cannibalism to survive. At the Emigrant Trail Museum, you can learn more about their story and the history of the Lake Tahoe area in general.
---
Truckee Float Rafting (and water war)
While the lake is the crown jewel in any Lake Tahoe area trip, there are a number of nearby rivers worth checking out as well.
The Truckee River float is a blast and perfect for the entire family. The most popular river float option is a leisurely 5-mile stretch filled with beautiful scenery, perfect swimming spots, but the thing you have to know is it's also a water war.
People bring water guns, water blasters to soak the other rafts, so come prepared to fight back. I highly recommend these water blasters as they were the most common on the river.
Plan to spend 2-3 hours on the river and be sure to pack lunch, snacks, and enough water.
---
Whitewater Rafting
For a bit more excitement, consider a Lake Tahoe area whitewater rafting tour. With a number of nearby rivers, you'll have a variety of options when it comes to whitewater rafting.
The most popular rivers to raft and the closest to Lake Tahoe are Truckee River and East Fork Carson River. These rivers are open to rafting mid-May to September and are usually available for tours late April into early July.
Tour companies in the area offer half-day, full-day, and multi-day trips with everything from beginner level Class II rapid tours to advanced Class IV+ adventures.
---
Hit the Links or Check out the Celebrity Golf Tournament
There are a number of great courses in Lake Tahoe for the avid golfer. However, if you are like us and not much of a golfer but love sports and celebrities then check out the Lake Tahoe Celebrity Golf Tournament in July. My kids got to meet several stars including, Steph Curry, John Elway, Jerry Rice, & Charles Barkley. It is a super fun event and the players are very entertaining.
---
Visit Tahoe City
Some of the best swimming, hiking, biking, and parks on Lake Tahoe can be found in Tahoe City, which is also home to a significant amount of Lake Tahoe history.
Commons Beach is a popular spot for both locals and tourists. The summer Farmer's Market is held at this park, which is a terrific spot for kids and is situated right on the sea.
---
Where to Stay
There are a ton of great places to stay in Tahoe. If you want to stay on the North side of Tahoe, we truly love Northstar ski resort. In the summer, we usually stay on the South side of Lake Tahoe as I think there are a few more summer activites.
The Marriott Timber Lodge, is located right in the center of town. It has a great pool and a wide variety of room options that can sleep up to 10 people. Check current Prices Here!
---
Why You Should Go
Overall, there are so many things to do in Lake Tahoe in the summer time. You definitely will have a great time. It is that classic lakeside vacation where the water is beautiful and kids get to enjoy the simple things like skipping rocks.
---
Map of Things to Do in Lake Tahoe in the Summer
---
Frequently Asked Questions About Things to do in Lake Tahoe in the Summer
Which side of Lake Tahoe is best for families?
The South side of Lake Tahoe is a bit more lively and has shops, restaurants, bars and is closer to Heavenly Ski Resort.
The North side of Lake Tahoe is a bit calmer and has hiking trails and cabins. So choose which side sounds like a better fit for your family!
What is there to do for kids in Lake Tahoe?
Visit Emerald Bay
Hike to Monkey Rock
Bike ride along the Truckee River
Truckee river rafting
Echo Lakes
Hike to Eagle Rock
Treetop Adventure Park at Granlibakken 
Fishing for crawdads
Skiing, snowboarding and tubing during winter
Can you swim in Lake Tahoe?
Yes, and it is an especially refreshing swim during the higher temps in the summer!
When is the best time to visit Lake Tahoe?
The best time to visit Lake Tahoe depends on your preferences and what you want to do.
Summer (July and August): Summer is the peak tourist season in Lake Tahoe. The weather is warm and sunny, making it the perfect time for outdoor activities like hiking, mountain biking, water sports, and golfing. The average temperature during this time ranges from 70-80°F (21-27°C), and the water temperature is also perfect for swimming, kayaking, and paddle boarding. The downside of visiting during summer is that the crowds can be quite large, and prices for accommodations and activities may be higher.
Fall (September – November): Fall is a great time to visit Lake Tahoe if you want to avoid the crowds and enjoy the stunning fall foliage. The temperatures during this time are mild, ranging from 40-70°F (4-21°C), making it perfect for outdoor activities like hiking, fishing, and mountain biking. Additionally, fall is a good time to find discounted rates for accommodations, as the peak tourist season has en
Winter (December – February): Winter is the most popular time to visit Lake Tahoe for winter sports enthusiasts. The area receives an average of 300-500 inches of snowfall each year, making it a prime destination for skiing, snowboarding, and snowshoeing. The temperatures during winter are cold, ranging from 20-40°F (-6-4°C), so make sure to pack warm clothing. Additionally, the holiday season can be crowded and more expensive, so if you're looking for a quieter experience, consider visiting in January or February.
Spring (March – May): Spring is a beautiful time to visit Lake Tahoe, with fewer crowds and milder temperatures ranging from 40-60°F (4-15°C). During this time, the snow melts, and the waterfalls and wildflowers come alive, making it perfect for hiking, biking, and exploring the natural beauty of the area. Additionally, spring is a good time to find discounted rates for accommodations and activities before the peak summer season begins.
What is the weather in Lake Tahoe like in the Summer?
During the summer months, Lake Tahoe generally experiences mild to warm weather with plenty of sunshine. The temperature in the region can vary depending on the time of summer and the elevation.
---
Pin for Later: 10 Amazing Things to do in Lake Tahoe in the Summer. [+Where to Stay]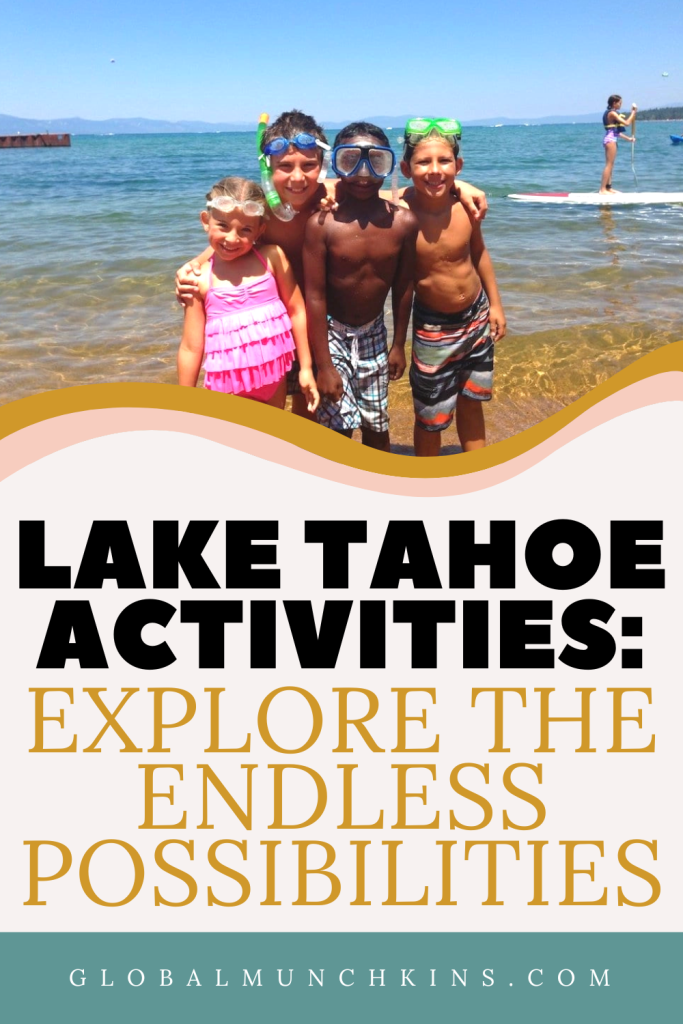 ---
Have any more questions about Things to do in Lake Tahoe in the Summer? Let us know in the Comments.
---
If you enjoyed reading about things to do in Lake Tahoe in the summer, you might also enjoy:
The ULTIMATE Guide to the Amazing Northstar Ski Resort
The Ultimate Guide to Northstar Village! Amazing Restaurants & More!
Latest posts by Mama Munchkin
(see all)