Tahoe is an incredible destination for families and one of the best winter destinations in California. Northstar Ski Resort is definitely one of our favorite places to stay when we visit Lake Tahoe.
Tons of snow, easy access from three large airports, amazing ski school, and tons of kid-friendly things to do and places to eat right there at Northstar Village. It is truly a gem of a resort for families.
Our Guide to The Northstar Ski Resort
---
How to Get There
Lake Tahoe is located on the border of California and Nevada and is easily accessible by three major airports- Reno (30 minutes away), Sacramento (2 hours away), and San Francisco.
Tahoe sees a large number of visitors every year who drive in. I-80 is a route that is snow plowed and usually very easy to drive unless you happen to come up during a big blizzard. Or, you can take the scenic route and hop on a train.
Amtrak stops in Truckee which is just North of Lake Tahoe so that route is also available. (Check out why we LOVE Traveling with Amtrak here).
---
Transportation
Once you arrive at Northstar California Resort you won't need your car. That is because Northstar Ski Resort has a wonderful shuttle system that picks you up and takes you to the Village all day long. And, everything you need is located at the Village from the ski lift to the restaurants, ice skating, even a movie theater.
This was excellent news for our SoCal native family who has very little experience driving in rough weather conditions. It took a lot of pressure off, not having to think about driving in the snow during our stay.
---
Northstar Ski Resort – Where to Stay
There are many different lodging options at the Northstar Ski Resort. The best way to separate them is into areas. First, you have the Outer Neighborhoods which are mainly condos and vacation rental properties around the base of the mountain.
Next, you have hotels, lodges, and condos that are located directly located where all the action is, in the Village. And, lastly, you have the higher end options like upscale condominiums and the Ritz located in the Highlands. Below you will find a breakdown and general description of each of these three options.
Vacation Rentals (Outer Neighborhoods)
Probably the most budget-friendly option for families visiting the Northstar Ski Resort would be to stay in a vacation rental in the outer neighborhoods.
Here you still receive FREE transportation via the Northstar Shuttle Service so it is incredibly easy to get around, but because you are a bit off the beaten path, prices are a bit cheaper. Which is exactly what we did.
We stayed in a cozy cabin in an area called Rocky Point and it was modest and comfortable. Our condo had three levels. You entered on the second level which was basically just an entryway and coat rack, upstairs we found our fully stocked kitchen, a living room area which had a pullout sofa sleeper, a full bathroom, a fireplace (which I was thrilled to see), and a balcony with beautiful mountain views.
Downstairs there were two additional bedrooms including the master, another full bathroom, and a laundry room.
I love staying in vacation rentals when we are traveling with the kids for three reasons.
The Kitchen
My kids eat a ton and so having a kitchen to cook a few meals and snacks in saves us both time and money. It also ensures everyone is well fed and in a good mood.
The Space
This is a big one. I love having enough space so that we can come back, stretch out, and relax in the room. Not easy to do when you are crammed in a hotel. I also like having my own separate bedroom with my husband so that we can snag some alone time while on vacation or so that the baby can nap while the others play (more realistic use).
The Laundry
The ability to do laundry means I can pack less, not worry about the kids getting their clothes dirty or wet in the snow. Plus, packing less also saves money on baggage, which these days can cost you a pretty penny.
---
In the Village
When we return to Northstar next time I think I will book a stay in the Village. There is something about being right there with all the action that is incredibly appealing to me. In the Village, they have several hotels, lodges and a resort. Plus, they also have lofts and condos too.
The Village is full of shops and restaurants. There is also has an ice skating rink and a movie theater! The ski schools and lifts are all within walking distance so you don't even have to use the shuttle service to get around. Talk about convenience.
---
The Highlands (Ski In/ Ski Out & Slopeside)
The Highlands is where you will find the more luxe accommodations including higher end vacation rentals and The Ritz-Carlton Lake Tahoe. We visited the Ritz when we tested out their Marshmology offering.
As soon as I stepped foot inside their gorgeous lobby and gazed out their giant windows at the sweeping and extraordinary mountain views, I was in LOVE.
The Ritz-Carlton Lake Tahoe is accessible via a private gondola from the Northstar Village. The resort is located mid-mountain giving it a sense of privacy and seclusion that feels incredibly intimate. As per usual for the Ritz the customer service here is amazing.
You can ski up to the resort and have the staff store all of your equipment for you until you need it again. And, the Ritz is also very kid-friendly too!
---
Northstar Ski Resort – Equipment Rental
This was our very first family ski trip so we do not own a single pair of skis or a snowboard. Lucky for us ski and snowboard equipment rental was a breeze.
We used RentSkis.com which happens to be the LARGEST ski and snowboard rental provider with 90 shops located across Utah, Colorado, and California.
They had a location right there in the Northstar Village and also another at The Ritz. We were able to easily make our reservation online and then pick them up quickly at the Demo Shop. I would highly recommend using them! *Tip Book online and save 20% 😉
---
The Mountain
Tahoe has received a record amount of snowfall this year making it the BEST year ever to head to the mountain. Pair that with the fact that Northstar does a phenomenal job keeping their trails groomed and you have the perfect recipe for an epic day on the slopes.
Northstar Ski Resort is home to over 3,100 acres, 100 trails, several terrain parks, and 20 lifts. They keep their site up to date with current weather conditions, terrain and chairlift status' and more.
You can also download their app Epic Mix and find much of the same information all there and easily accessible.
I recommend hitting the slopes early because nothing is more magical than being the first one to ski down that freshly groomed slope. Plus, with fewer people around you can make a few stops to soak up the incredible views too!
---
The FUN Stuff
Ski & Snowboard School
Since this was our first family ski trip we knew the kids needed to attend ski school. I mean, I hadn't been on skis since I was their age so I knew I couldn't teach them- ha! Even though I knew ski school was the right choice, I was a bit nervous dropping them off because it was an all-day event (8:30 am-3:30 pm) however, when I picked them up I quickly learned I had nothing to worry about.
They had a fabulous time with their coach, they learned SO much more than I had anticipated and they actually begged me for more lessons. So, my advice would be, don't be a wimp like me. Sign your kids up for at least 2-3 days of lessons.
One day was like a teaser. They learned SO much and were ready to show off their new skills, move up a level and learn more. If your family ends up hooked on skiing like ours, check out this list of the 14 absolute best family ski resorts from our friends over at Crazy Family Adventure and pick your next destination!
Below is a peek inside the Kids Area of the ski school. They were served snacks, lunch, and hot cocoa and cookies. No wonder they loved it so much! I should also mention they were fitted and set up with their ski rentals here as well. Which was so nice. I never had to deal with helping them put on or take off any boots or skis ((woot! woot!)).
Another added benefit with the kids attending ski school, that I hadn't really thought about, was that Mike and I were able to enjoy the mountain SANS kids. We had a blast on, what we called, our ski date. Northstar must realize this romantic reality as they have a daily complimentary afternoon Töst at 2 pm on East Ridge. It's the perfect way to end your day before picking up the kids.
The ski and snowboard school is open to every level of participant starting at age 3. They offer private, group and family lessons. You can find more about all of their fantastic offerings here.
---
Burton's Snowboard Academy
Our oldest enjoyed snowboarding last year with his dad in Steamboat Springs CO (read more about that adventure here) but he had never taken any lessons. So, I was thrilled to learn that Northstar was home to the one-and-only Burton Snowboard Academy.
I knew Camden, being a teen, would appreciate his own space separate from his younger siblings and the Burton Academy Lounge with its luxe vibe and cool fireplace came through big time for me. He also thought his coach was amazing!! He texted me around lunch just to tell me about all the incredible moves and tricks he had learned. The kid was on Cloud 9!!!
I also noticed that Burton offers a women's only lesson. It was created for women, taught by women. Pretty cool, right! That is on my bucket list for next time!!
---
Tubing at Northstar Ski Resort
Another reason I LOVED Northstar Ski Resort is that there is so much to do beyond skiing and snowboarding. We had a blast on their tubing hills and I think it served as a wonderful break from all the hard work we were doing on the slopes. Going down those tubes made me feel like a kid again.
I also loved that they had their own Northstar/ Epic photography team right there to capture these incredible shots for us (like the one above of Shea). It reminded me of Disney's Photopass. It allowed me to put down my camera and join in on all the fun!!!
---
Ice Skating or Roller Skating
Another fun thing to do besides skiing and snowboarding is ICE SKATING!!! Inside the Village, there is a beautiful outdoor ice skating rink with market lights strung above you and fire pits glowing all around.
*Tip- I recommend heading there right before or after dinner. The rink is a bit less crowded and you get to enjoy the beautiful ambiance sans the chaos.
Starbucks is also right there next to the rink, so you can treat your little skaters with hot cocoa and grab yourself a latte when you are done.
---
Catch a Movie
If the kid's legs are tired you can take a break at the movie theater located in the Village. It plays several new releases and it's super cute!
---
Play in the Snow
My SoCal munchkins made sure we planned plenty of downtime for snowball fights, snow angels, and building snowmen.
At Northstar, there were plenty of open spaces for us to play. I just had to make sure they understood the golden rule- no one hits mom with a snowball 😉
This little cutie has a wicked arm, don't let that smile trick you!
---
Shop at Northstar Village
Take time to stroll through all the shops during your stay at Northstar. The Village is home to about 20 shops and restaurants.
Here you will find everything from ski and snowboard apparel and equipment, to hand-made jewelry, toys, and even delicious treats like the ones below at Dorinda's Chocolates.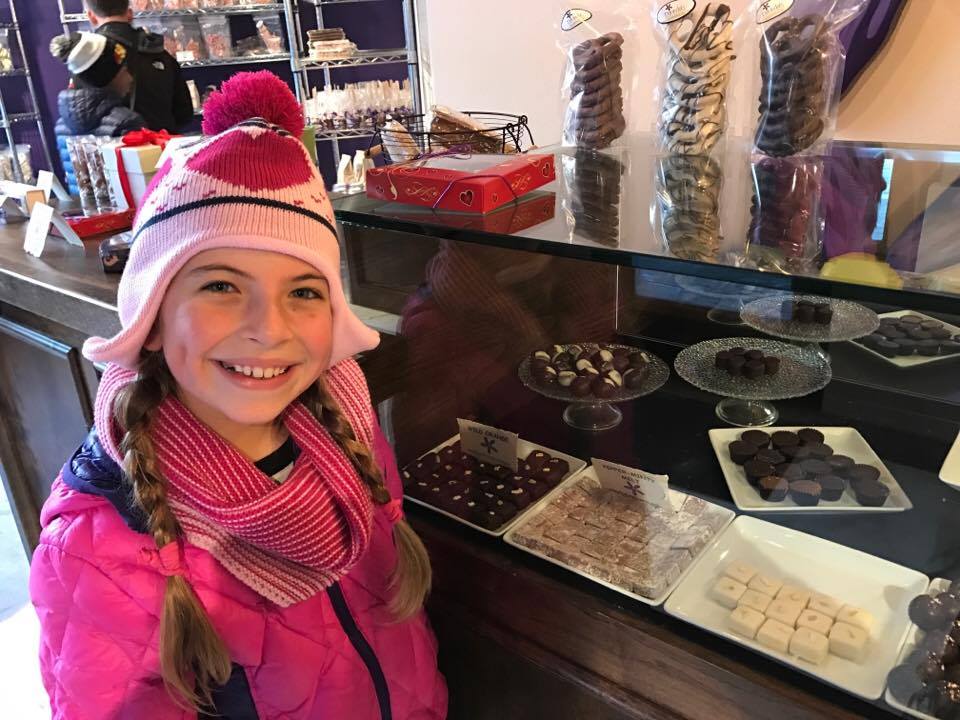 We also liked shopping at the NEW Copper Lane Cafe & Provisions where we could pick up small grocery items, a delicious almond milk latte, and fresh baked goodies. They also have a decent selection of beer and wine 😉

---
Roast S'mores at the Ritz Carlton
You can't go to the mountains and not roast a s'more, there has to be a law against it. I mean, wouldn't you agree that s'mores are about the best tasting treat you can make over a fire- YUM!!!!
Well, Northstar California knows this and so they hired a team of S'mores Ambassadors (yes, really) who pass out s'mores kits around 3:30 pm in the Village just as kids are being released from their ski lessons.
Or if you really want to learn the fine art of making the most delicious s'more you can head to the Ritz-Carlton at 4:30 pm and join in on the Marshmology lesson like we did.
The Ritz-Carlton Lake Tahoe lays out a lavish spread including gourmet flavored marshmallows. We tried their banana marshmallows and they were INCREDIBLE!!!
I mean seriously, doesn't looking at this perfect marshmallow make you drool, c'mon it's okay, you can admit it.
Nailed it! S'mores perfected all thanks to Marshmology. My life is now complete!!!
---
Where to Eat – Northstar Ski Resort

You won't go hungry on this mountain, Northstar has tons of options when it comes to eating including many unique offerings like the Thai Food Truck located mid-mountain.
Also located mid-mountain is the Lodge at Big Springs (pictured above) where we enjoyed a delicious breakfast one morning before we hit the slopes. I was impressed that they offered vegetarian and gluten free options right there on the menu.
My soy chorizo scramble was delicious and filling. It kept me powered up the whole morning.
Mike and I also ate lunch here one afternoon. Their warm bowl of vegetarian chili really hit the spot and Mike said his Asian wrap was super tasty too.
Need a drink? The lodge has a full bar located both inside and outside so you can enjoy a delicious cocktail, glass of wine or cold beer mid-mountain.

Delicious Pizza
Our favorite spot to eat at Northstar was Rubicon Pizza Company located in the Village. I think a hot pizza just sounds so good coming off a long day on the mountain. Plus, the laid-back atmosphere means you can come in right off the slopes in your ski pants and no one will give you the side-eye. Make sure you don't miss their salads before you dive into the pies, though. The Greek is AMAZING!!!

The kids said that Rubicon was the BEST pizza they had eaten in a really long time. And, Mike and I would have to agree. They served up some very creative pies with really unique flavor combinations like the Thai Red Curry Chicken which had just the right amount of heat.
The kids enjoyed a half pepperoni/ pineapple, half Canadian bacon/ pineapple pizza. And, I appreciated the chefs accommodating our odd request 😉

I know it's not easy but make sure to save room for dessert. Rubicon has a delicious Out-of-the-Oven Chocolate Chip Cookie topped with vanilla ice cream and chocolate syrup and it is D-E-L-I-C-I-O-U-S!!!!

In the Village, you will also find a variety of dining options like sushi, Mexican, Starbucks, a cafe, wine bar, and a pub.
Looking for something quick? Frites just opened and has all sorts of hot and delicious gourmet fries or try a European spin at the Euro Cafe which offers Belgium waffles, crepes, gelato, frozen yogurt and more!

Upscale Dining
Tavern 6330 is a fantastic sit-down restaurant serving Farm-to-Table fresh California style cuisine. The Tavern is also located in the Village, right at the base of Village Run.

Dining at Tavern 6330 is quite the treat, everything is artfully plated and absolutely delicious. Below is a picture of my Beet Salad. It was served with whipped goat cheese, arugula and a dijon dressing that was out of this world delicious.
For my main meal I enjoyed their Tofu Noodle Bowl (again so excited to easily find a vegetarian option), Mike tried the Sea Bass which he said was amazing and Camden loved the steak. Tavern 6330 is a family-friendly restaurant so the younger three found items they loved like ravioli, chicken tenders and a grilled cheese on the kid's menu.

Again, you won't want to miss out on the dessert offerings. The menu looked so good we couldn't decide what to get so we opted for splitting three desserts between the six of us and they were all divine. My personal favorite was the Brown Butter Pecan Cake, it was heavenly.
---
Overall Review of Northstar Ski Resort
If you are looking for a mountain getaway or a ski trip with your family you would be hard-pressed to find a better place to stay than Northstar Ski Resort.
At Northstar ski resort, you will find laid-back luxury, incredible ski schools for kids and adults alike (I'm definitely signing myself up for lessons next time), top-notch restaurants, plus a ton of activities to do beyond skiing and snowboarding.
And, at Northstar Ski Resort, EVERYTHING is taken care of for you from the complimentary shuttle service to the s'mores ambassadors. It's the type of vacation where the parents actually get to relax. So, do yourself a favor and book a stay at Northstar Ski Resort today!
---
Pin-It for Later: The ULTIMATE Guide to the Amazing Northstar Ski Resort
Have you visited Northstar Ski Resort?
*A special thanks to Northstar Resort for hosting the munchkin crew on our recent stay. I was not paid to write this post and there was no promise of a positive review. All thoughts and opinions expressed above, as always, are 100% my own.
If you enjoyed reading about the Northstar Ski Resort, you might also enjoy:
17 Super Spring Break Ideas for Families in 2019 – luxe trips that won't break the bank
The Ultimate Guide to Northstar Village! Amazing Restaurants & More!
How to Rent Ski Clothes- amazing savings for families!
Latest posts by Mama Munchkin
(see all)