Louisville is well known for bourbon and being the birthplace of a beloved baseball bat. What you probably don't know, though, is that this city is actually a great place to visit as a family. They have beautiful outdoor spaces and rich Southern culture.
One of the things I love about cities like Lexington, Oklahoma City, Omaha, and Louisville, is they go above and beyond to create entertainment for families. Check out our top 22 things to do in Louisville with kids & have a blast on your next visit!
Our Top 22 Things To Do in Louisville with Kids
Skim the List
My Favorites
Indoor Activities
Free Activities
---
We love checking out the zoo when we visit a new city because it's easy to know what to expect and fun for the whole family. The Louisville Zoo is very highly rated, clean, and you can tell they truly love the animals in their care. They also have some beautiful gardens that are worth walking around.
Enjoying the zoo in different cities is always fun, you will definitely want to add the Louisville Zoo to your list of things to do in Louisville with kids.
---
If you are looking to feel the true spirit of Louisville, Kentucky with your kids, head to Joe Huber's Family Farm in Starlight. It is a bit of a drive, but it will be worth it.
The Huber family has lived on this land since 1843, so you can count on learning some history during your visit. You can also eat some delicious food at their restaurant and they have u-pick fruits and veggies depending on the season.
---
The Louisville Slugger is the #1 Bat in Major League Baseball and you can see right where they are crafted! You are literally seeing history in the making as you walk through the factory.
There are tons of cool things to see in the museum and both you and your kiddos will enjoy it. Oh, and don't forget to check out the world's largest bat!
---
There are three floors of super interactive exhibits that your kiddos will love at the Kentucky Science Center. I would recommend the museum for kiddos aged 6-10, but if you are a science-lover of any age you will find an exhibit to enjoy. While it isn't the most elaborate or high-tech museum, it is a great place to duck in on a hot day.
The museum would also make for a great rainy-day activity as it is all indoors!
---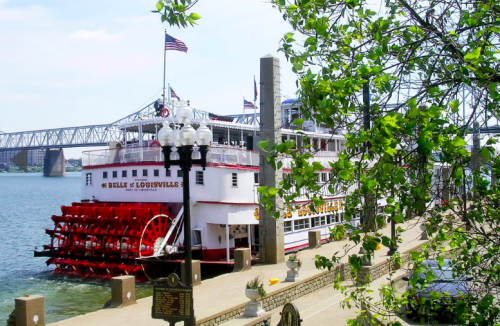 This is the oldest operating Mississippi-style riverboat in the world! You can go sightseeing or on a dinner cruise on the Belle of Louisville, and either way, it will be a one-of-a-kind experience.
They cruise year-round always offering different special experiences. And, you can count on the music always being lively while you cruise!
---
You have actually got a couple of different options for cruising. The Mary M. Miller is the Belle of Louisville's sister boat. She is not a steamboat but does have a paddlewheel.
This boat is climate controlled, making it a very appealing option in the hot summer months of Louisville. A cruise on the Mary M. Miller has the perfect balance of old-time charm and modern amenities.
---
The Muhammad Ali Center is located right in the center of the historic downtown, meaning it should be an easy place to add to a list full of stops.
The center is jam-packed with education, inspiration, and activities of all sorts inspired by the ideals of hometown hero Muhammad Ali. You can watch some historic Civil Rights era media footage or participate in some interactive boxing. It is truly something special to experience with your kids and a highly recommended thing to do in Louisville.
---
There are over 100 parks in Louisville! We will speak specifically about a few below, but we also want to inspire you to go out and find your own adventures. These parks are all different, so you should be able to find one that is the perfect fit for your family.
More than just enjoying the various parks, you can find hikes, horseback rides, swimming pools, and amphitheaters in Louisville.
---
This is the park to head to if you are looking for a hike perfect for kids in Lousiville. There are fossil beds, making this a pretty special place! On top of that, there are multiple trails and it is the perfect place to go fishing or have a picnic.
---
This park is definitely one of the most picturesque making it one of my favorite sites on this list of things to do with kids in Louisville. It is right on the Ohio River with a great view of the Big Four Bridges.
This park also hosts plenty of different events, so you might catch some live music or fireworks.
---
This is definitely not an activity you usually see on a family must-do list, but many people say it really is something to experience. It is a Victorian-era cemetery, and as you can see above, it has been well kept up making it beautiful and photogenic. There are some very interesting gravestones to check out as well.
---
You can't bring your kids to Louisville without visiting Churchill Downs. Although you might think of this as a site of heavy gambling, there are plenty of other things to do that are kid-friendly. You can grab a bite to eat or watch the horses as they prepare to race. If your kids are old enough to sit down and watch, you can pick out some favorites amongst yourself and see who wins.
You can book the Louisville Legends Tour here! This is great if you're looking for a more behind-the-scenes look at Churchill Downs and a few other popular Louisville destinations.
---
You might not be able to make it to the real thing, but you can get a glimpse of the experience at the Kentucky Derby Museum. You can go on a Historic Walking Tour of Churchill Downs Racetrack and take part in some interactive exhibits.
If you are a fan of the Kentucky Derby, then you definitely want to add this museum to your list of things to do in Louisville with kids.
---
You can go ziplining underground in this massive underground limestone quarry! If that isn't enough to sell you on a visit, there's also a ropes course, e-bike rides to the furthest depths of the caverns, and a MEGA TRAM tour.
---
If you are looking for a thrilling ride during your time in Louisville, you have to check out the Kentucky Kingdom. You will find 5 awesome roller coasters and a ton of smaller attractions as well.
There is also a water park next door called Hurricane Bay with the world's tallest body slide, Deep Water Dive! This is a great thing to do in Louisville with kids if you have got a whole day to spare.
---
This is one of the coolest museum concepts I have ever heard of. You will experience the exhibits through all your senses except sight. You will also get to learn how education works for the visually impaired and the history of how it has come to be.
---
This is the best thing to do in Louisville on a really hot day when your kids have a ton of energy! It is a giant party & play center and best of all, there is AC. There are obstacles, inflatables, and plenty of room to jump around. You will want to check out the times for open play.
---
If you are in town between August 15-25, don't miss out on the Kentucky State Fair! It has everything you expect out of the traditional fair experience and, of course, it is a really fun thing to do in Louisville with your kids.
---
This is your typical family fun center with go-karts, mini-golf, laser tag, and arcade games. You can also grab some food at the onsite restaurant, The Slice.
---
Another option for all of you thrill seekers, Bluegrass Karting & Events! There is axe throwing, which has become a popular new family activity for those with teens. As the name suggests, there is also go-karting and you can race up to 40 MPH!
---
Top Golf is a great place for the family to go and have a great time. They have several locations throughout Arizona. At Top Golf you get setup to launch golf balls from three different levels.
Plus, they have delicious food to dine on. Our personal favorite is the Asian Wings and Steak Tacos.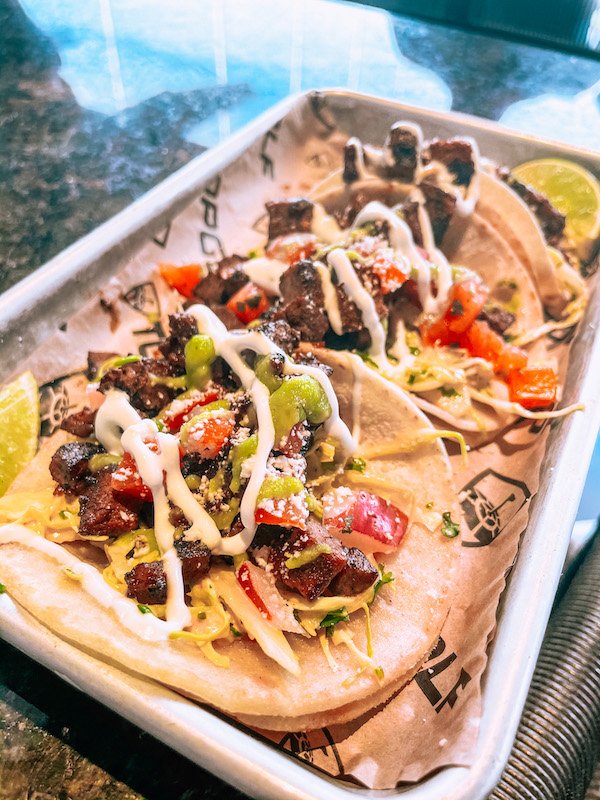 Pro Tip – Make a reservation as this place does book up pretty fast.
---
The Kentucky Center for the Performing Arts is a fantastic destination for families in Louisville. As the premier performing arts venue in the state, it offers a wide range of family-friendly shows and activities that are sure to captivate both children and adults alike.
---
Louisville is the perfect place to visit with kids on your next family vacation! Whether your family loves sports, museums, parks, or family fun. Since there are so many things to do in Louisville with kids, we highly recommend visiting Louisville with your family! Louisville truly has it all and we hope you find our list of activities helpful for the next time you visit!
Map of Things to Do in Louisville with Kids
---
Frequently Asked Questions
What is there to do in Louisville with families?
Kentucky Derby Museum 
Lousiville Slugger Museum & Factory Tour 
Louisville Mega Cavern
Muhammad Ali Center 
Kentucky Science Center
Louisville Zoo
The Belle of Louisville & The Spirit of Jefferson
Beckley Creek Park
What is there to do in Louisville for free?
21c Museum Hotel
Schimpff's Confectionary
Filson Historical Society Museum
Louisville Nature Center
Carnegie Center for Art and History
Tour the Museum of the American Printing House for the Blind
What are the must-try foods in Louisville?
Hot Brown at the Brown Hotel
Fried Chicken Sandwich at Royal's Hot Chicken
Grilled Kabayaki Eel at Milkwood
Pho at La Que
Tok-Sel Beans at Mayan Cafe
Chocolate Chip Cookies at Please & Thank You
Cornbread Pancakes at The Silver Dollar
Is Louisville family friendly?
Louisville is very family friendly. It is the perfect place to visit with kids on your next family vacation! Whether your family loves sports, museums, parks or family fun.
---
If you enjoyed reading about things to do in Louisville with kids, you may also like:
Destin Florida Attractions; 10 SPECTACULAR things to do in Destin Florida
The 3 Best Reasons to Visit Southern Belle Farm
7 Reasons Your Family will Love Margaritaville Hollywood Beach Resort
15 AWESOME THINGS TO DO IN TULSA WITH KIDS YOU'LL LOVE!
Pin-It For Later: 22 Things To Do in Louisville with Kids! A couple will surprise you!