Just about 90 minutes outside of Oklahoma City, you will find another great place to visit in Oklahoma. Tulsa, Oklahoma has plenty of activities to keep the whole family entertained on your visit. It is located along the Arkansas River and there are plenty of parks for enjoying the outdoors, museums to gain knowledge on the history of Tulsa, and don't miss Mothers Road Market for delicious food. Check out our list of things to do in Tulsa with kids below!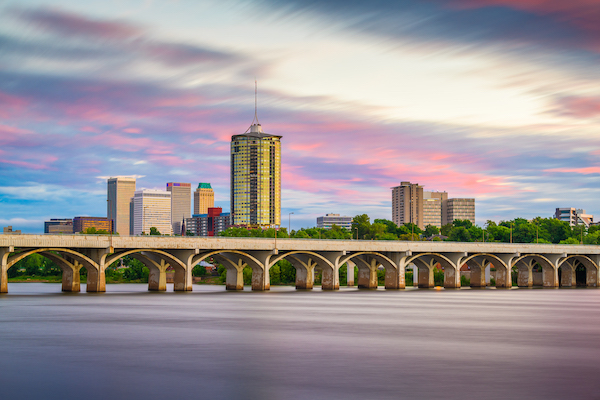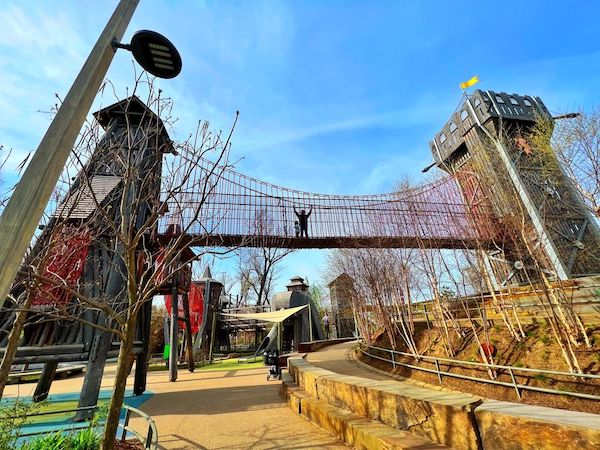 Why You Should Go
Voted USA Today's Best City Park, Tulsa's Gathering Place has lived up to that title since opening in 2018. There's something for everyone at this park! An adventure playground, a mirror maze, and a sensory garden are just a few of the attractions to keep your kids engaged all day long. There's even a skate park and sports court to play basketball, volleyball, and more! The outdoor space features three locations to buy food, or you can bring your own snacks for a picnic. After your picnic, be sure to stop by the Redbud Café for some delicious ice cream!
Why You Should Go
If you're looking for a unique, hands-on learning experience for your kids, you've come to the right place at the Discovery Lab. The science museum has several interactive exhibits designed to teach children about STEAM. Guests can perform experiments in the science lab, with a new theme every month. There's even a lab for children four and under to explore the wonders of science.
Why You Should Go
Animal lovers will enjoy a roaring adventure at the Tulsa Zoo, with over 400 species of wildlife across 80 acres. Aside from getting up close and personal with some of the most rare species in the animal kingdom, visitors can take a trip around the park on a train and ride the carousel. Children will even get to behave like animals at the newly renovated playground. Your kids will especially love to meet some farm animals at the petting zoo! There's plenty of concession stands and restaurants throughout the zoo to buy Dippin' Dots to keep your kids cool on hot summer days!
Why You Should Go
Turkey Mountain Urban Wilderness Area is a great destination if you're looking to take the kids on a hike without ever having to leave the city. It's nestled away just a few minutes from downtown, but holds more than 300 acres of forest to explore. The winding trails give visitors the chance to hike, bike, fish, picnic, and more! Just be sure to dress appropriately and pack plenty of water for your family and pets.
Why You Should Go
Right next to the zoo, you can find Oxley Nature Center in Mohawk Park. Your family can get in touch with the great outdoors on one of the many trails throughout the 800-acre site. Along the trails, you can find a lake, an observation tower, and even a swamp! Oxley Nature Center also hosts an interpretive center with exhibits about animals and plants you may encounter on the trails. There's also a wildlife viewing area at the facility to safely observe all the animals.
Why You Should Go
If hiking is a bit too extreme for your young ones, LaFortune Park offers a three mile walking trail to burn your kids' energy out. Children can climb, slide, and swing at one of the several playgrounds at the city park. Families can also reel in a catch at one of the two fishing ponds. If your children prefer reading a good book over being outside, there's a city library right on the property.
Why You Should Go
If you have any Little Leaguers, be sure to take them to catch a minor league baseball game at ONEOK Field in the heart of downtown Tulsa. Kids will love to cheer on the Tulsa Drillers and to get their pictures taken with their mascot, Hornsby. Soccer fans can also watch FC Tulsa soccer matches at the stadium. Young fans can take a break from the game to go play on the playground in the kids' zone. If you're lucky, your future baseball star may even catch a fly ball in the stands!
Why You Should Go
Looking for a break from the summer heat? Safari Joe's H20 Water Park is the place to go! Cruise down the lazy river or take a splash in the wave pool. Thrill seekers can climb four flights of stairs to slide down one of the giant waterslides towering over the park. Your toddlers will love the Tiny Turtle Lagoon, a space just for the little ones to safely play in the water.
Why You Should Go
Families can enjoy an an out of this world experience at Tulsa Air and Space Museum & Planetarium. Your kids will have a blast pretending to fly real static aircrafts and learning how these planes can breeze through the skies. They can even build their own flight simulator! However, the real highlight is the planetarium. Take a seat in a dome-shaped theater for a fascinating experience learning about the universe outside of planet Earth. This is the perfect destination for any little ones that are fans of space!
Center of the Universe
Why You Should Go
This strange phenomenon has become an iconic landmark in downtown Tulsa. The Center of the Universe is a small concrete circle on a pedestrian bridge between 1st and Archer Street. When you stand in the circle and make a noise, your voice echoes back to you even louder!Even stranger, anyone outside the circle won't be able to hear the echo. Your voice may even sound distorted or fuzzy to those standing outside the circle. Definitely a must-see when visiting the downtown area!
Why You Should Go
If you need some updated pictures of your kiddos, Woodward Park is a perfect backdrop for a family photoshoot. With beautiful foliage throughout the park, and brightly colored flowers in the gardens, this landscape is where I take all my pictures for the family holiday card. It's a great spot for a picnic or just a scenic walk on a nice day. Squirrels, butterflies, bunnies and other wildlife can be spotted throughout Woodward Park. You can even find a few swing sets on the property for the kids to play on.
Why You Should Go
Climb Tulsa is taking fun to new heights with their rock-climbing gym! This is a great activity for all the families out there that love fitness. Adventure seekers can scale 50 foot tall walls with the help of experienced staff members. You can buy a pass to climb for the day, or you could even sign your family up for rock-climbing classes. Keep in mind, Climb Tulsa recommends climbing for those five and older, but anyone can climb as long as they meet the 25 pound minimum weight requirement.
Why You Should Go
Head to the Admiral Twin Drive-In for a blast from the past! This historic drive-in theater has been projecting movies on their dual screens since 1951. You might even recognize it from the 1983 film, "The Outsiders". All you have to do is buy a ticket, pull into a parking spot, tune your car radio to hear the audio, and eat some popcorn! If you own a truck, we recommend throwing a bunch of blankets and pillows onto the truck bed and making a makeshift bed to enjoy the show! Each screen plays two movies every night the theater is open.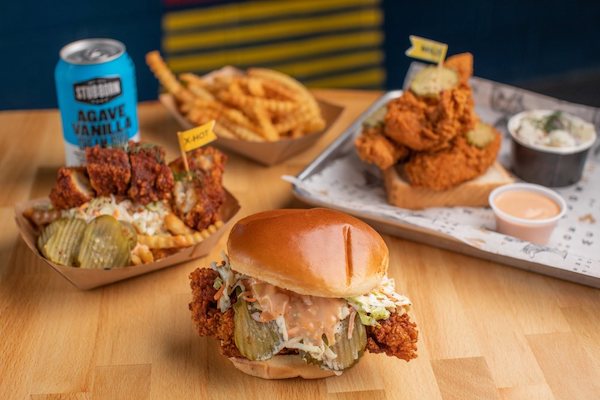 Why You Should Go
If your kids' tummies are rumbling, take them down to Mother Road Market for a bite to eat! Mother Road Market is the state's first ever food hall with over a dozen restaurants to feed even the pickiest of eaters. They've got everything from pizza to barbecue to sushi at this Tulsa staple. There are also some start-up retail businesses inside if you're looking to do any local shopping. Plus, there's even mini-golf on the back patio that your kids will love, after they get some dessert inside the market, of course!
Why You Should Go
Fans of sports will especially love taking a trip to All Star Sports Complex. They have a beautiful 18-hole course for mini-golf. There's also softball and baseball batting cages if you'd like to take a swing at it! Your kids will also love the arcade room. The mini-golf does have seasonal hours, so be sure to check out All Star Sports Complex's website for more information.
Map of Things to Do in Tulsa with Kids
Frequently Asked Questions about Things to Do in Tulsa with kids
What are some fun things to do in Tulsa?
The Gathering Place
Mothers Road Market
Climb Tulsa
Blue Dome Entertainment District
Utica Square
Catch a Live Show
Gilcrease Museum
Hard Rock Hotel & Casino
Tulsa Zoo
Philbrook Museum of Art
When is the best time to visit Tulsa?
October through November is the best time tourist and weather wise to visit Tulsa, with January being the coldest month of the year.
If you enjoyed reading our list of things to do in Tulsa with kids, you might also like:
15 THINGS TO DO IN FAYETTEVILLE, ARKANSAS WITH KIDS YOU'LL LOVE!
20 THINGS TO DO IN LOUISVILLE WITH KIDS! A COUPLE WILL SURPRISE YOU!
TOP [10 PLACES] FOR AN AMAZING BRUNCH IN KNOXVILLE
Pin for Later: 15 Awesome Things To Do In Tulsa With Kids You'll Love
Latest posts by Michael Mamian
(see all)