Looking to escape to paradise? Look no further than Margaritaville Hollywood Beach Resort. It's an absolutely gorgeous resort and full of fun for everyone in the family. Plus there's no better way to vacation than with the "no worries" attitude of Jimmy Buffett.
7 Reasons Your Family will Love Margaritaville Hollywood Beach Resort
Location 
Located right on the iconic Hollywood Beach Broadwalk, you will find the funky South Florida beach town vibe of this resort so much fun.
If you stray from the resort you will find the boardwalk is lined with cute little cafes and beachfront bars. It's really a plus that in just a short walk from your hotel room you can find various places to hangout and eat, even though the food at Margaritaville is so delicious you might never feel the need to stray.
If you take a stroll you will also see plenty of joggers, bike riders, and rollerbladers getting their fitness on while enjoying the view. Within a short distance of the resort you will find just about any beach vacation activity you can think of from trolley tours, to museums, incredible shopping, fishing boats, diving adventures, and golfing. What makes the location of Margaritaville Hollywood Beach Resort so special is that you can lounge all day or get out and do something adventurous.
The Pools & The Beach
No vacation in paradise is complete without plenty of time spent by the water. You get this best of both worlds in Margaritaville Hollywood Beach Resort with awesome pools and a beautiful beach both right at your fingertips. Mom and Dad get the luxury they deserve, while the kiddos will have no shortage of water activities to keep them entertained all day.
At beach level, there are two completely family-friendly pools. The LandShark Pool is lined with Tiki Style Cabanas and plenty of lounge chair seating. Kids, and all you kids at heart, will love the water slide!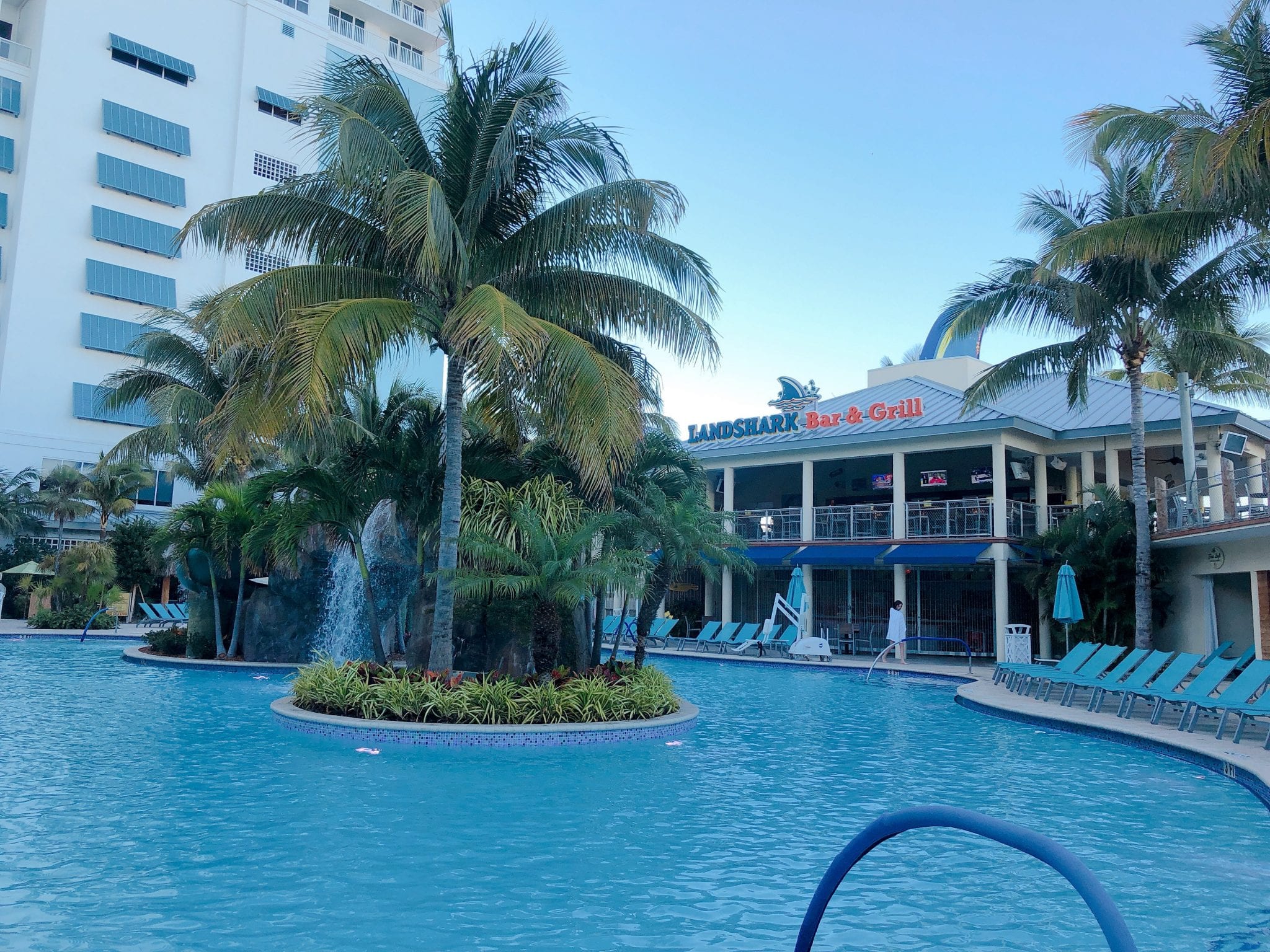 The Pools
Lone Palm Pool kicks things up a notch with more luxurious cabanas and a jacuzzi. From the Lone Palm Pool, you will also have access to Lone Palm Beach Bar so you can get your margarita on. Both these pools have cabana rentals beginning at $75 and include; a covered area for 6-8 people with host service for food, internet access, a flat screen tv, storage for your belongings, water bottles and towels. I highly recommend reserving one!! Both these pools have a bright and fun atmosphere and lush tropical greens surrounding them, so you won't forget for one minute that you are in paradise.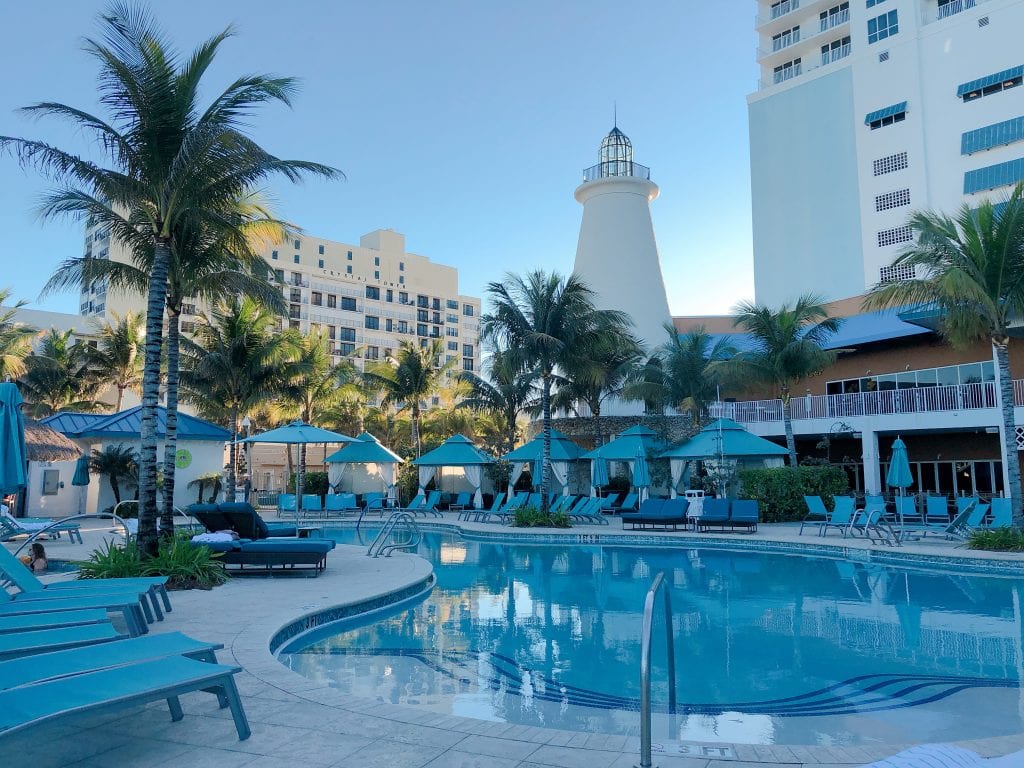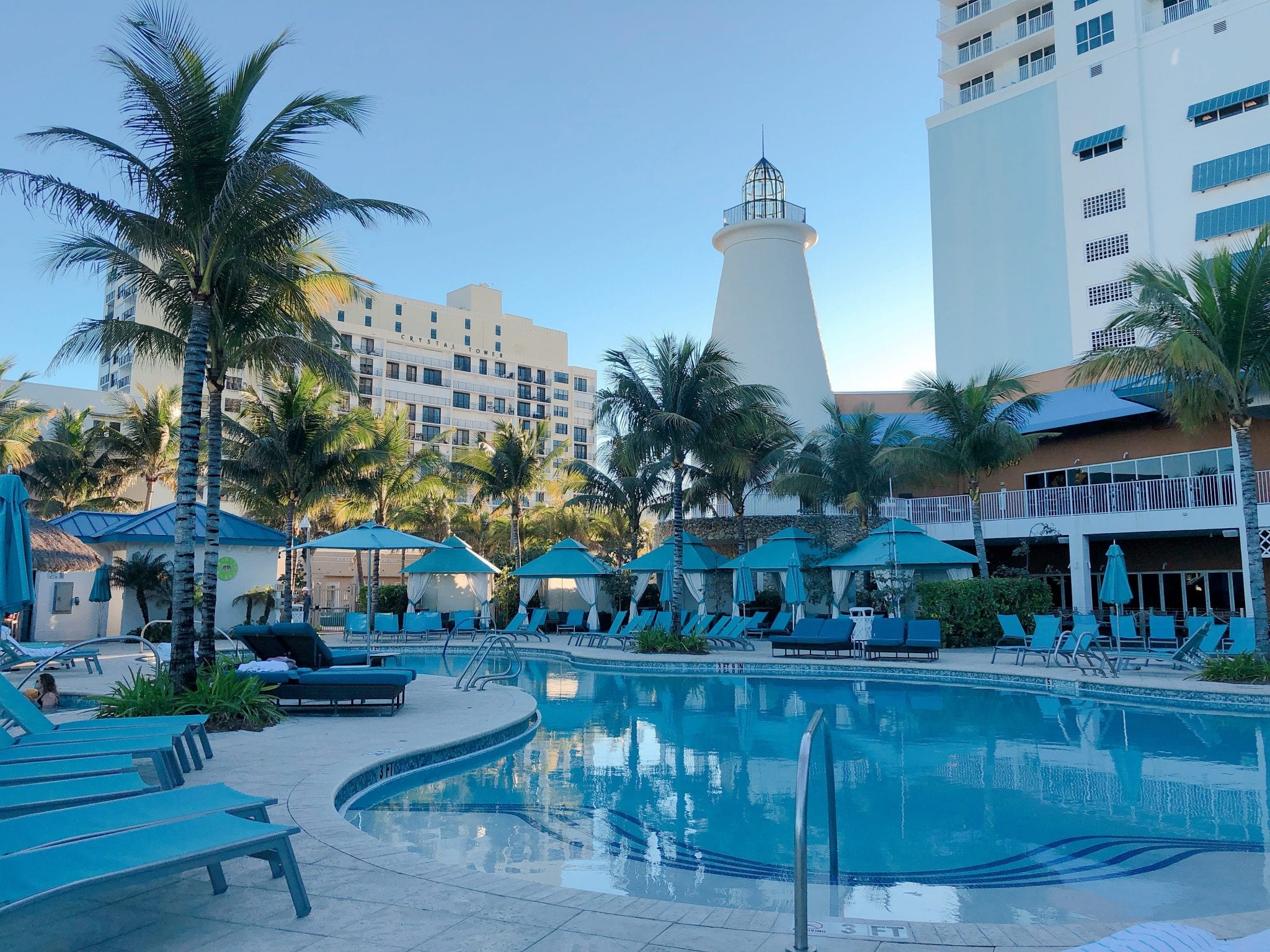 Adults Only Pool
For an adults-only pool atmosphere, head up to the 11th Floor rooftop License to Chill Bar. You can always drop the kiddos off at the Free Kids Club where they will have tons of fun, while you get to experience this! There are incredible views of the beach and plenty of spots to lounge. If you are looking for a drink, they have got everything from frozen concoctions to fine wine. Without your kids in toe, you can try some delicious lighter food as well like a watermelon salad or tropical shrimp ceviche. But hey, if you just want to go up there and sneak in a nap that is totally fine too!
The pools are awesome, but don't forget you are right next to a gorgeous beach as well! It is a beautiful beach to just go hang out at, but there are lots of things to do there also. The resort staff are all about hospitality and can help find all kinds of different water activities for your family.
Dining at Margaritaville Hollywood Beach Resort
Whether you spend the day lounging in a cabana, riding bikes up and down the boardwalk, or building sandcastles as a family you are definitely going to work up an appetite for some yummy food. You have some pretty amazing options to choose from at Margaritaville Hollywood Beach Resort. From relaxed bars with "no shoes, no shirt, no problem" policies to an upscale steakhouse, your family will find whatever they are craving at this resort.
LandShark Bar & Grill will show you the local flare of the Atlantic Coast beach bars. You can't go wrong with some Peel & Eat Shrimp. You also have the option of grabbing a bite by the pool with the Lone Palm Beach Bar or a quick coffee in the morning from Margaritaville Coffee Shop.
We just have one important recommendation, don't miss out on JWB Prime Steak and Seafood. You are on vacation and deserve to treat yourself, and this is the perfect place to do so. They have somehow managed to tie the laid back atmosphere of the resort into this upscale dining experience. Whether you stop in for their incredible happy hour or book a romantic date night for two, JWB won't disappoint.
If you are fortunate enough to dine at JWB's during your stay at Margaritaville Hollywood FL make sure to try the daily fish special. They literally get the fish from a spear diver locally who goes out each morning to catch something delicious for the chefs. I had the Grouper and it was out of this world AMAZING!!!
Flowrider
A big part of resorts setting themselves apart from the usual are the amenities they offer, and Margaritaville Hollywood Beach Resort sure has plenty. Of course, there are the pools and plenty of dining options as we have discussed, but it is the more unique amenities like the Flow Rider that make Margaritaville so cool!
It is apparently one of the most sought after surf simulator experiences in the world, and it will be right at your resort if you stay in Margaritaville. You can be an experienced surfer or a total newbie, either way, it's an adrenaline filled experience.
It does come at an additional cost of just $30 or $45 depending on the time you book, but it is well worth it for the 30 minutes of fun. Even your little kiddos can experience the Flowrider with the help of resort staff. Where else is everyone in your family guaranteed to catch a perfect wave?
*Only recommendation from me here is that the ladies and girls wear a one piece 😉
Free Bike Rentals at Margaritaville Hollywood Beach Resort
Florida is the sunshine state, and it is hands down one of the best places to cruise on a bike alongside the beach. That is probably one of the reasons why the Hollywood Beach Broadwalk is named one of the best boardwalks in America by Travel + Leisure Magazine.
Margaritaville Hollywood Beach Resort has incorporated free bike rentals to make it possible for everyone to experience this fun activity. Make sure to put a helmet on!
Free Kids Club
Those three words are like music to any parents ears! Of course, you love traveling with your kids but entertaining them day in and day out can be a little exhausting.
Luckily at Margaritaville, The Parakeet's Kids Club can take over this duty for you. It really is a win-win for everyone. It is located right behind the Landshark Pool, and their days are jam-packed with activities.
They will get to play in the pool, enjoy beach games and make crafts all with trained professional counselors. They will be having so much fun, it might even be hard to get them to leave! Parakeet's is open to 4-12-year-olds and should be booked in advance as there is limited space available.  
Live Entertainment at Margaritaville Hollywood Beach Resort
It would not be Margaritaville without hearing plenty of live tunes throughout your stay. All live entertainment is free and you can find their current schedule here. There's rock, pop, country, reggae, and just about anything else you can think of played on the resort grounds.
You will find performances daily at The Hollywood Beach Theatre, Jimmy Buffett's Margaritaville, and The 5 O'Clock Somewhere Bar and Grill. It is really neat to hear some of the local bands play and get a real feel for South Florida.
You can learn more about Margaritaville Hollywood Beach Resort by visiting their website here or following them on Instagram or Facebook.
A peek inside my room-
I had a fabulous stay at Margaritaville Hollywood Beach Resort and I can't wait to return.  The entire property was amazing but I was really impressed with the size of the rooms and the overall aesthetic too!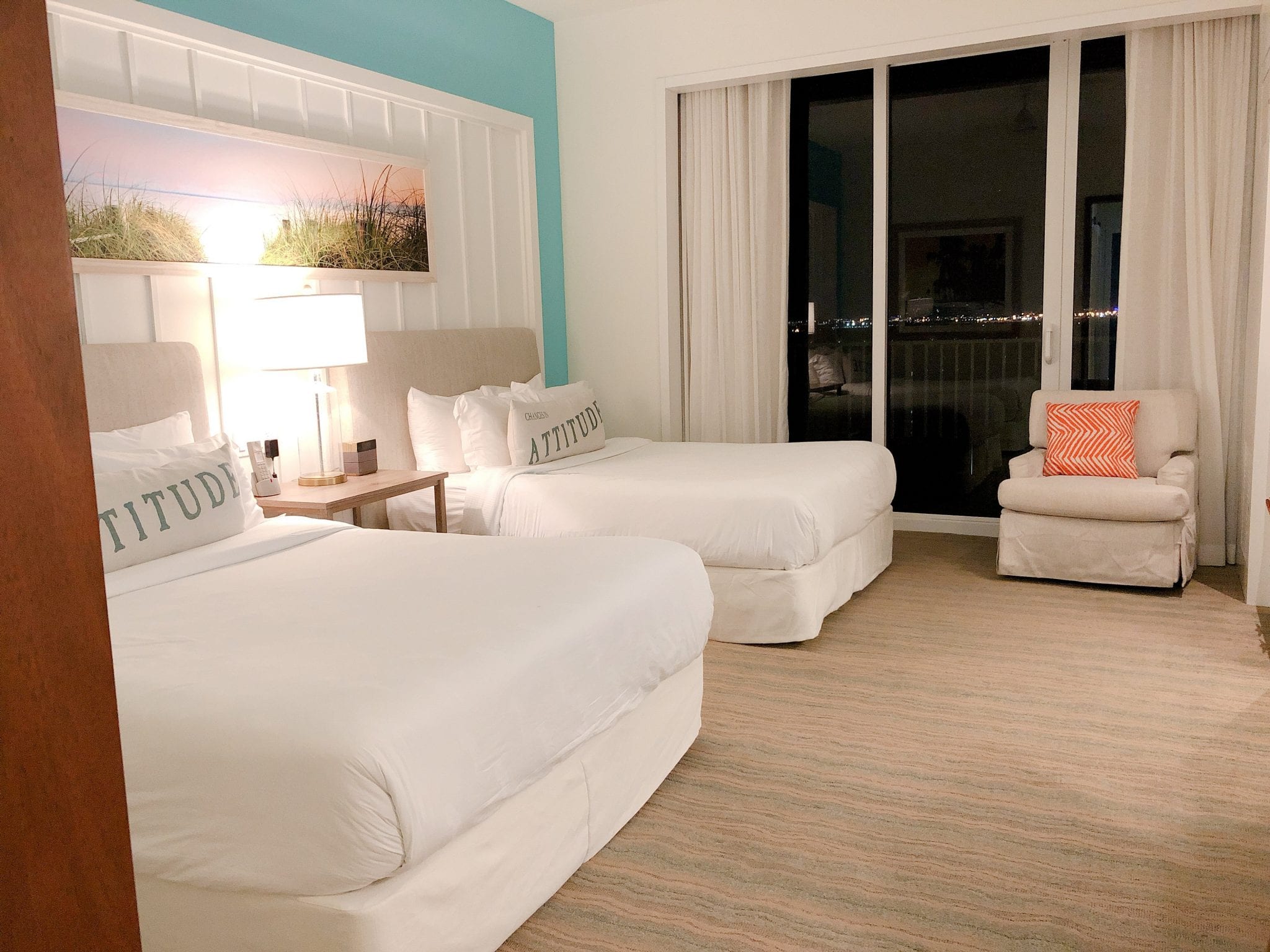 I loved the details like the changes in latitude, changes in attitude pillows and the whale tail faucet turns below.
Isn't the shower tile gorgeous? Not only was the shower beautiful but the shower head felt like I was showering in a spa. It was fantastic!!! Speaking of spa's I visited the St. Somewhere Spa during my visit and honestly had the BEST massage of my life!!! So, if you have a chance make sure you book a spa treatment while you're in town.
Which of these reasons to visitMargaritaville Hollywood Beach Resort appeals most to you? Tell me in the comments below.
You may also like one of these family-friendly destinations-
Latest posts by Mama Munchkin
(see all)