Ethiopia is vastly beautiful unfortunately it's beauty often gets overlooked do to all the poverty. I find a visit quickly sets your priorities straight and the need to GIVE sets in almost instantly. And, this need to GIVE doesn't leave you EVER. In fact I can bet you (like me) will want to return to Ethiopia many times in your life to continue to GIVE what you can to these wonderful people.
In fact as soon as I booked our tickets to Ethiopia I contacted organizations I loved and let them know I would be happy to carry over supplies as well as try and collect supplies they might need from family and friends. We packed 4 checked bags and 2 carry on- the max number. And, all but one were donations for various organizations.  And, it felt good!
Once in Ethiopia I wanted to visit as many nonprofit, fair trade and ministry organizations as I could. Here is a list of my favorites:
7 Amazing Organizations you should visit in Ethiopia
 
Women's Pottery Ministry-
This ministry is located just outside of Addis Ababa on the way to Holeta. A wealthy Ethiopian woman started this organization and trains single mothers skills like pottery and blanket making. You can make an appointment to enter the compound and shop their lovely candle holders, ornaments, kitchen ware, sandals, purses, wallets, blankets, scarves & more! We were even treated to a lunch of injera with cooked cabbage and lentils as well as traditional coffee and popcorn.
Honestly, the compound alone is worth a visit. Its such a peaceful and beautiful place. The land has tall Eucalyptus trees and beautiful foliage. The goods for sale are of amazing quality and very reasonably priced. I stocked up on Christmas and upcoming birthday gifts. Such an awesome way to spend while supporting women who really need the help.
The Former Women Fuel Wood Carriers Association (FWFWCA) is an organization devoted to bettering the lives of Ethiopian women who previously worked as "fuel wood carriers" – women who manually cut down eucalyptus wood (often illegally) outside the city of Addis Ababa, carried that wood into the marketplaces of the city, and sold each day's load for less than $1 – by providing them an alternate source of income through teaching of valuable skills like weaving, and access to the materials and tools needed to produce and sell baskets, scarves, and carpets.
Again, a simple phone call will ensure someone is there to open the shop for you. They have lovely rugs, scarves, baskets and blankets for sale.

Sabahar– Handmade Ethiopian Textiles
Sabahar is an Ethiopian company that produces uniquely designed, hand made cotton and silk textiles. In addition to scarves and shawls, we make table linens, cushions, throws and towels. Products are entirely hand made in Ethiopia from natural fibers.
While this one is not a non-profit organization it is part of the World Fair Trade Organization and they do a wonderful job taking care of their employees and offering fair wages. This one was an exceptionally fun one to visit because they have silk worms that you can go and check out in action. Shea thought that was pretty cool! The workers were all very welcoming and showed Shea exactly how they do their part of the process. It was a great lesson in team work.
Yezelalem Minch Children and Community Development (YMCCD) is a local, non-profit, non-governmental organization that seeks to provide comprehensive care for orphaned and vulnerable children, along with community capacity enhancement so as to minimize the vulnerability of orphaned children.
We have sponsored a child through this organization for the past 5 1/2 years and I have been very pleased with their work in Ethiopia. When I mentioned we wanted to visit they worked very hard to make sure they went out of their way to work with me. We visited their offices in Addis and I was able to meet Damtew and discuss some of their projects. If you are looking for a sponsorship program that is really working to improve the lives of young Ethiopians this is a great choice.
A home for children affected with HIV/ AIDS in Ethiopia. This wonderful organization houses and cares for the children. Helps them learn about their disease as well as attend school and prepare for a healthy future. Their work is top notch and they provide excellent care to their children. AHOPE was very welcoming allowing us to visit and tour their facility. We even got to peek in at the napping babies.
Leprosy is one of those things that doesn't seem like it still exists. Unfortunately, in Ethiopia there still is a large number of sufferers. The ALERT medical facility has a wonderful program that teaches people with leprosy skills in textile making and they have a small shop on the hospital property that you can visit. We enjoyed delivering soccer balls to the children who were there and Shea bought some cool carved and weaved animals for his room on our visit.
Misrach Training and Rehabilitation Center aims at providing skills training for Persons with Disabilities (PwDs). It provides vocational training in wood and metalwork, broom making, tailoring, optical works, and other marketable skills to adults. After completion of the training, the clients get start-up capital and tools to engage in either self or wage employments.
At the same time, the center produces furniture, household materials, spectacles, clothes, brooms and post cards for local market to generate own income. Braille literacy, and orientation and mobility training are also part of the service package of the center. The target groups/clients are persons with hearing, visual and loco-motors impairments who are between the ages of 18–30.
The center is located right near the crazy mercato and if you find yourself checking that out you really need to swing by Misrach. The items in their store are of fantastic craftsmanship I was really impressed. And, they have a ton to choose from all very reasonably priced.
BONUS
I know I said 7… but I can't not mention the wonderful family that happened to stay at the same guesthouse we were at. The Britton's moved their young family to Ethiopia last December to enable them to help needy children in Ethiopia. Their passion and desire to improve the lives of these children is astonishing and I was taken a back by the hige sacrifices they make in their own lives to pour their hearts into their work in Ethiopia. They too are a fantastic organization to support. You can follow (and fall in love with them) on Facebook here.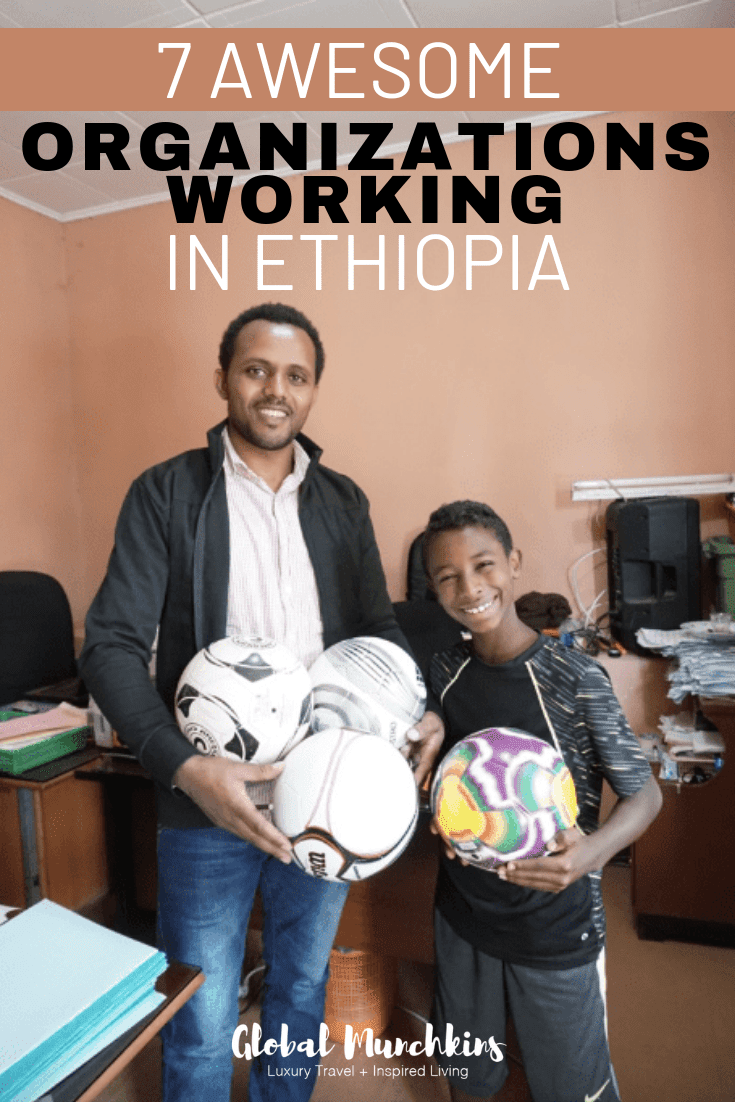 The above mentioned organizations are just a few that we visited on this trip. I am sure there are plenty more amazing organizations worth supporting and visiting in Ethiopia.
If there are any others you would like for me to know about please share in the comments below 🙂
This post is part of: