When I mentioned to people that I would be taking my 9 year old son back to Ethiopia to visit his birth family I received all types of responses. People were excited for us, nervous for him. Some wondered if I was "returning" my son- YES really they asked me that!! And, others asked why? They implied he was so young when he left them that he wouldn't even remember. Oh, and let's not forget the handful of people who asked if I was scared the family would try to keep him. So, let's talk about the reality of the trip.
Thankfully I listened to my mama gut because this trip was nothing short of amazing. Seeing my son literally melt into the embraces offered up by teary eyed family members is not something I will easily forget. Watching my son who is typically untrusting and nervous in new environments absolutely shine… he was in his element. And, he deserved to experience that.
My son left his family at around age 2 1/2, his memories before we visited were mostly erased. However, there is something powerful to be said about the first family connection. I would be lying if I told you that he feels as comfortable in our family as he appeared to feel with his first family while we were in Ethiopia. All of those early days being cared for by this group of individuals. It didn't matter that they had not seen each other in over 6 years… something about it rang incredibly familiar to my son. He did remember them… his body remembered what it felt like to be there. It was familiar. And, he recognized faces that he hadn't seen in years.
One of the things I find so interesting is how scared I was of the "birth family" when I first started looking into adopting a child. One of the reasons I chose international adoption and Ethiopia specifically was because I wanted to ensure I would not have to deal with a birth family. At that time I was naive. I too, thought it would be incredibly hard to share the role of mom. I too, was concerned my adopted child could be taken from me.
However, now after experiencing the trials and hardships with Shea. Watching him grow curious… seeing there was a missing link in his life that only his first family could fulfill I can tell you I was a fool. Adopted kids NEED to have access (whenever possible) to their first families. They need to feel that connection, to ask those hard questions and to understand their adoption story. And, I can assure you that your role as mom is not compromised but only strengthened when you can allow your child to connect with their first mom. Above is Shea's mom hugging him for the first time in over 6 years. I cannot tell you what that hug did for my son's heart. To feel that love that his first mom has for him. To know his adoption did not take place because he was unloved or unwanted- that is some powerful stuff!!!
In Shea's case he wasn't only missed by his immediate family. An entire village came to welcome him home. I mean this kid was floating on cloud 9 and still is even almost a week after we've returned home. He knows now that HE IS LOVED!!!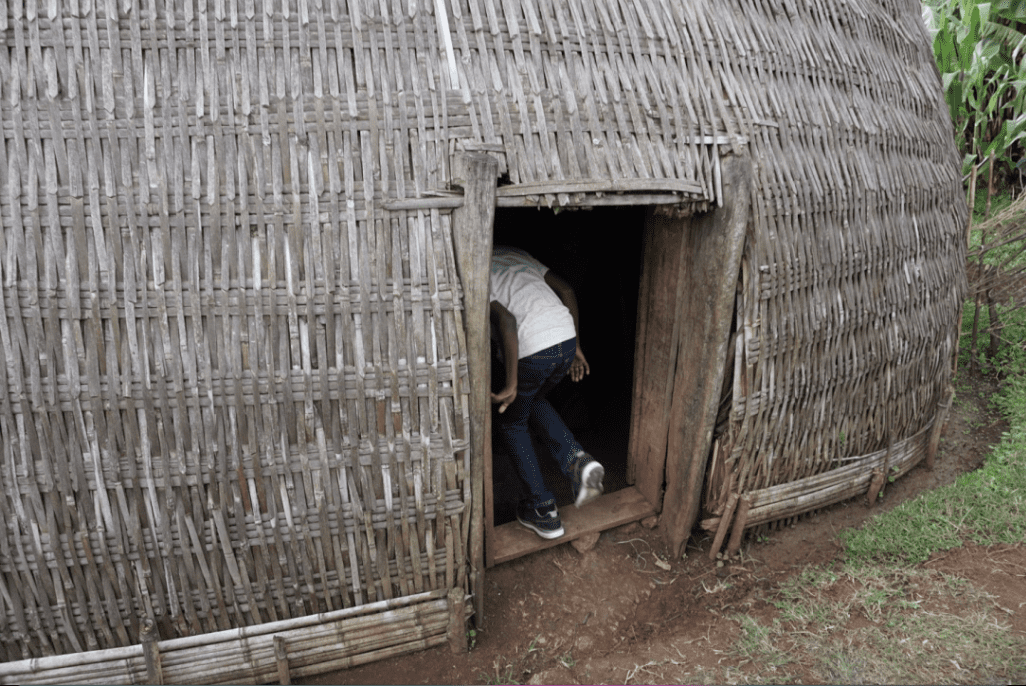 And, it wasn't just the people. Shea was fascinated by the tour he took of the home his family lived in. He loved being able to walk through the home and see how it is that his family lives. Many of his questions were about their day to day lives. He just wanted to gain a better understanding of how they lived.
Talking about day to day activities. We had hired an amazing guide/ driver/ translator who stopped whenever he saw local kids playing. Shea was able to join in, learn about his culture and what kids his age did there. It was really neat to see. The kids were all so welcoming to Shea and everyone cheered him on. Ethiopian's are some of the kindest people I know.
I am still trying to get over the amount of love that was lurking around every corner while we were in Arbegona. We met so many cousins, neighbors and friends. One moment that was incredibly neat to witness happened when we were walking the path his family still walks ever day to get water. On our way we ran into a gentleman who approached Shea and started kissing on him and demanding kisses back. Shea stood there shocked but we could here him say Mamush (Shea's Ethiopian name) and so we knew he somehow was connected. Then our translator informed us it was Shea's Great Uncle… he had recognized him walking down the path and he was SO happy to see him. How cool is that?
Shea said he felt like a movie star because every where he went local kids would follow. These cuties followed us on our walk to see the water supply. They were ecstatic to be included in the picture although you can't tell by their blank stares. Its so funny how they don't know to smile in pictures. Honestly, they were squealing with delight and jumping up and down right before this shot 😉
Ahhh… then there were the moments with Shea's birth siblings. That was pretty amazing. All my son has wanted to do is play soccer with his older brother. He has talked about it on several occasions. I cannot believe he finally was able to so. It was like watching a miracle. So so special!!!
He was also reunited with his 13 year old sister whom probably was his primary caregiver during the day as many older sisters are in Ethiopia. To watch her follow him around was priceless. You could feel the love she had for Shea. Such a beautiful and sweet soul she was.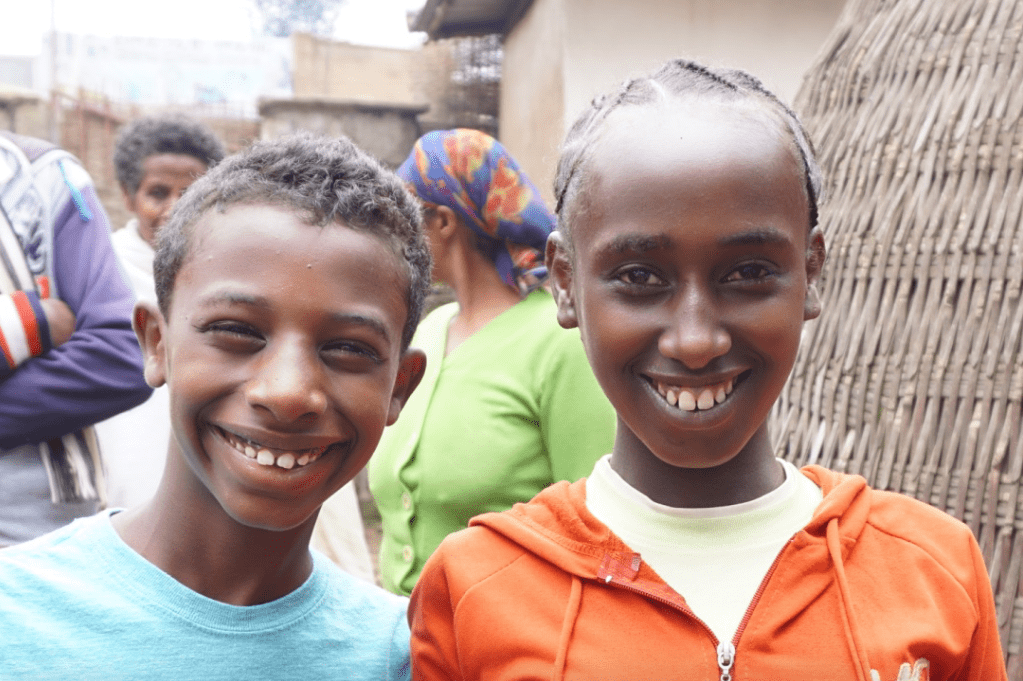 And, then he got to meet his younger sister who was born after his adoption took place. Shea had seen several pictures of her from when we hired searchers to contact his family… but for him to be able to meet her was something special!!! Look at those faces behind the two of them… oh be still my heart!!!
A sense of belonging is something else Shea gained. An understanding of his roots, the ability to piece his puzzle together on his own terms. Man oh man to any one out there who is debating taking your child back to visit their birth family or even birth country if family is not possible. Please… please do… and do it NOW!!! Don't wait!
I am so glad that Shea was able to have this opportunity. I am happy that he now has the ability to talk about where he is from. He got to know his family, his country, the beauty and the poverty. He gets to make up his own mind in regards to his thoughts on Ethiopia. He went from not wanting to talk about Ethiopia or his adoption in front of people to wanting to share his country with the world. He asked to do a presentation in his classroom and he is re-decorating his room to what he calls an "Ethiopian" style. What a gift this trip was for both him and I.
Our guide was a great help in balancing the emotional parts of the trip with sightseeing adventures in Ethiopia. I love that Shea got to see so many sides of Ethiopia. We were able to do the fun animal adventure stuff like visiting the Abieta Shala National Park, Lake Awassa and Born Free. We were able to visit a ton of ministries and non profits (check out more about them here).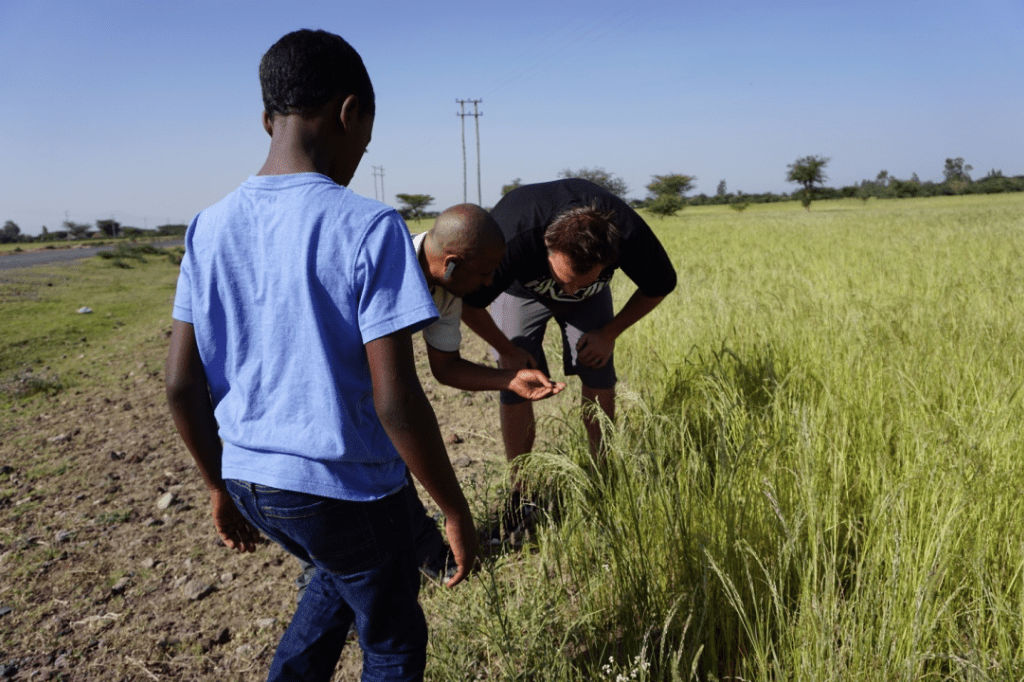 We also learned about customs and culture by visiting teff farms (teff is the grain that injera is made out of) and watching traditional coffee ceremonies. I even let Shea try some coffee which he thought was pretty great!
Then of course… let's not forget… the FOOD!!!
One of my favorite things about visiting other countries is trying out all of their native dishes.
This trip we were really fortunate because there was a large party of Ethiopians who were staying at the guesthouse with us. They were kind enough to invite us to a cultural dinner and show. We ate amazing Ethiopian food, Shea learned to dance Ethiopian style and my brother and I learned how to drink Tej (honey wine) the right way. I was so proud of Shea for jumping in and being so willing to learn from his fellow Ethiopians. I hope this sparks an interest and connection with his culture that we can continue to keep alive.
Ethiopian Cultural Dancing from Mama Munchkin on Vimeo.
It was amazing being able to learn so much about Ethiopia. It was equally amazing to be able to give something back. Ethiopia is always in great need. When I visited the first time I had collected new packaged underwear to donate to the various orphanages. So, I had asked Shea if there was something he would like to collect. He had the wonderful idea of collecting soccer balls and delivering them all over his country. Initially, I wasn't sure if it was possible but after my husband informed me the balls could be deflated we got started. Shea collected nearly 300 soccer balls. He was able to give something back to the people in his native land. He was so proud and had so much fun bringing joy to these other children. It was really neat to watch! (Read more about our soccer ball donation drive here and here).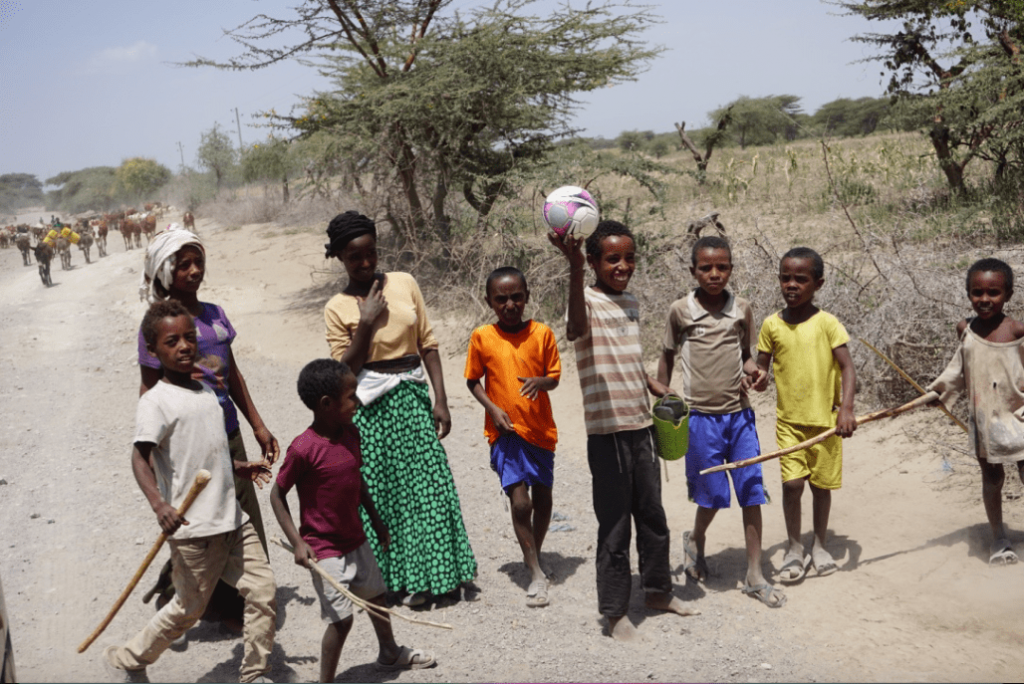 Our time in Ethiopia had to come to an end… but I know we will be back soon. And, until then Ethiopia will remain close to our hearts!!

Tell me your thoughts on birth family/ first family connections.
I would love to hear them!!