Vancouver is one of the prettiest coastal cities on the west side of North America. We visited this beautiful city last April and loved the combination of nature and a bustling city. Though it is only a fraction of British Columbia's Lower Mainland area, there is a wide variety of things to explore with the kids. From the beautiful outdoors and unique nature to fun and educational museums, there is something for everyone. Here are the top 16 things to do in Vancouver with the kids!
16 Things To Do In Vancouver With Kids [3 Absolute Musts!]
This was our first adventure to a city in Canada. We absolutely loved our time in Banff, it might have been the best vacation we have ever had (you can check it out here). So, heading to Vancouver, we had some pretty high expectations, luckily for us, Vancouver definitely kept up with our expectations.
16 Things to in Vancouver with Kids
1. Bike Around Stanley Park [Vancouver with Kids Must Do]
Stanley Park is the most historic piece of the city of Vancouver. Here you can explore many miles of ancient forests in the 1001-acre park, bike along the seawall, play near the beaches, and much, much more. For families who enjoy getting a bit outside of the cities that they visit, it is the perfect activity that will provide excitement all day long. This is a great thing to do in Vancouver with kids if you are looking for a laid back day!
2. Sunset Beach [Vancouver with Kids Must Do]
If you're looking to enjoy the sunset in a less-populated piece of the coastline than the ever-popular Kit's Beach, we recommend checking out Sunset Beach. It is fairly close to downtown Vancouver, and it features a variety of activities, such as the Vancouver Aquatic Center and a variety of volleyball courts. When you're done soaking in the Canadian sun, you can walk along the Seawall into the English Bay.
3. Vancouver Lookout
There is no better view of Vancouver than from the Vancouver Lookout. This vista offers a complete 360-degree view from the observation deck, which sits over 550-feet above the ground. You can visit during the day or in the evening, though an admission ticket is required. They even have a daily kid's program that gives your children the opportunity to become Sky Scouts! Check out tickets here.
4. Whale Watching Safari
If you're trying to catch a glimpse of the aquatic wildlife that lives in the sea around Vancouver, the Whale Watching Safari is the best way to do so. Here you can see everything from whales to seals to dolphins and beyond! There are tons of different whale watching companies that dock out of Vancouver, many of which will pick you up from your hotel if you're staying in downtown. They provide transport, along with a boat and a guide.
5. Granville Island Kids Market
Granville Island is packed with tons of food and activities for the whole family, though the Granville Island Kids Market is the perfect place for kids to explore. There are over 25 stores that cater to families and children, as well as many events that take place throughout the years.
6. Nourish Cooking School
For your little master chefs in the family, the Nourish Cooking School provides a one-of-a-kind experience for children who want to learn how to cook. Here you can find everything from parties to hands-on classes, providing endless enjoyment in the form of food. This is one of the most unique things to do in Vancouver with kids!
7. Vancouver Maritime Museum
The Vancouver Maritime Museum is located in Vanier Park and is dedicated to the maritime history in the region. Because Vancouver is located on the coast, maritime history is very rich. The museum packs tons of interesting artifacts, as well as real ships, which your kids will absolutely love! Many tours include the museum as one of their stops; check it out.
8. West End Kidz Zone
The West End Kidz Zone is a seasonal activity that takes place at the West End Community Center. Your kids can enjoy the obstacle course, floor hockey court, rock walls, mini-golf, bouncy castles, and much, much more. If your little ones are too young for these activities, you'll be happy to know that there is a separate section for toddlers!
9. Capilano Suspension Bridge [Vancouver with Kids Must Do]
The Capilano Suspension Bridge is probably one of the most iconic attractions to do with the kids. The bridge is Only 15 minutes from downtown Vancouver. Capilano Suspension Bridge, hangs 450 feet across and 230 feet above Capilano River. The park offers more than just the bridge.
Its surrounding 27 acres offer plenty yo do for the kids. The newest attraction, CLIFFWALK. Cliffwalk hangs for 700 meters and reaches 300ft high offering a panoramic view of the thriving rainforest and canyon far below. During the treetops adventure you can navigate from one magnificent old Douglas-fir to another on a series of seven elevated suspension bridges, reaching as high as 110 feet. Check Current Prices Here!
10. Movieland Arcade
Both kids and parents will enjoy the Movieland Arcade. This classic arcade provides visitors with arcade games of yesteryear. Throw a quarter into one of your favorite classics and show your little ones that you still got it! This is another unique thing to do in Vancouver with kids!
11. Queen Elizabeth Pitch and Putt
Not only does the Queen Elizabeth Pitch and Putt offer an 18-hole, 3-par course that is perfect for kids and beginners alike, but it also offers gorgeous views of the city. You must get there early if you want to play, as tee times are first-come, first-serve.
12. Museum of Anthropology at UBC
The Museum of Anthropology is the best place for little ones to learn about cultures all around the world. You can explore the grounds to find a variety of monumental sculptures, and take a look at the famous Bill Reid cedar sculpture known as 'The Raven and the First Men'.
13. Vandusen Botanical Gardens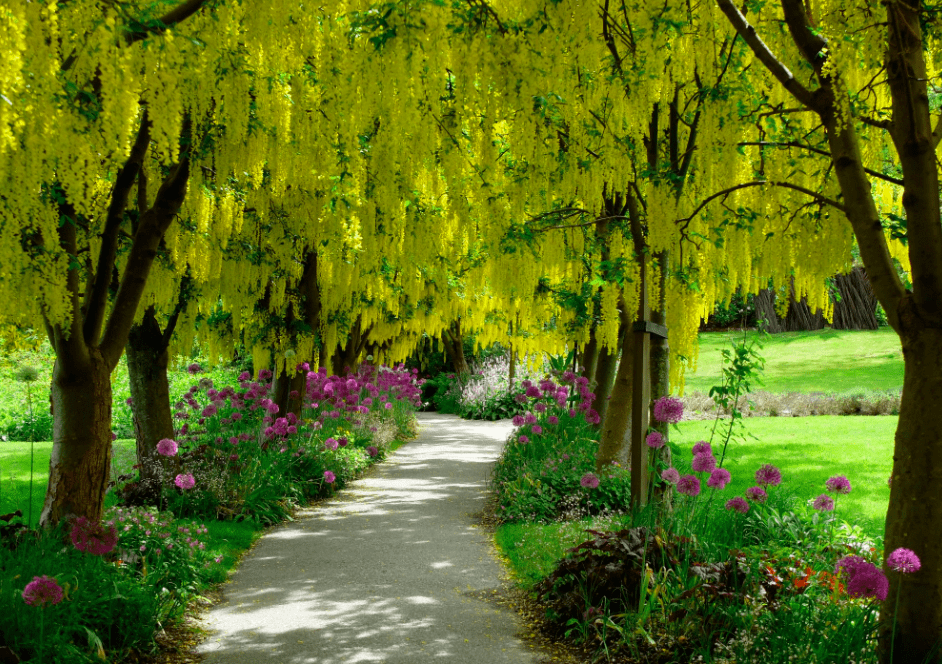 The Vandusen Botanical Gardens is a 55-acre plot of land with over 7,500 plant species from all over the world! Kids will love making their way through the hedge maze or exploring the unique sculptures that are placed throughout the garden. If you go at the right time of year, you can enjoy the Egg Hunt at Easter or the Festival of Lights around Christmas time. You can book a tour of the gardens if you'd like!
14. Karameller Candy Shop Inc
Who doesn't love candy? The Karameller Candy Shop is a Swedish candy with tons of GMO-free candy that is all imported from Scandinavia. Here you can find rows upon rows of colorful, eye-catching candies that your kids will be sure to love! This is one thing to do in Vancouver that kids and parents will definitely agree on!
15. The Adventure Zone
The Adventure zone is technically a part of the Kids Market on Granville Island, though we think of it as its own destination. It is a multi-level jungle gym with tons of activities, including a massive ball pit! If you need to tire out the kids, it is the perfect place to do so. When traveling it is nice to have a go-to spot for your little ones to just be free to run around.
16. Dr. Sun Yat-Sen Classical Chinese Garden [One of the Most Peaceful Things To Do in Vancouver with Kids]
In the middle of the bustling urban center, you can find some peace and tranquility at the Dr. Sun Yat-Sen Classical Chinese Garden. The best way to explore the Classic Chinese Garden is with a guided tour. Here your little ones can explore tons of incredible plant life, historical objects, and legends of mythical creatures. There are tons of events throughout the year as well!
Visit Vancouver- So Many Things To Do with the Kids!
So as you can see, there are tons of things to do in Vancouver with the kids! There isn't a city as diverse in the country, and you'll be able to find just about anything you are looking for.
Is there anything in Vancouver that you would recommend for children that aren't on our list? Let us know in the comments!
You May Also Like:
15 of the Best Vacations for Teens + Tips & Tricks
The Ultimate Guide to a Banff Summer; The Best Time to Visit Banff
Royal Caribbean vs Norwegian Cruise Line [Ultimate Face Off!]