To start things off on a completely transparent note, I do not think you can go wrong with either of these amazing cruise lines! Royal Caribbean vs Norwegian cruise might be a long debate for our family when it comes to choosing our next vacation, but it is simply because we love them both.
They both have a ton of stuff to do onboard, but there are features we like more on each cruise line. So let's check it out!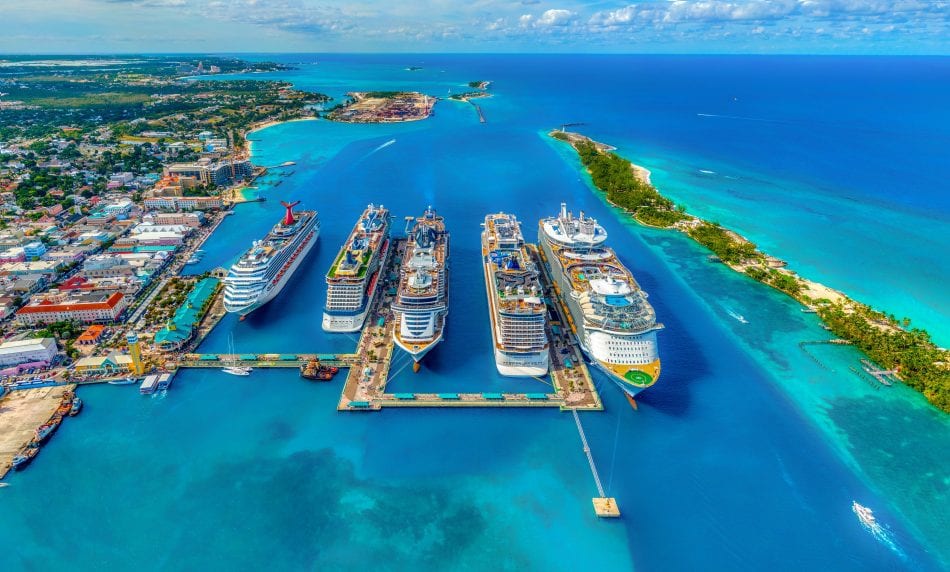 ---
Royal Caribbean vs Norwegian: The Pros
From dining options to what is included in the cruise fare, we break down the pros of sailing with Royal Caribbean vs Norwegian below.
---
Royal Caribbean Pros
Food
Fixed or Flexible My Time Dining: Royal Caribbean gives you options when it comes to what your dining experience will be like depending on the ship.
Celebrity Chef: The cruise line is paired with Jamie Oliver.
Formal Nights: Although we love the choice of flexibility, I think a formal night is part of the cruising tradition! I love that our family gets all dressed up because it isn't something we normally do. Every Royal Caribbean Cruise offers at least 1 formal night.
Entertainment
Insane Slides: How cool is it to have a water park on the ship? Royal Caribbean is always coming up with bigger and better slides! In fact, they currently have the tallest slide at sea, which is called the Ultimate Abyss Slide!
Poolside Fun: Every ship has at least two pools, often with splash zones and slides. The staff also makes sure there is plenty of interactive fun on deck at all times.
Fun for Kids & Kids at Heart: You will find basketball courts, rock climbing walls, and mini-golf courses on most ships. On Quantum level ships you can go indoor skydiving!
Other: All the usual trivia and bingo, & nightlife entertainment from shows to dance clubs
Family Friendly
Family Friendly Programming: Royal Caribbean vs Norwegian in terms of childcare just really depends on your preferences. We enjoy the way Royal Caribbean is set up with three different age groups and amazing staff. Check out our review of Harmony of the Seas, and hear first hand why our kids loved it so much!
Parent Time: As a cruise line overall, Royal Caribbean really puts a focus on making the trip enjoyable for everyone. If you have got kiddos 3-11, they can start out dinner with you and then be picked up by club staff for some fun.
Other Guests: Most other guests on the ship will also be families or couples.
The Promenade: These spaces are offered on their high-class ships, and they are insane. It is like having a whole little world right on your ship. They offer spots to dine or grab a snack, sip your coffee, people watch, and get some shopping in. Some ships even have an ice skating rink. Everyone in your family will find something they love here.
Seaplex: The Seaplex is on Quantum-class ships and is the ultimate family fun center. They have everything from bumper cars to arcade games, roller skating, and even trapeze classes!
Cabins
Tons of Choices: Royal Caribbean ships have many different cabin choices. The largest ship has a whopping 24 different types of rooms!
Virtual Balconies: If you are in an inside room, there is a good chance you will have a virtual balcony. Although it is not my favorite as I would much rather have a real view, it does make the room feel brighter.
The Ultimate Family Suite: This suite is on the Symphony of the Seas ship and it is seriously one of the coolest places we have ever stayed.
Suite Privileges: On Quantum and Oasis level ships, there are amazing suite privileges. You may even get VIP Pool Seating.
BIG Rooms: The suites and family cabins are more spacious than most other cruises.
Itinerary
More Ports: In the battle of Royal Caribbean vs. Norwegian, Royal Caribbean wins having the most ports in Northern America. They have 14 places for you to set sail from.
Wide Variety of Options: They sail to many different places and have many different cruise lengths.
Year-Round Europe: You can sail from Europe year round whether it be the Baltic, Meditteranean, or Northern Europe.
Check out all of Royal Caribbean's itineraries here!
---
Norwegian Pros
Food
Freestyle Dining: We absolutely love the concept of freestyle dining! This means you can eat whenever you feel like and have different restaurants to choose from. Every Norwegian ship has at least 2 different dining rooms. On the Norwegian Joy, they have 5! You can check out our experience with delicious freestyle dining here.
Specialty Restaurants and Dishes: Norwegian has some of the most incredible fine dining restaurants aboard their ships. You can book a special date night at their famous Le Bistro or be entertained throughout your whole dinner at Teppanyaki. These are an extra-fee but well worth it.
24/7: Every ship has at least one spot that is open 24 hours a day for late night cravings.
All Inclusive Cruise Fares: On the Norwegian Sky and the Norwegian Sun, fares include all drinks even alcoholic.
Entertainment
Race Tracks at Sea: The Norwegian Joy and the Norwegian Bliss both have two-level go-kart tracks. This is one of our absolute favorite features on any cruise! Not to mention, it is one of a kind.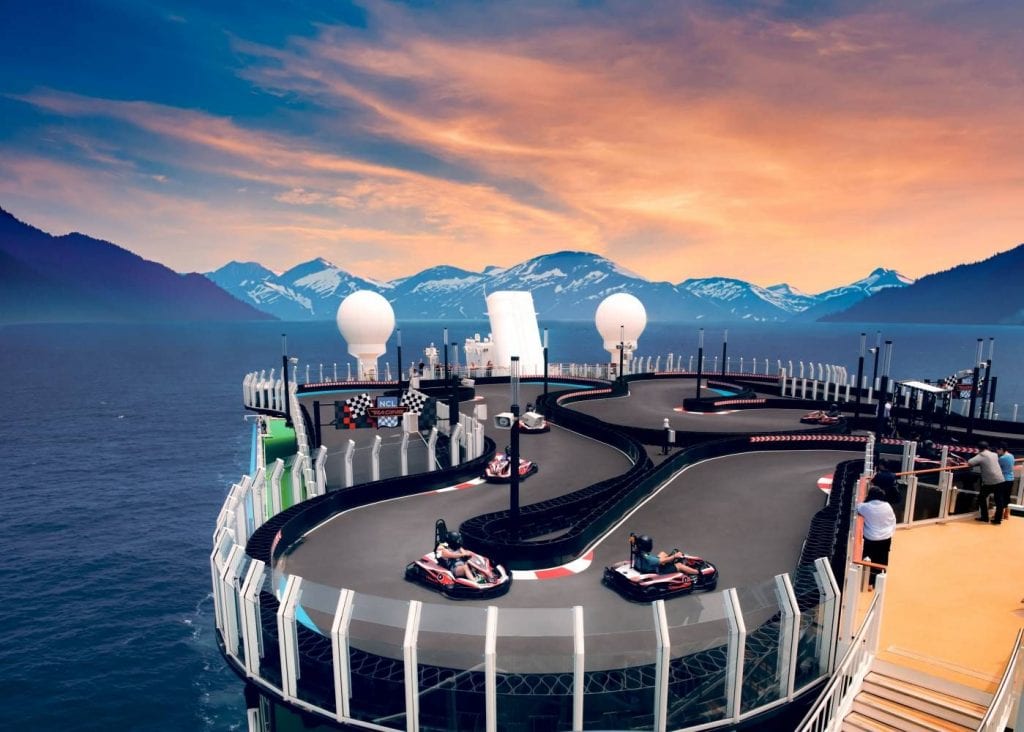 Pools: No matter what ship you are on you can count on finding at least one pool and multiple hot tubs. Norwegian also has an amazing kids aqua park play area.
Sports Fun: You can find basketball and mini golf on most of ships, along with fun rock walls. Some of the ships also have the awesome ropes courses, which we absolutely love! In the spirit of being competitive, some ships also have a Laser Tag Arena.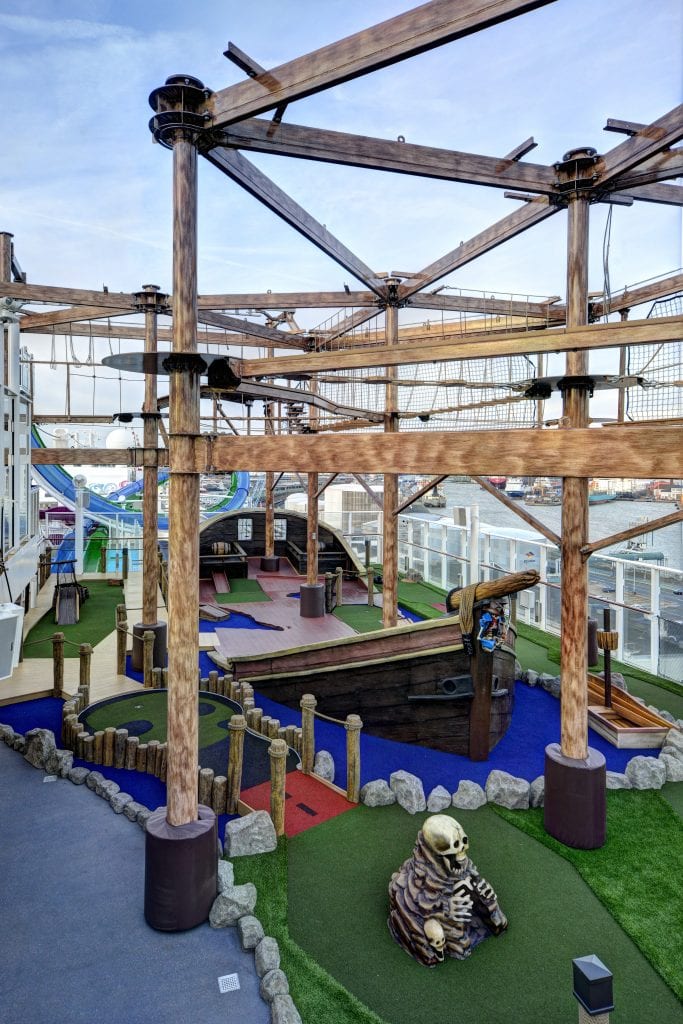 Indoor Fun: All the usual cruise entertainment, Wine and Beer Tastings, Escape Rooms, Bowling, and Wii Play
Family Friendly
Lower Cost: Norwegian typically has very reasonable prices and if you watch for them, you can find great specials.
Great Kid Programming: Programming is divided into 4 different age groups making it very specific and engaging for your child. There is also a nursery for children 6 months-2 years.
Other Guests: Norwegian Cruises are typically full of families, so you can count on a family-friendly environment.
Cabins
Haven Bliss Suites: Haven is available on 10 of NCL's ships, and it is an amazing way to cruise! These are top deck suites with their own courtyard and pool. On some of the ships, Haven even has its own dining room!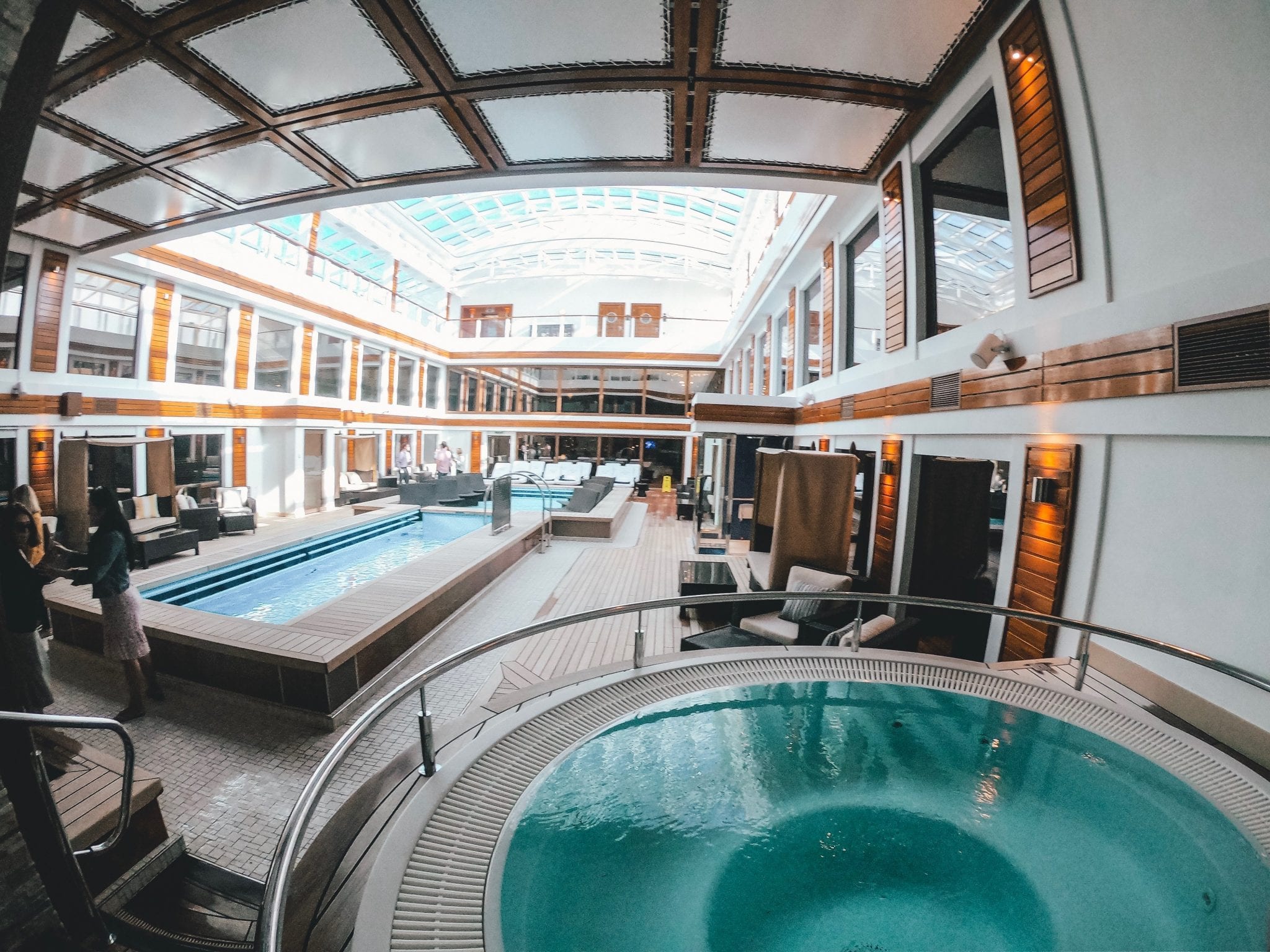 Family Cabins: Even large families have a wide variety of cabin options, including balcony and oceanview rooms.
Itinerary
Many Options: There are so many places you can sail on NCL. Their choices include; Asia, Africa, Alaska, Australia & New Zealand, Florida & the Bahamas, Bermuda, Canada & New England, the Caribbean, Cuba, Bermuda, South America, Europe, and more.
Hawaii Options: NCL has been voted to have the best Hawaii itinerary. You visit 4 islands with nearly 100 hours in port.
Alaska Cruises: Norwegian has the best ships out of any cruise line sailing to Alaska. The Norwegian Bliss & Norwegian Joy are brand new ships and simply amazing.
Varying Lengths: You can sail as a weekend getaway or go on the ultimate cruise adventure for 15+ days. Of course, there is just about every option in between also. As far as itinerary goes, Royal Caribbean vs Norwegian is pretty even.
Check out all Norwegian itineraries here!
---
Royal Caribbean vs. Norwegian: The Cons
Now that we covered all the pros, lets go over some of the cons for both Royal Caribbean and Norwegian Cruises.
---
Royal Caribbean
$$$: Royal Caribbean cruises typically have a higher price tag. This is especially true on the newest ships.
Day Care: Babies 6-36 months can go to the nursery, but it is an extra fee. This is not even available on all ships.
The kids club is set up with structured activities, so if your child does not want to participate they are not allowed to have fun on their own. Our 3-year-old had trouble with trying to follow a set schedule.
---
Norwegian
Decisions: You either love freestyle or you hate it. With a large group, like an extended family, it can be hard to get everything decided.
Freestyle Does NOT Mean All Included: Some entertainment and specialty dining will cost you extra. You need to consider this when budgeting for your cruise, however, Norwegian does have several FREE Dining offers available to make the upgraded dining FREE!
Solo Travellers: On ships with studio rooms, you will find a larger crowd of solo travelers. This is by no means a bad thing, but it does change the environment a bit.
---
Our Quick Guide: Royal Caribbean vs Norwegian
Let's go ahead and break down the wins of both Royal Caribbean and Norwegian cruise lines!
---
What Royal Caribbean Wins:
Massive Ships – It is hard not to find something exciting to do on Royal Caribbeans Oasis Class ships. We spent 7 days on the Harmony of the Seas and did not get to finish everything
Unique Shows – It's hard to beat the aqua theater, although Norwegian has some great new shows on their ships such as Jersey Boys and Footloose, you can't help but be in awe of someone diving from 100 feet up on a high wire on the back of a cruise ship.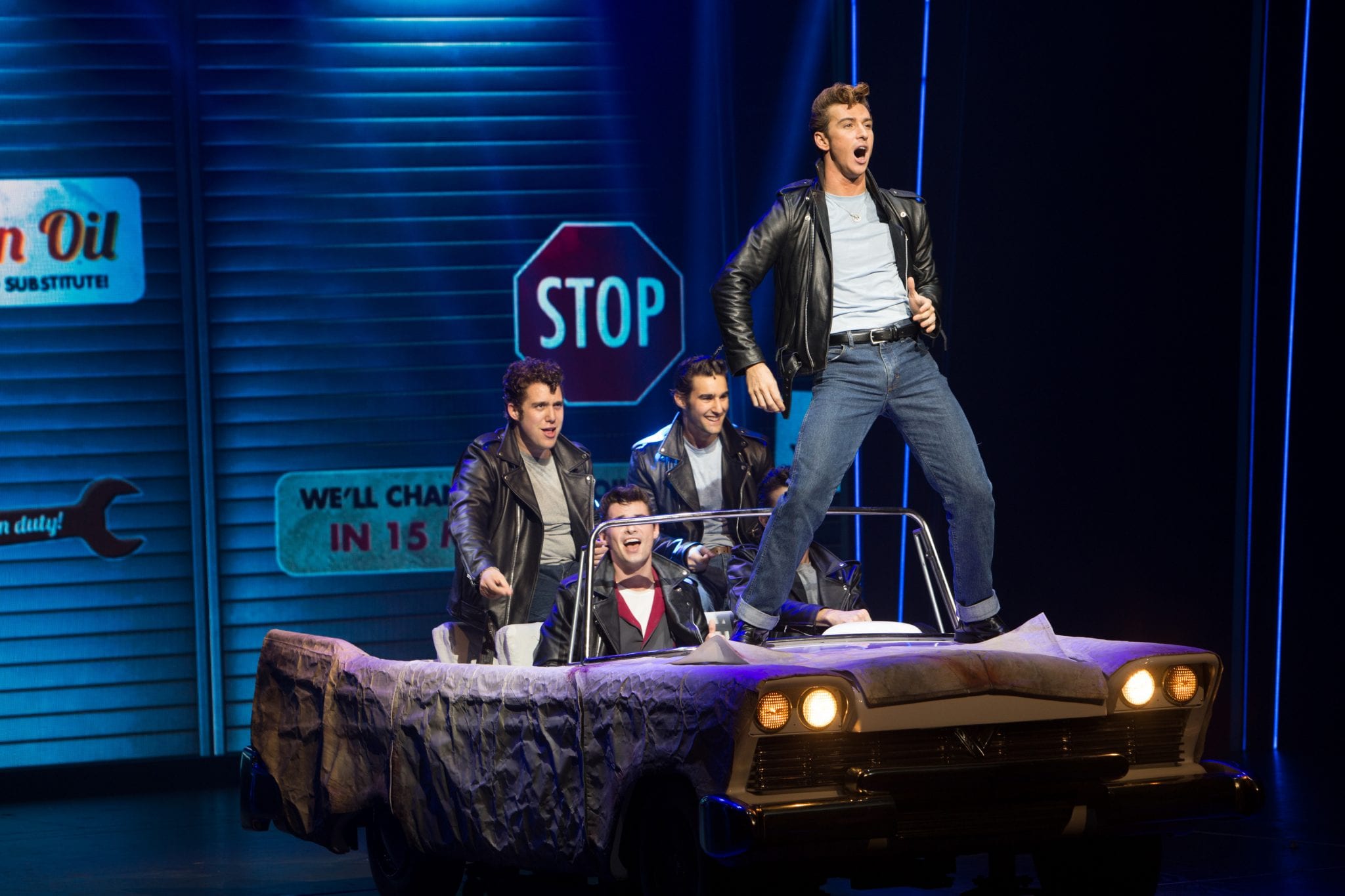 Competitions – Yes, this is definitely a weird one to rank, but our family loves a "friendly" competition. There were several onboard the Royal Caribbean cruise, soccer, basketball, ping pong and more!
---
What Norwegian Wins:
The Suite Experience (Haven) – The Haven is pretty incredible with retractable roof pools onboard the Bliss & Joy it truly is a luxe experience.
Kids Club – Our kids enjoyed the kids club onboard Norwegian Cruise Line more because of the more relaxed environment
Bang for the Buck – It seems like a Norwegian Cruise is usually about 15-20% cheaper than a Royal Caribbean cruise and will include a few perks like unlimited drinks, upgraded dining, free wifi and more
---
Norwegian vs. Royal Caribbean – Too Close to Call
Pools & Slides – They both have some pretty amazing water slides. My kids love the drop slide on Norwegian, but they also love the funnel slides onboard the Harmony of the Seas and the many pools
More Top Deck Fun Activities – On Royal Caribbean, you might find yourself enjoying a FlowRider or zip line, while on Norwegian you can enjoy Go-Karting, Laser Tag or a Rooped Course.
Unique Attractions – Royal Caribbean will wow you with things like a robot bar and a carousel at sea, while Norwegian breaks out fun things like a Nitro Cold Brew Bike, Million Dollar Chocolate Machine and a wonderful Mojito Bar.
---
Overall
Overall, you can't really go wrong with either of these cruise lines. I personally love the newer ships (built in the last 7-10 years) as they often have the most activities for families.
---
If you have any questions about Royal Caribbean or Norwegian Cruises feel free to ask in the comments or send us a message on our Instagram
---
If you enjoyed reading about Royal Caribbean vs Norwegian Cruise, You Might Also Enjoy:
5 Things Families will Love about the Norwegian Getaway
12 Incredible Things You Did NOT KNOW About the Norwegian Bliss + Photos
WHY YOU SHOULD GO ON A NORWEGIAN CRUISE TO ALASKA!
NORWEGIAN CRUISE LINE ANNOUNCES NEW SHIP- NORWEGIAN BLISS
SYMPHONY OF THE SEAS REVIEW! WHY THIS IS OUR FAVORITE ROYAL CARIBBEAN CRUISE SHIP!
14 AMAZING NORWEGIAN JOY RESTAURANTS- EVERYTHING YOU NEED TO KNOW
5 UNBELIEVABLE ATTRACTIONS ON THE ROYAL CARIBBEAN'S SYMPHONY OF THE SEAS
---
Pin for Later: Royal Caribbean vs Norwegian Cruise
---
Frequently Asked Questions about Royal Caribbean vs Norwegian Cruise
Is Royal Caribbean more expensive than NCL?
The cost of a cruise can vary depending on many factors, such as the destination, length of the cruise, type of cabin, time of year, and availability.
Therefore, it is difficult to make a definitive statement about whether Royal Caribbean International or NCL (Norwegian Cruise Line) is more expensive in general.
That said, most of the time (but not always) Norwegian runs higher in cost than Royal Caribbean.
Is Royal Caribbean considered a luxury cruise line?
Royal Caribbean is not typically considered a luxury cruise line, but rather a premium cruise line that offers a wide range of vacation experiences to passengers.
While Royal Caribbean's ships are often larger and offer more onboard activities and entertainment than some luxury cruise lines, the company still provides a high level of service and quality amenities to its guests.