Food Tours are one of my new favorite activities when I am visiting a new destination. Not only do you get to walk through the streets of the new town with a local who speaks your language but you get to experience the culture as well. And, what better way to experience it than by tasting their unique and delicious native foods?
The Simply Incredible Eating Prague Food Tour- a review
I recently had the pleasure of taking Eating Europe's Rome Food Tour and absolutely LOVED it! So, when I was invited to try out their tour in Prague I jumped at the chance and boy am I glad that I did. Prague is such a beautiful and historic place filled with fantasy like architecture and allure. It was the perfect place to take a stroll and enjoy some amazing new cuisine.

Our first stop was at Pernickuv Sen which was an adorable Gingerbread shop. We learned that gingerbread was a traditional Prague food that was eaten in between meals to help aid digestion. The shops had once, sort of disappeared but these two sisters in law are on a mission to revive this adorable and tasty tradition.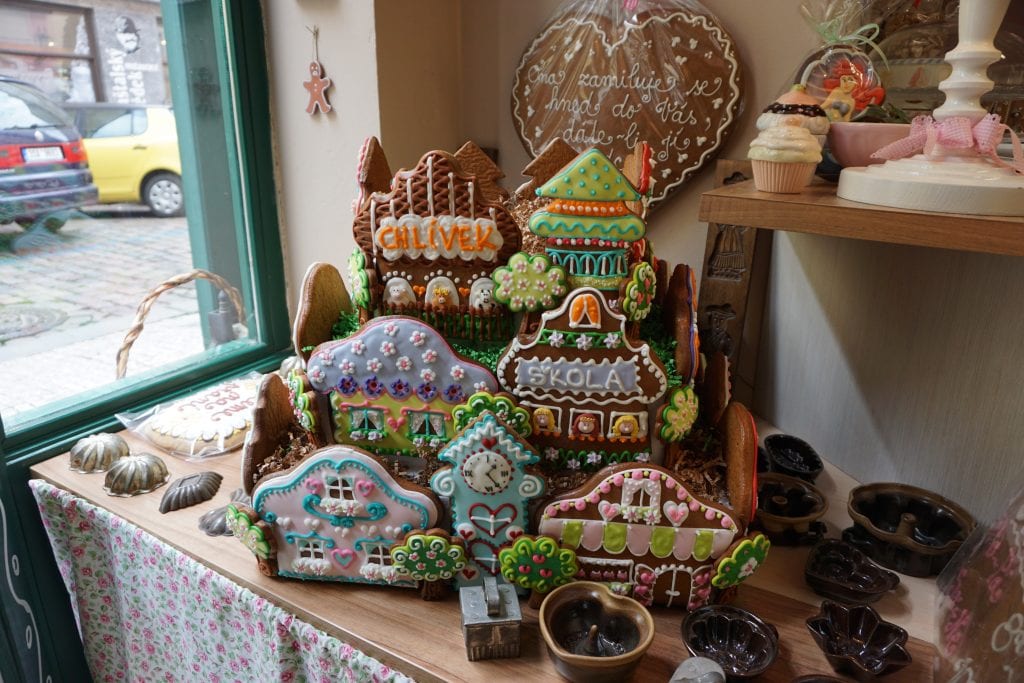 Their cookie craft was on point with adorable creations including this display of Prague (as shown above). You could tell the sisters in law were quite crafty with their intricate designs and cookie cut outs.
We were lucky enough to sample three of their cookie treats including an authentic gingerbread with plum jam and walnuts and a poppy seed kolache. It was a deliciously sweet way to kick off the tour.
Speaking of the tour… I love that Eating Prague keeps the tour at a manageable size. There were 8 of us total plus our guide which was perfect. The extra tourists added an element of fun to the tour and yet the group was still small enough that everyone received personalized attention.
Our next stop was also a sister creation aptly named "Sisters". Although this restaurant specialized in a more savory proportion offering up a gourmet twist on the traditional Czech open faced sandwich thanks to the culinary hero- Hana Michopulu. We sampled three of their most favorite sandwiches stacked with fresh and local ingredients like beet, goat cheese, celeriac root and a beef pate. They were so refreshing and unique. I especially loved the gorgeous crimson beet sandwich you see above. It paired perfectly with the salty goat cheese and the sweetness of the candied walnut.
Directly across the corridor was our next stop called Nase Maso. This up and coming artisan butchery is quite unique. The head butcher will only hire smart professional workers who have zero experience in butchery. This way he can train them in his non-customary techniques before they are spoiled he says.
The Czech's LOVE their meat so you can imagine how packed this amazing little butcher shop was. I have never seen so many people lined up to purchase raw meat in my life. But, after tasting a selection of their meats and sausages it was clear what all the hubbub was about.
My favorite was the Prestice Sausage which tasted divine dipped in some yummy brown mustard and placed a top a slice of fresh baked bread. I learned that it was a staple at Czech barbecues.
I am not even a meat lover, in fact I rarely eat beef. But, I couldn't help but to see the beauty in these perfectly gorgeous artisan cuts of meat.
Look at all those sausages… clearly a fan favorite!
Another reason I love a food tour, besides eating- which I love, is the ability to walk around the town with a local. Our guide pointed out all sorts of monuments, architecture, important buildings etc… For example, at the end of the street in the picture above is the theater where Mozart played. Don't you love their cobblestone streets?? It feels like you are on a movie set.
This is another fun piece of history. It is a tower that separates Prague's New and Old Towns from each other.
The tower above is a different tower. This one is home to a well-kept secret of Prague (even for locals). It is a restaurant hidden inside the tower known as Restaurant Zvonice and it is home to the best Old Bohemian Soup in the world.
Not only is their soup amazing but check out how gorgeous the interior of the restaurant is. As per the government when the restaurant refurbished the bell tower no materials were allowed out of the building. So, they had to repurpose everything!!! I am sure it was quite an obstacle to hurdle but the ending result is the amazing ambiance it created for their diners.
Above is the scrumptiously secret best Bohemian Soup. We were told that every Czech/ Slovak father would have their own version of this soup. However, Restaurant Zvonice is supposed to be the best!
Prague has an incredible Jewish history. One of the most colorful and beautiful Jewish synagogues we came across was the one pictured above. It was massive!
Next up we walked across town to an adorable hidden courtyard cafe with a secret garden. Yes, for real! An actual secret garden and actually Prague has quite a few of them. Although, Styl & Interior might have the only one with Black Current wine on the menu- YUM!!!
This amazing and unique boutique style restaurant was once home to a furniture and interior design shop. In fact all the furnishings in the restaurant are still for sale. You see the shop served cakes and tea to their customers and it began to be known for their cakes instead of their furniture because their cakes were amazing. So, the owners wised up and decided to turn their design shop into a full blown cafe. Lucky for us because their menu is amazing offering tastings that change seasonally. We were fortunate enough to try their pork belly pate. Now… remember I am NOT a meat person and typically a pate is off limits for me. However, after watching the reactions of the other tourists as they sampled a bite of the pate I decided I must try it. And, I am so glad I did. The restaurant provided fresh baked bread rubbed with roasted garlic to spread the pate on and the taste of this flavor combination was out of this world. Especially washed down with the fruity black current wine. SO GOOD!!!
We strolled for awhile after all of our appetizer samplings. Our guide, Jan told stories of the crazy history his people had been part of including World War II. We chatted about the culture and the fact that both men and women are able to take parental leave. We learned so much in our short time with Jan it was incredible. I walked away feeling like I really understood the Czech people and their way of life. Then we came upon our final stop- Cafe Louvre.
Named after the world famous gallery, Cafe Louvre has been in business since 1902. In that time this beautiful cafe has been visited by some of the most famous people in the world including Mozart and Einstein.
Not only do they lay claim to their most famous customers but they actually have proof! You see Cafe Louvre offers up adorable notepads with their logo on them at every table. And, they have copies of notes left behind by their famous clientele enlarged and framed in the restaurant. Pretty impressive right?
Enough, about their history though… let's get back to the food. Cafe Louvre is known for the most classic Czech dish made of braised beef doused in a vegetable-laden gravy (typically made with herbs and root veggies like carrots, celeriac, parsley root) and topped with cranberry compote and whipped heavy cream. This deliciousness is served with Czech's classic bread dumplings so you can soak up all the amazing sauce. It looks a bit odd but I assure you it is delicious!
Our tour ended with the Louvre's deliciously tart Apple Strudel served with whipped cream and vanilla bean sauce. I only had room for a couple bites but each one of them was incredible.
My experience with Eating Prague Food Tour was absolutely fantastic. I would highly recommend anyone (including families with older children) to check out this tour when visiting Prague. I think it would be especially great to take this tour within the first few days of arriving since you walk around the quaint and charming neighborhoods of Prague. It would be a wonderful way to gain your bearings and plan the rest of your wonderful trip with help from your knowledgable guide.
For more information on Eating Prague Tours please visit them on the web or follow them on Facebook, Instagram or Twitter.
Pin for Later-
Have you eaten Czech Cuisine before? If so tell me about it in the comments below.
*A special thanks to Eating Prague for hosting us on our recent trip. As always my thoughts and opinions are 100% my own.