Ahhhh London, one of my absolutely favorite places to travel to with my kids. We had an incredible stay at our friendly neighbors across the pond, and the kids had an absolute blast. Here are 12 Amazing things to do in London with Kids
12 Spectacular Things to do in London with Kids [+ 3 are Free]
London was actually not on our original European itinerary. We wanted to head to Paris, Rome and Barcelona but it turned out it was much cheaper to fly into London first so that is exactly what we did. It's always funny how those types of situations work themselves out because London turned out to be one of our FAVORITE CITIES! Here are a few of the reasons we think you should travel to London with kids in tow.
1. Tour the Tower of London
Daring knights, weaponry, castles and crown jewels- what's not to love about that? Your kids will go gaga for the incredible history of England and what makes it so unique is the royalty is still in affect in modern day. So, not only can they learn about London's past but they can experience it for themselves as well.
We toured the Tower of London with Context Travel (read about it here) and that turned out to be a highlight for the kids. Our docent Sarah Jane was honestly one of the BEST tour guides we have ever had and the kids learned so much about the history of the Tower as well as London as a whole. I can't recommend them enough. If you ever find yourself in London with Kids you definitely should check out their family tours.
2. Take a Double Decker Bus Ride & Check out Some Royalty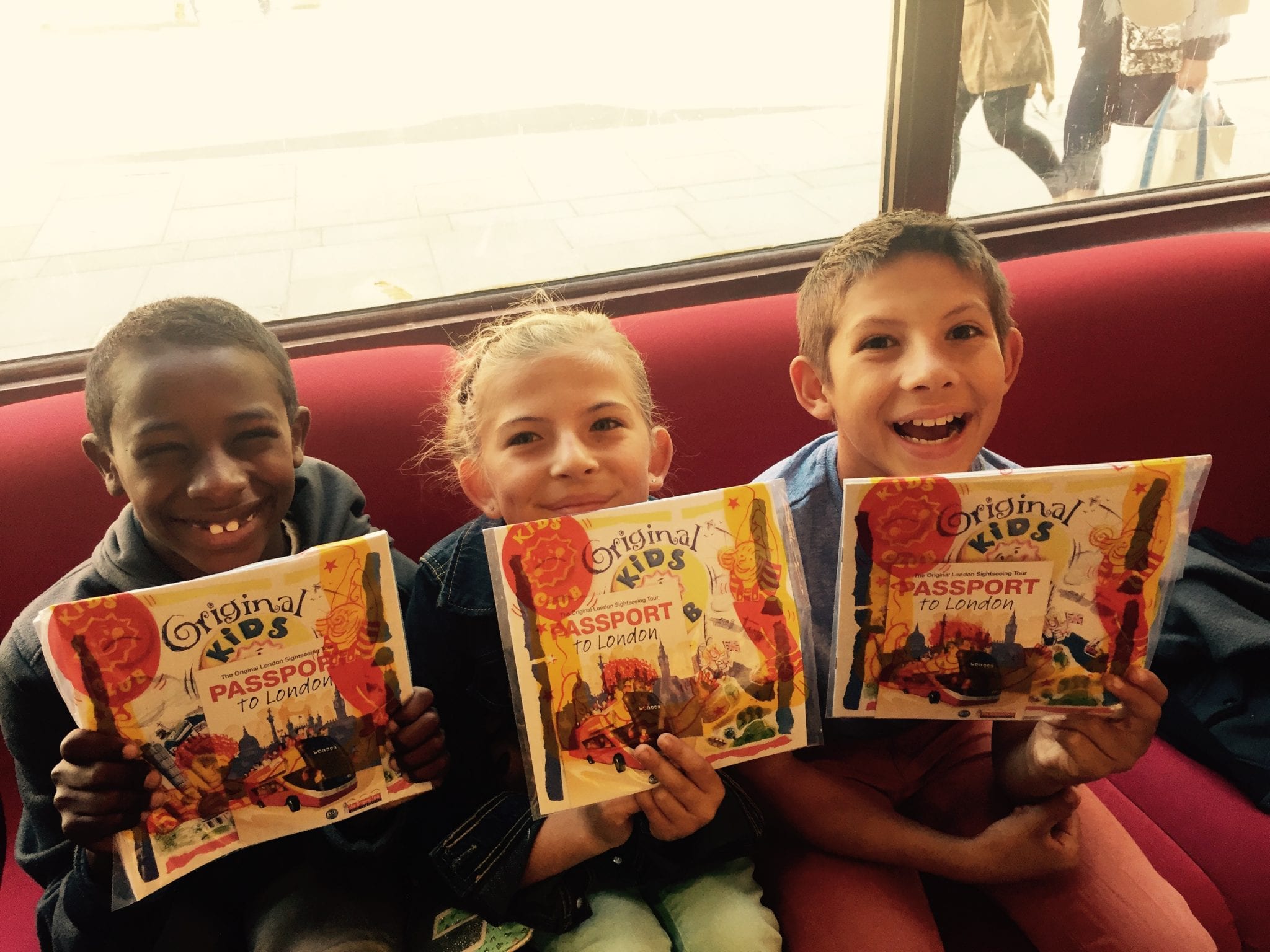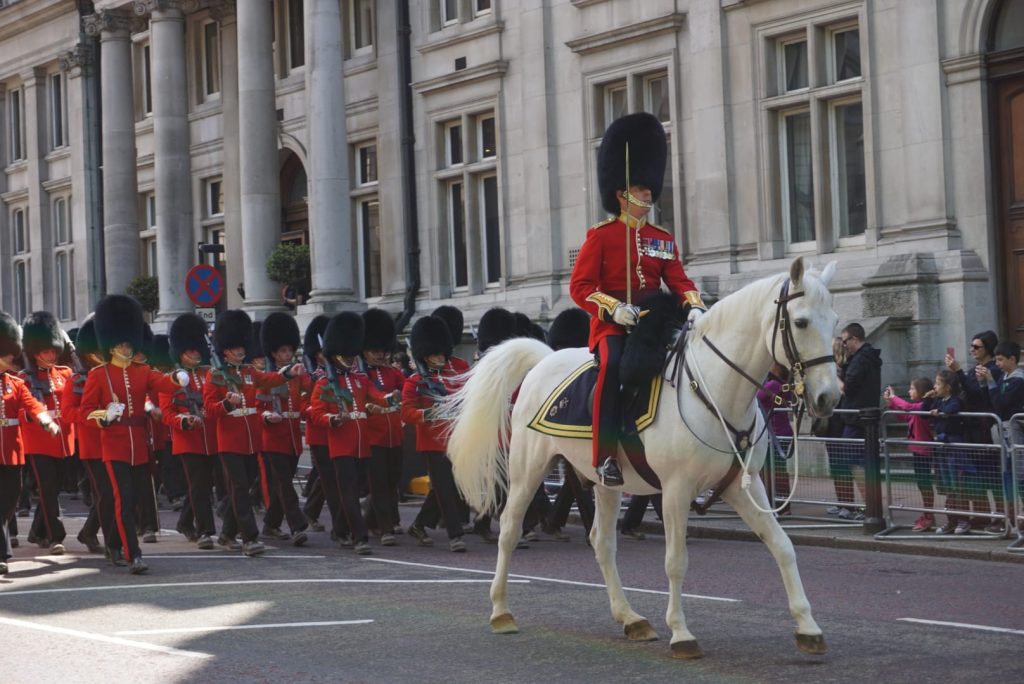 The Queen takes the cake! We took a tour with The Original Tour which is a hop on/ hop off bus tour during our stay and it came with a FREE walking tour to see the "Changing of the Guard". It was so amazing to walk down towards Buckingham Palace– such a trip! And, we lucked out because while we missed the "Changing of the Guard" we got to see something even more SPECTACULAR- the rehearsal of the Queen's birthday celebrations. Talk about timing!!! It was an incredible experience. The bus tour was also fantastic. Our guide was HILARIOUS and very knowledgeable. It was a great way to gain our bearings in London with the kids. It also helped us better understand the layout of the land as well as check out some of the most popular sights. Check out the tour in more detail in my travelogue here.
3. Take a Ride on the London Eye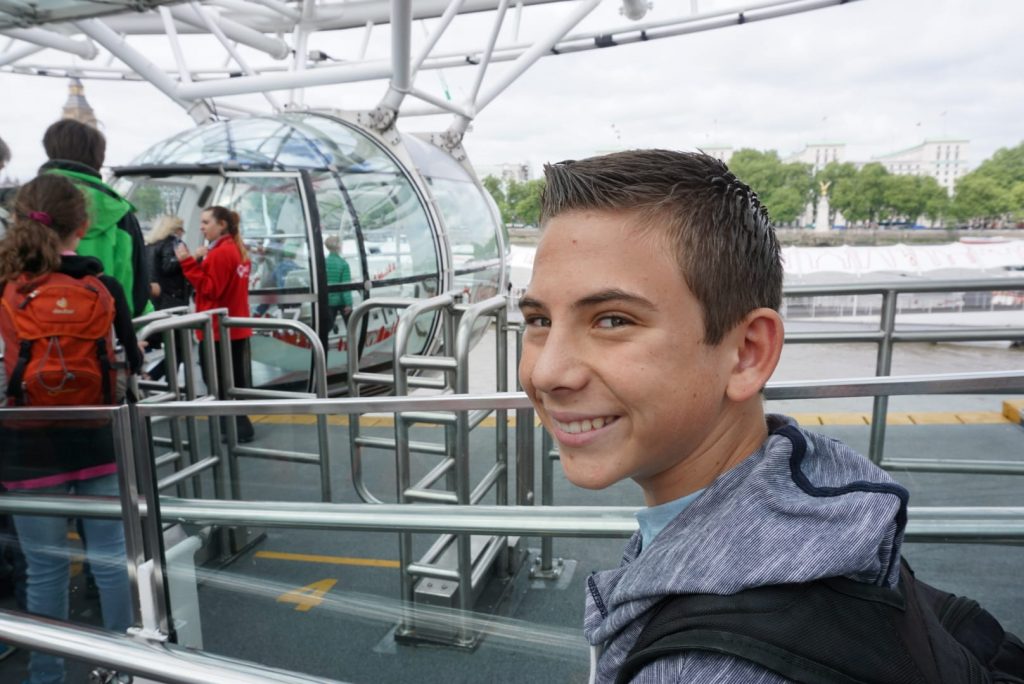 I actually initially thought the London eye was going to be a bit of a gimmick, but I was completely wrong. The London Eye was such a fun thing to do in London with kids, heck without them it would have been fun. Before you ride you enjoy a 4-d experience which is a pretty good show. The queue for this line is very long, so if you can afford a fast track ticket, get it.
[bctt tweet="London with Kids in tow- 3 reasons its a great idea! #familytravel" username="globalmunchkins"]
4- Visit some Amazing Playgrounds [FREE]
There are also a ton of kid-friendly parks and playgrounds located in London. Some of our favorite memories were spent sipping latte's while watching the kids play. I love European playgrounds because the kids are always a blend of tons of European cultures. I am always amazed at how well kids can play with each other even when they don't speak the same language. Man, there are so many things we adults could learn from our tiny humans.
Here are a few parks we recommend:
Hyde Park (Princess Diana's Pirate themed playground)
St. James Park (awesome playground + check out the pelicans)
Regent's Park (check out the London zoo)
Battersea Park (fun boat rentals and a children's zoo)
5. Madame Tussauds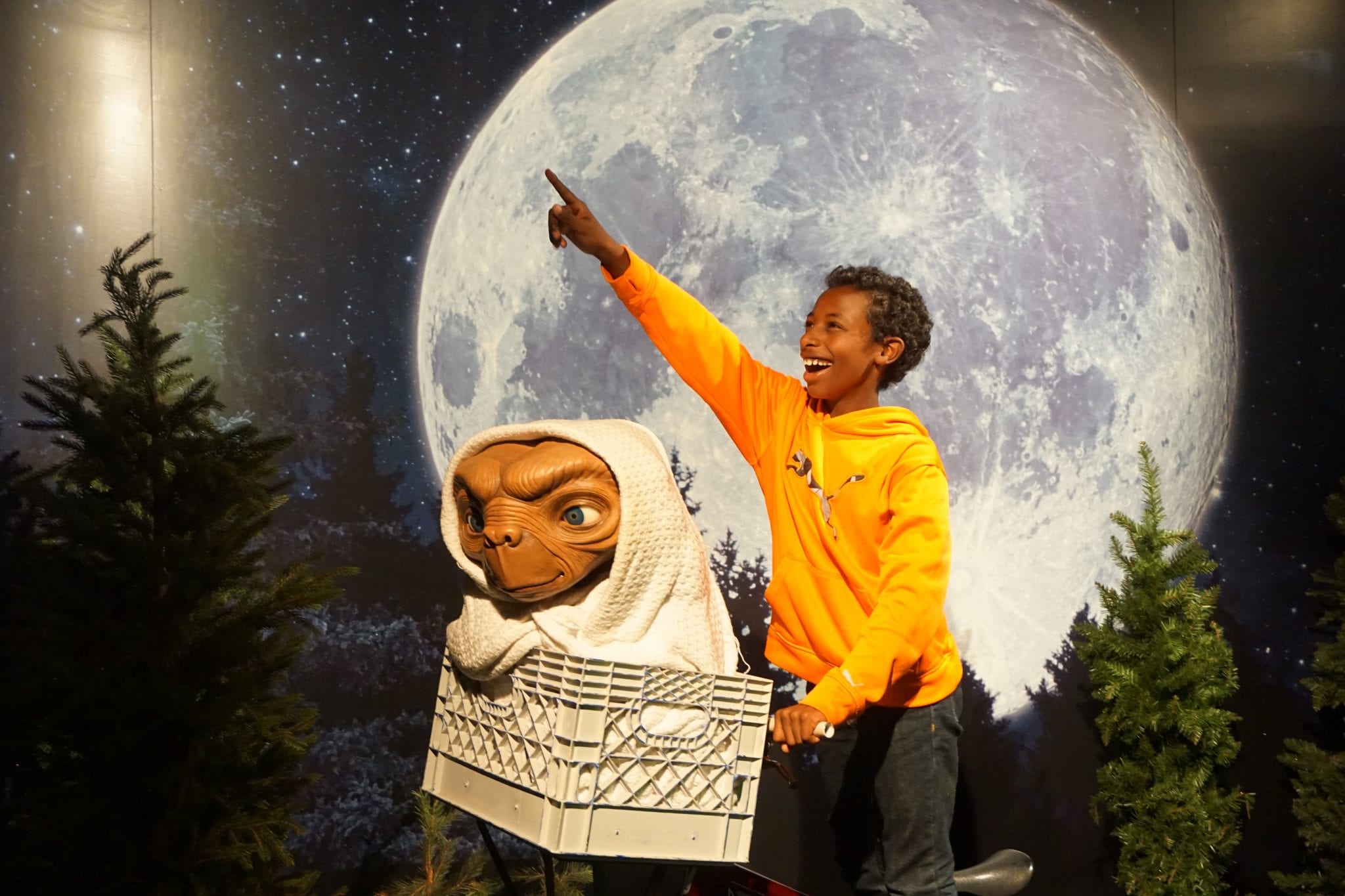 The kids have a blast taking pictures next to their favorite Hollywood stars (well… their replicas that is) they went back in time and onto movie sets like Wizard of Oz and ET, compared their heights to the likes of Lebron James and more.
The kid's favorite thing about Madame Tussaud's though was the Marvel area. The figures in that section were by far the kid's favorites. They especially loved the enormous Hulk! After taking photos with their favorites we entered the 4D theater where we enjoyed an awesome Marvel show- with a few added thrills I might add ?
6. London Duck Tours
One of the more unique things to do in London with kids is the London Duck Tours. We have done the Duck tours in the past in Washington D.C. and it was really fun. The drivers are informative and also know how to keep it fun for the kids.
The tour brings you past all the main landmarks of central London both on land and along the River Thames. The best part of the tour is when you splash down into the River Thames.
7. Take a Black Cab Ride
Speaking of quirky transportation London has awesome public transport. The black cabs are everywhere and my kids thought they were in an old-time limo everytime we got in one. It was an odd highlight to their trip to say the least.
8. Take the tube to Paddington Station to see the Paddington Bear Statue
The tube is a great public transportation system in London and is super easy to use. My daughter was obsessed with Paddington Bear when we went to London, so we had to take the tube to Passington Station. You get to see the station's lovely bronze statue of the duffle-coat-wearing bear and visit the Paddington shop to browse a vast array of products. Also, if you really love Paddington you can to do a full Paddington tour around London to see some of the iconic spots from the movie including Mr. Gruber's Antique Shop. Check prices Here!
Pro tip * I highly recommend getting an Oyster Card well in advance before your trip. Not only does it make travel super easy as it is reloadable but it will also dave you $$ too. Kids 10 and under ride free on the tube which is also another fantastic benefit London offers families. See more about the Oyster Card here.
9. Harry Potter: Warner Bros. Studio Tour with Transfer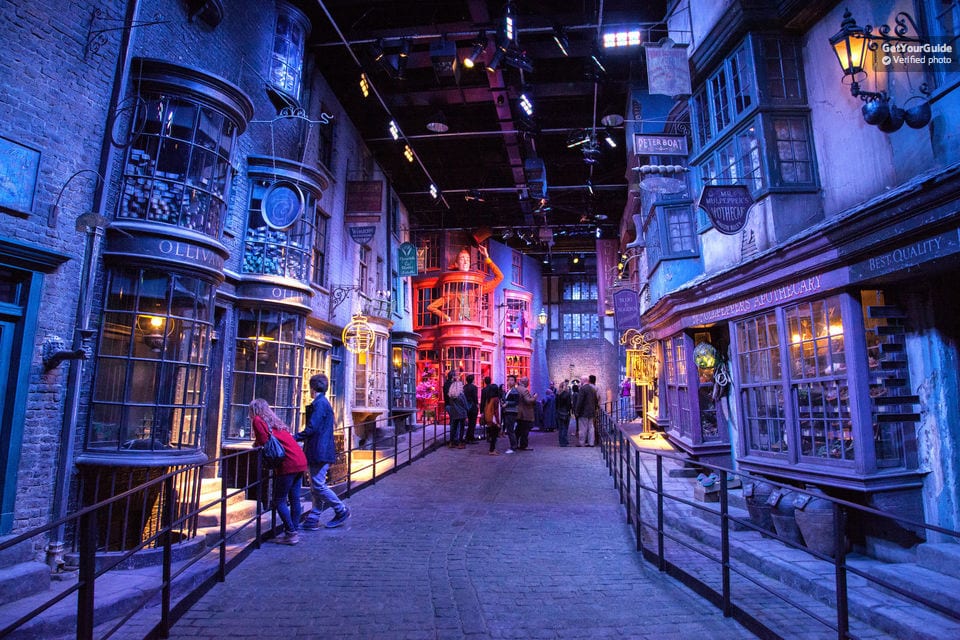 One of the things we were so bummed we did not get to do it the Harry Potter Studios Tour. It was sold out far in advance when we went and my kids were quite disappointed.
You get to venture behind the scenes to discover a huge array of sets, costumes, and props. Learn some closely guarded secrets, including facts about the special effects and animatronics that made the Harry Potter films so hugely popular around the world.
Also, you get to step onto the famous cobblestones of Diagon Alley, featuring the shopfronts of Ollivander's Wand Shop.
See iconic props from the films, including Harry's Nimbus 2000 and Hagrid's motorcycle. Rediscover other memorable sets from the film series, including the Gryffindor common room, the boys' dormitory, Hagrid's hut, and the Potions classroom. Check Current Prices Here!
10. Visit the Main Landmarks of London [FREE]
Hey kids, Big Ben, Parliament. (I had to throw in a European Vacation Joke) The kids really enjoyed seeing the iconic landmarks of London, like Westminster Abbey, Big Ben, Tower of London and more. I love taking them to these places because it makes their history class come to life and they seem to truly enjoy it as well.
Here are some of the sights we got to see.
Tower of London
Tower Bridge (check schedule so you can watch it open here)
Buckingham Palace
Changing of the Guard
London Eye
Natural History Museum
Burrough's Market
11. Visit the Sky Garden – The Best FREE View of London!
The sky garden is a famous enlarged glass dome dedicated to three stories of exquisitely landscaped public gardens and London's most exclusive social spaces, including observation decks and an open air terrace.
Your kids can roam around the three floors of gardens and then I highly recommend you relaxing for a delicious bite to eat while soaking up the views. The gardne is free but has a limited number of tickets. You can book your free visit here!
12. HMS Belfast
Check out this amazing warship from WWII – This tour provides a rare opportunity to see what the brave seamen had to endure when they were protecting England in World War II. The tour comes with a free headset which really helps captivate what happened on board this magnificent vessel. Check Current Prices Here!
Have you visited London? What were your favorite things to do or see?
Tell me in the comments below… I love hearing and connecting with you!!!
Pin for later-
*A special thanks to Context Travel and The Original Tour for hosting the munchkins during our stay in London. My thoughts and opinions, as always, are 100% my own.
Latest posts by Mama Munchkin
(see all)