If you love white kitchens you are going to love this post. But, first things first let me explain why I am researching white kitchens to begin with. We started off 2019 with an awesome vacation at Aulani but our vacation high ended abruptly when we walked into our house after being away only to learn that the kitchen had sprung a leak while we were away. NOOOOOOOO! Luckily our insurance (State Farm) has been amazing and after we dealt with the mitigation (clean up of the water damage) and started to decompress we learned we could actually use the money from our insurance company to upgrade our kitchen vs putting it back the way it was. Hence, my new Pinterest obsession K-I-T-C-H-E-N-S!!!!!!! And, boy do I have some good ones to share.
10 Super Gorgeous Kitchens You Have to See to Believe!!
I have wanted a white kitchen for as long as I can remember. But, my husband and I purchased our home during a crazy time where we had to be in a lottery to pick a lot. The homes were brand new made by Lennar and came with the "everything's included" package which meant my white kitchen dreams would need to wait.
I didn't care though bc I was in shock that we, at just 21 and 26 years young, we're able to afford such an incredible home in such a wonderful community to raise our family in. And, get this we got our dream lot on our wedding day!! My aunt actually had to attend the lottery pull with a power of attorney to make it happen.
So, what I am getting at is I filed all those images of beautiful white kitchens away. 15 1/2 years have gone by and we have raised 5 beautiful children in our home and while I thought those images of white kitchens were going to be stored away until retirement something crazy happened… we had a leak!
This leak, which started as a catastrophe, wound up being a crazy blessing in disguise. It led to us pulling the plug and finding a way to pull funds together along with the insurance money to make my white kitchen dreams come true!! So here goes. Some of the inspiration for our new kitchen (eeek!!!)
My Favorite White Kitchen by Driven By Decor
So far this kitchen by Driven by Decor is my absolute favorite kitchen. I love the white cabinets with the gray island, the beautiful tile work above the range, her clever storage ideas like the paper towel holder below. Oh, and I love that on her blog she lists out everything making it easy super easy to replicate some of the elements from her kitchen into your own design.
I mean how can you not love this tile work- it's GORGEOUS!!! And, I feel like its touches like this that really make a kitchen unique. I'm hoping to create a similar vibe in my kitchen. I could care less about what is trendy or what others think I should do. I want the kitchen to reflect our personality as a family and I want it to function in such a way that it caters to our own unique needs as a family of 7.
Pantry Love
Something I am trying to figure out is how to make the most out of my pantry. We are knocking down a wall that housed our old walk-in pantry and so we will have to have something similar to below as seen in Driven by Decor's blog. I am having them turn a coat closet into a walk-in pantry but it is smaller than our previous one.
My hope is to put healthier food and cooking supplies in the cabinetry pantry and then put the less healthy food plus the kid stuff out of sight in the new walk-in pantry. I'd love your thoughts on this.
Another pantry I loved is this one by Woodale Designs that I came across on Instagram. We are huge coffee fans and we love our french press set up but it's obnoxious sitting on a counter because there are so many pieces (we have this grinder, this instant kettle, and this french press) but it makes the world's BEST coffee– I am so not kidding!
My friend had it at her house and my husband couldn't stop talking about her coffee so one Christmas she gave me all her secrets and I purchased all the goods as a gift to Mike. It won me major brownie points and may be why he's letting me create this incredible kitchen.
Long story longer (ha!!!) I think a cabinet set up like this with electricity in it would help my counters be free from clutter. And, how cute is the pullout table?
All White or Mix It Up??
Something else I am playing with is whether or not to keep the kitchen all-white or to warm it up with some wood tones. Here are a few examples of what I am talking about.
The kitchen below utilized the warmer wood tones on the island. I can see this being a benefit especially with little ones in the house because it would probably stay looking cleaner than white cabinets.
I also like the use of faux beams, it was constructed by our contractor AGC Built. I wish we could incorporate beams but I just can't seem to make them work in our space. But, gah!!! aren't they gorgeous??
This is an interesting look below. They just used the wood tones underneath the island where the stools go which means no kick marks from the kiddos- kinda smart!!
Navy is another color that I am contemplating. I think it goes with our coastal/ cape cod vibes. Below is another design built by our contractor AGC Built whom we have used for a bunch of projects including our gorgeous new outdoor living space/ outdoor kitchen and I cannot recommend them highly enough.
More Gorgeous White Kitchens
I love this one that was designed and built by Chip and Joanna Gaines from Magnolia– one of my favorite shows right now!! Again the beams… but beyond that, I love the way they incorporated elements of metal and what appears to be a concrete waterfall island? to make this kitchen feel more comfortable and less stuffy.
This also makes me wonder if I just need some wood on my stools to warm things up?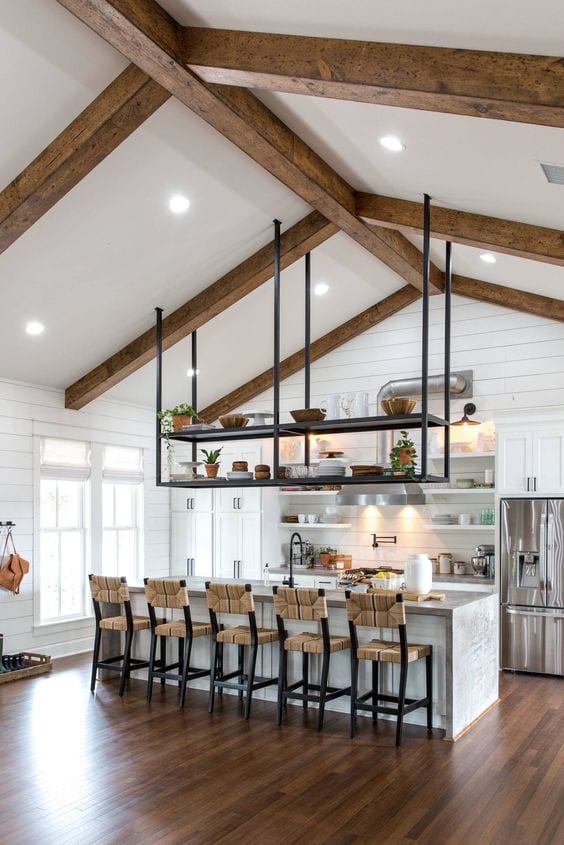 The kitchen below is a little bit too fancy for my taste but there is no denying it is absolutely GORGEOUS!!! I love the clean lines and how light & bright this Woodale Designs kitchen is. I'm just worried it wouldn't fit with the rest of the aesthetics in our house. It also doesn't scream family-friendly and with 5 kids living in our house that is probably not a good thing.
https://www.futuristarchitecture.com/17211-white-kitchen.html
[houzz=https://www.houzz.com/photos/classical-kitchen-traditional-kitchen-new-york-phvw-vp~1354891]
View this post on Instagram
Random Kitchen Obsessions
I am set on having some open shelving and I really love the way these came out. These floating shelves are another product of AGC Built– our contractor whom we love. Can't you see why? He is amazing and if you are in need of custom cabinets or a general contractor and live in Southern CA you need to contact him.
View this post on Instagram
Another idea that is growing on me is the built-in window seat booth with a round table. We knocked out the wall between our dining room and our kitchen to open it up and now the kitchen cabinets and the island pour into the dining room. So we need to figure out what to do with this small space that is sort of the extended kitchen. I think something like this up against our beautiful front windows would be perfect!
View this post on Instagram
Do you also obsess over white kitchens? If yes, please leave some of your favorites in the comments below. Any kitchen design tips are welcome too!
You may also like these great posts-
Latest posts by Mama Munchkin
(see all)