We visited Rome back when all of our kids were still little, and we had an absolutely amazing time. It is such a unique city and jam-packed full of history. I would say the best way to experience Rome is to just absorb all the local culture you can. There is so much to take in that you likely won't have a moment of downtime, which means it is super easy to keep your kids busy. We loved all the tours we went on, but we also loved just relaxing and walking around the city taking in the sights. Here are 20 epic things to do in Rome with the kids!
20 Epic Things to Do In Rome with the Kids
Classic Rome Experiences with Kids
There are so many incredible collections and Vatican museums that it can seem overwhelming at first. One of the best places to take kids to peak their interest is the Egyptian Museum, which sits in the Cortile della Pigna. Here you can find prime examples of Egyptian art, including sarcophagi and mummified heads.
From there, you can then head to the Sistine Chapel. It is where Popes are chosen and crowned, not to mention Michelangelo's masterpiece. The walls and ceiling are decorated in the artwork of the world's greatest. It is like something you've never seen before. Keep in mind, you will enter the Sistine Chapel through the Vatican museum. There is no extra admission cost and no separate line.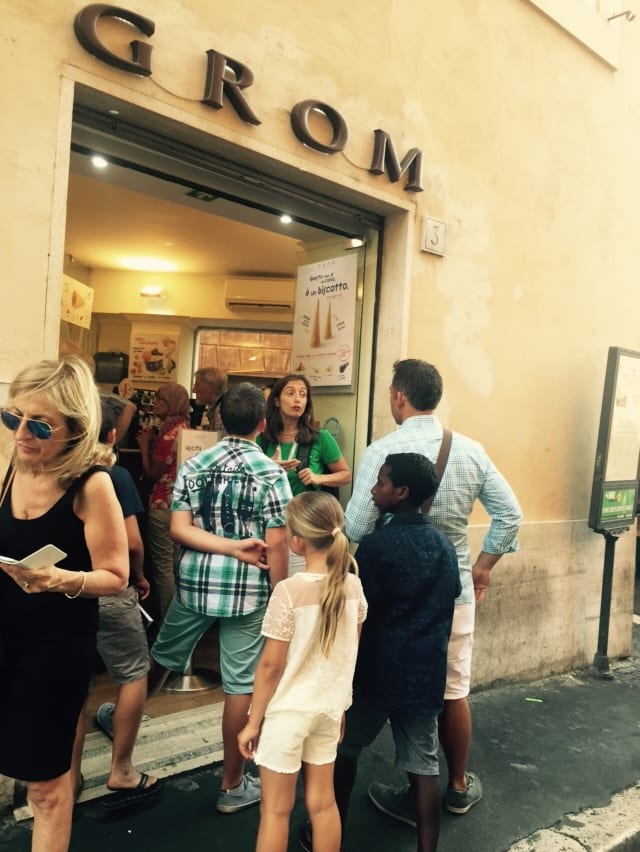 There are gelato spots on just about every corner of Rome, though one of the best places to eat it while soaking up the city is on the Spanish Steps. These flower-decked steps are one of the most iconic structures in Rome, as well as a wonderful place for tourists to meet! We love the gelato from Menodiciotto, which is right down the street! Grom Gelato is located near the Spanish Steps and is simply amazing.
Did you even take a trip to Rome if you didn't toss a coin into the Trevi Fountain? Ancient Romans used to throw coins into fountains when they were traveling as a way of asking the gods for a safe return. There are always people hanging around the famous Trevi fountain, which was built in the 1700s. Plus, those thousand of Euros are given back to charities to feed the hungry!
The fountain is typically very crowded! If you want a good photo tossing your coin in, I would head over early in the morning.
The hole in the center of the Pantheon has been there for two millennia. This is a pretty awe-inspiring place to take the kids, as they'll get an inside look at one of the most impressive feats in architecture during ancient times.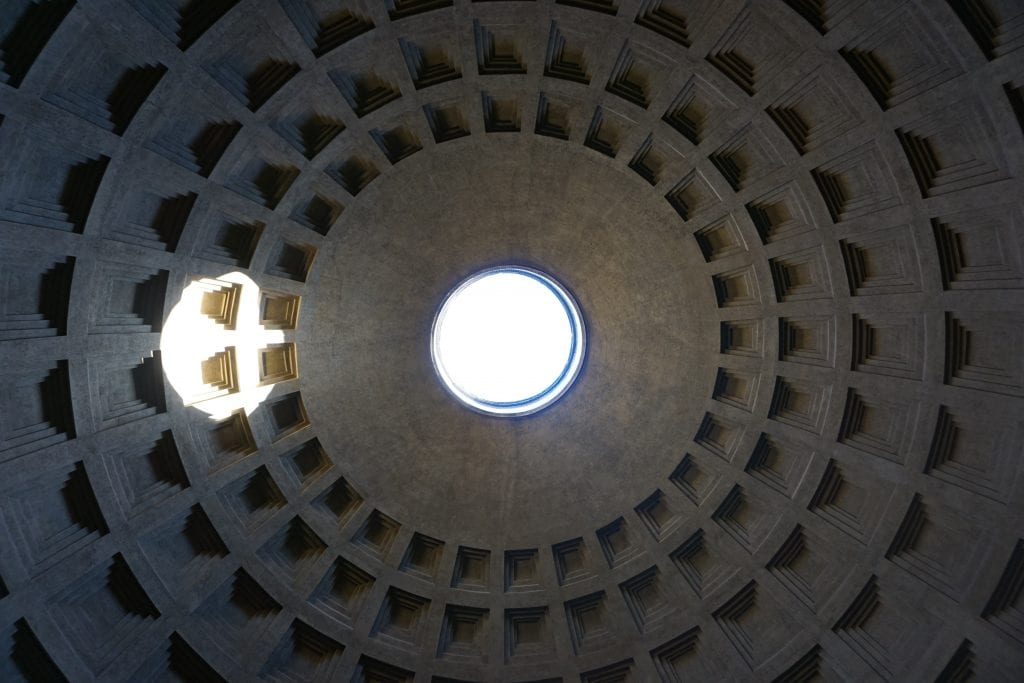 The liveliest place in Rome is no doubt the Campo Dei Fiori. It's fairly close to the Pantheon neighborhood, and a great place for kids to see the day-to-day of people who live in Rome. The market is extremely colorful and is filled to the brim with fresh fruits, cheese, salami, and more, great for a picnic in the park.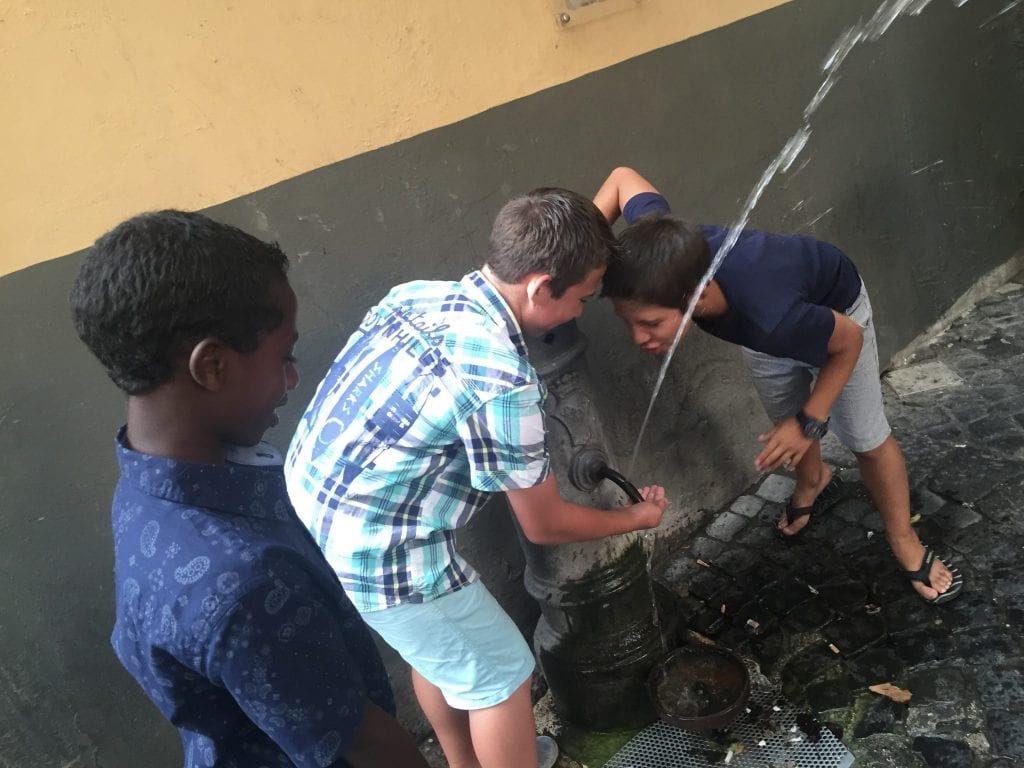 Of course, we couldn't forget the Colosseum. It is the first thing that many people want to see when they go to Rome, and there are many different tours and ticketing options to make it happen. It is a truly incredible structure that will leave you and your children with your jaws on the floor. Make sure to have your cameras ready! We took a kid-friendly guided tour and we all had such a great time.
Fun Things To Do in Rome Kids & Adults Alike
No matter where your kids grew up, it is more than likely that they know about Roman gladiators. They are sprinkled all throughout Hollywood. One of the best ways to have your kids experience the traditional gladiator life firsthand is with a two-hour gladiator class at the Gruppo Storico Romano. Just make sure to be aware that it is for children ages six and above! Book the experience here.
Rome becomes a glowing city once the sun goes down and the lights come on. The city takes on a supernatural aura with the hoards of tourists gone and the attractions closed. The Illuminated Rome Tour is the best way to explore the city without the crowds. Plus, the guides are great at keeping kids entertained!
Explore the Catacombs– An Awesome Thing To Do in Rome with Older Kids
We recommend this for the older ones, as it can get a bit scary. With that said, what kid wouldn't want to walk through some of the craziest, spooky caverns in the country? The Catacomb of St. Callisto is one of the largest and dates all the way back to 2nd Century A.D. It really is a cool and unique experience, as long as your older children (and you!) aren't easily spooked.
 If your kids know anything about Roman history, they probably know about emperor Nero. He built this palatial Golden House after leveling a large part of the city with fire. Succeeding emperors buried it to try and erase the memory of his evil deeds, though they, unfortunately, ended up preserving it for us to enjoy thousands of years later. Check out a tour bundle including Nero's Golden House here!
The Church of San Clemente is not far from the Colosseum, though it offers a grand look into the depths of the early 2nd century. Of course, there were many renovations that took place, though it is still very reminiscent of ancient times in architecture and style. You can pre-buy tickets here!
There are many reasons to visit Italy, but you can't deny that part of the motivation is all the delicious food! Trastevere is a funky, colorful area right outside Rome and a great place to take a food tour because they have many markets and small shops to sample from. In fact, the tour I took here is one of the best experiences I have had in all of Europe. Food is such an important part of Roman culture, so it is really something special to take part in.
Awesome Things To Do in Rome with Little Kids
The Borghese Gardens is the second-largest public park in Rome and a perfect place to let the kids run around to burn off steam. Here you can find an awesome zoo, a few playgrounds, and even pony rides during the weekends! You can even choose to rent a rowboat on the lake for a unique way to explore. If you would like a tour, check these out!
Teatrino di Pulcinella al Gianicolo is a traditional open-air puppet theater that sits in the park next to Piazzale Garibaldi. Here you and your children can watch hilarious half-hour puppet shows, which are either stage in the morning or late afternoon. The best part is, the shows are free, though they do accept donations, of course.
The Time Elevator is a great place for kids to travel back in time to the early days of Rome. It takes you and your family from ancient times, through medieval times and the Renaissance, and into the 20th century. Your children will have the opportunity to learn more about the history of the city and meet a few historical figures. Learn more about the experience here!
Once you are ready to take a break from exploring the ancient side of Rome, you can hit the Explora Children's Museum. It is a museum that is completely dedicated to keeping kids entertained. Here you can find elaborate machines for learning about engineering, as well as role-playing areas like kitchens and supermarkets.
What things will you do in Rome with your kids?
Rome is one of the most historically profound places in the world, as well as the best preserved. It is a great place to take the family, especially if you are looking to teach your kids a thing or two about ancient culture. I hope this guide helps you to make the best on your Roman vacation! One thing is for sure, you will leave with full bellies and a wealth full of knowledge.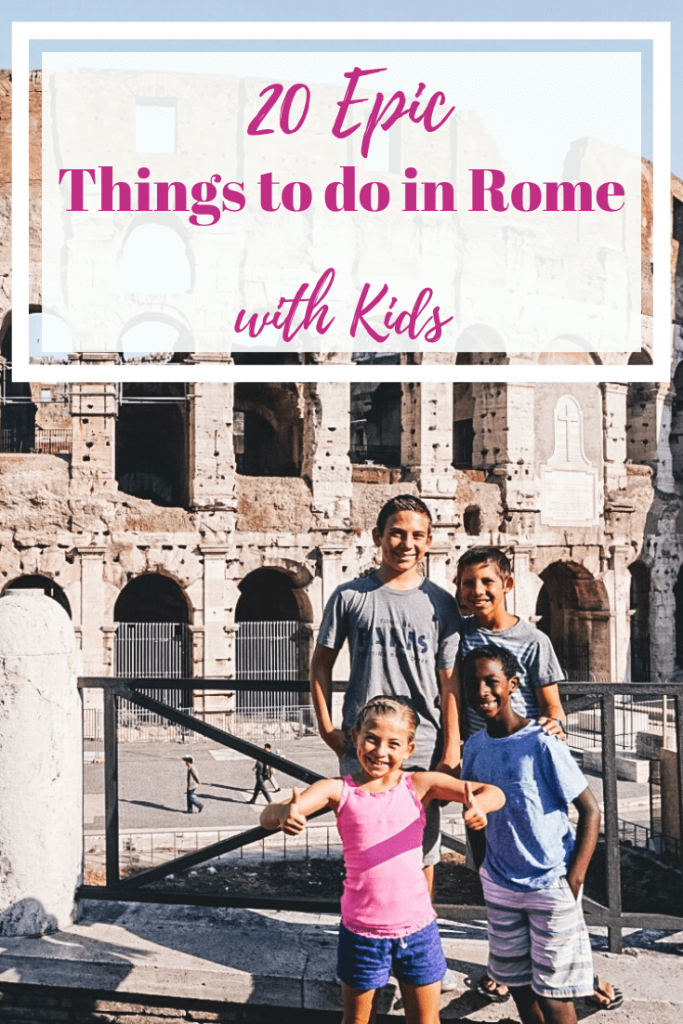 You May Also Like:
The BEST Rome Food Tour; Eating Italy- Daylight Trastevere Tour
5 Super Helpful Tips For Traveling With A Big Family