When I initially told people we would be traveling WITH THE KIDS to the Hard Rock Cancun I got some interesting responses. Turns out most people do NOT think of the Hard Rock brand as a family friendly place. Well, let me put that craziness to rest. The Hard Rock Cancun blew all of my expectations out of the water. The all inclusive resort is a family paradise. It is situated on one of the most beautiful beaches I have ever see with gorgeous aqua blue water. Has an incredible pool, more activities than you could possibly imagine, excellent entertainment and some of the most unique opportunities I have seen offered at a hotel. In fact I would even go as far as to say that Hard Rock entered the  list of my top 5 family friendly hotels. Check out this photo tour to get a glimpse at what this amazing hotel has to offer.
Hard Rock Cancun Photo Tour- (Ph)oto Friday
View from above flying in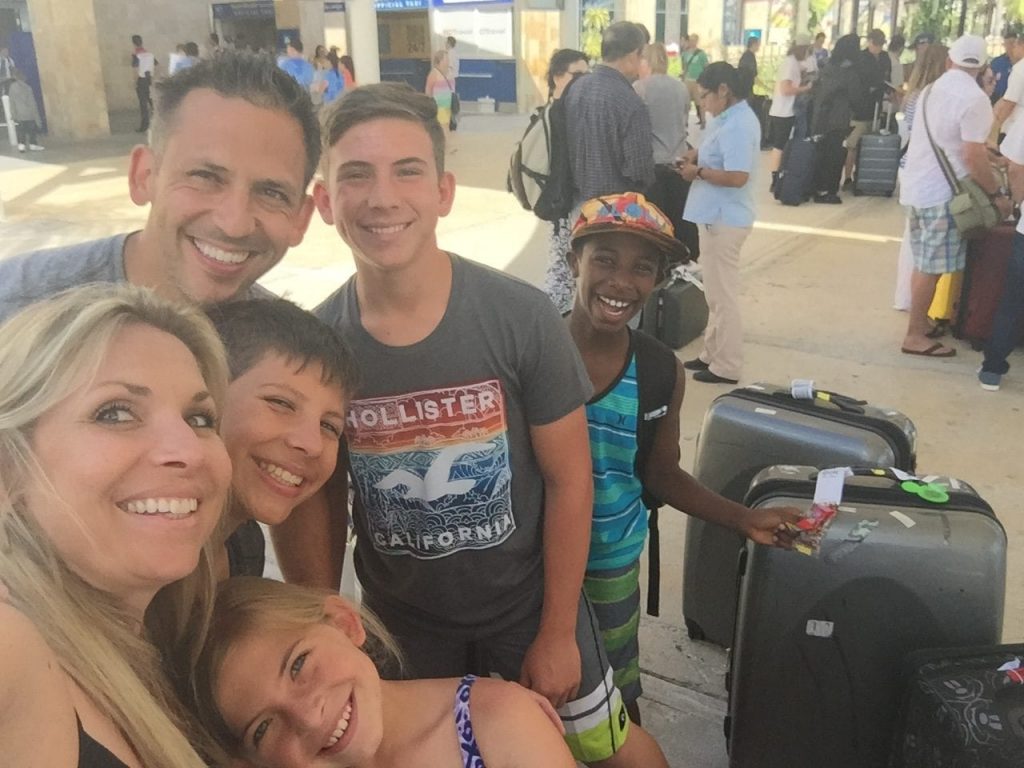 Cancun Airport
Rock On!!!
Read More…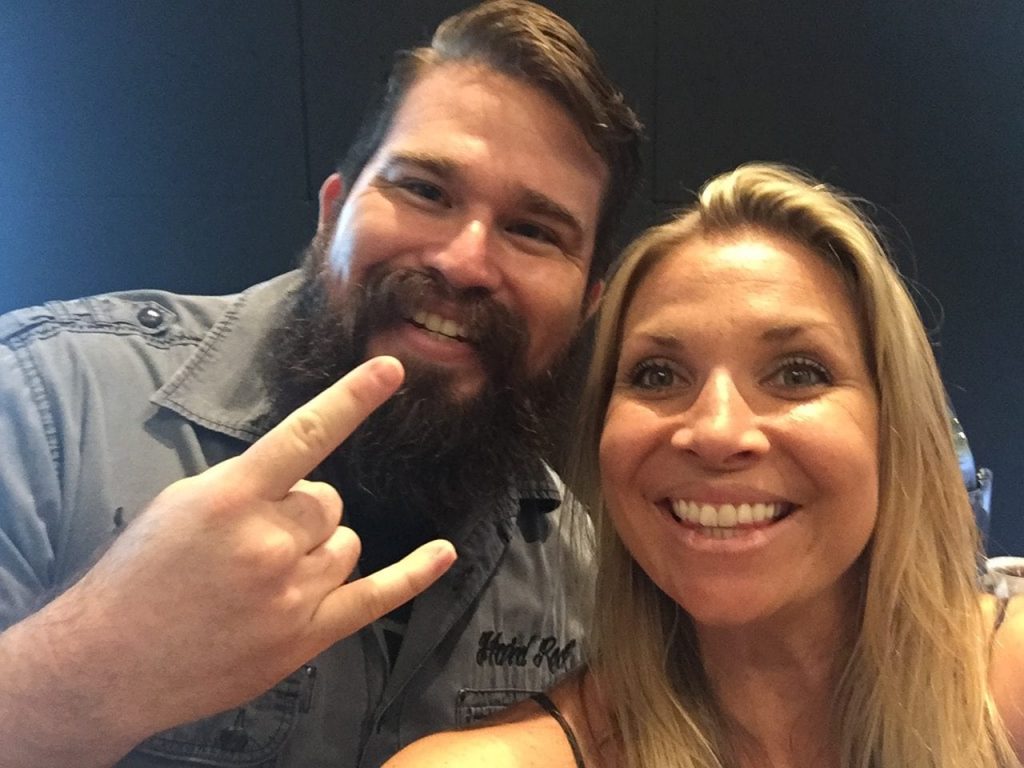 Director of Sales welcoming us in true Hard Rock style
VIP Lounge… where you get to go when you are special 😉
Our first glimpses of the hotel grounds
How gorgeous is this beach.
The INCREDIBLE ocean in front of the Hard Rock Hotel
The kids enjoying the beach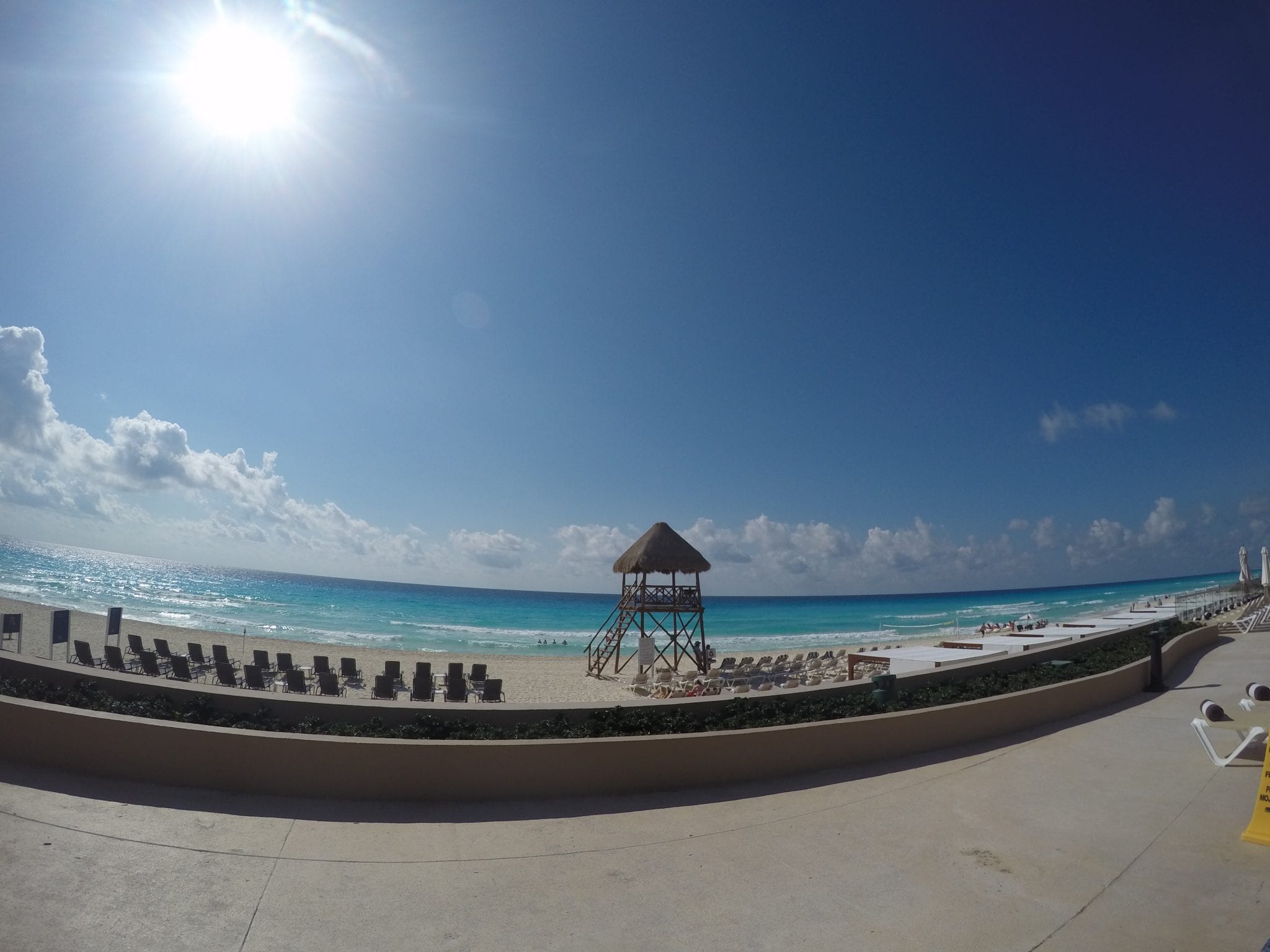 Can you tell I am a little obsessed with this view 😉
One more from the infinity edge pool… someone take me back!!!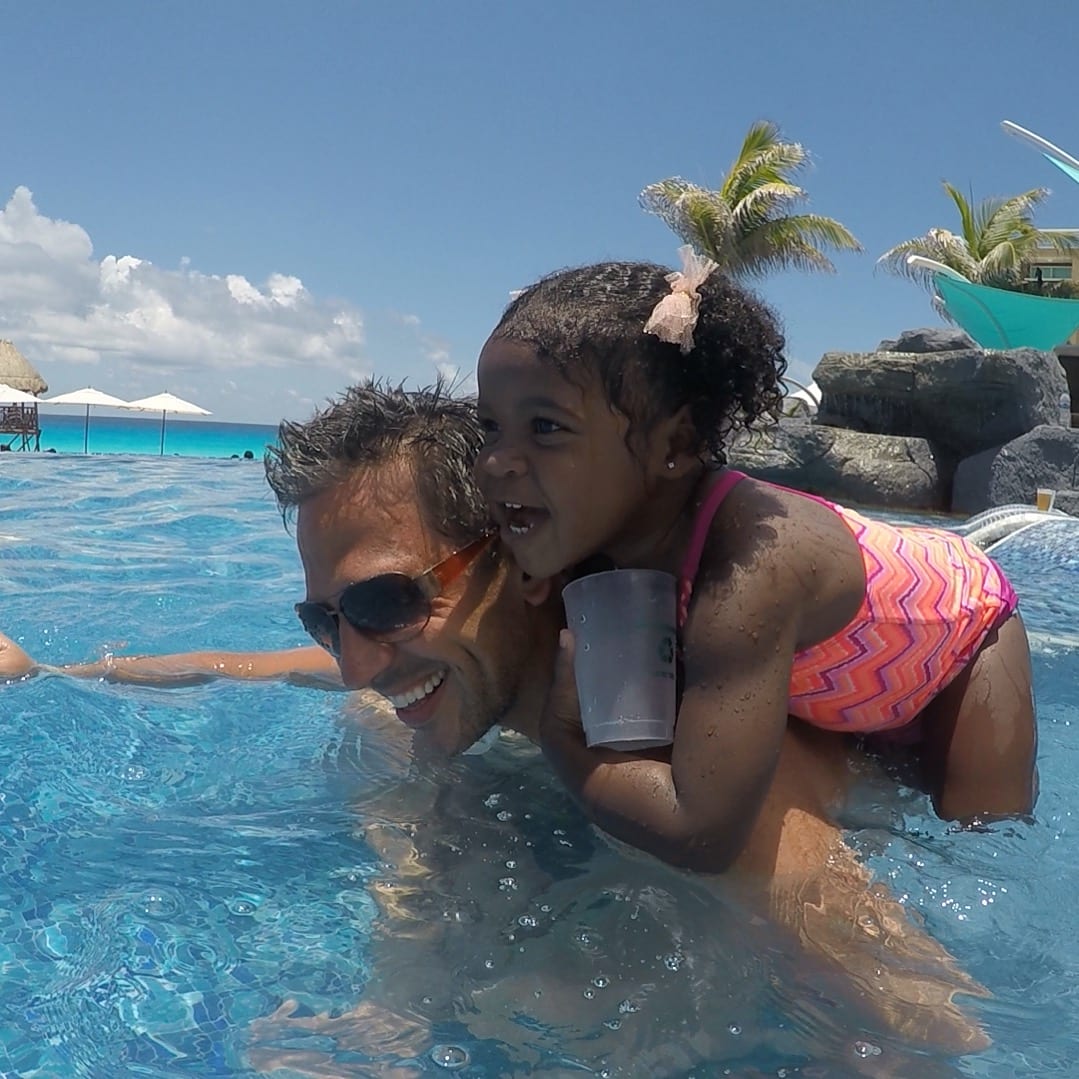 Can't forget memories as good as these ones!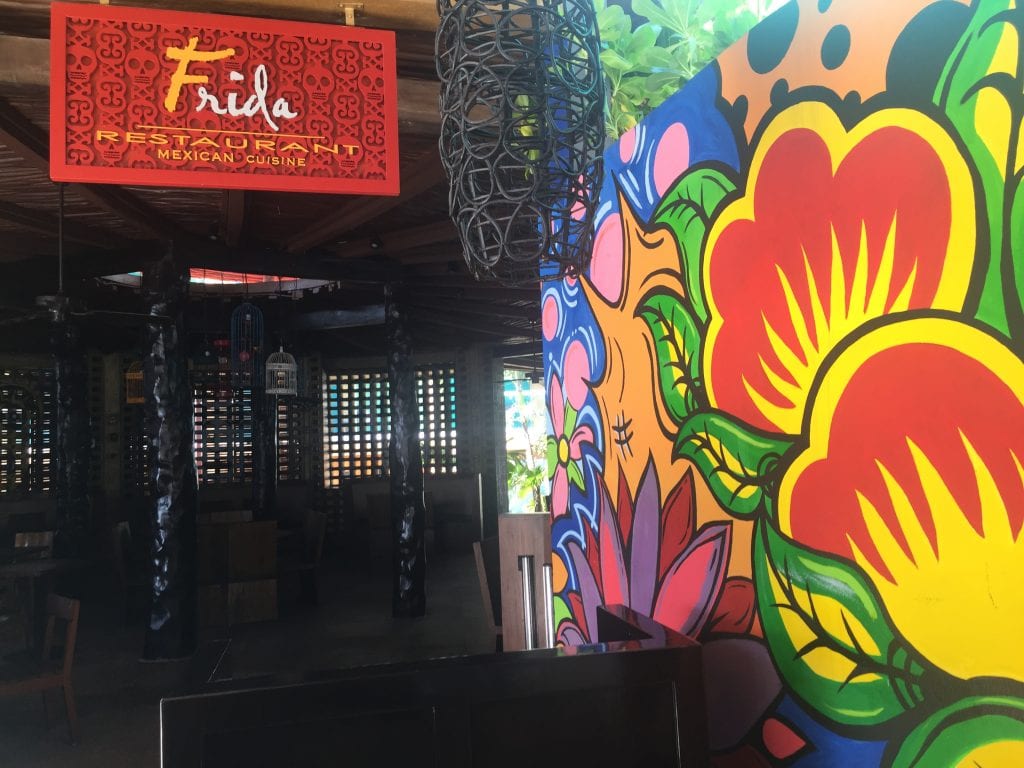 Frida's the BEST Mexican food AND it comes with an incredible ocean view
Inside Frida's
Treats from Frida's
The pool… note there are tons of umbrellas!
The Bob Marley- oh how I miss that delicious poolside cocktail
Talk about unique experiences… poolside monkey photo opp's!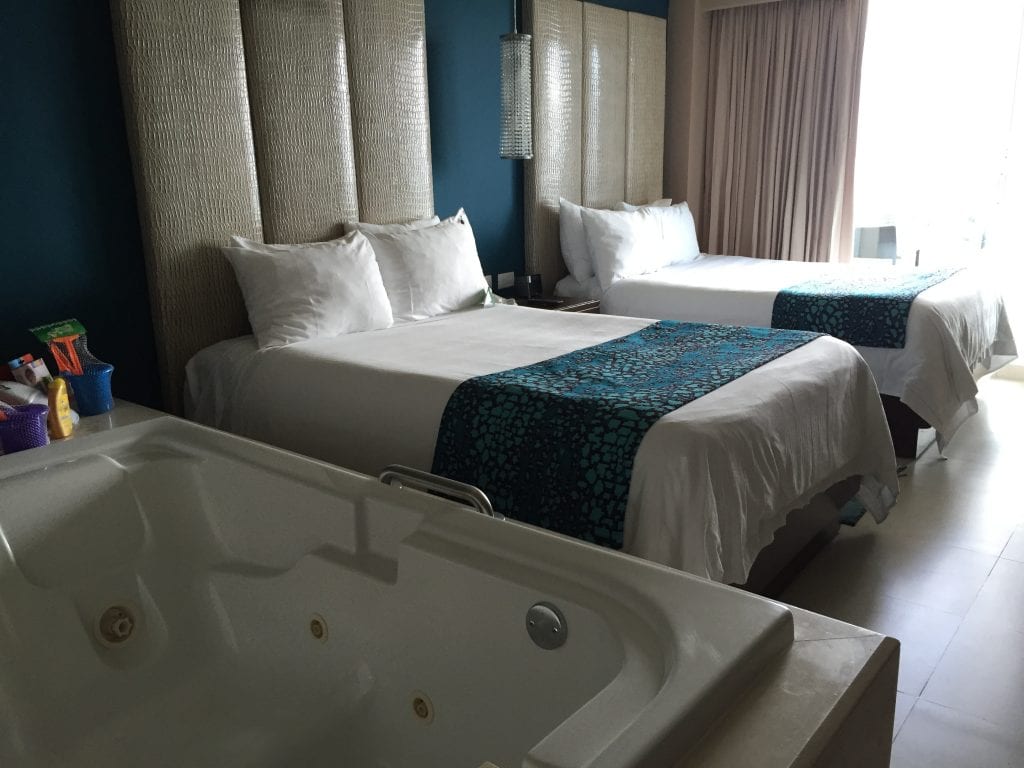 Every rocker should have a massive jacuzzi tun in their room. Order some room service (included) turn on the tv and lounge in style!
Clearly the kids were excited about their room
I was even more excited that the hubby and I had a connecting room all to ourselves. That bed was SOOOO comfy!
View of the hotel entrance at dusk
Here's a morning view from our balcony
I was worried about food from an all inclusive. But, that was foolish. The food at the Hard Rock was fantastic. Here is my chilaquilles, strawberry smoothie and fruit
Ella thought I should include her morning choices- fruit and…
Pancake with nutella, white chocolate and sprinkles… tough life this child has 😉
Then there is the Little Big Club which our munchkins LOVED!!! Liv loved dressing up in the Angelina room as you can see.
The Little Big Club is for kids 4-12 years old.
They have a ton of scheduled activities, or the kids can do free play and you can drop off your littles at NO additional cost. FREE BABYSITTING!!!!!
Babies and toddlers can enjoy the Little Big Club with their parents too. Liv loved the live shows especially when Barney performed.
They also have a movie/ gaming room that is pretty sweet!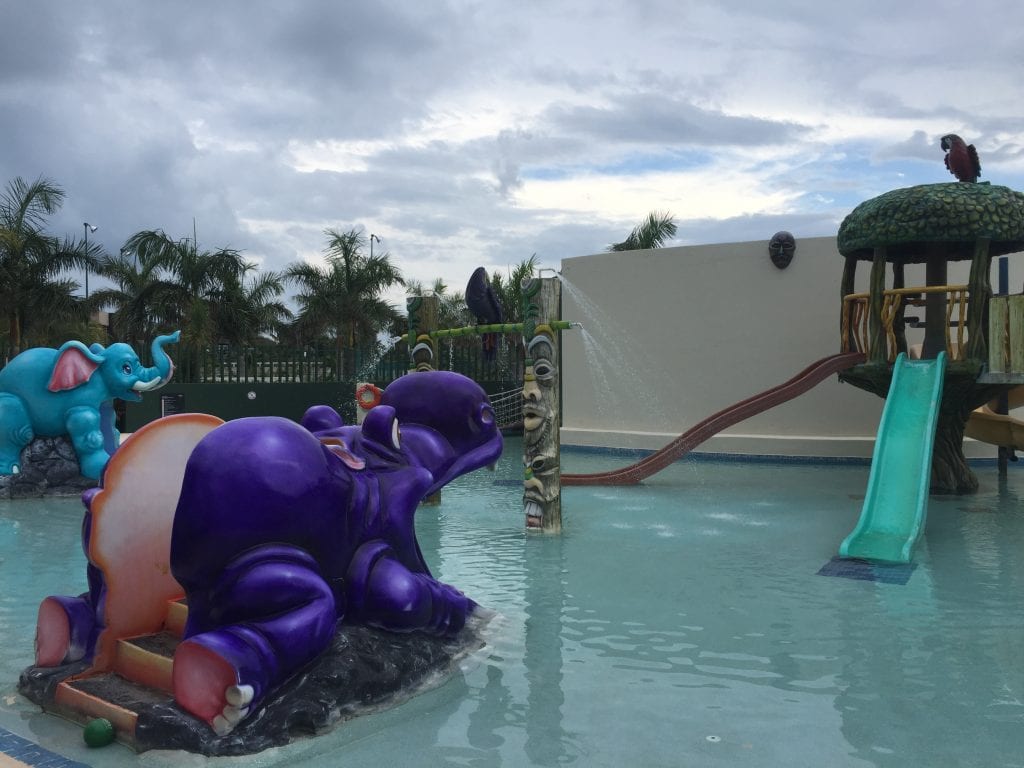 The Little Big Club splash pool
The Little Big Club cast even comes and makes visits around the hotel and pool. This is Ella getting a balloon animal
Here's another… this was a poolside craft. They picked Ella up from the pool and took all the kids to a shaded area to make crafts while we (the parents) enjoyed some relaxation at the pool bar. Now that is service!
Older kids aren't left out at all. They can head to the Cavern Club and participate in incredible offerings from the Hard Rock's Music Lab. My boys chose to learn how to be dj's and mix music!!!
This was such an incredible experience for my boys!!!
Music video time… also in the Music Lab and included in your stay
Who doesn't want to be a Rock Star?

My kids were over the moon about getting to perform LIVE on stage using their new DJ skills
Talk about a unique experience. How many kids can say they've DJ'd at the Hard Rock for a LIVE audience before the foam party???
Here is the foam party, which actually was full of kids too!
Here is proof 😉
Speaking of unique experiences check out this one. Our Teppan chef invited Shea to cook with him behind the table
As if there wasn't enough to do… our kids also found the lighted tennis and basketball courts appealing.
Saying good bye is never easy. But, this hotel will be one we come back to for sure!!!
Pin for later-
*A special thanks to the Hard Rock Cancun for hosting us during our stay. As always my opinions are 100% my own.