The eternal city is one of my absolute favorite places to visit. I love walking amongst the ruins and imagining what life was like back in the height of the Roman empire. I am enthralled by the passion the Italians have for food, romance, wine… just about everything really! Rome is just an incredible place to visit and Walks of Italy showed us how incredible!
If you are planning a trip to Rome one of the things I highly recommend is booking a walking tour within one of the first few days you arrive. Walking tours allow you to get acquainted with the area quickly and easily by covering a lot of ground while ensuring you don't miss a single sight. Guides help familiarize you with the area, educate you on the incredible sights that surround you and give you tips for the rest of your trip. On my most recent trip to Rome this past April my sister and I enjoyed a fantastic walk with Walks of Italy and I highly recommend you check them out!
Walks of Italy – An Incredible Twilight City Stroll + Gelato Tasting
Our tour began at Piazza Navona, one of the most famous and beautiful piazzas in Rome, built on top of the Stadium of Domitian which dates back to 1st century AD. The piazza today is a beautiful testament to Baroque Roman architecture.
We met our Walks of Italy guide at our meeting spot where we were fit with listening devices. Our group consisted of one other small family and a single traveler. I love that Walk of Italy keeps their group size small and intimate so that you are able to have that more personal experience!
We walked through the piazza learning about the church of Sant'Agnese in Agone which was created by Francesco Borromini. I loved the fun facts about the rivalry between Borromini and Bernini whose "Fountain of Four Rivers" faces the church. Our guide was incredibly knowledgeable and even though I personally have taken several walking tours through this area I still learned many fascinating new facts.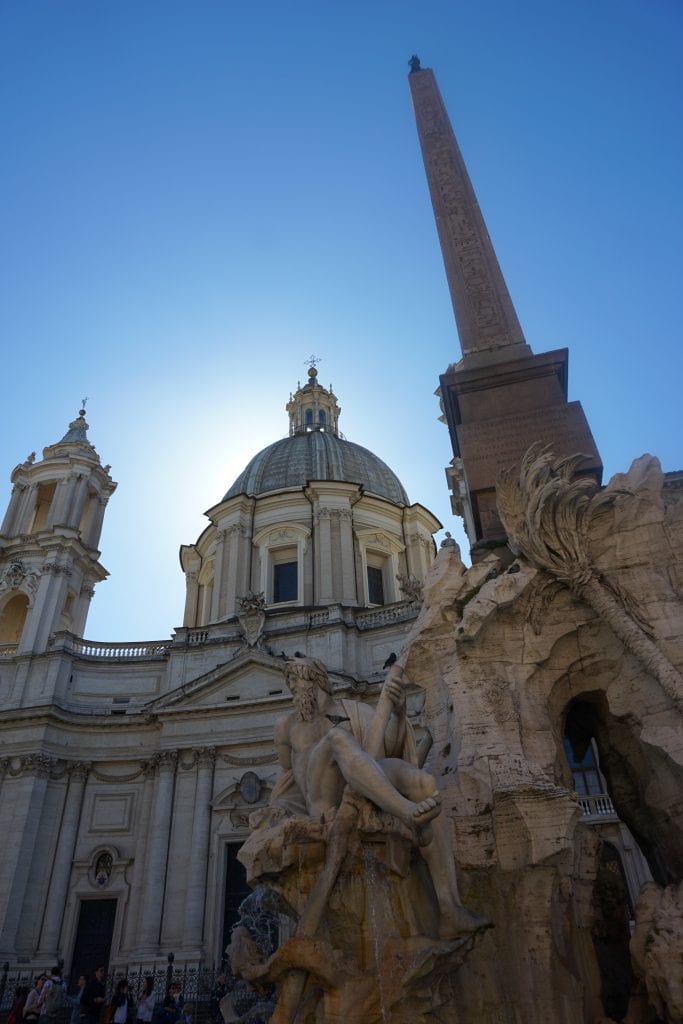 Seriously, how beautiful is this fountain?? After learning about the meaning of the fountain and some clarification about the reason the Nile is pulling a hood over his head we continued on weaving through streets until we came face to face with the Pantheon.
The Pantheon is over 1,900 years old and is an architectural masterpiece. There is just nothing like standing at its doors. It gives me chills EVERY SINGLE TIME.
Early evening proved to be a magnificent time to visit this remarkable sight as the crowds were much less than what I have seen at other times plus the lighting was magical. Once again our Walks of Italy guide filled me in on all sorts of amazing facts about the Pantheon. I was incredibly impressed because I had anticipated already knowing most of what the tour would cover. As I mentioned before I had already taken a walking tour through this area. The reason I booked the tour again was because it was my sisters first visit and I wanted her to have a great experience. What I learned was that even if you have already taken a tour in a particular area when you have a new guide it is a totally unique experience! Pretty cool right?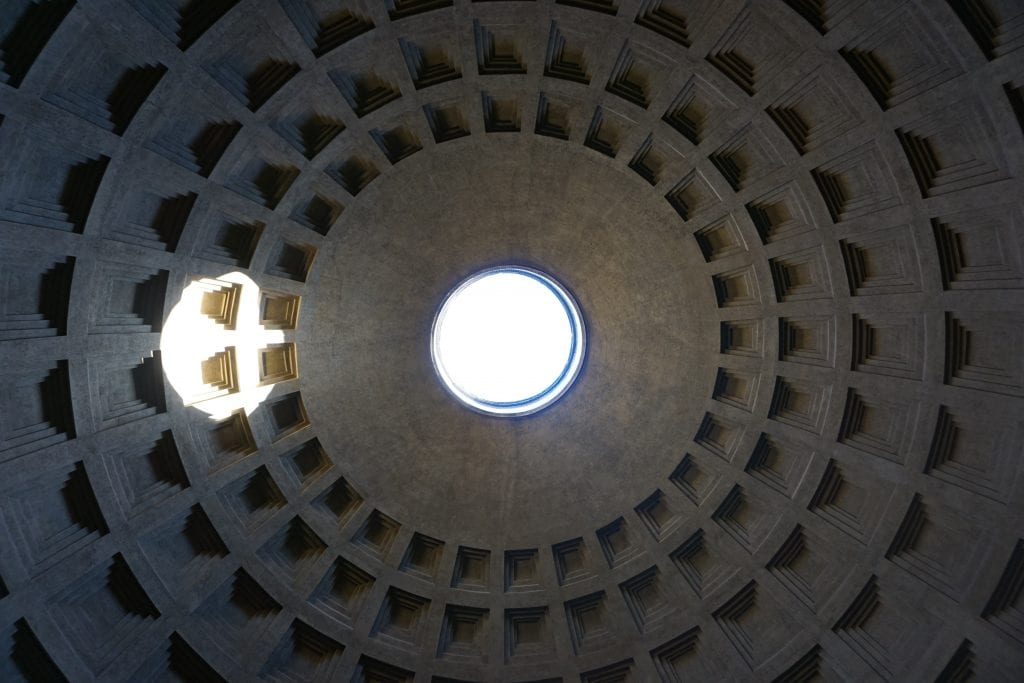 Check out the Pantheon's rotunda… incredible right? We walked around the inside of the Pantheon. Learned about Raphael who happens to be buried there and marveled at the gorgeous colors of all the stone work inside.

After visiting the Pantheon we took a break at a nearby gelateria called Della Palma. It was nice to sit down and relax before moving on to more sightseeing. Although, I was disappointed by the actual gelato itself. I have visited Rome enough times and eaten enough gelato to learn that the shops filled with gorgeous colorful displays of gelato are not the spots that have the best-tasting gelatos. Although, they do make for a gorgeous photo opp. This was actually my least favorite part of the tour which was fine because it was a walking tour after all and not geared towards a foodie/ gelato snob- ha!
Next, our guide took us to see another ancient building. As you can see this poor building has seen some rough days in its time. What I loved about the Walks of Italy tour was our guide was able to use an ipad to help us envision how beautiful this building once was. Again, her knowledge was absolutely incredible. She rattled off timelines and facts like you wouldn't believe. I was in awe. We learned that she is an archeologist which made me feel pretty special. To be led through such an incredible city by someone with her level of expertise is pretty exceptional. And, also another reason why I recommend Walks of Italy. They simply hire the BEST!
Next, we moved on to my absolute favorite fountain in the world- Trevi. I was SO excited about visiting Trevi again because the last time I was in town the fountain was being restored and it was drained and covered in scaffolding. This time around the fountain was absolutely astonishing!!
The area was very busy so I was glad that we had our listening devices so that we were able to enjoy all the information while we were surrounded by the large crowd.
Standing there in front of such a monumental sight was one of those moments that you know you will never forget! Of course the guide reminded us to toss a coin in to ensure our return to Rome one day too.

After our guide was able to finally pull me away from Trevi we wondered through the streets to Piazza di Spagna. We learned about the significance of the Spanish Steps as well as the history behind the "Fontana della Barcaccia" a gorgeous fountain created by Bernini and his son. This is where our tour concluded.
Overall, I think this is a fantastic tour to take at the beginning of your trip to Rome. The tour is short (about 2.5 hours) and it covers some of the most important and famous sights in Rome. You can expect a fun, enthusiastic and knowledgeable guide when you tour with Walks of Italy and so it is also a fantastic opportunity to be able to ask questions about the area, tips for the rest of your trip etc…
For more information on Walks of Italy check out their website
Speaking of tips our guide mentioned a fantastic restaurant where my sister and I enjoyed some amazing cocktails and pizza. Followed by another gelato. Haven't you heard the saying- "Two gelato a day keeps the doctor away". Okay, maybe I made that last part up but I do recommend you eat as much gelato as you can when you are in Rome 🙂

Pin for later-
Have you visited Rome? What are your favorite things to do in the eternal city?
Check out my Article on 5 Reasons you need to take your Kids to Rome