There are only a few resorts that truly exceed all of my expectations and the Hard Rock All Inclusive Hotel in Cancun, Mexico is definitely one of them! In fact we LOVED this resort so much we never left the property (not even once) and we extended our stay. Clearly, this is one family-friendly resort you NEED to have on your list.
7 Reasons the Hard Rock All Inclusive in Cancun Rocked Our Vacation!
I am SOOO excited to share with you one of my newest favorite resorts. When we booked the Hard Rock I wasn't exactly sure what to expect. It was our first time at an all-inclusive resort, let alone a Hard Rock all inclusive and I was terribly nervous about the quality of the food and how difficult dining would be as far as wait times etc… Plus, the Hard Rock brand seemed a bit edgy which made me wary of how family friendly they would actually be. Thank goodness we gave them a try though because I CANNOT wait to return. While there is a ton of fun things to do in Cancun, we absolutely LOVED this resort so much, we barely left. Here is why…
1. Incredible Service
Good service is great but INCREDIBLE service is out of this world and that is what we experienced at the Hard Rock. Every single staff member we encountered at this resort was not only super kind and helpful, but they truly were enthusiastic about their job and showing us a great time!
The whole resort felt like it was built around the idea that guests should be treated like VIP at all times. They even had a VIP lounge for arriving guests with amazing appetizers and ice cold drinks ready the moment we arrived (pictured above). And, this service continued throughout our stay.
VIP Poolside & Dining Service –
For example, we would head to the pool in the morning and no sooner than we sat down there was someone there to offer a drink, grab us an umbrella and set up our chairs. It was pretty impressive. The kids were completely spoiled with their poolside mocktails and I loved the fact that they made sure we always had plenty of ice cold water to help us stay hydrated too.
As I mentioned I was wary of the dining experience as this was our first all-inclusive experience. Thankfully, everything about dining at the Hard Rock was fantastic! And, that includes the service. The restaurant staff was constantly setting up gorgeous food displays all over the resort and inside the restaurants, they were eager to offer up tons of menu suggestions. Wait times were non- existent plus the quality and variety of the food was fantastic!
Amazing Kids Club Service
A few ways their service truly surprised and delighted me were at the gym and running into the Kids Club staff around the property. If you head to the gym or play a game on the outdoor sports courts the resort staff will hand deliver you ice cold waters and towels. Pretty nice right? And, the kids club staff not only entertains the kids inside the club but they actually seek them out around the property (even at the pool) and offer to play with them right there offering to help them make crafts or by making balloon animals for them. It was amazing!!!
2 Delicious Food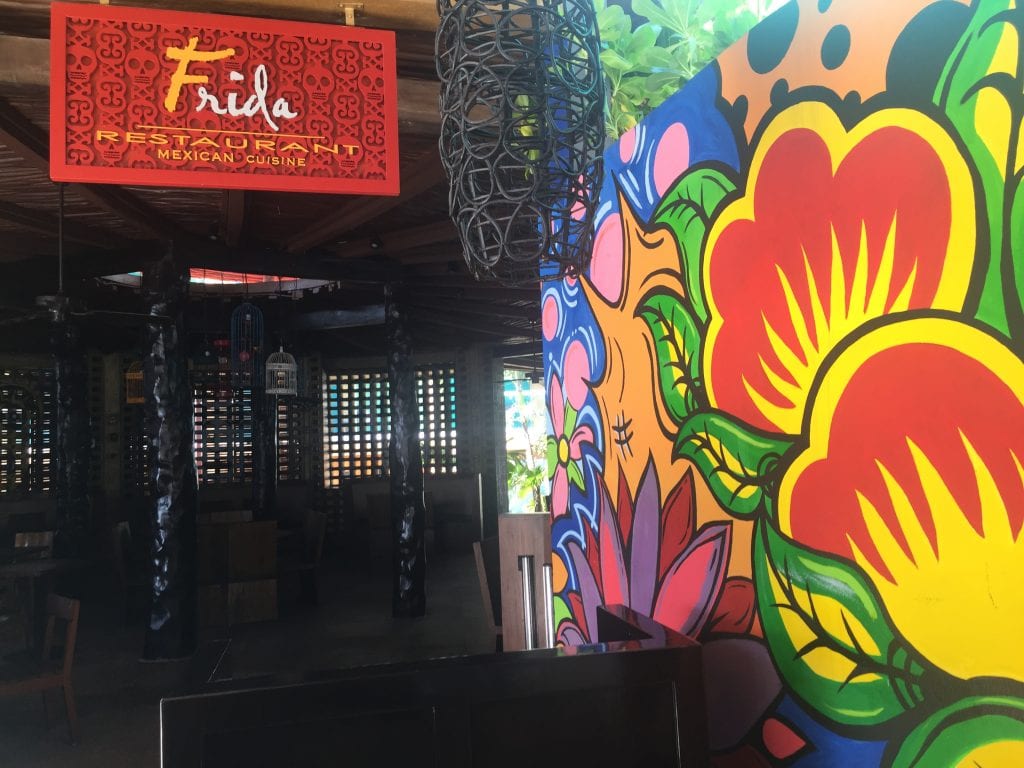 I am a total foodie… I LOVE food. So, all inclusive's have never been that high on my list because I have heard to many horror stories about how the food is never that great. Well turns out I was a fool… or maybe I just chose the right all-inclusive because Hard Rock's food was amazing!
There are 6 Restaurants on Property plus buffets scattered around the resort, there are food carts that pop up throughout the day & they have 24 hour room service that is included as well. So, you will have plenty of options when it comes to dining.
Frida's
My favorite restaurant hands down was Frida's. This trendy hip outdoor restaurant served up some of the BEST Mexican food I have ever eaten. Add the gorgeous ocean view and I can guarantee you won't want to leave. Make sure not to miss out on their incredible guacamole, chicken mole and freshly made churros with dipping sauce!
Zen
was also super fun because you could choose to eat at the Teppan table and enjoy the show, which was super fun with the kids. They even let some of our kids take a shot at being the chef! Or you could dine in the restaurant with regular table service or grab a quick bite at the sushi bar. The menu at Zen is extensive and everything I tried was delicious! I just wish the sushi was available at lunch too, but that would be my only suggestion to management in regards to improvement.
TIP- make sure to head down to the restaurant around 11am to reserve a Teppan table as they fill up fast. This is actually the only reservation you need. All others are walk up with hardly any wait time.
Ciao & Ipanema
You can also dine at Ciao if you feel like an upscale Italian experience, Ipanema has true Brazilian style rodizio service where they come around with all sorts of incredible meats and the Market is available when you just want a little bit of everything since they are a full International buffet.
Pizzeto
When you don't feel like dining in a restaurant you can grab a delicious brick oven pizza from Pizzeto which is located at the pool. The BBQ Chicken or Steak with Blue Cheese pizzas were divine. Or you can make your own nachos and tacos with freshly grilled meat from the Taco Cart. There was also always a bbq buffet set up near the pool too. Plus, another snack style buffet in the hotel lobby and if you are granted VIP access there is another delicious lounge in the VIP pool area upstairs.
Poolside Service
That is not all though… occasionally they bring out additional food carts or trays of food that they carry around. We saw a make your own ceviche cart, a snow cone cart and there was even an ice cream cart that came right to up to the kids in the water and scooped them a cone. Chefs brought around sushi samples and guacamole cups with chips too during our stay. Talk about service!
3. Super Fun Kids Club
My kids are spoiled when it comes to hotel experiences as they have stayed at many of the top resorts for kids and families including places like the Grand Wailea, Aulani, Omni Las Palmas, Loews Royal Pacific, Disney's Beach Club etc… So, they have spent quite a few hours at different kids clubs. There are only a few where my kids beg us to leave them there and this was the case at the Hard Rock.
The Little Big Club features a host of activities for kids ages 4-12 years old. Younger ones are welcomed to come in and play they just need an adult with them at all times where as the bigger kids can be checked in and left. The BEST part… its included in your all inclusive package!!!
There are kid themed play rooms, an inflatable bouncer, splash park, video game/ movie room, air hockey, live performances AND they even have their own dining area. With a full schedule of activities and amazing counselors your kids will have a blast!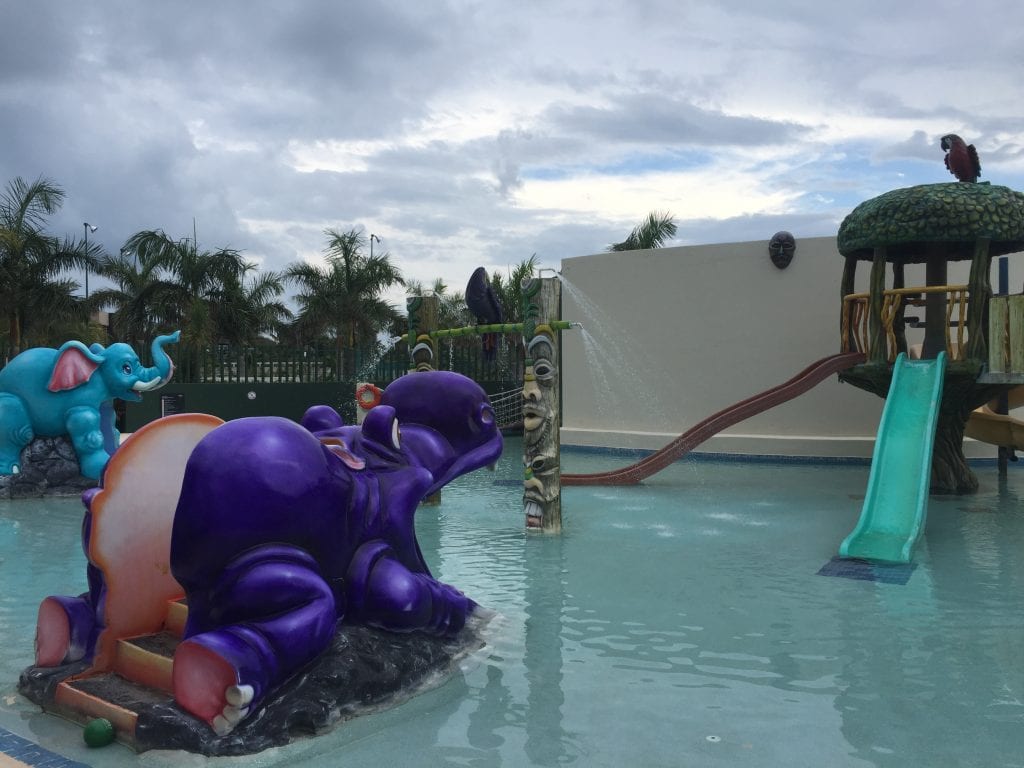 Plus, as I mentioned above the kids club staff will also seek your kids out around the property. My kids loved the poolside crafts, water balloons and all the balloon animals and swords that the staff made for them. I loved that the kids were never EVER bored!
Want to check out more photos of this gorgeous resort?
See my Photo Tour Here
4. Unique Experiences
The downside to traveling so much is our kids have done pretty much everything. Or so we thought! Until the Hard Rock All Inclusive proved that statement to be completely false with their amazing Music Lab and Sound of Your Stay experiences.
My two oldest boys were able to take a spin session lesson and learn how to mix music at the Music Lab. Then they were able to take their new skills and actually perform (one their own) LIVE on stage before the foam party at the pool. This was definitely a highlight as you can see from taking a look at my oldest son's face (above). He was pretty stoked to be able to come home and tell his friends that he was a dj at the Hard Rock 🙂
The boys also made their own music video which was hilarious to watch. They had a costume designer, picked their own music and were treated like rock stars all while being filmed. I cannot wait to see the finished product that they email you a few weeks later. It will be a memory we treasure forever… I mean how could we not with these costumes- ha!
To further expand their love and knowledge of music we were also able to have dj equipment and Fender guitars. The guitar was delivered free of charge to our room too!
5. The BEST 24 Hour Room Service
A huge jacuzzi tub in the middle of the room is pretty Rock Star but add 24-hour room service to that and your kids minds will be blown. At least mine were. The Hard Rock offers an extensive room service menu all of which comes completely free of charge. This is included in your Hard Rock all inclusive package. The room service was delicious and arrived faster than any other hotel room service we have ever had.
It also came in handy when the baby's naps ran long from being tired out by the pool. I could order my meal and dine on the patio happily without feeling like I was missing out. My hubby and I also started each morning with a pot of fresh coffee and warm milk before the kids woke up. That's a service that every parent should experience.
6. Hard Rock All Inclusive Cocktails
I'm not a big drinker but I do love a good cocktail on vacation. However, most places we travel to charge an arm and a leg for a decent cocktail. So, I always feel foolish or guilty ordering them. That's why when I learned that alcoholic drinks were included at the Hard Rock All Inclusive, I was stoked! On top of the fact that the drinks were included, they were also delicious. The Bob Marley pictured above was my ultimate favorite!!!
I also loved that they allowed the kids to order virgin drinks as well. They thought they were pretty special with their poolside virgin pina coladas 😉
7. Gorgeous Location
Seriously… how gorgeous is this view? This was where I spent most of my time, in the pool looking out at the magnificent aqua blue ocean water as it crashed against the white sand beach. It was like a dream. I can honestly say the Hard Rock has one of the most beautiful coastlines I have ever seen!
Had we wanted to leave the property there was plenty of activities like the Xcaret Parks, Water Sports, Snorkeling, Upscale Shopping & Restaurants and more all within minutes from us.
Overall
If you are looking for a family-friendly resort where you can truly unwind, be catered too that your kids will love and where you will come home actually feeling like you had a vacation (and not that you need a recovery trip after your vacation) than you MUST book a trip at the Hard Rock Cancun.
You Might Also Enjoy!
Tulum Bucketlist- Things To Do, The Best Tulum Beach, Popular Restaurants & Spas
3 Reasons your family will LOVE Xel-Ha in Cancun- a review
Looking for another family-friendly luxury resort in Mexico? Check out Stuffed Suitcase's article on Nickelodeon Punta Cana.
Pin for Later-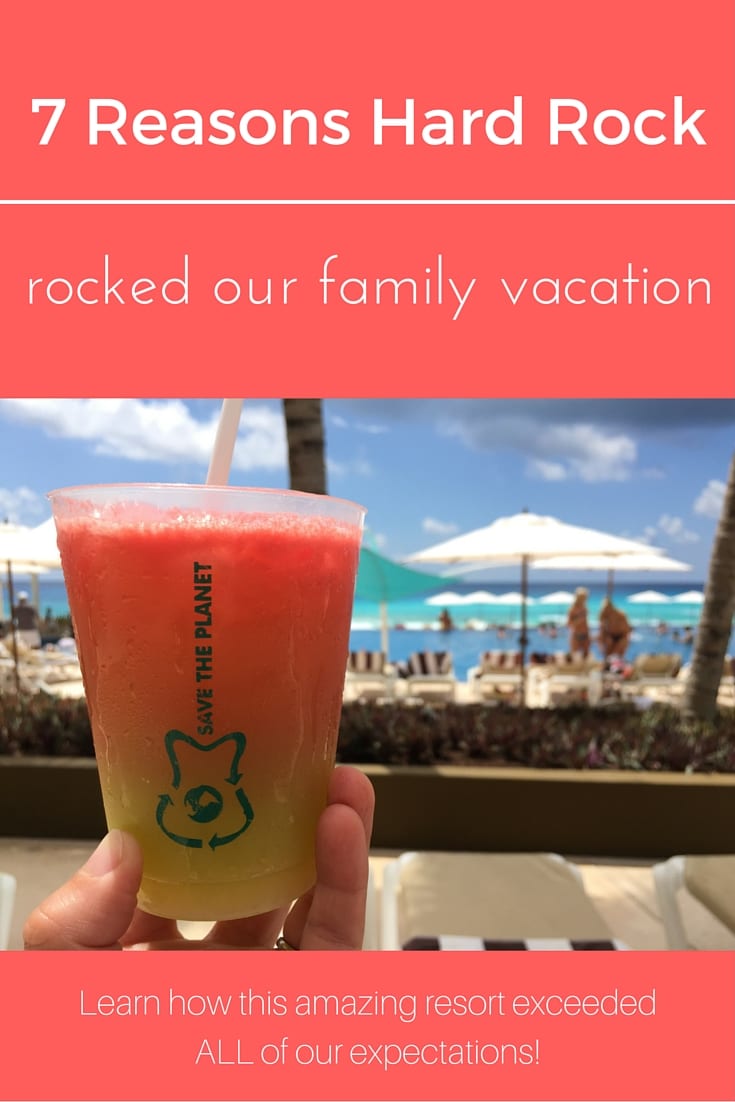 Have you stayed at a Hard Rock Hotel before? Share your experience below…
*A special thanks to the Hard Rock Cancun for hosting us during part of our stay and offering a special media rate for us when we asked to extend our vacation. As always my thoughts and opinions are 100% my own.
Latest posts by Mama Munchkin
(see all)