Recently we were invited to visit Finest Resort Punta Cana. I always like to be upfront that we were guests of the hotel, but always my opinions are true to our experiences, we don't ever want to lead our readers astray. We had previously visited the Finest Resorts in Playa Mujeres and were pretty much wowed by the resort so our expectations going in were pretty high. Let's see how they held up.
Finest Resort Punta Cana-All Inclusive Resorts for Families
Rooms
The rooms at the Finest resorts are all about luxury. This time we were staying in two connecting Pool View Room Suites. We needed two for our family of 7, most rooms only sleep 4, so if you have a larger family like ours plan on getting a connecting suite. The room comes with some pretty incredible amenities. A massive bathroom with a huge tub and a rainfall shower.
The room is also stocked with snacks, drinks, alcohol which is all included as part of your all inclusive package and this gets refilled daily. Our kids devoured the oreos in their room and ours as well.
There are little details to the room that make it simply amazing. The super plush chaise lounge on your very large deck over looking the pool is simply wonderful. I spent quite a bit of time lounging their with my baby Jack. The closet has shoe racks, a steamer, a safe and is rather large.
One of my favorite features is the sensor lights within the room. In the middle of the night you step out of the bed and immediately a dim light appears in the bathroom. It's like they have thought of everything. Check out more of their Suite options here!
Swim Up Rooms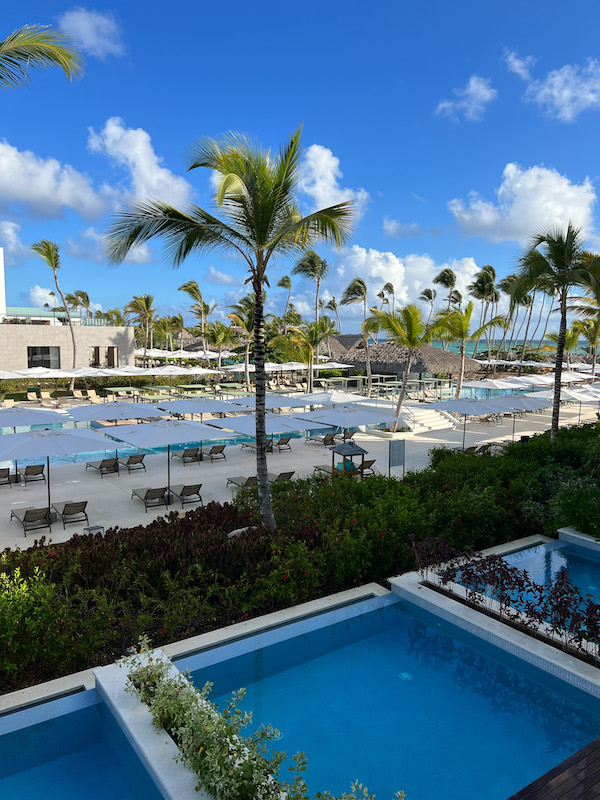 Finest Resort Punta Cana also has swim up rooms with an attached pool. I am not going to lie, I kind of missed not having this room as we had it when we were in Playa Mujeres. The room has a beautiful deck and a fun little area to swim.
There also is an indoor/outdoor tub you can enjoy in these rooms that you can enter from either the inside or outside.
Pools
If you don't have your own swim up pool, there is no reason to worry though as there are an endless amount of pools at Finest Resort Punta Cana. You cant be in a spot without seeing a pool. Our kid favorite area was the main pool which had a giant blue hill that sprayed water. (we called it the blue blob)
The kids loved to attempt climb it and jump or slide down off of it. It was hours and hours of entertainment.
In addition to the main pool there were so many pools, often times with a swim up bar to get your favorite drink.
Dining
Dining is one of the biggest parts of choosing a good all inclusive resort for families. I have heard horror stories about people's visits. Thankfully, Finest Resort Punta Cana has some pretty top notch food. By the way, my pro tip – always order extra at an all inclusive. That way if you don't like a dish, you have something to fall back on. We typically ordered one extra dish for the table just in case.
A couple notes on dining, you do not need a reservation, except for the Teppanyaki or Shabu Shabu at Melting Pot, or the Fajita Show at Lizo. Those reservations can be made the same day starting at 3pm-5pm….get there at 3.
Market Kitchen
The market kitchen is your standard buffet, but this buffet was not standard by any mention. There are fresh juices and smoothies, ice cream bar, incredible baked good section. In the morning you can enjoy delicious omelettes cooked right in front of you and in the afternoon fresh made pasta cooked to your pleasure. The market kitchen was our main stop for breakfast and often times for lunch too.
Lizo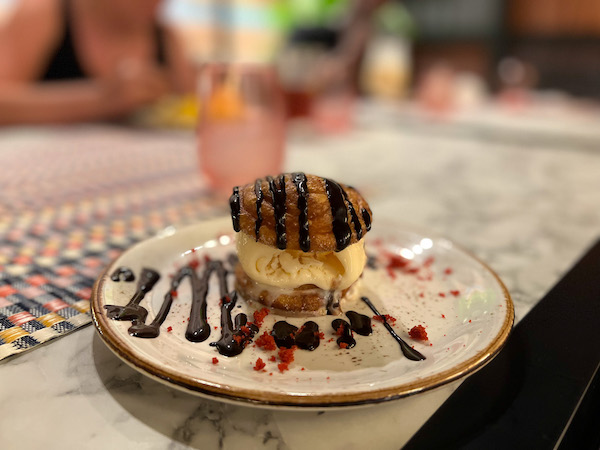 Lizo is probably our favorite of the main restaurants. They offered a delicious assortment of mexican dishes. The fajitas were great, the avocado salad was delicious and the steak was Arrachera flank steak was incredible. For dessert, you have to have the tres leches, yes the churros are great but the tres leches is where it is at!
Melting Pot
We actually had The Melting Pot twice. Once for the Wok dining and the other for the traditional menu. The wok show is great, everything is cooked in front of you and the chef is super fun and entertaining.
My favorite dishes on the Melting Pot menu were pretty much all the rice dishes. The Nasi Goreng was awesome and the seafood fried rice was great as well. We actually did not have dessert here as we were too full both times.
Insieme Trattoria
I loved the atmosphere inside this restaurant it had that outside inside feel. In terms of food, here is what I recommend. Starters, hit up the bruchetta and order a lot because everyone will love it. The salads are pretty small so order one for each person, they are not shareable. For the main course, I know it's an italian restaurant but the best dishes were the salmon and the Tagliata (grilled beef filet). They were both so good.
Duke's Lobster and Seafood
This was actually my least favorite of the restaurants which was really surprising cause I loved the one in Playa Mujeres. We had it for lunch so maybe it was just an off day but none of the dishes stood out as very spectacular.
Las Dunas Beach House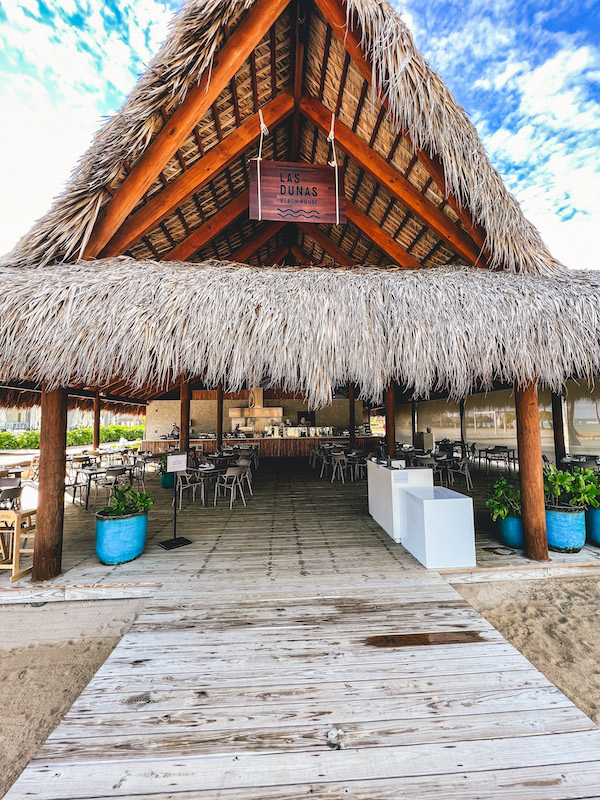 Las Dunas is great if you are just looking for some quick and easy beach food. You can grab burgers, nachos, chips and guac and enjoy a nice beverage. The food is served buffet style so if you are hungry no need to worry, the food will be in your belly in no time.
Legends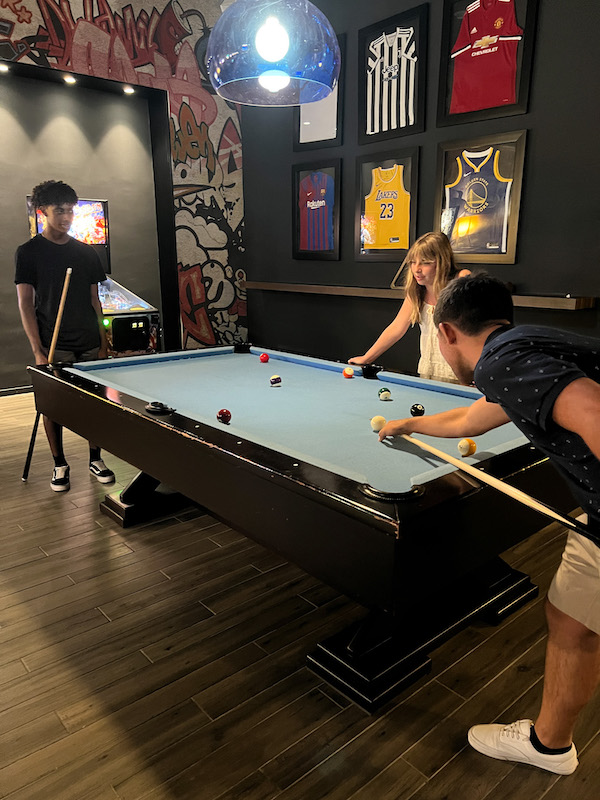 Legends is a fun 50's throwback bar where the play the latest sporting events on their multiple TV's. You can grab wings, burgers and other bar food. They also have pool and 2 free pinball machines that we found ourselves playing quite often.
Restaurants specifically for Adults
There are a few restaurants which were strictly for the grown ups. Because we had the baby we never hit those up, however we did visit one of them in Playa Mujeres and it was phenomenal.
If you want to see something awesome, you have to check out the kids club. It's every kids dream….it's just spectacular.
First off, it's enormous. There is a giant play area where kids can go across brisges and climb things. They have a Video Game Room, Movie Room, Craft Room, a place for the kids to go and have lunch or dinner if you choose to have them eat there. Olivia begged us to let her eat their one night.
Kids Club Water Park
Yes, the kids club has its own water park, with multiple slides, a giant bucket to douse the kids. They even have plush loungers with shade for if the parents want to stay and relax while watching their kids. It's amazing!
Themed Days
Each Day is themed with different activities that usually go with the nights show at the resort. So, one night they had circus night and another it was super hero night, and of course Olivia's favorite….pajama night.
Mini Kids Club
Here, might be the coolest part of the kids club. They have mini kids club attached to most of the restaurants. So, let's say your little one has had enough at sitting at a long dinner, you can simply walk them 30 feet or so to the attached kids club and there is a mini kids club with staff their to take care of your kids. It is the best!
You'll never find yourself bored at finest resorts. There are a multitude of activities. So, if sitting and relaxing by the beach or pool is not your scene, have no fear. Here is just a list of some of the activities we personally enjoyed that are included in the resort stay.
Beach Volleyball & Soccer
Kayaking
Boogie Board Rentals
Tennis
Bike Tours
Archery
Bingo
Aloe Vera Workshop
Live Music
Basketball & More
Plus, they even have sand toys at the beach for the little ones, my teens borrowed a football. Plus, they have an incredible playground which every kids from 3-18 seemed to enjoy. There really is everything. Plus, you can pay for extra activities like Deep Sea Fishing, Banana Boat Rentals, Catamarans and more.
Every night, live music is played somewhere on property. Plus Finest Resort Punta Cana has one headliner show. There is a fire show, which was our favorite, a circus show, electronic show and Michael Jackson show during our visit.
Service
The service at Finest Resort Punta Cana is hard to beat. We would call down because our mini bar needed refilled and in a few minutes an attendant would be there. We were sitting at our beach chairs and a member of the kids club asked our daughter if she wanted to make crafts. Everyone there is trying to make sure that you are having a great time.
Overall
Overall, this resort is amazing. It is the perfect place for families. Whether you want to be relaxing at the beach or enjoying a lot of fun activities, this is an absolute perfect resort. Finest Resort Punta Cana was the best resort to enjoy with the family!
If you enjoyed our Ultimate Guide To Finest Resort Punta Cana, you might also like:
8 REASONS WE FELL IN LOVE WITH FINEST RESORTS PLAYA MUJERES
[7 INCREDIBLE REASONS] HARD ROCK ALL INCLUSIVE ROCKED OUR VACATION!
Pin for Later: The Ultimate Guide to Finest Resort Punta Cana