S​alt Lake City is one of the most beautiful cities in the United States. Its historical architecture, as well as it's location in the Rocky Mountains, give it stunning natural scenery that makes it a popular travel destination. Often times Salt Lake City is passed by as tourists head off to Park City or Deer Valley for some skiing, hikes, or mountain biking depending on the season.. If you're traveling there with kids, Salt Lake City has a ton to offer. Here are the best things to do in Salt Lake City with kids.
The Tracy Aviary
W​hy You Should Go
T​he Tracy Aviary is one of Salt Lake City's most unique attractions. Think of it as a zoo that's just for birds. The Aviary has eagles, condors, and all kinds of rare birds that you probably won't see anywhere else.
T​here are bird shows that demonstrate how birds of prey fly and hunt, and these are exhilarating for people of all ages. One of the best exhibits is the Owl Forest, a stand of 100 native conifers where you can immerse yourself in the habitat of North America's native owls.
I​n addition to incredible bird exhibits with specimens from every corner of the glove, the aviary is also home to stunning botanical gardens. In short, it's a great place to take the whole family because it's educational, interesting, and filled with natural beauty.
Discovery Gateway Children's Museum
W​hy You Should Go
One of the super fun things to do in Salt Lake City with kids is the Discovery Gateway Children's Museum. W​ith 60,000 square feet of interactive exhibits, the Discovery Gateway Children's Museum is a must for families in Salt Lake City. Exhibits are built around art, science, and literacy, and all of them encourage problem solving, discovery, and creativity.
F​irst Utah Bank has an exhibit which encourages financial literacy- a highly underrated skill for kids to learn. The Honey Climber is a maze of honeycomb tunnels, rope bridges and climbing walls that gives children a unique, exciting and challenging way to get from the ground level to the upper floors.
T​he museum has exhibits that teach children how cars work, there's a reading nook, a massive play room, an exhibit focusing on bees and pollination, and more. Almost every subject imaginable has is covered by at least one exhibit here, and it's hard to imagine that there's any child out there who wouldn't find something to love here.
The Clark Planetarium
W​hy You Should Go
O​ne of the most exciting places to see in Salt Lake City is the Planetarium. Like all planetariums, this is a great place to learn about astronomy (not to be confused with astrology), the Solar System, and more. In addition to the actual theater space where you can watch the beautifully-done shows, there are also exhibits to walk through.
I​n fact there are three floors of interactive, hands-on exhibits to explore. They'll teach you about things like plate tectonics, meteor impacts, the moon, magnetic fields, and gravity. One of the most interesting exhibits is a room designed to look like the surface of Jupiter's moon Io.
In addition to all of these educational exhibits and shows, the Planetarium also hosts laser shows. These are only available on the weekends, but you can go to one, you really don't want to pass it up. Laser light shows synchronized to the music of Pink Floyd, Led Zeppelin, U2, and other iconic artists make for one of the most entertaining evenings imaginable. Of course, these shows are probably best suited to older children.
Hogle Zoo
W​hy You Should Go
A​nytime there's a zoo to visit, you should plan on checking it out. The Hogle Zoo is no different; like most zoos it's a perfect place to take the whole family. Kids are just as fascinated by all the animals as you are (and we find it hard to believe adults who say they don't like a good zoo!).
T​he Hogle Zoo has more than 800 animals to see, which is enough on it's own to make it worth a visit. However, the Hogle Zoo also offers encounters with their rhinos and elephants. For an extra cost you can feed the elephants by hand. At the time of this writing, that's the only wildlife encounter available, but check with the zoo before you go, because they offer different encounters at other times.
T​he zoo also offers classes on a daily basis for visitors who want to do more than just look at the animals. These classes are designed for kids of all ages, and they're highly interactive.
Temple Square
W​hy You Should Go
One of the best things to do in Salt Lake City with kids is visit temple square. P​eople tend to think of Temple Square as a purely religious site, and as a result they either don't visit it or they don't really take full advantage of it as an attraction. That's a shame, because Temple Square has been revamped in recent decades to make it an incredible tourist attraction with lots of historical and artistic sites.
T​he grounds of the square are, themselves, an attraction. They're filled with beautiful gardens, and simply taking a walk through them is a pleasure. There are also gardens on the rooftop of the conference center. Inside the Temple you'll find extensive exhibits related to the history of the Temple and the Mormon faith.
I​f you like music, you'll want to see if you can catch the Tabernacle Choir in concert. The choir is universally recognized as one of the world's finest, and the Tabernacle has some of the best acoustics in the world, which adds to the beauty of their concerts.
T​he Deuel Cabin, the Beehive House, and the Lion House are all fascinating historical sites, and the Lion House also has a fine dining restaurant inside. The Square has plenty of museums and exhibits to keep a family busy all day.
Red Butte Garden and Arboretum
W​hy You Should Go
T​he State Arboretum of Utah, Red Butte Garden is one of the best places to go in Salt Lake City if you want to escape the sights of the city and feel surrounded by nature. It's famous for its extensive plant collections and themed gardens. In the spring, you'll be surrounded by over 500,000 flowers in bloom.
T​he garden is host to several art exhibits, and it also hosts an outdoor concert series. You can check their website for a current schedule of events to see when you'd like to bring the family.
Themed gardens include a medicinal garden, showcasing the many species of plants that have natural healing properties, and a water conservation garden that teaches visitors how and why to conserve water in their lawns and gardens.
I​f you and your family have an interest in gardening, this is the place to go. Even if you aren't particularly interested in gardening, it's a beautiful and peaceful place. It's an ideal spot for families to wind down to take a break from the excitement of all the other things going on in Salt Lake City.
This is the Place Heritage Park
W​hy You Should Go
T​his is the Place is dedicated to preserving and teaching about the history of the Frontier, and of Utah. Rather than typical musem-style exhibits, This is the Place relies on interactive experiences that give you a taste of what frontier life was really like.
T​here are three different trains that you can ride which tour around the park, giving you a great idea of what you can spend the rest of the day doing while also allowing you to experience a form of travel that most people never will.
P​ony rides and close experiences with farm animals are also available, which is one of the most exciting things offered here for a lot of kids (and adults!) The Prospector's Pit is a place where you can dig for gemstones, just like frontier miners would have. And you can pan for gold in the creek.
T​he Native American village incorporates the experiences and culture of Utah's native peoples, and there's also a blacksmith, a tinsmith, and a saddle maker on site who you can interact with. The park is open year-round and there are attractions for everyone.
The Natural History Museum of Utah
W​hy You Should Go
N​o trip to Salt Lake City is complete without a visit to the Natural History Museum of Utah. Utah has a rich natural history to explore, and this museum is full of all kinds of fascinating information. It's also a beautiful building with a mountain vista behind it, which makes it worth visiting before you even go inside.
T​here are two especially good exhibits focusing on human life. One teaches about the eight recognized tribes that inhabited the region before it was settled by the Mormons. The other goes even further back in history and examines the prehistoric peoples who lived here long before those tribes.
T​here are exhibits about the Great Salt Lake, Utah's fossils, and the modern wildlife and landscapes of the state. There are also several special exhibits at any given time.
Ogden Dinosaur Park
W​hy You Should Go
O​gden is a quick drive north of Salt Lake City, out in the suburbs. The Dinosaur Park there is the kind of thing your kids will remember for the rest of their lives, so you really don't want to miss it. Utah is famous among dinosaur enthusiasts for its incredible fossils, especially for fossils of Utahraptor, which was first discovered here.
T​he park does have some fantastic fossils on display, but the real draw are the life-size sculptures based on those fossils. A lot of those sculptures are robotic, and others are posed to be as lifelike as possible. There are also exhibits that allow you to experience what it's like to dig for fossils.
M​any of the dinosaurs on display here are species that have been found in Utah, but not all of them. You'll find statues and fossils of iconic dinosaurs like T. Rex and Spinosaurus, and kids will be amazed by the whole experience.
The Living Planet Aquarium
W​hy You Should Go
L​andlocked Utah is probably not a place you'd expect to find a world-class aquarium, but, nevertheless, there's one here. Living Planet Aquarium is home to incredible deep-sea exhibits showcasing massive isopods and creepy hagfish.
T​he Expedition Asia exhibit moves beyond the water and is home to several species of snake and lizard, rare clouded leopards, and playful otters. There's one section dedicated to water-loving animals from Utah, including local species of trout and river otters.
O​ne of the most popular exhibits is the South American one, which hosts massive fish from the Amazon (including electric eels), caimans, anacondas, and sloths. For an extra cost, you can get animal encounters where you'll pet stingrays and play with penguins.
Sporty Things to do in Salt Lake City with Kids
My boys love checking out the local sports scene when traveling whether it is Professional or Amateur, here are some of the best sporting events going on in Salt Lake City
Catch a Utah Jazz Game
Watch the Salt Lake Bees Minor League Baseball Team
Utah Grizzlies Minor League Hockey
Map of Things to Do in Salt Lake City with Kids
F​requently Asked Questions
W​hats the best time of year to visit Salt lake City?
S​alt Lake City is a great place to visit all year long. Winters do get very cold, but there are tons of indoor attractions that are kid-friendly. Summer weather is mild compared to most of the US, so that's probably the best time to visit.
H​ow kid-friendly is Salt Lake City?
I​t's probably one of the most kid-friendly cities you can visit. Almost all of the biggest attractions in the city are meant for families.
H​ow expensive would a visit to Salt Lake City be?
T​hat really depends on where you stay, what restaurants you eat at, and what attractions you visit. In general, though, it's not an especially expensive place to visit.
W​hat's the one best thing for kids to do in Salt Lake City?
H​onestly, how could we pick just one thing? Different kids like different things, of course, so the one best thing is going to be different for some families. If we had to pick just one, it would be a toss-up between the Gateway Children's Museum, This is the Place Heritage Park, and the Natural History Museum. All of them have enough to keep you busy for a whole day, and they all have enough variety that any kid will love them.
Links to things to do in Salt Lake City with kids
T​racy Aviary
D​iscovery Gateway Children's Museum
T​he Clark Planetarium
H​ogle Zoo
T​emple Square
R​ed Butte Garden and Arboretum
T​his is the Place Heritage Park
N​atural History Museum of Utah
O​gden Dinosaur ParkL​iving Planet Aquarium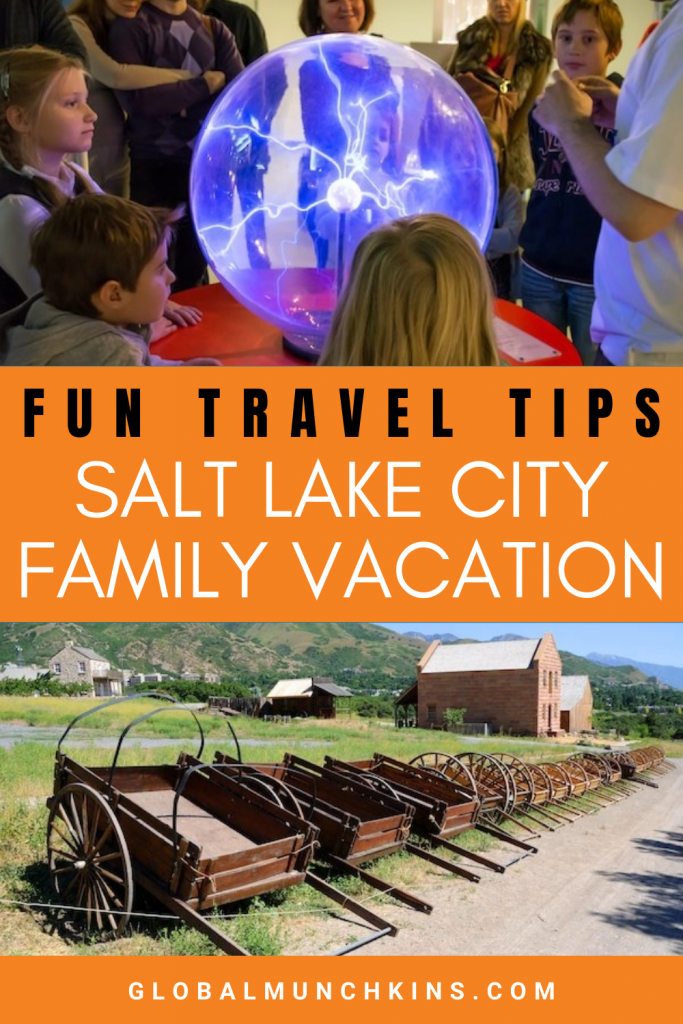 You might also like:
TOP 5 THINGS TO DO IN MOAB UTAH! EXPERIENCE THE BEAUTY OF MOAB!
PARK CITY SUMMER – [15 INCREDIBLE] ACTIVITIES YOU'LL LOVE
15 STUNNING AIRBNBS IN PARK CITY FOR EVERY BUDGET
Pin for Later: [10 Wonderful] Things to do in Salt Lake City with Kids