Day 12 was our first shore excursion and it couldn't have gone smoother. Every other time we have cruised we have booked our excursions straight through the cruise line. However, this time we mixed it up and booked all of our shore excursions through private companies and I am so glad we did. Not only does it save you a ton of cash… but I think our excursions were much more smooth with the kids because we got to be in control of the schedule. So, meal and potty breaks were based around the kids needs and we were also able to call it a day when the kids seemed to be getting tired. This helped avoid meltdowns… which is HUGE factor in this moms happiness 🙂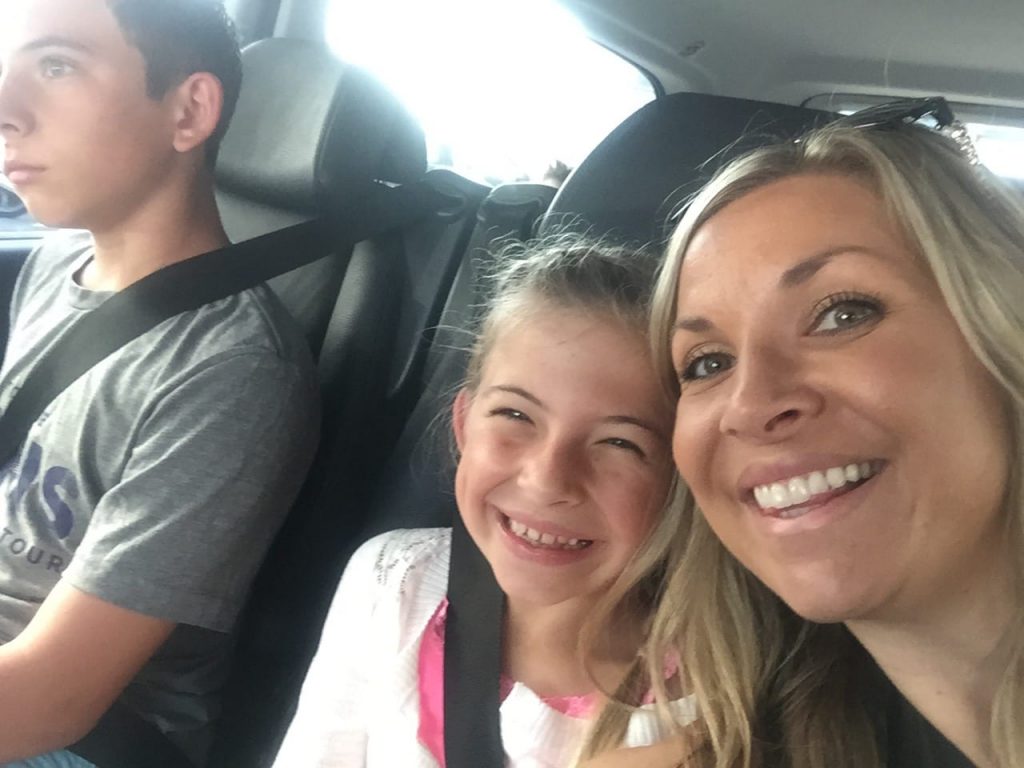 Our first stop was in Liverno which is pretty much just a port town. There really is not much if anything for tourists to do there. Our guide Marco from Shore Excursions in Italy met us right where we exited the boat. We hopped in his beautiful, air conditioned Mercedes van and immediately I knew we had made a good choice. Marco's English was perfect and he was excellent not only with the kids but he was also incredibly knowledgeable about Tuscany, Florence and Pisa in general. We were impressed!
I think the drive to Pisa (our first stop) was about 30 minutes away. Marco explained the town of Pisa, the Medici Family, Roman influence and more. When we arrived in Pisa Marco found a good parking spot, explained the Leaning Tower process and where to exchange our online voucher.
*We had purchased tickets to climb the tower which I highly recommend. Climbing the Tower was one of my favorite activities that we tried in Italy. You can purchase them directly on the official website here.
We had tickets for 9am and we were a bit early so we walked around the cute college town. We noticed the first of many Roman fountains, found a cute gelato shop and tons of "leaning" souvenirs too!
After about 15 minutes it was our turn to climb the tower. Isn't it stunning? As we were finishing up we saw all the tourist groups coming in. So, make sure you go early… it is much more enjoyable not having to fight the crowds 😉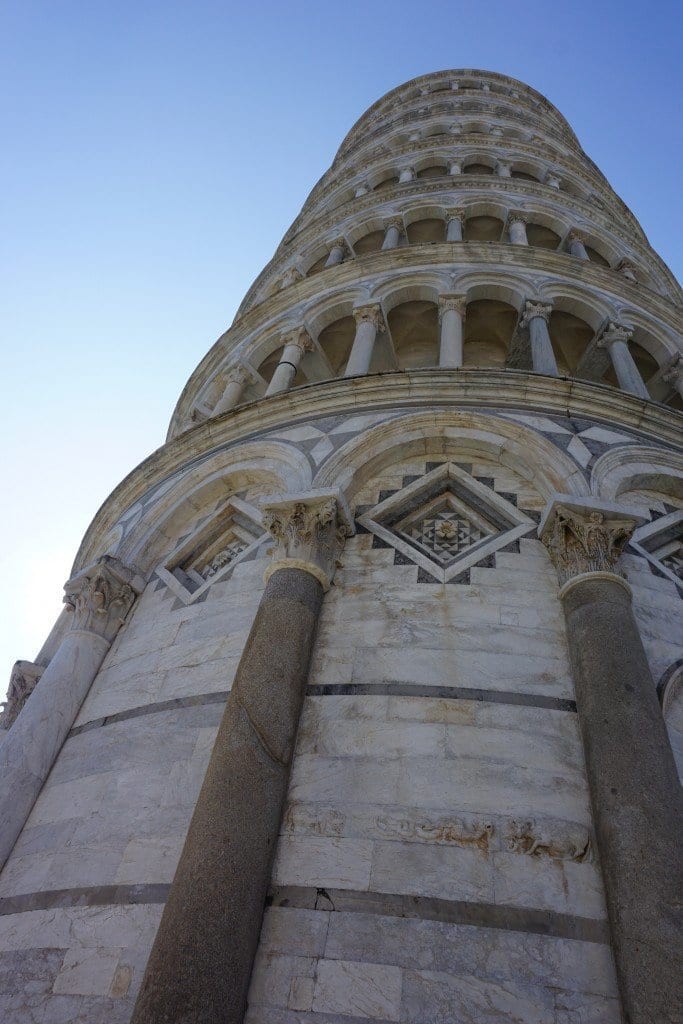 I had no idea before going to Pisa that the Leaning Tower was a bell tower for a church. It was really fun to climb to the top and get up close to the actual bells. The view of the church is also pretty spectacular. I had read that climbing was dangerous… I don't know why people suggested that as I felt completely comfortable with the kids climbing. They do require that kids are at least 8 years old which I think is fitting.
Coming out of the tower did make us feel a little funny. The incline is slow but you are definitely leaning while walking up and down so it throws your body out of whack a bit! Once acclimated again we had fun watching all of the tourists in funky poses trying to get the obligatory photo… YES I was one of them too 😉
Ella was more excited about spotting a statue of Romulus and Remus that she found on the lawn in front of the Leaning Tower because she had been learning all about them and how they founded Rome in school right before we left on our trip. Here she is posing with her prized statue 😉
We texted Marco once we finished our photos and off we went to Florence. It was a gorgeous 1 1/2 hour drive through Tuscany. The kids took a nap while Marco explained even more of Italy's amazing history. Before we knew it we arrived at Piazzella Michaelangelo which gave us a sweeping bird eye view of Florence. Marco explained what we would be seeing once we arrived down below by pointing out the different sites. It was gorgeous, and HOT… there were also a few street type vendors so we grabbed a few snacks for the kids . Marco gave us a few ice cold waters from the van (he seemed to always have exactly what we needed) and away we went.
Florence was jam packed with tourists cars and mopeds!! Marco explained that it was actually not that bad… that they had removed all regular traffic into Florence not that long ago. Only tourist vans, taxi cabs and mopeds were allowed in now. I can't even imagine what the streets looked like prior to that change :0
We had purchased tickets to the Academia Galleria to see the infamous Michaelangelo's David but when we arrived the lines looked INSANE. As per the usual Marco worked his magic and somehow we bypassed the lines and got right in to the museum. It is a very small museum and pretty much the only interesting thing is The David. There were some randomly placed art pieces on the wall and a room full of busts but that was about it. The David was a lot bigger than I had imagined. The kids were all shocked at the nudity… but they held in their giggles pretty well 😉
After the museum we met up with Marco and he gave us some lunch options. We decided on a quick bite and he took us to the BEST tiny little bakery/ pizzeria right around the block called Pugi. You MUST eat here if you visit the Academy. D.E.L.I.C.I.O.U.S. The place was tiny and incredibly busy but of course when we finished ordering we turned around and Marco had reserved spots for us to eat.
*If you haven't noticed by now we LOVED Marco and highly recommend you use his services… click here to book.
Ella had gotten a mosquito bite we think from having our windows open in Civitavecchia… she gets welts when that happens and it was bothering her. Marco heard us talking so he took us to a little store to get some cream. He explained that Italy does have tiny mosquitoes so we also bought repellent and didn't have any issues with bug bites after that.
After the quick stop at the store Marco handed us a map and explained that he needed to wait by the van. He walked us to the Duomo as a starting point and we followed his directions through the streets, Piazza and finishing up near Ponte Vecchio a Medieval bridge. We bought some cute jackets for the boys for about 10 euro a piece and some futbol jerseys (big Messi fans)… we kept running into the most delicious looking gelato stops so some of the boys stopped for treat and then we circled around and met up with Marco. By this time the kids were pretty beat. Marco gave us the option of taking a more scenic drive back to the port or take the same route which was about 30 minutes faster. We chose the later but I loved that he offered us the option because if the kids weren't so beat I am sure we would have taken him up on it!
These are pictures of the Duomo from the side and also from the front of the church. It was so intricate and beautiful… I could have stared at it for hours admiring the details.
The pictures above show Ponte Vecchio- the Medieval bridge which has shops all along it and also the first Roman drinking fountain we found since arriving in Italy. The kids were so excited to fill up their water bottles.
The delicious gelato and some street art we ran into in Florence.
About and 1 1/2 later we were back at the port. We tipped Marco and thanked him for making our trip to Florence and Pisa so wonderful and we hopped back on board the Epic. The boys convinced Mike to climb the rock wall. I had fun watching them 😉
Then we were off to dinner at La Cucina. This was another restaurant onboard that typically has a cover charge unless you get the unlimited dining package like we did- and you should. The food once again was delish!! The pics do not do the food justice- let's blame the lighting 😉
NOTE: WE WERE GUESTS OF SHORE EXCURSIONS IN ITALY. WE RECEIVED A DISCOUNTED TOUR FOR OUR FAMILY IN EXCHANGE FOR MY EXPERIENCE AND HONEST THOUGHTS. ALL OPINIONS ARE MY OWN.