We enjoyed a delicious buffet breakfast on the boat on our 15th day of vacay. I keep meaning to mention that I have been loving the fact that NCL offers multiple omelet bar stations at the buffet EVERY morning. It's the perfect healthy way to start my day and there's never that long of a line because there are so many stations set up. Disney and Carnival could both improve on this big time.
Anyhoo… we hopped off the boat with ease, Barcelona had a lovely modern terminal with shops and restaurants and it was set up to grab a taxi pretty easily. Unfortunately, for us it was quite a wait as most of their taxis are for 4 passengers and we obviously needed to fit all 6 of us. Once we did finally find a large enough car we hopped in and headed for the FC Barcelona stadium. We had pre-purchased tickets to the Camp Nou Tour and Museum and we were really excited about taking the boys- they are big fans. In fact we had just watched the Barcelona game the night before on the boat! However, they won that championship game so when we arrived at the stadium there was a massive crowd trying to get tickets for the evening celebration. This also meant they closed part of the tour due to the set up crew working on the field in preparation for the festivities… so we had to wait in line to get a refund. *Tip- always buy direct from the site you are visiting as anyone who purchased from a 3rd party was not able to get a refund.
The boys were bummed that they were not able to walk on the field or go in the locker rooms… but the museum part was still open so we made the best of it. The munchkins enjoyed fun seeing all the trophies, getting to peek out at the stadium and they also had a pretty cool photo opp with a green screen. We spent like 50 euro on photos bc they really did a great job super imposing Lionel Messi in with the kids and some other cool poses. Sometimes I'm a sucker for the tourist traps 😉
After the stadium we took a metro to the area where La Sagrada Familia was located. The metro system once again was easy and affordable. I really wish CA would learn a thing or two about it bc the CA traffic is NUTS!!!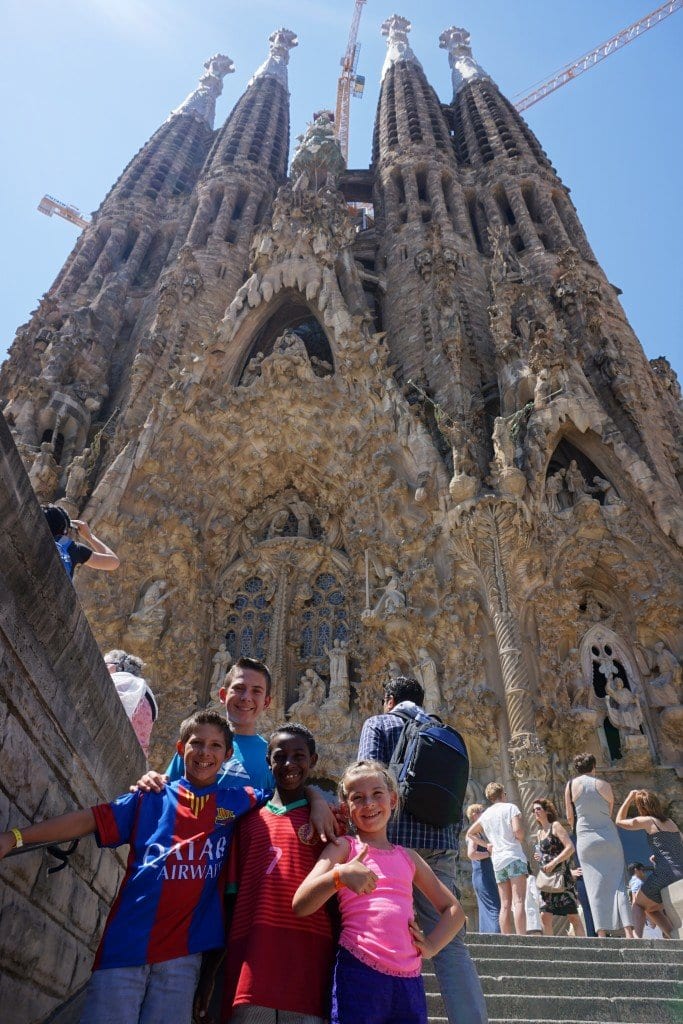 La Sagrada Familia is absolutely breathtaking. There are so many intricacies your brain literally goes into overdrive and you get frustrated that you can't take it all in. Our tickets allowed us to by pass a huge crowd so we walked right in. We had paid for the English tour in advance but we all agreed to skip it and just walk the grounds ourselves. It was so beautiful!!! The way the light shined through the stained glass, the people praying and worshiping below the crucifix. It all felt very surreal. We learned a little about the artist himself and also went to visit his tomb. Such an amazing and creative individual!!
The area around La Sagrada was also really cute and so we decided to stroll around for a bit. There are tons of little shops and restaurants, a Starbucks and street vendors too. We stopped in Starbucks for a cup of decent coffee and to grab a mug (we collect them when we are traveling). Then we found an adorable cafe called Cafe Gaudi with the most amazing cookies. If you are ever visiting La Sagrada Familia you must stop in and try it for yourself!!
We had a few more hours until we had to get back to the boat so we hailed two taxis (costly but it would have been impossible to find one large enough for us) and headed to Park Guell. Unfortunately, they were sold out and we could not get tickets until later that day to enter so we were not able to actually go inside the park. But, the employee showed us the area that we could walk around for free and view parts of the park so we went ahead and went that route. Gaudi's art is so out of this world… it reminds me of Seuss.
As we took our cab back to the boat we drove through the city passing Las Ramblas and a few beaches. It was then I decided we needed to return to Barcelona. I think it could easily become my favorite European city. It was just so clean, the people were so friendly, transportation was so easy to come by and I felt like there was a lot more to do. Definitely on my list!
The next day was our one and only day at sea which is pretty amazing for a 7 night cruise itinerary. We let the kids order the complimentary room service breakfast which included pastries, juices and hot cocoa. Then we headed up for some activities. Some how the kids talked me into trying the rock climbing… I impressed myself bc I actually made it to the top faster than the kids- woot! woot! Then the kids tried out the trampoline on the top deck and the boys played dodge ball on the sports court.
We also enjoyed the pool and going down the water slides in the afternoon. I enjoyed some delicious cocktails too. We tried our hand at ping pong and learned that mom was not a star here- boo. Then we headed to our room to get ready. We had booked the Cirque Dreams & Dinner show that evening for the grown ups and Ella. The boys decided they'd rather play at the kids club. But, when we went to check them in we found out it was closed from 5-7pm. Ummm… hello how are the parents supposed to enjoy the show when the kids club is closed. Not really great scheduling NCL. But, we made it work. Ella and I went to the show on time and Mike showed up a little late after dropping off the boys.
At first I was nervous about the show bc the setting was so small and intimate. You sit at a table with other families and the seats are super close together. It was a little uncomfortable at first. But, I am happy to say that once the show got started we forgot about the setting and we had a great time. It was fantastic in fact… how they do the stunts they do in that tint tiny space may even be more spectacular and interesting than watching a show in the arena. I would definitely recommend it!! They had acrobats, skaters, jugglers, magicians, contortionists, slackliner… the only warning I would give was I thought it was a bit swanky and provocative for kids. The dinner though needs to be re-vamped especially for a boat that had such great restaurants. The dinner was gross- they started with a mozzarella salad, the main course was a peppercorn steak (I don't eat red meat much so I didn't even try it), broccoli, some thick cut fries and 3 shrimp that were way too chewy. The dessert was okay- it was a trio of chocolate brownie, red velvet cupcake and a caramel creme. Norwegian please fix this bc the show is SO good! But, you should not have to leave your dinner show to go and eat.
Latest posts by Mama Munchkin
(see all)