We knew the cruise was coming to an end… and so was our European Extravaganza so we were trying to soak up every last minute. Our last port was in Naples, Italy and we had planned to visit the island of Capri. I was so glad we did because Capri was the perfect place for us to do just that!!!
Our morning started early as we had purchased hydrofoil tickets through SCUV online and the boarding time was 8:05am. It was easy to get off the boat and find the port where the SCUV would depart… however no one spoke any English and the signage wasn't that great so, we were a little worried we could be hopping on the wrong hydrofoil. Lucky for us we chose the right one. When they finally opened the gates to board the passengers every one just pushed and shoved each other onto the boat. Which was weird because the boat was pretty large and had plenty of seating, air conditioning etc… once we were inside. I was actually pretty impressed with the set up- it looked like an airbus inside with reclining seats, 3 rows, 2 aisles, snack bar and bathrooms. There were two decks and we sat in the middle row on the first level.
It took about 45 minutes to get to Capri and you can't see much outside the hydrofoil windows (especially while seated in the middle) so we all took a nap. What a sight to wake up to though. Capri is GORGEOUS!!! It literally looks just like a postcard. I'm pretty sure my jaw dropped straight out of my mouth. I mean seriously…
We had booked a private boat tour through Capri Whales ahead of time and so we followed their directions off the pier and over to their bright yellow awning- hard to miss! Stefano and Wendy are amazing!!! Wendy took over her fathers business and now runs the tour company with her husband and two daughters. They are experienced, knowledgeable and proud of what they do and they should be because working with them is a breeze!
I had left all my cash in the safe on the boat so Stefano pointed us to a grocery store a few doors down that also had an cash machine. While getting cash we grabbed some waters and snacks to take on board to make sure the kids would have enough to eat. We didn't want anyone getting hangry… my growing boys HAVE to stay fed or we reap the consequences. We returned to Capri Whales with our snacks and cash and their staff walked us over to the boat where we boarded and met Nikko our guide and boat driver.
At first sight we were thoroughly impressed with Capri Whales boats and their staff were definitely top notch!! They were so professional and kind. Nikko helped us settle in to the boat and began driving off explaining the sights as we went. Stefano had recommended we head to the Blue Grotto before the crowds so we went there first. Wonderful tip because we were able to go right in rather than wait 45 minutes- 2 hours like other guests on the boat later told us about at dinner- YIKES!
The Blue Grotto is a funny operation and oh so Italian 😉  You have to board a smaller boat that will be rowed into the tiny cave on the side of the hill. You will tip this guy. Then you have to pay these big Italian men who are smoking cigars and sitting in a boat near the cave entrance for the ticket to allow you to enter the cave. The small row boat driver told us to tell the big Italian's that we were English vs American bc it would save us money- how funny right? So we did. I think it cost 13 euro per adult and 9 euro for the kids.
The Blue Grotto was a neat experience. Ducking while the row boat driver waits for the tide and then quickly grabs a chain pulling you into the grotto is fun and exciting. Once inside its nearly pitch black but the water glows a gorgeous aqua blue color. Ella said it reminded her of when Repunzel's hair glowed in "Tangled". You are rowed around in a circle with a bunch of other tiny row boats and drivers. The drivers took turns explaining to their tourists the history of the grotto.
*Did you know that in ancient times, the waters of the Blue Grotto were thought to have mystical powers that included healing and prolonging youth? Pretty cool right?
The drivers also sang Italian songs, helped you take pictures and then rowed you back out to your boat. The whole thing lasted maybe 15 minutes. It's one of those adventures you do once bc it is worth seeing but then you don't ever really need to do it again.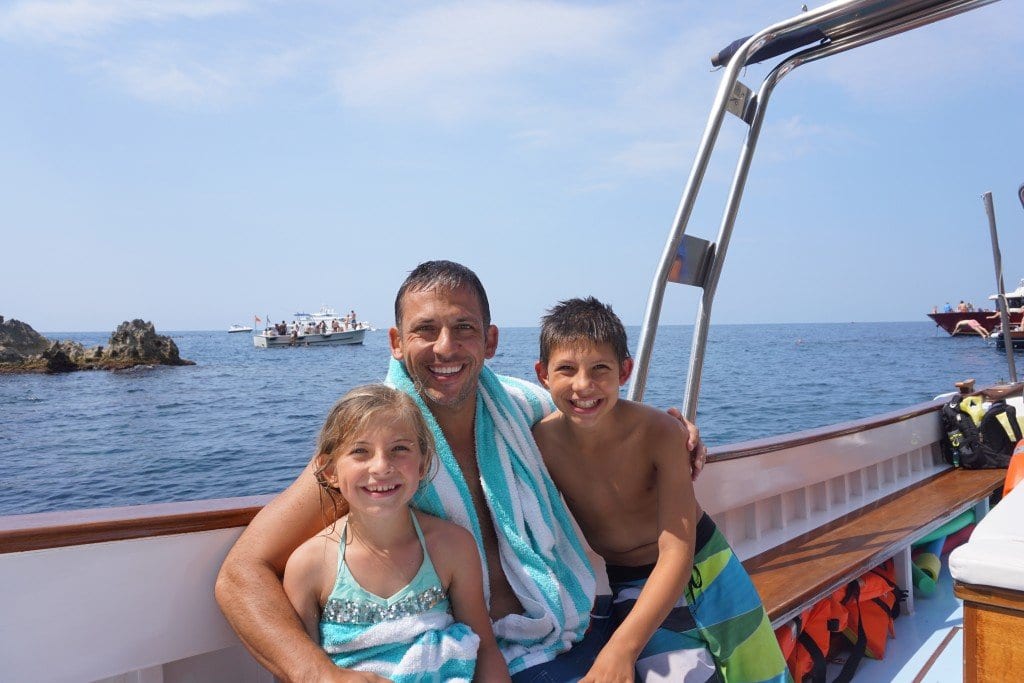 We continued around the island. Nikko always impressed us with all of his knowledge. He pointed out the different grottos, explained the resorts we passed by, the lighthouses and their history etc… He was also great with the kids, stopping and pointing out every thing and making sure to answer each of their questions thoroughly. He even let Shea drive the boat at one point which is a memory I know he will cherish forever. Nikko also stopped near the green grotto where the waters were calm and the sun was shining to let us hop off the boat and take a dip in the ocean.
It was one of those days that was just simply PERFECT! The sun on our skin, the breeze blowing through our hair, gorgeous sites and a beautiful boat. It could not have been better. Especially, on our way back to the pier when we saw all the tourists packed like sardines into tiny ugly boats. They looked hot and miserable! If only they knew how easy it was to book with Capri Whales. Now you know so, when you find yourself booking shore excursions look no further than Capri Whales here or if you don't believe me you can check them out on Tripadvisor here
After getting off the boat we went to chat with Wendy a bit. She is such a lovely soul. She gave us a map and some fantastic tips on what we could do with the rest of our time on the island. We followed her suggestions exactly. We took the buses up to Anacapri, ate lunch at an adorable Italian restaurant, took the bus back down to Capri where all the shops were. Walked around for a bit and then walked down the stairs back to the pier which was a gorgeous and easy walk actually.
We purchased tickets to take the hydrofoil back to the boat at the ticket office right next to the pier. The were very friendly unlike our experience with the Naples ticketing office. On the way back we all crashed, sleeping the entire way back to Naples. We sat on the top level this time which in retrospect was bad choice bc we all woke up hot and sweaty. So, be sure to choose the first level when you go 😉
NOTE:  WE WERE GUESTS OF CAPRI WHALES. WE RECEIVED A COMPLIMENTARY TOUR FOR OUR FAMILY IN EXCHANGE FOR MY EXPERIENCE AND HONEST THOUGHTS. ALL THOUGHTS & OPINIONS ARE COMPLETELY MY OWN.
Latest posts by Mama Munchkin
(see all)