Have you ever taken your kids to an experience and wished it was for you too? Well that was my husband at the Reggie Bush ProCamp in San Diego CA today. What a day!!!
My 3 boys (ages 9-12) attended the camp this morning and they walked away with an experience they will never forget. Especially when they were only expecting to see one pro athlete. To their surprise (and ours) Reggie Bush was not the only pro working with the kids today. In fact there were about 10 additional professional football players helping out including Golden Tate, Joique Bell and Stephen Cooper just to name a few. I mean talk about star struck.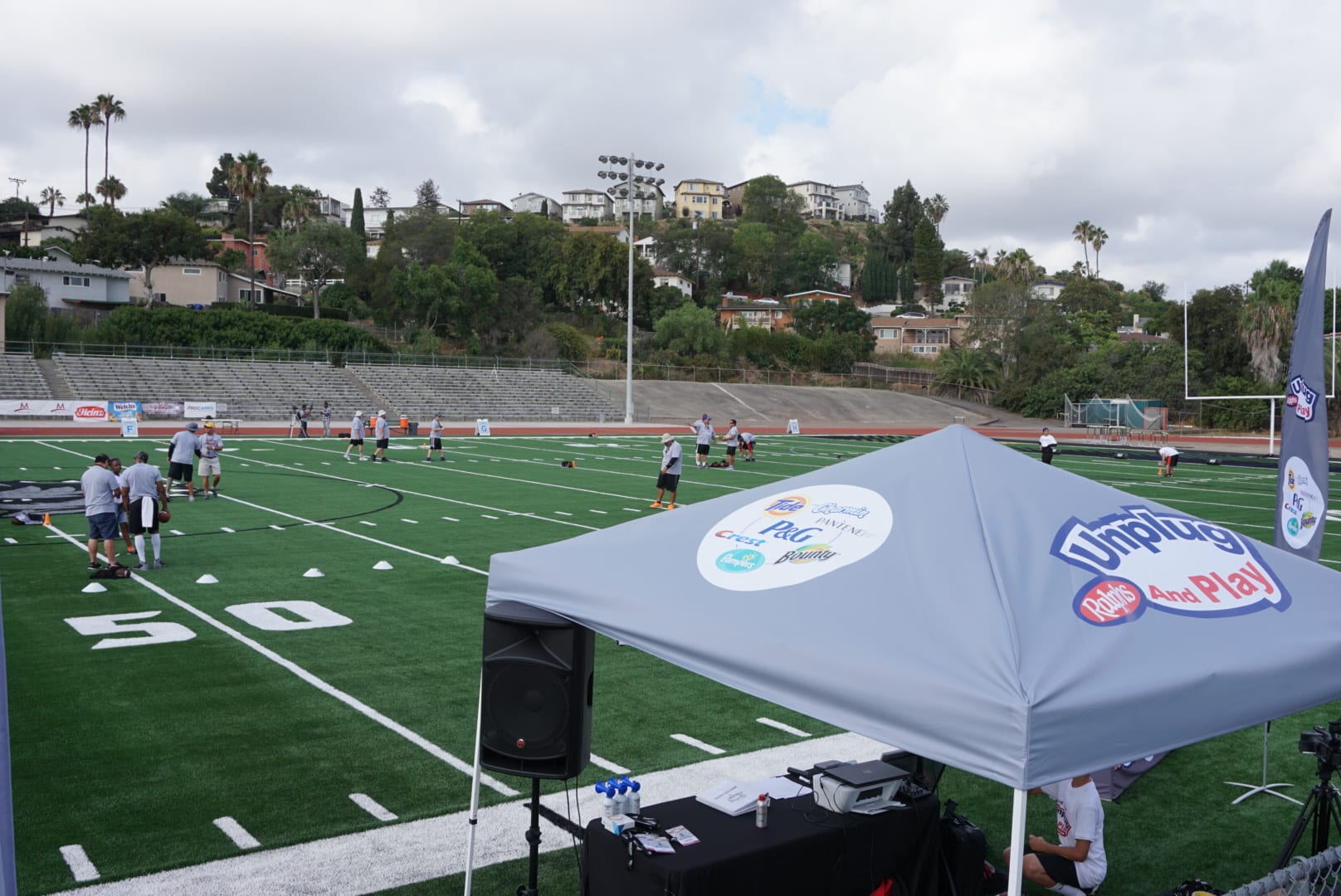 ProCamps did such an amazing job with the set up. It was so organized. When we first arrived we checked in (easy peasy), next they handed out complimentary shirts and fruit for the kids and then they split the kids up by age. It was pretty cute the younger kids (ages 6-8) were the Highlanders after Reggie's high school team, then there were the Trojans (ages 9-10) after Reggie's college team and last but not least the 49ers (11-16 years old) which is who Reggie plays for now.
The first activity was drills. The 49ers group had a more intense program to prepare them for what they would be doing in high school. They had them pushing weighted bags, working with medicine balls etc… My son thought he was pretty tough after that, he is only 12 and so running the same drills as the high school boys (they were sub divided into smaller groups by age for the 49ers) was quite the privilege. The Highlanders and the Trojans ran routes, worked on hand offs and passing skills during this time. The athletes and coaches were all great with the kids.
Then they split the kids into teams of 8 and played a couple games of two hand touch. The kids were all pumped up and really into it. It was so fun to watch them. They also took breaks for water and to rest in between and at those times they took the kids to take pictures with Reggie Bush that the kids will come home with tomorrow- Pretty Cool!
What absolutely made the kids day and what makes this camp so SPECTACULAR is that during the games of two hand touch the pro athletes actually joined in as quarterback and played WITH the kids. I am pretty sure the fact that my kids caught passes from Reggie Bush and Golden Tate will give them confidence on the field for years to come. Like my oldest son said, "It was the BEST DAY EVER!!!" I am also pretty positive that it took all my husbands strength and will power to not hop the fence and join in- ha!
After everything wrapped up music was cued, out came the pizza and a little good bye dance off. Lucky for these kids good bye just means see you tomorrow. Yes, that's right! This is a 2 day camp so the excitement continues tomorrow!!!
I am so grateful to these awesome athletes who donated their time today to put smiles on all of these kids faces. They have inspired them in ways they most likely won't ever know.
Like I can bet they don't have any idea the struggle my son Shea has with self confidence. Being adopted and having dealt with neglect and trauma in his early life has left him with haunting feelings of self doubt. The fact that his idol was out there playing with him and telling him that he was a good athlete is literally priceless. He deserves to know how great he is… and Reggie Bush and Golden Tate both gave him that today. SO THANK YOU REGGIE BUSH!!! THANK YOU GOLDEN TATE and THANK YOU to all of the generous sponsors- Tide, Ralph's and CitiPrivatePass for your affiliation as well. You've all earned me as a fan for life.
For information on how to sign your little athlete up for a ProCamp near you check out all the amazing camps at www.ProCamps.com They have programs all over the world for both boys and girls and tons of different sports whether your child loves baseball, tennis, soccer, basketball, cheerleading or more they've got you covered!!!
NOTE- PROCAMPS HOSTED MY FAMILY AT THIS CAMP IN EXCHANGE FOR MY HONEST THOUGHTS AND OPINIONS. ALL VIEWS & STATEMENTS ARE COMPLETELY MY OWN.