While Orlando, does not have the amazing Island lifestyle of Key west or the lovely Florida Beaches, we have long loved Orlando as a family vacation spot because there are just so many things to do. If there were one place in the world that was the embodiment of theme park entertainment, it would be Orlando. With that said, there is much more to Orlando than the churros and roller coaster rides. From kicking back with Mickey and his friends at one of the various theme parks to exploring the Everglades on your Southeastern safari, Orlando has a bit of something for everybody.
Things to Do in Orlando at the Theme Parks
1. Magic Kingdom
The Magic Kingdom is one of the 4 theme parks at the Walt Disney World Resort. It opened in the early 1970s as the very first Disney theme parks in Orlando. You can expect to see famous attractions reminiscent of those at the original Disneyland in Anaheim like; It's a Small World, Pirates of the Caribbean, and Splash Mountain. Of course, there are more than just rides. You will also experience dazzling firework shows, enchanting parades, and the whole Disney cast of characters. It is an excellent way to spend time with little ones and kids at heart alike. If you are only going to one Disney park during your Orlando visit and haven't been to Disneyland, this is definitely our #1 choice.
Pro Tip; before purchasing tickets to any of the Disney World parks, check out this guide!
If you need help planning and booking your magical Walt Disney World or Universal Orlando vacation, contact our friends at Tink's Magical Vacations. They are truly Disney Experts, and not only are their services FREE, but they will save you both time and money.
2. Go On A Safari At Disney's Animal Kingdom
I bet you didn't think you would be getting a taste of Africa on your trip to Orlando! Or Asia or Pandora for that matter. Animal Kingdom is one of the most beloved Disney World parks thanks to how different it is from the others.
Just for starters, the Kilimanjaro Safari gives guests a chance to explore the wildlife of the Harambe Reserve. This reserve is home to more than 34 living species and you will get to see them up close! Also, while you are at Animal Kingdom check out Pandora and fly a banshee.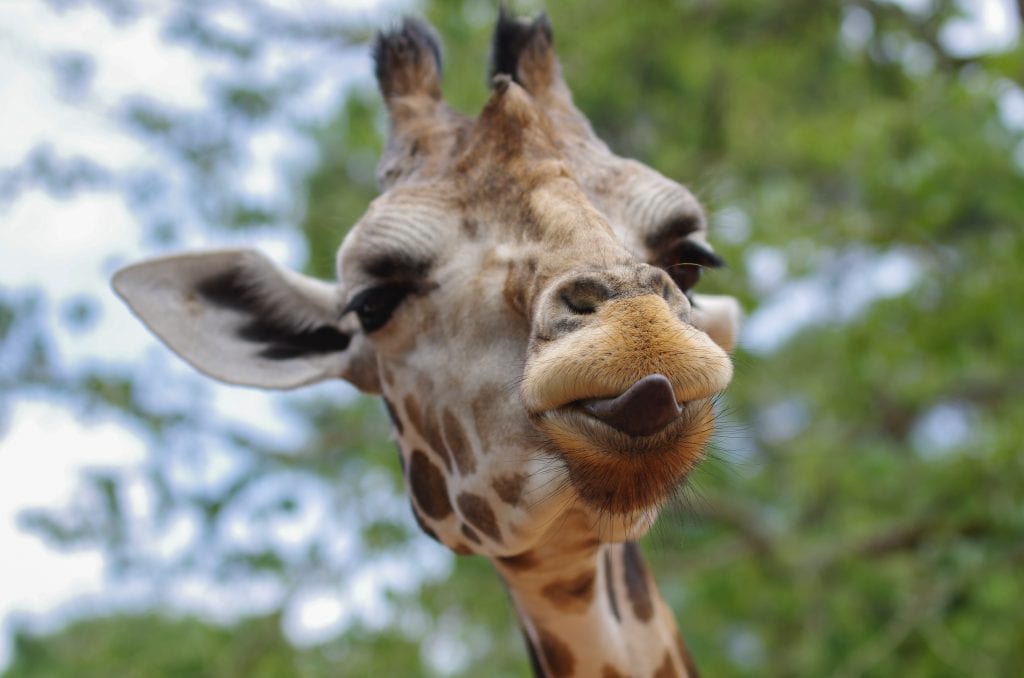 The 20-minute expedition takes you across the reserve with a guide in an open-air vehicle where you will get to learn about the wildlife and take in some truly gorgeous sights. As for the rest of the park, there are plenty of fun attractions and the whole time you will be surrounded by beautiful scenery. For the thrill seekers, be sure to reserve a FastPass for Expedition Everest!
3. Experience Star Wars At Hollywood Studios
Star Wars fans everywhere; it's time to get excited! In the summer of 2019, there is an entirely new land is coming to Disney's Hollywood Studios: Star Wars Galaxy's Edge. Here you can check out some stellar attractions, including "Millenium Falcon: Smugglers Run" and "Star Wars: Rise of the Resistance." Fully immerse yourself in the world of Star Wars, build your own lightsabers, and sample some of the Galaxy's finest foods. This new land is set to open August 29th. We'll be waiting!
In the meantime, there are still plenty of things for Star Wars fans to experience in the park. You can ride the ever-popular Star Tours- The Adventure Continues or you can watch the show, Star Wars: A Galaxy Far, Far Away. There are also chances to meet the characters, like BB-8 and Chewbacca. Last but not least, if you have a little Jedi with you be sure to send them off to Jedi Training: Trials of the Temple. Check out my best FastPass Tips for Hollywood Studios Here!
4. Eat And Drink Around the World At Epcot (my personal favorite Orlando thing!)
The truly magical World Showcase allows visitors to sample foods and drinks from all around the world. I promise, this is still a theme park and your kiddos will love it just as much as you do. There are lots of engaging activities and super fun rides like Test Track and Frozen Ever After. Our kids love trying the colorful and unique foods from each "country" and as for mom and dad, it is the best place to indulge in a few much-needed drinks during your vacation.
There are not many places that allow you to try food from China, Mexico, Norway, Germany, Japan, Italy, and more, all in one place. It's a must-see for the traveling foodies!
5. Universal Orlando from Whoville to Hogwarts
Universal Orlando is seriously fun. From movie-themed rides to superhero attractions and beyond. One of the newer additions to Universal Orlando is The Wizarding World of Harry Potter. Mega Harry Potter fans can come here to immerse themselves in the world of wizardry, taking an adventure on Hagrid's motorbike, watching the jaw-dropping Dark Arts spectacle of light, and enjoying a butterbeer at the end of the day.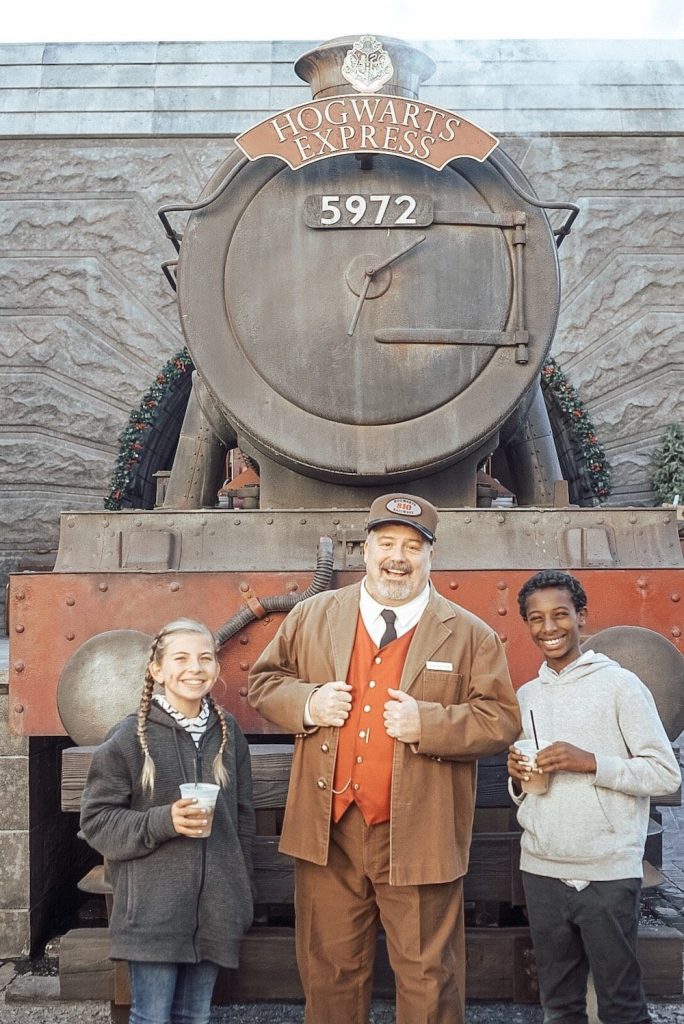 I must admit, I was not the biggest Harry Potter fan before visiting but they have done such an amazing job re-creating the wizarding world that my opinions flipped! Purchase your tickets here.
6. Seaworld
Seaworld has been one of Orlando's more prominent attractions for quite some time, even though it feels a bit outshined by Disney and Universal. Sea World offers a ton to do including several aquatic adventure rides, orca & dolphin shows, and up close and personal experiences with some of the coolest sea life in the world. You can purchase tickets here! Keep in mind, you can also check out Discovery Cove right next door when visiting!
7. Volcano Bay
Volcano Bay is a little slice of paradise smack dab in the middle of Orlando. Universal's new waterpark flows day to day with warm waters, exciting thrills, and the relaxing vibes of island life. And it's not just you're average waterpark, it is a water theme park.
This means they have got a water coaster, and I can say from experience it definitely takes the thrill up a notch. From enjoying the one-of-a-kind water slides to kicking back at your own personal cabana, Volcano Bay provides you with the feeling of a tropical vacation right in Orlando. It is like two vacations in one! Here are ticket prices.
8. Slide Down Some "Ski Slopes" At Blizzard Beach
Snow in Florida?! Who thought! Blizzard Beach is one of the two Disney water parks in Walt Disney World, the other being the Typhoon Lagoon. Blizzard Beach is packed with twelve different tundra-themed rides and a wide variety of restaurants and bars. This used to be an actual ski resort back in the day, but as Florida became a literal hotbed, the snow melted. The theme now lives strong through this unique waterpark. Their 12 stories high Summit Plummet water slide is one that should not be missed. It is one of the tallest and fastest freefall slides in the world! You can add on tickets to the Disney water parks with the ParkHopper plus option.
9. Stay And Play In A World of Legos at Legoland
For the nostalgic parents who grew up on Legos and for the kids who are still in their peak imaginative days, Legoland offers about a thousand different ways to explore and have fun. There are rides, an awesome wave pool, and tons of cool interactive spots to play with Legos. With over 50 different rides and attractions, as well as the biggest Lego displays in the world, Legoland is the perfect way to spend the day with the whole family. Here is ticket pricing!
Things to Do to Experience the Arts & Culture of Orlando
10. Catch a Concert or Game At The Amway Center
The Amway Center is the home of the famed Orlando Magic and an awesome place to catch a basketball game. Higher tier seats in the promenade section can be relatively cheap if you get them at the right time. The Magic are known to have a thrilling halftime show and there are over 9 places to grab a bite or drink. It is an experience the whole family will enjoy.
If you're not really a big basketball fan, you can keep an eye on their event calendar to see when cool acts are coming through town. On top of the Orlando Magic, you can watch the Orlando Predators play football or see a headlining star like Ariana Grande perform. Once you're done with the show, have a drink at the outside bar and take in the beautiful views of downtown.
11. Go Shopping At Disney Springs
Disney Springs is a great outdoor shopping and dining complex located on Bay Lake within the Walt Disney World Resort. You do not have to be visiting the parks or staying at a Disney resort to enjoy all that this downtown space has to offer. Here you can find a mixture of exciting shops and top-tier dining experiences. There are 63 dining options and I can't say I would complain about a single one of them. There's everything from simple quick options like Blaze to interactive experiences like the Rainforest Cafe. As for shopping, there are over 100 stores and you are sure to find something that piques your interest. The whole area is beautiful and just a very nice place to walk around.
They also have a variety of live entertainment, perfect for those who are ending a day packed full of experiencing Orlando and want to catch a show with dinner and drinks. You can find a movie theatre, concert stages, and even live entertainment like Irish dancing. Also, stay tuned for the opening of the NBA Experience which should be opening sometime late in 2019.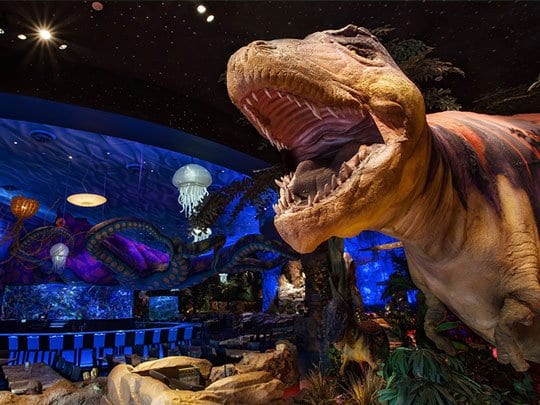 Just Orlando- Unique Things to Do
12. Swim With Dolphins At Discovery Cove
Discovery Cove lies just adjacent to SeaWorld Orlando and acts as a spectacular island oasis away from the hustle and bustle of the major theme parks. It is an all-inclusive day resort, including unlimited food and beverages and all the amenities you need. They provide lockers, towels, animal-friendly sunscreen, snorkeling gear, and even wetsuits. The main attraction of Discovery Cove is getting to swim with their bottlenose dolphins! It is a really intimate and special experience and the trainers do a great job and educating and preparing guests.
After your time with the dolphins, the rest of the day is yours to spend how you would like. There are two spots to snorkel; the Freshwater Oasis and the Grand Reef. You can get face to face with otters or swim among thousands of tropical fish. Another option is to visit some beautiful birds in the aviary or take a swim in Serenity Bay. You will find that there are some pretty cool upgrades available as well. These range from cabanas & day beds to swimming with sharks or feeding the large Southern Rays. Learn more and book your day here!

13. Blast Off at the Kennedy Space Center
I think somewhere deep down, every one of is kind of wants to be an astronaut. The Kennedy Space Center offers visitors a pretty awesome way to experience this. With a variety of special interactive exhibits including augmented reality and shuttle flights, there are tons of ways to get in touch with your inner spaceman. The complex is divided into mission zones, giving you an in-depth look at all that went into each of them. You will be able to reach both into the past and the future here. Hop onto the Kennedy Space Center Bus Tour to get a sneak peek behind the scenes.
The Simulated Shuttle Launch Experience is really one of a kind, and pretty crazy to experience! You might also want to check out the Space Shuttle Atlantis Exhibit for an in-depth look at how astronauts live when out of this world. You can book a tour with transportation here!
14. Take an Everglades Tour
If you thought the Kennedy Space Center was Florida specific, just wait until you look into booking a tour of the Everglades. This is the best way to get out the theme park scene and meet the real, down-home people of Orlando. In the Everglades, you can experience the beauties of the mangroves and get up close with alligators. From kayak tours to airboat rides, there are tons of different ways to explore. We recommend checking out Captain Jack's Boat Tours.
They have many different options to choose from, but I would stick with the airboat when traveling with kiddos unless you are extraordinarily brave. It puts you a little higher off the water than the kayak, and it is still so much fun. After your boat ride, you will have free admission to the Animal Sanctuary. Here you will see plenty more alligators and other Everglades animals. You can also go see the Alligator Show or get an Alligator Hug (I'll leave that one up to your imagination).
15. Take a Hot Air Balloon Ride (something romantic to do in Orlando!)
While Orlando may be a beautiful place from the ground, it's even more gorgeous from the air. Orlando Balloon Rides is one of the largest commercial hot air balloon operators in the world. From the air, you will get a birdseye view of Orlando's biggest attractions, but you will also see beautiful orange groves, forests, and the swampland of Central Florida. Whether you are celebrating a birthday, anniversary, or simply enjoying your vacation exploring the city from above is truly like nothing else. After your flight, you will enjoy some snacks and a champagne toast. I should mention these flights take place during sunrise, so you will be getting up early but it will be well worth the views. Check out booking options here!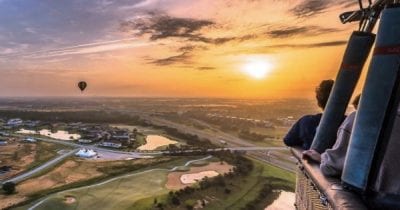 Sweet Things to Do in Orlando
16. Have an Over-The-Top-Dessert at Toothsome Chocolate Emporium
Toothsome is one of the many delicious eateries located on Universal's City Walk. While they do have some delicious steak and seafood dishes, as well as an all-day brunch menu, their list of gourmet chocolates and unique desserts are what people come back for.
From their Bacon Brittle Milkshake to their Steampunk dream, it's a sweet tooth's paradise. In fact, I might just forgo dinner and jump straight into the desserts but you do you!
17. Get A Coffin Full of Doughnuts at Voodoo Doughnuts
Voodoo Doughnuts offers up one of the best fried creations in all of Orlando, at least that's my opinion. One of their six locations in all of the world is at Universal Citywalk in Orlando, meaning you won't have many other opportunities to try one of these tasty and colorful pastries. Trust me, these are not your average doughnuts. They are both extravagant in looks and in taste. You will find their shelves filled with raised yeast donuts, cake donuts, and specialty donuts of all kinds. If you like peanut butter, you cannot miss out on the Old Dirty Bastard. Name aside, this doughnut is what dreams are made of. You can check out the full menu here!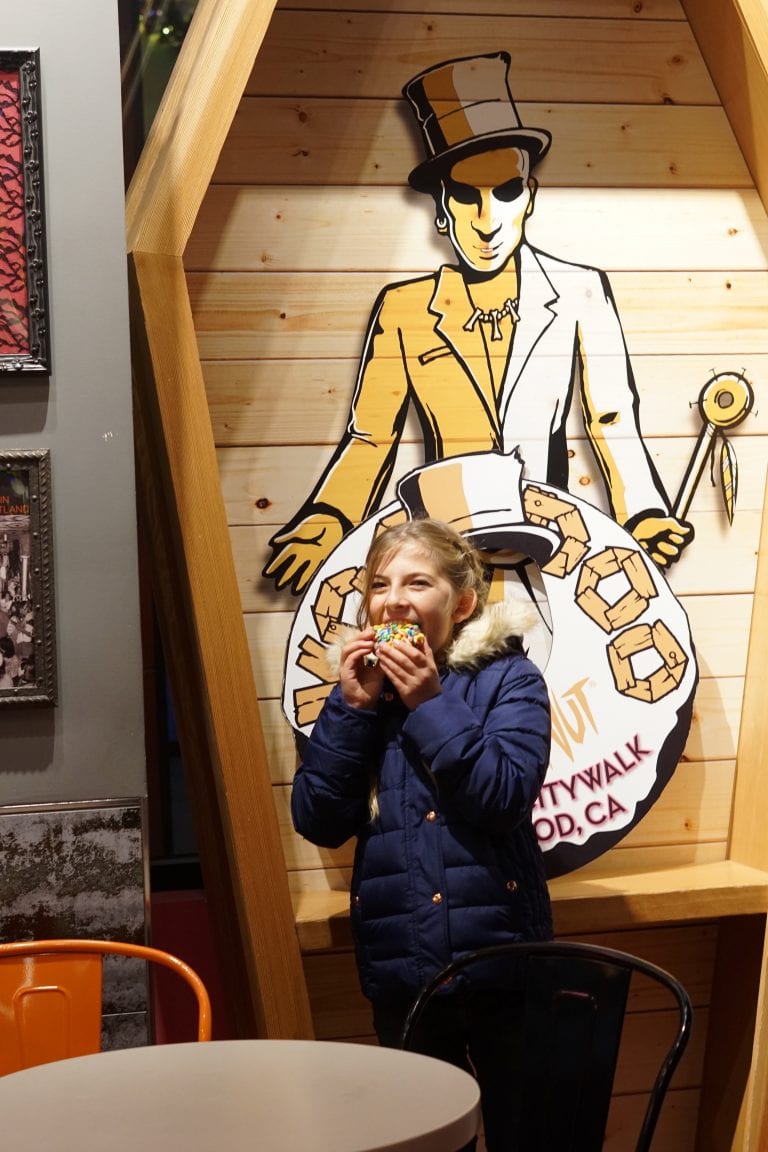 And yes, like we said this involves a coffin. You can purchase a 3-foot wooden coffin filled with three We Pick 'Em Voodoo Dozens. It is a fun way to celebrate a special occasion or just do something unique while on vacation. Plus, you can never have too many doughnuts!
Fun Family Things to Do in Orlando
18. Do Some Wakeboarding or Water Skiing At the Watersports Complex
The Watersports Complex is home to a wide variety of outdoor watersports activities including wakeboarding, water skiing, wakeskating, kneeboarding, and more! They also have an awesome Aquapark with obstacles to climb, slides, balance beams, and monkey bars. Everyone in your party will need to be over six and be able to swim to participate in this. All these activities make it one of the most unique waterparks in the country.
If you're not a watersports enthusiast already, they have tons of beginner lessons available that will get you on your feet and having fun in less than a day! There are some great teachers making it a wonderful place to learn something new. Find more information here!
19. Go "Driving" At TopGolf
If you haven't heard of TopGolf already, you're missing out on one of the most innovative things to happen to golf in the past century. With delicious food and drinks and a number of bowling-lane style driving lanes, you can bring the whole crew down to TopGolf for an afternoon of swinging clubs and drinking. While you can find a place to play a game of serious golf all over Florida, experiencing TopGolf is something way more family-friendly and unique. You can play a multitude of different games from high stake challenges to a quick nine. There are even beginner lessons for those who don't quite have their stroke down.
As for food, you have to try the Injectible Donuts which are donut holes that come with different sauces that you inject into them with a plastic syringe. Aside from the sweets, there are also plenty of delicious options for lunch and dinner as well as a full drink menu. They also serve a delicious Sunday brunch filled with the classics like chicken and waffles and Bloody Mary's.
Learn more or book your spot here!
20. Hang Out At Icon Park And Ride The Wheel
The Wheel at ICON Park is one of the highest on the east coast, towering at 400 feet tall. These mini air-conditioned observation wheel pods allow you the opportunity to check out the gorgeous Florida skyline with 360-degree views. It may look like your average Ferris Wheel but the structure gives you unobstructed views classifying this as an observation wheel.
All the pods are stabilized as well, so you won't be swinging around which is nice for those who are not too fond of heights. If you're with a loved one and you're feeling romantic, make it a priority to rent one of these pods out! You can find more information here!
21. Gatorland
I remember my brother begging my parents to visit Gatorland on one of our trips to Orlando when I was little. He loved anything creepy crawly from spiders to alligators, and I, on the other hand, would have preferred to stay far away from all this. My parents ended up giving in though and to my surprise, this place was actually pretty cool! I still stand by this statement today as I think it is such a unique experience and so very Florida.
These people are true alligator experts and they lead Florida in alligator safety and education, which I love because this is something that benefits the animals in the long run. They have got every sort of alligator from babies to nearly 15 feet long monsters. If there is a serious gator fan in your group, look into the Meet-a-Gator experience. This is, hopefully, the closest you will ever get to one of these cool creatures. They also have a flight aviary, petting zoo, zip line, and off-roading adventure. You can purchase tickets here.
Summing Up All the Things To Do in Orlando
We hope our list has inspired you to take a vacation to the beautiful city of Orlando. There is so much to see here that it would take months to invest time into it all. Take our list into consideration when narrowing down your itinerary. Have some fun in the sun for us! Looking for more Florida Adventures – Check out 365 Atlanta Family's 29 Best Small Towns In Florida That The Locals Want Kept Secret & Check out Amazing Orlando Hotels from our friends at Trekaroo
Map of Fun Things to do in Orlando
Frequently Asked Questions about Orlando
What are the best things to do at the Orlando Theme Parks?
Book a Safari at Disney's Animal Kingdom
Experience Star Wars Galaxy Edge at Disney Hollywood Studios
Eat and drink your way around the world at Epcot
Universal Orlando to visit Whoville or Hogwarts
Stay and play in a world of LEGOS at Legoland
Visit all the sea animals at SeaWorld
What can we do besides theme parks in Orlando?
Visit Disney Springs
Check Out Universal CityWalk
Go for a Stroll in Lake Eola Park
Birdwatch at Shingle Creek Regional Park
Browse Art Galleries at CityArts
See Vintage Cars in Old Town in Kissimmee
Go for a Hike in the Tibet-Butler Nature Preserve
Head to the Beach