Have you ever dreamed of becoming a marine biologist or dolphin trainer? Then you need to put Sea Life Park Hawaii at the TOP of your bucket list. Rarely, does an experience make me as giddy and excited as the time my daughter and I got to swim with dolphins. Oahu has so many incredible experiences but swimming with dolphins at the SeaLife Hawaii Park Hawaii in Oahu, was one of my absolute favorites. All thanks to my friends at Viator!
Amazing Oahu Experience – Swim with Dolphins – Oahu!
Sea Life Hawaii – Gorgeous Picturesque Location
Sea Life Park Hawaii is located in the most beautiful locale on the east shore of Oahu. As you arrive and step out of your vehicle you will be greeted by the most stunning aqua blue ocean waves crashing to your right. You'll look left and stare up at the majestic emerald mountains. You will most likely pinch yourself at this point because it's just too dreamy. But, then you'll take a deep breathe of that crisp Hawaiian air and realize you are not dreaming– you are just in paradise!
At least that is what my daughter and I did as we arrived for our fun filled day at Sea Life Park Hawaii.
Educational
The main purpose of our visit was to have an amazing interactive experience with dolphins. However, I was most pleasantly surprised by all the knowledge my daughter would gain walking through Sea Life Park Hawaii's many exhibits.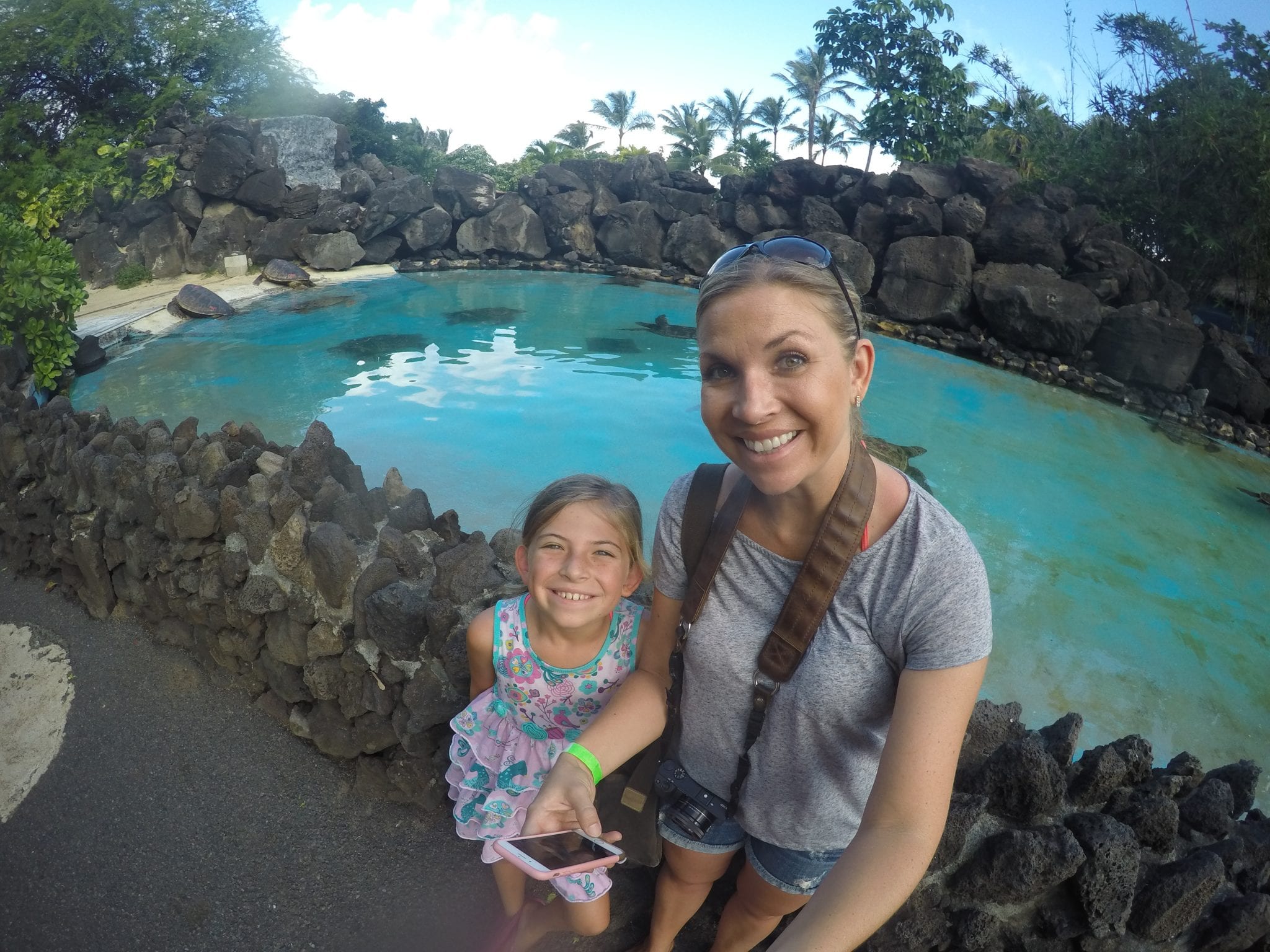 Sea Life Park Hawaii has a handful of habitat areas including: a 300,000 gallon shark aquarium, green sea turtle lagoon, Hawaiian monk seal habitat, Sea Bird Sanctuary, aloha touch pools, penguin habitat and a Hawaiian ray lagoon.
Around every corner was a staff member eager to help educate the two of us about the marine life that was so close to their heart. One of my favorite moments was watching my daughter walk around the touch pools with a staff member who explained the importance of the ocean ecosystem. My daughter was so engaged as the staff member helped her find starfish, urchins, and even a baby sea turtle within the tide pools that she could touch.
Another moment worth mentioned was meeting a volunteer stationed at the Hawaiian monk seal habitat. This devoted woman spent about 20 minutes educating us on one of the most endangered marine mammals in the world (>1,150 seals remaining). My daughter walked away vowing to be an ambassador of our ocean and all of its inhabitants. Not bad for an 8 year old!
Swim with Dolphins in Oahu – The Dolphin Swim Adventure
Swim with Dolphins in Oahu has always been on my bucket list. Then the moment came… it was finally time for us to check in for our Dolphin Swim Adventure. My daughter and I were thrilled as we met with the trainers to change, grab our included life vest and snorkel, then head to the private pool. As we walked the trainer talked a little bit about her life as a dolphin trainer. She had been with Sea Life for over 15 years- you could feel her passion for these amazing creatures flowing through her words as she spoke.
We were lucky as there were only 3 of us total at the swim making the entire experience very intimate. The pool was in the back of the park and not seen by the spectators. It felt like our own little private island.
*Tip- Family members are allowed to come along to take pictures. No cameras (including go pros) are allowed in the pool. Although, photos are available for purchase after your swim via the Sea Life Park Hawaii's photography team.
The trainers educated us on the daily life of the dolphins at Sea Life Park Hawaii. We learned about the dolphin's diet, how they are trained, their breeding program and how they keep track of the dolphins' health. We also learned how dolphins use echolocation or biosonar which fascinated Ella. One of the dolphins was quite old and his sight wasn't great anymore. The trainers enlightened us on how he uses biosonar to figure out where he is and where we were in the water. Pretty cool!
The entire time we were learning we were also interacting with the dolphins. We were able to pet them, find their tickle spot, feed them and we were even able to act like trainers ourselves after learning some of the hand signals. Of course, they saved the best for last as we wrapped up our education portion and got to enjoy our belly ride with the dolphins. It was absolutely incredible swimming across the pool being pulled by such a gorgeous and intelligent animal. The day ended in the best way possible, with a kiss from our new dolphin friend.
Walking away I felt incredibly lucky to be able to witness up close the personal bond between the trainers and their dolphins. It was something magical and a moment not soon to be forgotten.
*BONUS Reason to visit Sea Life Aquarium- Care of the Marine Animals
With all the varying views on aquariums in the media right now I thought I would weigh in with a few thoughts.
There are aquariums (like Sea Life Park Hawaii) who have amazing care practices for their animals.
Scientists and marine biologists would not be able to gain as much in depth knowledge of these animals without having access to them at facilities like Sea Life Park Hawaii.
Many aquariums also fund nonprofit organizations that have incredible missions and are saving thousands of animals each year.
From the Sea Life Park Hawaii website-
"For more than 50 years, Sea Life Park and its affiliated research facility, the Oceanic Institute, has made it their utmost priority to provide an unparalleled level of care and a safe home for all our animals that represent the birds, mammals, turtles and fish that live in and near the ocean, including species native to Hawai'i.
As a member of the Alliance of Marine Mammal Parks and Aquariums, we place the care and well being of our marine mammals above all else. Our animals receive constant attention and affection, as well as the best food, shelter, and veterinary care possible. This includes keeping on-site professionals and world-class experts on retainer to the Park – people with the knowledge to provide for our animals' every need.
None of our dolphins on display at Sea Life Park have been acquired through drive hunts. The majority of our dolphins were born at the Park through a responsible breeding program.
Our green sea turtle breeding program plays a key role in educating the public about the challenges that endangered green sea turtles face in the wild. We are also the only location on O'ahu to provide rescue and rehabilitation services for native Hawaiian seabirds, including the endangered shearwaters. Our Hawaiian monk seals are governed by a permit under the Endangered Species Act and the Marine Mammal Protection Act.
The Park fulfills a noble mission: to educate residents and locals alike about Hawaii's marine environment, while encouraging conservation awareness and action."
You Might Also Enjoy –
Things to Do in Oahu- 3 Reasons Gunstock Ranch is a MUST
The Best Things To Do In Oahu with kids [25 amazing activities]
Pin for later- Swim with Dolphins Oahu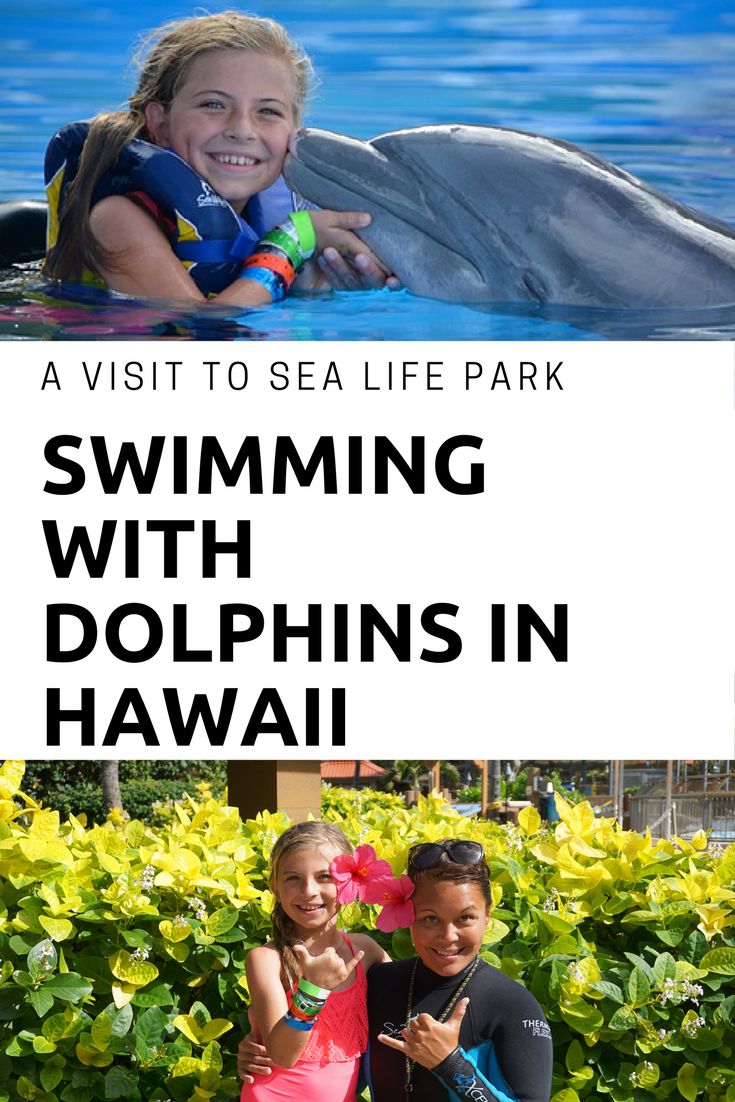 Is swimming with dolphins on your bucket list?
For more information on booking a Dolphin Swim Adventure
*A special thanks to Sea Life Park Hawaii for providing a discounted rate for the Global Munchkins and thanks to Viator for helping to arrange our visit. As always, my opinion is 100% my own!