Hawaii is one of the munchkins favorite destinations and rightfully so, as there are SO many things to do in Oahu alone. Speaking of which, you should definitely check out our best things to do in Oahu with kids below. We made sure to include something for each member of your family.
If you are planning on island-hopping you won't want to miss our Ultimate Guide to Maui with Kids or if you head to Kauai see why Koloa Zip Line is our best pick!
---
Our list of Best Things to do in Oahu with Kids!
Hawaii really is a magical place and it's one of those vacations we can go on again and again without ever being sick of. When we got married in Maui, we agreed we would have tried to get our kids back to the islands at least once a year.
We've been pretty faithful to that goal and now have so many family memories of the islands from lazy pool days to thrilling adventures.
Over the last few years, we have really fallen in love with Oahu because of our stays in Disney's Aulani and all this island has to offer.
There's something for everyone in our family from our youngest to our oldest! Check out some of our favorite things to do in Oahu with kids below.
---
1) Waimea Valley
We love Waimea Valley for several reasons:
The path is paved so strollers are welcome
There is a waterfall at the end complete with complimentary life vests and lifeguards and
It is absolutely GORGEOUS!!! You can read more about it on Yelp here.
Note there is an entry fee for this hike. Below are some pictures of us at Waimea this past November.
---
2) Shaved Ice at Matsumoto's (it's a MUST)
If you head to North Shore you need to stop by Matsumoto's Shaved Ice it's seriously the BEST shaved ice on the island plus you can walk or drive to North Shore to watch the incredible surfers.
There are also cute little shops to walk around and a great coffee shop next door too. Make sure you add Matsumoto's Shaved Ice to your list of things to do in Oahu with kids!
---
3) North Shore
North shore is a wonderful part of the island to visit. As long as the weather permits you should be able to hang out and watch some amazing surfers doing what they do best.
My boys could sit and watch those surfers for hours. Just make sure to grab some Matsumoto Shaved Ice before you hit the beach. View on Yelp here.
---
4) Food Trucks by North Shore
Great food… try the infamous Giovanni's Shrimp Truck. Read what others say about Giovanni's here on Yelp. But, be warned there are wild chickens running around and a fair amount of flies
---
5) Manoa Falls
Hiking is definitely an activity that we happily add to the list of things to do in Oahu with kids! The Manoa Falls hike is a little more work and not for those with super little munchkins as the path is muddy, slippery and not fit for strollers.
But, if you are a more adventurous family this is a fun (super muddy and messy) gorgeous hike. I would recommend old sneakers and a change of clothes and shoes for when you are done. See more on Yelp here.
What do you need for a hike in Hawaii?
If you are looking to go on a hike while you are on vacation, you are going to want to get a great pair of hiking shoes! Check out some of our favorite hiking shoes below.
Hiking Shoes for Mom
Adidas Outdoor Terrex Solo Approach Shoe- This pair is super comfy and lightweight. The bottoms are made just like a climbing shoe, so they are slip resistant. You can purchase them here!
---
Women's Katahdin Hiking Shoes- L.L. Bean makes quality hiking gear, plus these shoes are cute enough to wear all day long if you'd like. Take a look!
Hiking Shoes for Dad
Northface Val Mid Waterproof Hiking Shoe- These shoes are totally worth the investment if you do a lot of hiking. They are a breathable mesh and waterproof. Purchase here!
---
Men's Katahdin Hiking Shoes- Ain't nothing wrong with some matching shoes for mom and dad! Really, this shoe is just so great and you both deserve a pair. Check them out here!
---
Hiking Shoes for the Kiddos
Adidas Outdoor Kids' Terrex AX2r- This shoe will be easy to get on your little one and allow them to run wild with all the support and comfort they need! Here is current pricing.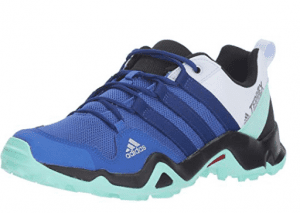 Hawkwell Kids Outdoor Hiking Shoe- This kids hiking shoe is breathable and offers great ankle support. It also has a protective toe cap that clumsy kids will definitely be thankful for! Purchase here!
---
6) KA WA'A Luau at Aulani Resort
Yes, we are fans of Aulani so some may say that we are partial, but hear me out. I have many travel writing friends who don't have little kids, do not stay at Aulani when they travel to Oahu and they still say that this luau is the BEST luau in Oahu! The food is INCREDIBLE, they have a Keiki (kid) sized buffet with foods the munchkins will love and the entertainment is top-notch. Read our full review and see more pics of KA WA'A here.
---
7) Gunstock Ranch
I am a huge horse-lover and thankfully so are my kids so I try and find a ranch pretty much everywhere we go. This ranch is amazing for families. Besides the trail rides, they also have pony rides and the sweetest animals for the youngsters to check out. Our fav was the donkey. You can read our Day 10- Trailride with Gunstock Ranch in Oahu full review of Gunstock Ranch here.
---
8) Sea Life Park Hawaii
Ella has asked to swim with dolphins for a long time and she finally had her chance a few years back at Sea Life Park in Hawaii. It was a bit of a drive from Aulani (clear on the other side of the island) but it was worth it. The trainer's relationships with their dolphins were amazing and I was impressed with all the programs they have there.
The guides around the park were incredibly knowledgeable and patient with all of Ella's questions. Check out more about our experience here. This was definitely one of my favorite things to do in Oahu with kids, what am I saying, without the kids I would have had a blast too! Capture your experience with a great waterproof camera or our personal favorite, a GoPro!
---
9) Dole Pineapple Plantation
This one is a love/ hate thing. It is fun to go here once I think. The kids get a kick out of seeing how pineapples grow, riding the train, eating the soft serve Pineapple treat etc… However, it is a complete tourist trap with ridiculous prices, pushy salespeople, and cheap trinkets.
But, if you know it going in at least you will know what you are walking into. And, as long as you get the pineapple dole whip, life will be good!
---
10) Diamond Head Hike
There are plenty of places to go on a hike around Oahu, but Diamond Head is definitely one of the most well known and the views from the top are gorgeous.
It is totally doable for the whole family and a great bonding experience. Many people love to do this as a sunrise hike because you get to see the whole island light up.
---
Our List of Favorite Beaches in Oahu
Oahu is home to some of the most beautiful beaches in the world. When you are searching for the best beaches to go to during your vacation and/or visit to Oahu you might be overwhelmed with how many there are!
We went ahead and broke it down for you with our list below to add to our list of things to do in Oahu with kids!
Best Family Beaches
When you are looking for things to do in Oahu with kids you have to hit up the beaches. I mean it is pretty much a given. Here are our favorite spots to take the kiddos and play in the sand.
Kailua Beach Park- This once hidden spot on the island is gaining popularity, and if you visit you'll see why. It's a two and a half mile long stretch of powdery sand and turquoise blue waters. It's a great place to build a sandcastle! These pails and shovels are easy to travel with. Kailua has lots of picnic benches and BBQs making it perfect for a family day. There are bathroom facilities and showers, as well.
Lanikai Beach- When I think of paradise, it sure looks a lot like Lanikai Beach with its crystal clear waters that are teeming with sea creatures from reef fish to sea turtles. Keep in mind this is a pretty secluded beach, with no restaurants or bathrooms so come prepared. Parking is sketchy and you need to exercise caution crossing the street. If you're with teens kayak out to the little islands offshore here for some extra fun.
Sunset Beach- While the strong tides here in the winter mean we keep our kiddos out of the water, it's one of the most jaw-dropping gorgeous beaches to take a walk down or toss a football or cuddle up to watch the sunset together. When the big waves roll in, it's a great place to watch some of the most experienced surfers do their thing. Grab a beach blanket and watch the action!
Bellows Beach (open to the public on weekends)- The first part of this beach is open to the public and it one of the more picturesque spots on the island with lots of shade and beautiful white sand to relax on. If you travel a little farther down the road, you'll find the entrance to Bellows Air Force base, which is accessible with valid ID. Once inside there's a cool castle playground and cabins available for rent. There's also pool tables, disc golf, volleyball, tennis courts, snack, and drinks. There really is a great community feel.

Babies and Toddlers
Duke Kahanamoku Lagoon- With lots to do from paddle boarding to taking a ride on a water bike to snorkeling this beautiful calm beach is fun for the whole family, but it's especially great for families with little ones. The lagoon is calm and shallow leaving you with minimal worries compared to some other spots with strong tides. There's also bathrooms and shower poles, which any mama knows is a beach necessity for a baby or toddler.
Honolulu Zoo- The zoo has beautiful grounds to walk around with little ones. There's all your normal zoo finds like zebras and giraffes, but they've also got a lot of native Hawaiian species that are super cool to check out.
Waikiki Aquarium- If your kiddo isn't ready to snorkel and explore the Hawaiian waters yet, the aquarium is a good place for them to get to see sea creatures of all kinds.
Rent a Cabana- Some of our best memories are poolside with our kids at resorts and having a cabana just makes it easier. It gives everyone a spot to take a break from the sun and possibly even catch a little nap, which is such a nice option if you're traveling with babies.
Older Kids and Teens
Pupukea Tide Pools near Shark Cove- Make sure to bring a pair of sturdy shoes so you can walk around and explore these tidepools all afternoon. It's teeming with life and there are so many interesting things to find. Just be careful not to go on a day with large Northern surf, as this peaceful little cove can be completely flooded then and dangerous to walk through. Chacos or water shoes are great to have in Hawaii if you plan on visiting any tide pools!
Dolphin Quest at Kahala Hotel & Resort- Because what kid doesn't dream of swimming with dolphins? The guides here are great and you're sure to have a fun time with them. This place treats the animals so well and does not take any of their dolphins from the ocean, so you can take comfort in knowing you're supporting an ethical company.
Atlantis Submarines- This is definitely one of the unique experiences you can get in Oahu. While it might be a little scary to take a submarine ride, it is well worth it. You get to see so many reefs, a sunken boat and plane, and of course lots of sea life. Some people say they've even spotted whales and dolphins.
Kualoa Ranch- This is the one must do stop for the adventurous at heart. It's where Jurassic Park was filmed, so you can go on behind the scenes tours or you could just zip line over it! There's also ATV tours, horseback rides, and a secret island beach. Check out their website to set up your perfect day here.
Polynesian Cultural Centre- You might think there's no way your older kids could be interested in a cultural center, but so many actually really love this place. There's plenty of dancing and singing performances to see. Keep in mind, it's run by BYU and supporting the tuition of many of their students.
Sunset Suzy Surf lessons- Suzy and her dog Coco love teaching kids and first-time surfers and are well known for getting everyone up on their board by the end of a lesson. The beach the lessons are on is pretty quiet making it a great place to learn, and there's often sea turtle spottings!
Holokai Kayak and Snorkel Adventures- While there's plenty of beach spots around the island to snorkel on your own, it's worth it to take one of these trips as well. It's nice to have a guide show you the best spots to look, and Holokai guides definitely know their way around the island.
Trolley Ride through Honolulu- If it is your first time visiting, this bus ride can actually be a super fun way to get to explore and know the island. There are different tour options and they can all be checked out here. Depending on how old your teens are, you can even get them the unlimited pass and send them off on their own as it gives them the chance to hop on and off as many times as they want. This way they can see the historic landmarks, shopping areas, and new beaches themselves.
Ala' Moana Mall- A Gorgeous mall with everything from the high-end boutique shops, name brands and little mom and pop shops. You can walk the mall and several blocks around it. Don't forget to stop by the Hawaiian Cookie Store for some free samples 😉 My only complaint is that they recently shut down our favorite open-air International Market right there next to the mall. Heartbreaking really. So many memories of my own childhood there (sniff!) See more on Ala Moana here
---
Our List of Favorite Places to Eat in Oahu
Oahu is home to a diverse culinary scene, offering a wide range of dining options to suit different tastes and budgets. We went ahead and listed some of our favorites below!
Best Eats
Poke at Pa'ina Cafe- No more needs to be said that this is known to be the very first poke spot on the island. The trend has spread far and wide, but you really can't ever beat the original.
Shaved Ice at Matsumoto- Nothing tastes better than shaved iced after long sunny days spent by the ocean. It's an Oahu tradition, so while Matsumoto is one of the most popular there are tons of other little shops worth giving a try.
Pizza at JJ Dolan's- You might be thinking to stop at an Irish pub on your Hawaiian vacation is a little strange, but trust us when we say this pizza is worth it. Its hand-tossed always piping hot and made with fresh local ingredients.
Wonuts at TR Fire Grill- Waffle donuts are pretty much a breakfast dream, so make sure to stop into this Hilton Garden Inn restaurant to give them a try.
Acai Bowls from Da Cove Health Bar & Cafe- A yummy acai bowl is the perfect fuel for an adventure fueled day. Da Cove's bowls are delicious and piled high with fresh fruit. Plus, they are right by Diamond Head State Park.
Lappert's Ice Cream- Whether you're in the mood for ice cream or coffee, this little shop is a great place to stop in. The coffee is locally grown in Hawaii and roasted to perfection. For dessert, there's a bunch of unique ice cream, sorbet, and gelato flavors. Our honest recommendation is just to go back every day and try a new one.
---
Why You Should Go
You probably do not need much convincing here to visit the beautiful island of Oahu, but there is plenty to offer for the whole family. If you have people that are interested in outdoor activities there are plenty of beautiful hikes such as Diamond Head or take an easy bike ride along the coast.
If you have foodies in your group, Oahu has plenty of fresh and delicious food options and our personal favorite, Lappert's Ice Cream! If you prefer to relax on the beach, there are plenty to choose from to spend the day building sand castles, enjoy snorkeling and taking in the gorgeous Hawaii sunsets!
What are you waiting for? Now that you have read our list of things to do in Oahu with kids, you are all ready to plan your next trip!
---
Are you planning a trip to Oahu? What do you do with your family when you visit Oahu? Comment below!
---
Map of Things to do in Oahu with Kids
---
Frequently Asked Questions about Things To Do in Oahu with Kids
What can you do for free in Oahu?
Waikiki Beach
Pearl Harbor National Memorial. Pearl Harbor National Memorial
Visit The Pearl Harbor Aviation Museum
Lanikai Beach
Oahu Diving & Snorkeling 
Koko Crater Trail
Kailua Beach 
Makapu'u Point Lighthouse Trail 
National Memorial Cemetery of the Pacific
What to do with kids in Oahu?
Dolphin Quest
Kualoa Ranch
Pupukea Tide Pools
Trolley Ride through Honolulu
Pearl Harbor Aviation Museum
Matsumoto Shave Ice
Attend a Hawaiian Luau
Sunset Suzy Surf Lessons
Hanauma Bay State Park
Bishop Museum
Children's Discovery Center
Polynesian Cultural Center
Botanical Garden
Aulani A Disney Resort
What are the best hikes to do in Oahu?
Diamond Head Hike
Koko Crater Trail
Lanikai Pillbox Hike
Makapu'u Lighthouse Trail
Waimano Falls Trail
Pu'u Piei Trail
---
Pin for Later- The Best Things To Do in Oahu with Kids
---
If you enjoyed reading about our favorite things to do in Oahu with kids, you might also enjoy:
AMAZING THINGS TO DO IN NORTH SHORE OAHU! MY FAVORITE PART OF OAHU!
AMAZING THINGS TO DO IN OAHU- 3 REASONS GUNSTOCK RANCH IS A MUST