Whether you are visiting Sedona for business or pleasure, the place you choose to lay your head at night can make or break your trip. Rather than another generic hotel or overpriced resort, opt for one of these memorable Airbnb Sedona homes.
Bringing the pups along? No problem! There are even pet-friendly homes that they'll love as much as you do. With accommodations for one, two, ten, or twenty, you'll find the perfect Sedona stay with one of these Airbnbs.
Airbnb Sedona- 10 Amazing Places to Stay in Sedona, AZ
From the putting green to the swimming pool, everything you need for the ultimate Sedona vacation is located right at this resort-style Airbnb! This home truly has all of the amenities of a large resort, tucked comfortably into a 4-bedroom house.
You'll be able to relax in the private, heated saltwater pool, spa, and on the putting green. Enjoy meals cooked on the BBQ grill and dine beneath the stars at the fire table. Need a break from the heat? Make the most of the game room, complete with arcade and pool table!
Conveniently located just south of central Sedona, this getaway is a truly wonderful place to stay. Reviewers enjoyed the deck furniture and pool area, the amazing views, the spacious home, and the responsive host.
Find more information here.
Looking for resort-style rentals in Sedona with an awesome pool, unbeatable views, and the sunny Arizona skies overhead? Well, how about upgrading the pool to a saltwater pool, offering direct views of Bell Rock, Court House, and Cathedral Rock, and adding beautiful decks and outdoor spaces? The Big Hit Vortex home has all of this and more.
The perfect retreat, this Feng-Shui inspired home has awe-inspiring views from sunrise to sunset, and well into the night as the Milky Way is visible thanks to the dark desert setting. With proximity to hiking trails as well as restaurants and shops, this Airbnb is like a little slice of heaven in Sedona.
The Big Hit Vortex home has an incredible solid 5/5 star rating, and reviewers didn't have a single negative thing to say! They highly recommended this home, mentioning that the host Matthew was highly responsive and accommodating. Additionally, the location, cleanliness, amenities, and "immaculate" views were also favorites.
One former guest noted that she "loved sitting outside and just listening to the birds. At night, the stars are simply amazing! You won't be disappointed to stay here one bit!". See photos of the views and read reviews here.
Compared to other Sedona-area homes, the Windmere House boasts scenery and accommodations that are simply unparalleled. Regardless of your reason for visiting Sedona, you'll be glad you did if you choose to stay at this Airbnb. Up to 10 guests can stay in this 4-bedroom home and enjoy the amazing heated saltwater swimming pool, spa, outdoor fireplace, and incredible views of Sedona's Cathedral Rock.
The Windmere House is located in a private neighborhood adjacent to the Chapel of the Cross, which is secluded enough to be peaceful and quiet but also just a couple of miles from restaurants and attractions.
There are rave reviews about the hosts' communication, the cleanliness of the house, the amenities, the hosts' attention to detail, the location, and the incredible pool and spa!
See the views and reviews here!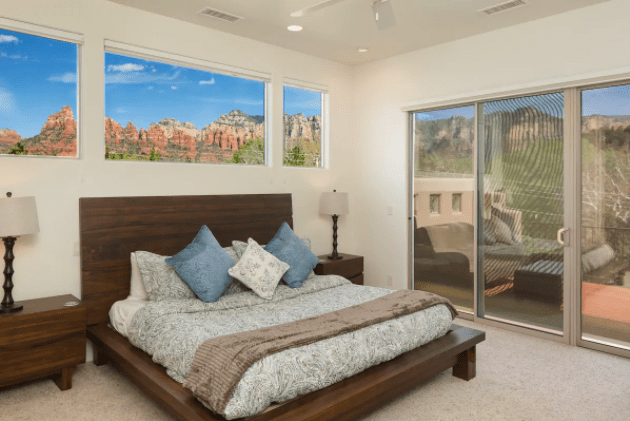 High-end living meets outdoor relaxation at this private retreat. If the incredible views aren't enough to draw you in, the outdoor living space, soaker tubs, and proximity to creeks and trails will certainly help make your decision! This Airbnb is a secluded getaway perfect for groups of six or fewer. You can enjoy sunny skies while grilling on the patio, and watch the sunset fade as you stargaze through the night.
The location is perfect too, right outside of Central Sedona. It's close enough to reach attractions and restaurants in minutes but secluded enough to be private and quiet.
The 4.97/5 star rating can't be wrong: this Airbnb is something special. Former guests said that "the pictures don't do it justice", and particularly loved the views, and the cleanliness of the space. Multiple reviews said they would highly recommend this Airbnb!
Check the features and availability of this Airbnb here.
Sedona is famous for its breathtaking red rock formations, and you would be hard-pressed to find a more amazing view of those formations than from the pool at this luxurious villa. The home has accommodations for up to eight guests and is located in the Village of Oak Creek, near restaurants, spas, and golf courses. There are plenty of nature trails nearby as well, and you will be able to enjoy a respite far from the hustle and bustle of Sedona proper.
Former guests referred to this Airbnb as a "gem" and were especially impressed with the views and the quiet, secluded location. A few reviews mentioned that the pool was their favorite part of the entire property!
Learn more about this property here.
Is it time for another family reunion already? Maybe you want to go on a trip with extended friends and family. You will think you've checked into a private resort when you walk into this 4-bedroom home with stunning vistas. From the private pool and spa to the spacious outdoor patios, this home is the home for entertaining.
Located just southwest of central Sedona, you'll be minutes from the cities' attractions, and close to nature. Whether you love a good cookout on the grill or relaxing in the hot tub is more your style, you'll be glad you picked this comfortable, classy home.
This is a new Airbnb, with no reviews yet! Will you be the first to give it five stars?
Explore the possibilities here.
Up to 12 guests can stay comfortably in this beautiful Airbnb. This unique home is actually two homes in one, with two homes with two bedrooms each plus a King suite! While there are separate homes and entrances, you will all be sleeping under one roof! You have to see it to believe it.
Conveniently located minutes from Historic Old Town, you will be steps from restaurants and wine tastings. At the end of the day, you'll be able to return to your Airbnb where a private garden with outdoor dining areas awaits.
Reviews mentioned remarkable hosts, excellent communication, and a beautiful, spotlessly clean home stocked with everything you might need.
See pictures and pricing here.
If tranquility and relaxation are at the top of your list, you need to check out this Airbnb. Located right on a creek adjacent to stunning red rock formations, peace and quiet are in endless supply. This getaway is tucked in a private location on an island(!), with floor to ceiling windows overlooking the scenery.
Yet you don't have to trek out of town to find this peaceful place: it's conveniently located in Uptown Sedona! Surrounded by trails and nature, this little gem is the perfect place for a family vacation. Bring up to seven others, plus up to two dogs, and unwind at this exclusive retreat.
Reviewers were amazed by the beautiful location, the nearby trails, and the lack of any through traffic that sets this Airbnb apart.
See pictures and find location information here.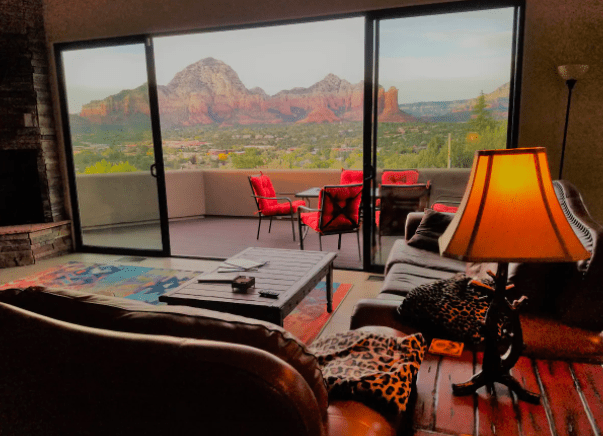 This top-rated Airbnb accommodates six guests, not counting furry friends! The beautiful home boasts spectacular views of red rock formations out of almost every window and is centrally located in West Sedona near restaurants and shops.
If you plan to do more hiking than shopping, you'll appreciate the many walking trails located just yards from this three-bedroom house. You'll definitely appreciate unwinding in the hot tub after a long day in the desert sun.
Previous guests raved about the cleanliness, breathtaking views, and convenient location.
Check out photos and reviews here.
Looking for a private Airbnb oasis? You've found it. Bordering a National Forest at the end edge of a large property, this Airbnb is surrounded by a stunning vista offering jaw dropping views. This home is surrounded by nature and the open, airy interior is perfectly suited to its surroundings.
The property is located in uptown Sedona within walking distance to shopping, dining, and more. But between the outdoor patios and decks, the BBQ grill and game room, the Smart TVs and the beautiful fireplace, why would you even want to leave?! The home can accommodate up to seven guests, and it's pet friendly! Just one glimpse of the view from one of the many outdoor patio spaces, and you'll know this is the Airbnb for you.
Find out more here.
Sedona is beautiful and unique. Plus, it the perfect place to get away from it all and spend some time together as a family. These vacation rental make time spent together as a family easy with their awesome backyards, game rooms, and proximity to all that Sedona has to offer. So, what are you waiting for?
What's your dream Sedona Airbnb? Let us know in the comments!
You May Also Like:
Planning an Arizona Road Trip? 7 Incredible Places to Check Out!
Summer Bucket List for Teens; 55 Things Every Teen Must Do!
Airbnbs in Scottsdale, AZ [10 Relaxing Retreats for the Family!]