Sedona, Arizona is one of the most gorgeous little hidden gems in the American Southwest. If you're planning a road trip with your family, it is a must-stop location. Many people think of fine dining, art galleries, and luxury spas whenever they hear the name Sedona. To some extent, all of that is true, though there are plenty of kid-friendly activities to take advantage of when visiting, too! Here are our top 10 things to do in Sedona with the kids.
Keep in mind, Sedona is also a great stopping point if you are headed to the Grand Canyon and is a great stop if you are taking an Arizona Road Trip.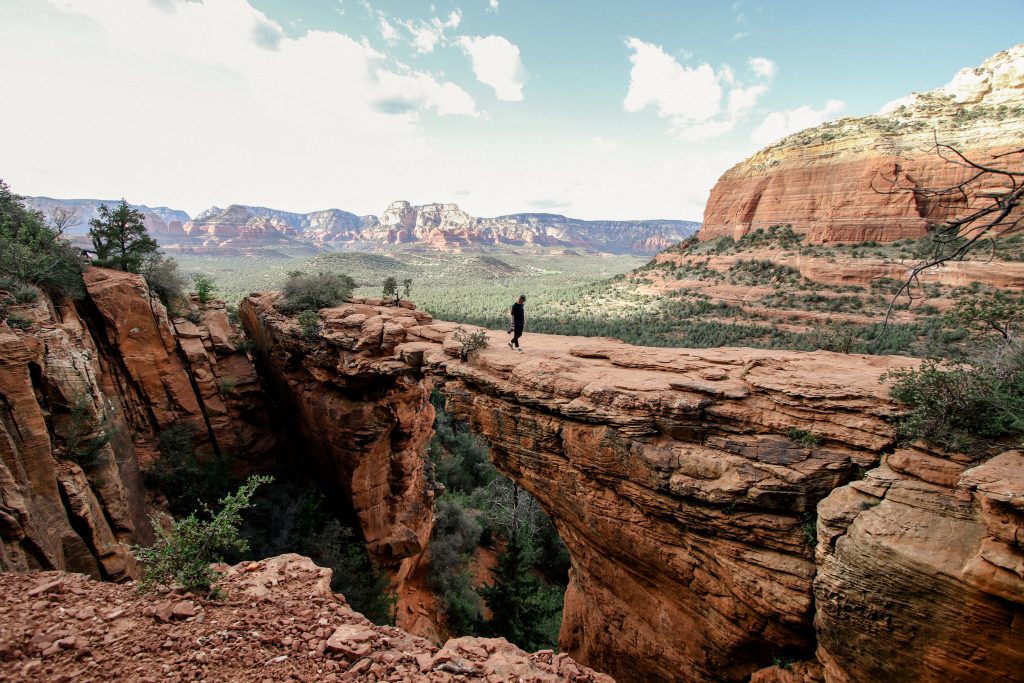 The Most Popular Things To Do in Sedona with Kids
Don't let the color of the jeep fool you, these rides are absolutely wild and a total blast! They will drive you through some of the most beautiful nature Sedona has to offer. Plus, along with the thrills of off-roading, they will provide you with some important history about the area.
Soldier's Pass is an incredible hiking trail in the Sedona area that is perfect for kids. It is about four miles long and relatively flat, making it ideal for families that aren't big hikers, to begin with. Here you'll find a variety of picturesque landmarks, including Devil's Kitchen, a huge, active sinkhole, the Sacred Pool, natural pools that are somehow always filled with water, and of course, the secret cave!
If you and your kids want a true western experience, we highly recommend living the life of a cowboy for a day at M Diamond Ranch. It's a quaint little spot where you and your kids can get together to experience a cowboy cookout and horseback riding. If M Diamond Ranch isn't in the books, you can also head over to Blazin M Ranch, which features the optional chuckwagon dinner and a ton of other activities in their frontier town.
The Sedona Trolley Tour is one of the coolest and most informative ways to get around Sedona and a great activity to do with the kids. There is a scenic tour for those who want to stretch their time a bit, as well as a 55-minute city tour. While kids aren't usually as impressed with scenic tours as adults, being on a trolley makes it that much more exciting. Plus the rides are only $15 per person, which is great for families on a budget.
View this post on Instagram
Last comes our favorite activity of all! Slide Rock State Park has a massive natural water slide that is built into the canyon. Here you'll find tons of little red rock banks to sit and picnic after you spend the day gliding through the little canyon.
There are also a few little secluded swimming areas for those who are looking to avoid the crowds. There are tons of people here during peak season, so make sure to get there early to get a good spot!
Unique Things To Do in Sedona with the Kids
Grasshopper Point is one of the most beautiful swimming holes in all of Sedona. People come here to bask in the desert sun while enjoying the surrounding red cliffs and clear, refreshing water. It is truly the perfect place to spend time on a hot summer day.
Here you can find a variety of different ledges for jumping, great for those who are feeling a bit more adventurous. Make sure to bring lunch too, as it is also a wonderful spot to picnic!
Red Rock Crossing sits adjacent to one of the most stunning rocks in all of Arizona, Cathedral Rock. It is a wonderful spot in Sedona for families to visit, especially those with young kids, as there are plenty of shallow swimming areas and a variety of different "beaches". The water is fairly warm compared to Grasshopper Point. Plus, any photography lover will have a great time shooting Crescent Moon Ranch, which is right next door.
Who would've ever thought you'd find a place to go fishing in the desert? The Rainbow Trout Farm costs only a dollar to visit and you and your kids get poles and bait to go fishing. You then pay the length of whatever fish you catch to keep it. Your kids will love being able to catch their own fish before you head over to the picnic area next door to grill it up and enjoy some time in the sun.
Many people talk about the fact that Walt Disney had a vacation home in Sedona. Rumor has it that Sedona was actually the main inspiration for Thunder Mountain and the vortex trees were the inspiration for the trees seen in Snow White and Fantasia. Drive down Disney Lane to take in the same magic that Walt Disney did many years ago. Plus, it provides wonderful views of Red Rock National Park.
If you're not a fan of catching fish, you and your kids can go enjoy them at the Page Spring Fish Hatchery. It is about 10 miles from the Sedona town center and there are a few local ponds and lakes that are stocked with gorgeous fish. Your little ones will love being able to throw little pellets in the pond for the fish to eat. It quickly becomes a mad frenzy when there is food involved!
One of the best places that we could recommend you to stay in Sedona is Amara Resort and Spa. There are tons of great amenities and accommodations for both kids and adults, The kids can go off an swim in the heated infinity pool while you lounge on the cushions out on the lawn. There are also complimentary bikes for the guests to use, which can make getting around town a bit more exciting.
Map of Things to Do in Sedona
Why You Should Go
Sedona is a magical and inspiring place set right in the heart of the American Southwest. Beyond the posh spas and shopping centers, it is full of family-friendly activities for exploring and adventuring. We hope that our little list has inspired you to get out there and enjoy the beauty of the high desert.
If you have any questions, feel free to leave them in the comments or reach out to me through Instagram!
You May Also Like:
Plan the Spring Break of Your Family's Dreams + Get an AMAZING DEAL
Explore Culture and the Arts in Tempe Arizona
20 Incredible Spring Break Ideas for Families in 2020 [Luxury & Affordable]
Frequently Asked Questions About Sedona
Where can I hike with kids in Sedona?
West Fork Trail
Baldwin Trail
Bell Rock Trail
Devil's Bridge Trail
Fay Canyon Trail
Sedona View Trail
Cathedral Rock Trail
Huckaby Trail
What are the best places to eat with kids in Sedona?
Outlaw Grille
Dahl & Di Luca Ristorante Italiano
Blazin' M Ranch
Black Cow Cafe
The Hudson
89Agave Cantina
Indian Gardens Cafe and Market
What can I do in Sedona for free?
Red Rock Scenic Byway
The Hatchery
Swim at Red Rock Crossing
Cliff Jumping at Grasshopper Point
Slide down Slide Rock
The Vortexes
Chapel of the Holy Cross
Tlaquepaque Arts & Crafts Village 
Hiking
Amitabha Stupa and Peace Park
Oak Creek Canyon
Sunsets
Latest posts by Michael Mamian
(see all)