Wondering when the best time to cruise Alaska is? Look no further I have the answer you need plus I have 4 shore excursions that will knock your socks off! I am not even kidding!! My adventure in Alaska was life-changing!! Between the raw beauty of the state, the abundance of wildlife, and the amazing adventures we were able to experience I can say with confidence that you are about to embark on one of the best trips of your life!!!
The Best Time to Cruise Alaska + the BEST Shore Excursions
Cruising to Alaska is one of those bucket list items but I have to say I don't think people should wait so long to do it. As a travel writer, I have experienced some pretty extraordinary landscapes, cultures, and people but nothing quite prepared me for the untapped awesomeness Mother Nature had in store for me in Alaska. Not to mention the amazing historical & cultural elements too!
When is the Best Time to Cruise Alaska?
The tricky thing about Alaska is the climate and it can make a big difference in the type of experience you will be able to have while you cruise. When you choose to cruise Alaska not only are you most likely trading in warmer summer weather at home for cold and rainy weather. You also have to set your expectations appropriately because with the finicky weather comes cancellations of float planes and helicopter tours too. Plus, while one ship may have boundless animal encounters the next week may see barely any. However, even with that caveat, a trip to the 49th state is one of the best choices you can make and I can promise you it will NOT disappoint.
Alaska's Cruise Season
So, now that we have that out of the way let's talk about when the best time to cruise Alaska actually is. The Alaska cruise season generally runs from April to September with the busiest season falling during the summer months of June-August. Here is the thing though, the high season has more to do with people generally traveling more during that time and doesn't always guarantee better weather.
While June, July, and August are Alaska's warmest months reaching highs in the 70's it can also be pretty rainy too. You may choose to deal with the rain though if you are hoping to see wildlife because the last few months of summer are typically your best bet for that. And, those are also the best months if you are planning to do some fishing while you are there.
I tend to enjoy cruising during lower seasons to save money on the cruise and my flights plus it usually means I the crowds are fewer. Plus, September is usually your best shot at getting to see the Northern Lights! The risk here is that the weather can be even more unpredictable and so flight & boat tours have an even greater chance of being canceled. September is also known for the choppiest seas so it isn't recommended for passengers who are prone to seas sickness.
Our Pick for the Best Time to Cruise Alaska
So when is the best time to cruise Alaska? My vote would be for May because it is one of the driest sailing seasons, the water is much smoother, and you don't have to deal with the massive crowds.
The BEST Alaskan Shore Excursions
Now that you have all the facts in order to choose when the best time to cruise Alaska is based on your own personal goals its time to talk about the very best things to do while you are there. On my recent Alaskan Cruise, my itinerary had ports in Juneau, Glacier Bay, Sitka, Ketchikan, and Victoria BC and I researched like crazy and chatted with all of my travel writing friends to uncover the very BEST shore excursions in each port. I am happy to report I think my hard work paid off because we had the time of our lives. BONUS- we also saved a ton of cash because we booked all of these shore excursions independently. I have a whole post explaining why we choose to do that here in case you are interested.
My Favorite Juneau Alaska Shore Excursion
We first stepped foot in Alaska in the port of Juneau and it was overwhelming just how many activities were available to us. Popular choices included taking a sky tram to check out the gorgeous view, salmon fishing, visiting the Mendenhall Glacier, and trying some freshly caught salmon at a local Salmon Bake.
We chose to book a tour that combined several activities we really wanted to check out. So, we chose to book the Mendenhall Glacier + Salmon Bake through Travel Juneau. I love working with local tourism offices because they are a wealth of knowledge and a fantastic resource when it comes to pairing visitors with the right tours and itineraries. I worked closely with Kara who took excellent care of my friend Harmony and I.
Our actual tour was through Alaska Travel Adventures (aka ATA) and they were amazing. Their staff was well-informed and enthusiastic. Their tour group sizes were small and our bus driver had so many fun & unique stories to tell about the area. I actually learned a ton about Juneau's history and had a ball doing it!
Our tour began right at the docks where we loaded up onto a bus and headed out to Mendenhall Glacier. The glacier itself is absolutely breathtaking and the pieces that have fallen off and are floating right in front of it are unreal. The visitors center also offered some unique looks at how the area has been changing rapidly over the past few decades.
There were multiple trails to walk around at the Glacier and some folks reported spotting bear. We had no such luck but definitely saw some salmon making their way upstream.
After the glacier, our bus took us over to the Salmon Bake. I had no idea what to expect when we arrived so let me explain it to you. The Salmon Bake is a super fun tourist spot similar to a BBQ cookout on a ranch. It is set up outdoors and there are massive grills cooking up the freshest salmon you will probably ever eat. Along with that is a buffet set up of all sorts of sides, additional meats (I believe there were chicken and a roast), and the most amazing blueberry coffee cake I have ever tasted.
I think what made the Salmon Bake so special though was the entertainment. There was a fantastic musician playing his guitar and singing away. He was charismatic and lured the whole crowd (including my friend and me) to join in. It was a blast!!
There are buses out front waiting to take visitors back to the docks which I thought was great because my friend and I wanted to check out the town. So, after we finished eating we headed back. We stopped by the Red Dog Saloon which was a good call- great beer, good music, and interesting decor. Plus, it had peanut shells or hay all over the ground which seemed pretty cool too- ha!
After that we shopped around a bit, the stores right there at the ports are fantastic and we bought way more souvenirs than we should have. Then, although we had already eaten dinner, we spotted Tracy's Crab Shack. Now Gayle King has mentioned that this crab shack is the BEST crab shack ever so we knew we had to at least split a plate. Turns out our timing was perfect bc fellow cruisers mentioned waiting in long lines when they hit up Tracy's Crab Shack earlier in the day. We were able to walk right in and be served and WOW what a treat! The crab was super yummy and the garlic butter rolls melted in my mouth! I highly recommend saving some room in your stomach so that you can enjoy their tasty crab when you visit.
For more information on this tour and other shore excursions available in Juneau visit www. TravelJuneau.com you can also contact them Toll-Free: (888) 586-2201.
Glacier Bay
I believe some ships actually allow passengers to disembark in Glacier Bay, I cruised with Holland America Line and we were not one of those ships. However, our cruise ship pulled in right up near the Glacier and parked there for several hours allowing all of the passengers plenty of time to enjoy the magnificent glacier up close and personal. In fact, we even witnessed a pretty large chunk of the glacier calving which was amazing and tragic to witness all at once.
This is Our Top Choice for Sitka
Oh my goodness, Sitka, this was seriously one of the most amazing ports I have ever visited because the experiences I had there were absolutely INCREDIBLE!!!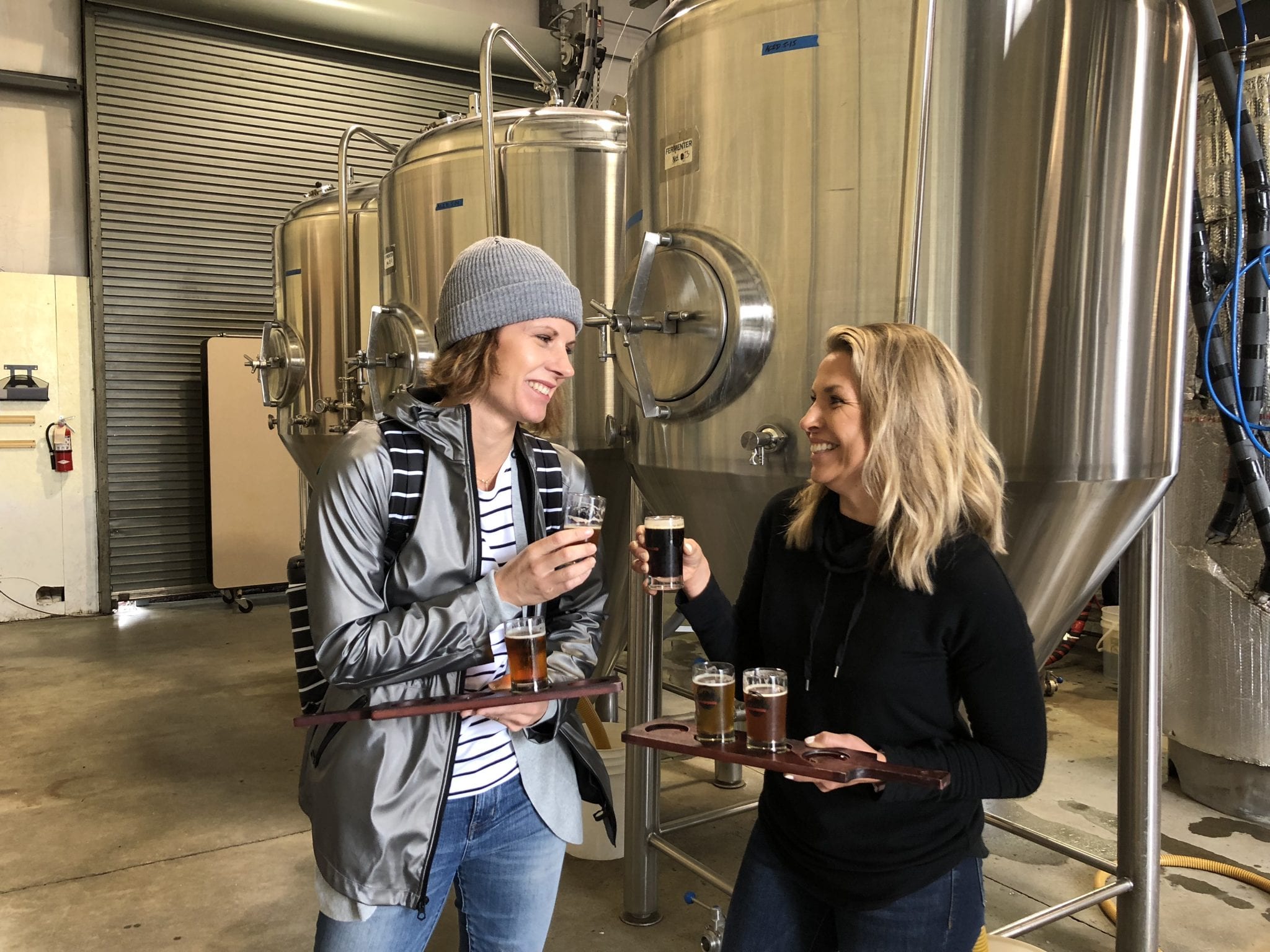 We worked with Baranof Tours which I cannot say enough amazing things about. From the email correspondence before, during, and after our excursion, to the amazing once in a lifetime experiences they supplied throughout the entire tour (a full day on land and sea), their combined local expertise, and the fact they this family-owned operation goes above & beyond for their guests its just like nothing else I've experienced.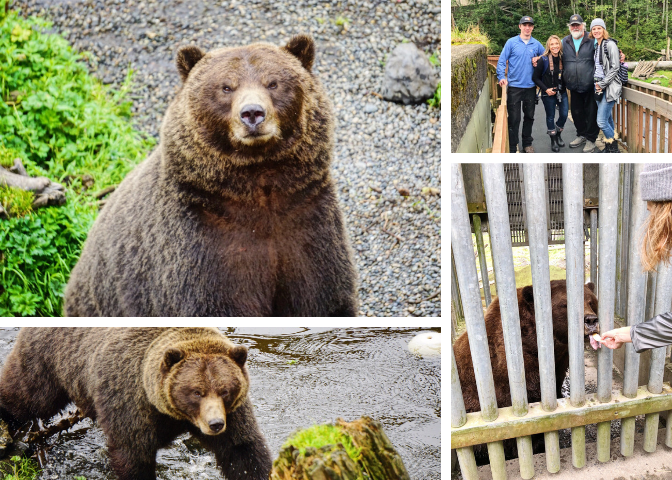 I literally hand fed a 900 lb bear and was sneezed on by a humpback whale all in one day! It's too much, I don't even know what to write, except book a tour with them- like NOW!!!!
To book a tour with Baranof Tours (which you TOTALLY should) visit their website www.BaranofTours.com or call them at (907) 738-9135.
The Best Shore Excursion in Ketchikan
Another over the top experience was driving a Zodiac Boat with Ketchikan Outdoors. This is another incredible family-owned operation and this is another one you are not going to want to miss. Don't believe me check out their 5-star reviews on TripAdvisor there are over 1,018 of them!
Now if you are like my friend Harmony and I hoping into a tiny boat that you drive by yourself on the great big ocean may sound daunting. Do it anyways!! It was one of the most liberating experiences of our life. Harmony was super nervous but check out this Facebook video and see how she felt after just a few minutes behind the wheel.
See LIBERATING!!!
Not only did we have a blast driving around in the Zodiac Boats but we also witnessed soaring eagles (actually watched them snatch a fish out of the water), visited eagle nests, came across whales (a little further away than in Sitka thankfully), and tons of adorable seals.
We were also fortunate enough to go out with the owner of Ketchikan Outdoors. His knowledge of the history of Ketchikan and the native culture was impressive but what really impressed me was his passion & dedication for sharing his town with tourists like myself. I can't imagine a trip to Alaska without an excursion with Ketchikan Outdoors.
To book your adventure visit them online at www.KetchikanOutdoors.com or call them at (907) 617-1820.
Top Tips for Visiting Victoria BC
With only a few hours given to us in Victoria BC, we chose to go to the city alone and explore the sights, shops, and restaurants on our own. Thankfully, Victoria is a super easy port to explore as you disembark by simply walking off the ship and onto the dock. From the dock, the center of town is a brief 15-20 minute walk. Just grab a free map from the people selling the bus tickets. You can also alternatively catch a pedicab, taxi, bus etc… as they are all waiting there as you disembark but I think you would be missing out because the walk is quite lovely.
Victoria BC was full of beautiful flowers and initially, I was hoping we would have the chance to make it to the Butchart Gardens but since it was pretty late and we were missing most of the light I decided that would have to wait for a future visit.
Lucky for me I happen to come across 10 Acres Kitchen which was a farm to table restaurant + bar which the most amazing aesthetic, incredible service, most delicious food, and super unique cocktails. I didn't want to leave. I highly recommend you check it out!
Let me wrap this all up. There is no best time to cruise Alaska but May has a lot of pros on its side. And, if you are cruising to Alaska you need to check out my recommendations for shore excursions because I did the research and these ones are AMAZING- you can thank me later!!
Have thoughts on what the best time to cruise Alaska is or which excursions folks should check out while they are there??
Leave your thoughts in the comments below and help other future travelers.
You may also be interested in these awesome posts about Alaskan Cruises-
Or for more awesome Alaskan Shore Excursions check out We3Travel's post here.
*Disclosure- some of the above experiences were offered to us gratis in exchange for our honest reviews.
Latest posts by Mama Munchkin
(see all)