Christmas is probably the favorite time of year in the Global Munchkins household. My husband goes all out on decorating our house, and we have some sort of fun event to do every weekend. This leads me to Orange County Christmas Events, while in Temecula we have some fun Christmas events, it does not compare to all the Christmas events in Orange County. We find ourselves in the O.C. a minimum of three times a year to experience this magical time of year. Whether you have children of your own or want to bring out the nostalgia for yourself, there are several fun Christmas activities to do in Orange County, California during the holidays.
10 Spectacular Orange County Christmas Events!
The Best of the Theme Park Christmas Events in Orange County
Disneyland
We love Disneyland (I'm sure you can tell by the numerous articles and Instagram posts), there is nothing like seeing it in its holiday-glory. Disney knows how to do the holidays right. There are dozens of Christmas-themed activities at Disneyland during the winter season as part of the Disney Festival of Holidays. You may need to make more than one trip to see them all!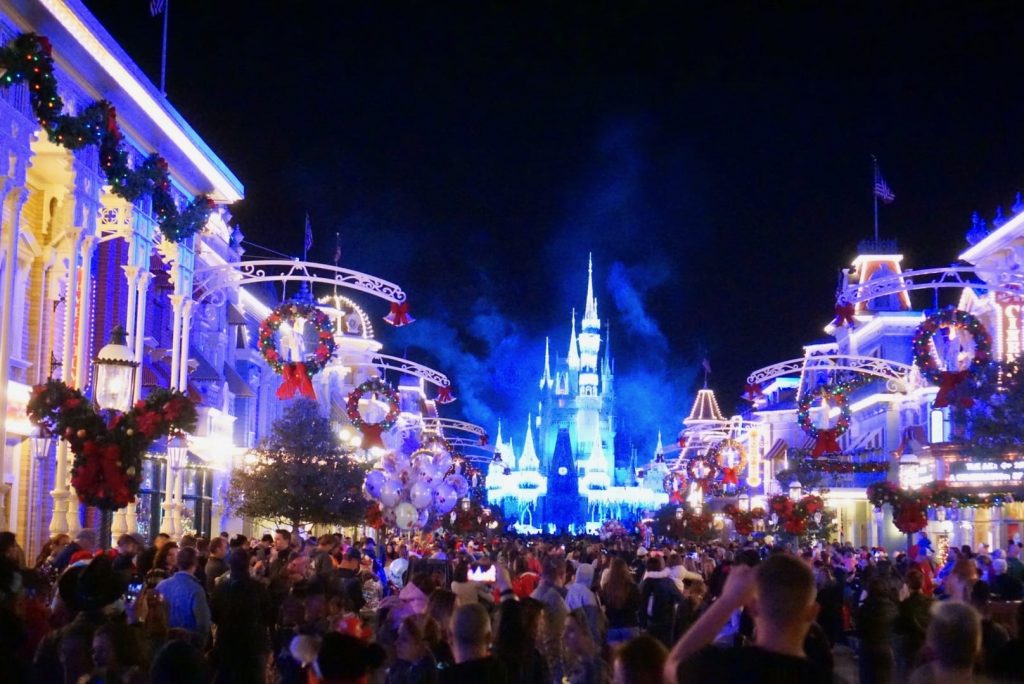 Christmas Events in California Adventure
If your children (or you) loved the Cars films, you must visit Mater's Jingle Jamboree. This is a holiday version of Mater's motorized square dance ride that everyone will enjoy.
From November 8 to January 6, see the World of Color – Season of Light show. It is a water, light, story, and song holiday performance that lasts 23 minutes. It is located in the Paradise Gardens Park and takes place every evening.
Another exciting event at Disneyland includes the Buena Vista Street Holiday Tree Lighting. Here, Disney's 50-foot tree is lit up to celebrate the Christmas season. This tradition will certainly warm your heart and incite holiday cheer.
The Most Magical Firework Show & Parade of All
There is also a Holiday Magic Fireworks display at the park from November through the beginning of January. The fireworks take place behind the castle, and Disneyland even promises a sprinkling of snow mixed in. The fireworks show lasts 15 minutes.
Perhaps the most exciting Disneyland Christmas attraction is the Christmas Fantasy Parade. This year, your children can wave at their favorite Frozen characters. The parade will also feature classic characters like Mickey, Minnie, Chip, Dale, Woody and Buzz. The Disney Princesses will also be present. Of course, the finale of the parade features Santa Claus. A couple of excellent places to view the parade (besides along Main Street, U.S.A., which can get a little crowded) include by "it's a small world" Holiday and Matterhorn Bobsleds. Viewing this magical parade will bring your family warm holiday memories for years to come.
Breakfast with Santa at Catal in Downtown Disney- One of our Favorite Family Traditions!
This is by far my favorite holiday tradition and my top recommendation if you're looking for an Orange County Christmas event. Every year we head to Downtown Disney for breakfast with Santa at Catal Restaurant. We have been visiting Catal's Breakfast with Santa for 7 years now and each time is just as magical. On weekends throughout the month of December, you can enjoy an experience that your kids will absolutely love.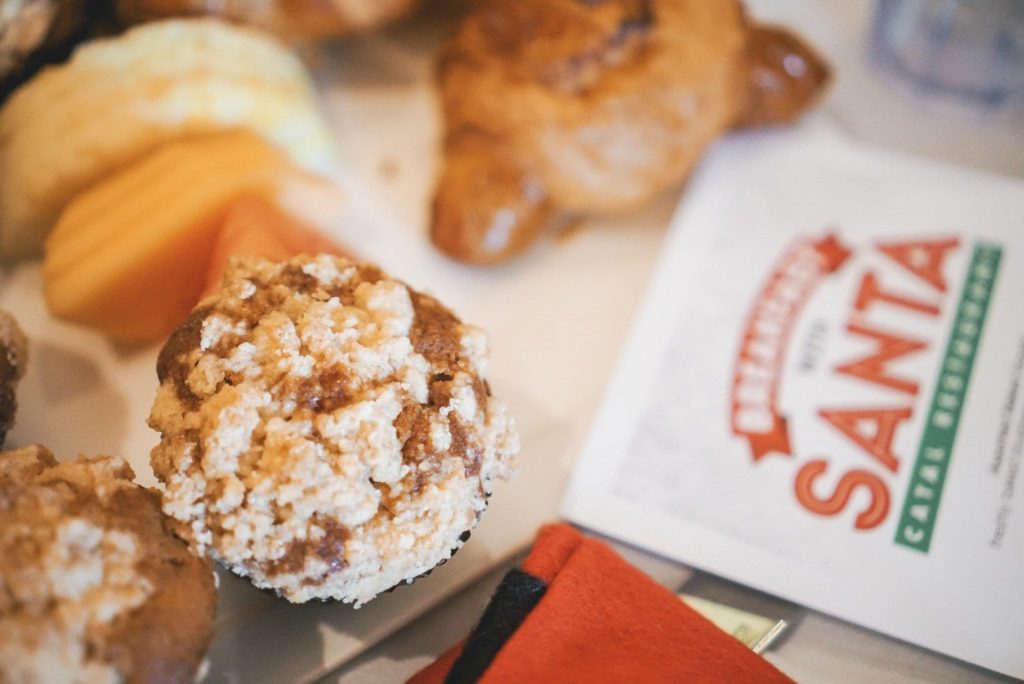 The restaurant is set up with a personalized stocking for each child along with a personalized table waiting just for you. You start off the breakfast with a visit with the big guy himself and the kids have plenty of time to interact and play with Santa. I love this time as the kids get to truly sit back and enjoy their time with Santa. Santa gives each child a stuffed animal, my daughter cherished hers as it was a gifts straight from Santa.
After you visit Santa, you head to the dining room while carolers sing Christmas carols (they travel around to the tables as well and sing songs). The table is decorated and adorned with your family's name. The kids receive their own personalized stocking with crafts inside for them to do during breakfast.
The breakfast itself is pretty phenomenal. The menu is set and the food is unlimited so you don't have to worry about a thing. The menu includes delicious breakfast favorites such as buttermilk pancakes, bacon, and eggs, and some amazing homestyle potatoes.

A clear favorite part of the breakfast for the kids and well the adults too is the traveling hot cocoa cart. You can adorn your hot cocoa with your favorite toppings as it travels from table to table.
For the adults, there are bottomless mimosas to help get you into the holiday cheer, even in the morning. Lastly, as your breakfast wraps up you head out to find cookies and milk ready for you to enjoy later in the day. I truly recommend Breakfast with Santa at Catal, it is one of my favorite Holiday traditions.
Reservations are highly recommended, as this event sells out well in advance.
Knott's Merry Farm
Joy is in season at Knott's Berry Farm from November 22 to January 5. Each year, the park transforms into Knott's MERRY Farm – which is a Christmas celebration for all ages. There are holiday rides, live entertainment, a Christmas Crafts Village, festive food, gorgeous decorations, and nightly snow in Ghost Town.
Some of the shows at this year's Knott's Merry Farm include A Christmas Carol, A Peanuts Guide to Christmas, Calico Carolers, Calico Saloon Christmas Show, and Snoopy Ice Show: Merry, Christmas Snoopy!
If you want your children to take part in a cookie-decorating tradition but do not want to dirty your own kitchen, take a trip to Mrs. Claus' Kitchen. While Mrs. Claus herself is obviously at the North Pole helping Santa get ready for the big day, her helpers are hard at work, giving children the opportunity to decorate delicious cookies to take home.
In the Christmas Crafts Village, located in Ghost Town, your family can see artist demonstrations of chainsaw wood carving and elegant glass blowing. There are also dozens of local artisans selling gifts you can purchase just in time for the holidays.
A trip to Knott's Merry Farm wouldn't be complete without seeing the Snow and Glow Show. This is a magical time each evening when Ghost Town's Main Street and School House Road are filled with a glow while it snows. It is a magical moment with gently-falling snow, Christmas music, and thousands of sparkling lights.
Orange County Christmas Events- Local Favorites
Winter Fest OC

Winter Fest OC is Southern California's ultimate winter festival! It brings 18 days of snow to Costa Mesa with ice tubing, snow play, and slide area, as well as an ice-skating rink. There is also a nightly Christmas tree lighting, parade, fireworks, and falling snow. There are more than 20 carnival rides, visits with Santa, and other festive entertainment. Don't forget to stop by Santa's petting zoo to visit the reindeer!
One favorite attraction for children is always the model train exhibit. This year, there are even more trains to see, and the Del Oro Pacific Train Club has a new, impressive model train layout.
The Snow Play area, which has fresh snow blown in daily, has opened a new area-specific for toddlers to play in the snow. If you have younger children, this is a unique opportunity for them to interact with snow.
One of the best parts of Winter Fest OC is the Christmas Eve celebration, where Santa and his reindeer fly over the fairgrounds. Your children will find this special Orange County Christmas event both magical and unforgettable! (You can check out my full review here) Get Tickets at www.winterfestoc.com
See a Christmas Show at Segerstrom Center for the Arts in Orange County
Each year, Segerstrom Center puts on several exciting holiday shows for you and your family to choose from. This year's holiday performances include The Nutcracker, Fiesta Navidad, Christmas with Marie Osmond, and the Holiday Organ Spectacular. Ella and Dad check out a show every year, their favorite was Elf which unfortunately isn't playing this year.
Whether your family enjoys musical performances or plays, there is something for everyone at the Segerstrom Center for the Arts. It is an absolutely stunning theater. Seeing a show with your family is a unique holiday tradition that not every family takes the time to enjoy, and the theater is very family-friendly. Holiday shows are a way to bring the season alive for your family! A great way to save on tickets is on Stubhub, often you can find these holiday shows below face value.
Winter Events at Pretend City Children's Museum- Our favorite Orange County Christmas Event that ties in culture!
The Pretend City Children's Museum celebrates various cultures and winter celebrations with its programming.
Fun Activities at the Museum
Beginning in early December, the Pretend City Children's Museum will offer visits and photos with Santa. You can check out the Special Events calendar to see the different dates and times Santa will be visiting the museum.
The Museum also counts down to Christmas with its 12 Days of Christmas Countdown. Each day for the twelve days before Christmas, the museum reveals a new holiday activity at the museum. This event gives you the perfect excuse to take your kids to the museum multiple times over winter break!

The Spirit of Giving
One of the most unique holiday events at the Pretend City Children's Museum is the Harley-Davidson Children's Hospital of Orange County (CHOC) Toy Drive Pick-Up. On December 13, a fleet of Harleys, including Santa, will go by the museum in order to pick up the toys collected during the winter toy drive. This is a fun way to encourage your children to get into the giving spirit this season.
The Chance to Learn About Other Holidays
The Pretend City Children's Museum has events that showcase international celebrations as well. For example, on December 16, the museum will celebrate Las Posadas – the Mexican holiday that celebrates the 9 days leading up to Christmas. The celebration includes special activities, art, and events.
The Pretend City Children's Museum will also host a Hooray for Hanukkah event late in December. This event features story-telling, traditional activities, games, and art. There will also be a Festival of Kwanzaa Celebration. Each day during Kwanzaa, the museum will encourage the celebration of a new principle through a variety of activities. Check the museum's special events calendar for the exact times and dates of these celebrations.
Multicultural celebration types of activities are a great way to celebrate the traditions of your own culture with your children or to teach them about other cultural celebrations in a fun way.
Pirates Take Christmas! at Pirates Dinner Adventure
Last but not least, we bring you the Orange County Christmas event Pirates Take Christmas! at the Pirates Dinner Adventure theater. In the play, the pirate crew tries to steal Christmas by kidnapping Santa. Find out if they will succeed or if Santa will escape and Christmas will be saved. Maybe you and your family will get the chance to help save Santa!
Pirates Dinner Adventure prides itself on putting on a Christmas dinner show filled with magic and adventure. The interactive dinner show is a fantastic source of holiday entertainment that your whole family will enjoy.
The Best Orange County Christmas Events on the Bay
Queen Mary Christmas
If you've visited the Queen Mary before, you know that it is a legendary and exquisite ship. However, if you have not seen it during November or December, you've missed out. Imagine those beautiful decks filled with light displays, musical performances, sweet treats, family activities, and more.
Your children can have their picture with Santa and build gingerbread houses. The entire family can go ice skating on the ship's rink. There are Christmas performances and several choral and musical groups as well.
Rooms do fill quickly during this special celebration. If your family is interested in staying aboard the ship, it is definitely worth planning ahead.
Newport Beach Christmas Boat Parade
If your family has ever driven around to look at Christmas light displays, then you'll immediately understand the appeal of the Newport Beach Christmas Boat Parade. Imagine the same exciting atmosphere, but on the water instead.
The Newport Beach Christmas Boat Parade is one of the largest decorated boat parades in the United States. Hundreds of decorated boats compete for awards and there are literally millions of lights used in the overall display. You won't find a larger Christmas light display anywhere else.
In addition to the boats, the estates along the bay also take part in the decoration competition, called the "Ring of Lights." This is a second competition for estate owners based on home and landscape décor.
Because it is a competition, the decorations on the boats and the estates only get better every year. Seeing the beautiful light display at Newport Beach is a can't-miss Christmas light experience.
Dana Point Harbor Boat Parade of Lights- One of the prettiest Christmas events in all of SoCal
Kick-off the holiday season at the Dana Point Harbor Boat Parade of Lights. During the first two weekends of December, the Dana Point Harbor boaters take part in the parade of lights. This year's theme is a Tiki Holiday takeover.
During the Dana Point Harbor Boat Parade of Lights, children also have the opportunity to take boat rides with Santa. During the festivities, you can take a twenty-minute cruise around the harbor with Santa and have your picture taken. There is a $5 donation recommended – but that is a very reasonable price for a picture with Santa, and the money benefits the El Camino Real Junior Woman's Club.
For your furry family members;
There is also an opportunity for them to have their picture taken with Santa during the Dana Point Harbor Boat Parade of Lights. The Pet Project Foundation encourages you to bring your pets down to have their picture taken from Santa for a small fee on Saturday, December 7 at the El Torito Courtyard.
Viewing vs Participating
The Dana Point Harbor Boat Parade of Lights is by application only, meaning that the participants are dedicated to putting together a great display. While it is smaller than the boat parade at Newport Beach, it is also less crowded. With the fun theme each year, this is one you can see every Christmas without feeling burnt out.
Orange County, California has so much to offer when it comes to holiday entertainment and festivities. There is everything from traditional light displays on the water, special snow entertainment, shows, festivals and more. Try to hit up every event on the list, or simply pick and choose the ones that will resonate best with your family to create the ultimate holiday experience. The holidays are all about spending time with family and creating traditions, after all.
Know of another great Christmas Event in Orange County? Let me know in the comments so that we can add it in!
You May Also Like:
The Munchkins Favorite Things (aka the BEST Christmas presents for All)
All Aboard! Tips for Visiting the Magical Polar Express in Arizona
Best Gifts for 13 Year Old Boys! [A Holiday Gift Guide]
Pin for later
Latest posts by Mama Munchkin
(see all)