We have loved traveling and visiting Texas with our family of 8! Whether it is staying in an AirBNB or VRBO or even a hotel, we try to find the best places for our family.
Bryan, Texas is a captivating city located in Brazos County that is known for its rich history and vibrant culture. Since it is a popular destination for both business travelers and tourists, Bryan offers a variety of comfortable, convenient, and exceptional hotel options to meet your individual needs.
Whether you're looking for a budget-friendly hotel or a luxurious suite to lay down your head, you'll find a range of options to choose from in Bryan. Here are our picks for the 4 best hotels in Bryan Texas.
---
Our Top 4 Hotels in Bryan Texas
The Stella Hotel
When approaching The Stella Hotel you will notice the clean lines, spotless white façade, and cozy balconies overlooking Bryan/College Station. On the inside, the modern aesthetic continues, but with industrial touches like the steel chandeliers lit up with Eddison bulbs in the dining room or the leather-bound bedroom bench at the foot of their deluxe king bed.
The Stella Hotel has a variety of rooms for every budget. Their modestly priced Deluxe Two Queen room has two queen beds, windows that face Lake Atlas, and several high tech amenities.
If you really want to live the life of luxury, you can book their Celestial Suite where space and comfort combine. In this special suite, there is a bedroom, dining room, and whole second bedroom. The bathroom features a large shower and deep bathtub where you can sink into the bubbles and unwind.
When you're not relaxing in your room, you can hit the 24-hour fitness center or take a dip in one of two outdoor swimming pools.
The idea of one dining option at a hotel would be a great perk but at the Stella Hotel you get four unique dining options just outside of your hotel room!
Their restaurant Campfire has locally farmed ingredients and elegant cocktails all served in their spacious dining room.
On select nights you can watch live performances at Hershel's– a bar with tons of selections of single and small batch bourbons and small plates to snack on.
POV is located right outside Hershel's front door and offers guests a more casual dining experience. POV is the place to go to sample fresh muffins and pastries and get your day started with something sweet.
Finally, you can dine at the Stella without ever having to leave the pool. The Watershed Pool Bar will bring your favorite drinks and food straight to your cabana.
Now let's discuss the abundance of activities that you and your family can do while staying at the Stella Hotel. For children, there is The Children's Museum of the Brazos Valley, which is located next door to POV. At this adorable museum, your children can get hands-on with the exhibits, building, experimenting, and playing for hours on end.
For the sports enthusiast in your life, there is Kyle Field, home of the Texas A&M football team, and Reed Arena, which hosts basketball, volleyball, and concerts.
Want to get a taste of the cowboy life? Head over to Brazos County Expo, which regularly features rodeos.
There is also a ton of dining, shopping, and sightseeing within minutes of the Stella Hotel.
---
The George
While the name of this hotel may seem ordinary, The George is anything but. The George is a luxurious 4-star hotel that is proud to be located in Texas.
You will see nods to their beloved state everywhere from the giant floor-to-ceiling Texas flag made from books to the country singers that perform at their whiskey bar.
The rooms at The George are decorated with earth tones and occasional pops of color. Each room has all the expected amenities and then some.
Their Classic King has a king-sized bed (of course), a large flatscreen TV, a small workstation, and an ultra-sleek bathroom with a subway tiled shower.
The Presidential Suite is the cream of the crop when it comes to really indulging yourself. The two room suite has several lounge areas, a bar, a dining room, two private balconies, and a gigantic bathroom with a walk-in shower and a beautiful soaking tub.
Just minutes from The George is Century Square, where there are endless shopping, dining, and activity options to choose from.
Want a perfect family outing? Make plans to go to Aggieland Safari. You and your little ones can get up close and personal and have encounters with the giraffes, sloths, and reptiles. And yes! You can feed the animals.
There are also five museums located five miles of The George, which include Brazos Valley Museum of Natural History and the George H.W. Bush Presidential Library & Museum.
After a day of sightseeing, unwind with a one-of-a-kind drink at The George's bar, 1791 Whiskey Bar. Their menu has plenty of signature cocktails along with more familiar favorites to please even the most particular eaters.
---
The Villa B&B at Messina Hof Winery and Resort
Located in the Brazos Valley is the Messina Hof Winery and Resort which opened to the public in 1977. What is great about this winery is that you can sample their wine in their elegant tasting room and then spend the night in one of their suites. No need to pick a designated driver; everyone gets to drink!
At The Villa B&B in their Bryan, TX location, you and a loved one can spend your vacation in one of their eleven unique guest rooms, each designed with a different theme.
The Napoleon and Josephine suite features a gilded headboard and dresser and has antique glass windows which pays homage to its French inspiration.
The Thomas Jefferson room is dedicated to one of the founding fathers– Thomas Jefferson. There are bald eagles carved into the head and footboard, a generously sized bathtub, and panoramic views of the vineyard.
The Camelot suite is ornate without being over the top. In this room, you can lie back and relax in the four-post king-sized bed or have a cup of coffee out on the private patio while taking in views of the picturesque forest.
While staying at The Villa B&B, you simply must take a tour of Messina Hof and discover how their wine goes from grape to bottle. Of course, they pour plenty of wine for the ride!
If you sign up for a cellar tour, you can taste their wine straight from the barrel. Can't get any fresher than that!
The Vintage House Restaurant located on the property will make you feel like you're eating in the dining room of a castle rather than a restaurant. You will sit in a high back chair– it looks more like a throne really– and indulge in their trademarked Vineyard Cuisine, where they have blended Messina Hof wine with fresh herbs and vegetables to make each course one you won't find anywhere else.
Each dish is expertly paired with one of their wines. Cheers to that!
---
LaSalle Hotel
Originally built in 1866, the LaSalle Hotel did not always serve as a hotel. In fact, throughout the 19th and 20th centuries, the building had several uses, including a theater & opera house, a home for civil war survivors, a nursing home, and an apartment building.
Today, the LaSalle Hotel is now a Bryan, Texas landmark. The hotel has over 55 rooms, each decorated with contemporary furniture and finishings with modern amenities. Each is outfitted in the same manner with one or more beds being the only difference.
The Luxury King Parlour has one king-sized bed, great for adults, and one double bed that the kids can snuggle up in. The Deluxe Double Full has two full beds side by side, whereas the Deluxe King has one large bed.
While the LaSalle Hotel has evolved with the times, it is still connected to its Prohibition era roots. Hidden away in the basement of the LaSalle Hotel, you'll find the 5 Knocks Speakeasy, where guests and locals can enjoy craft cocktails and beer.
The vibe of 5 Knocks Speakeasy makes you feel like you're part of a secret club while also appreciating that you live in a post-repealed 18th amendment society.
After indulging in some libations, you can step outside right into the heart of downtown Bryan where all the action happens. If you or a loved one is a true bibliophile, a trip to the Carnegie History Center is a must do. It is one of the oldest libraries in the country filled with countless works of literature.
A 15-minute walk from the Carnegie History Center will take you to the Brazos Valley African American Museum which aims to preserve the cultural history of African Americans by displaying artifacts, letters, documents, and artwork.
From there, you can take a dive at Adamson Lagoon, a mini water park that is fun for the whole family.
As the sun goes down, head back on over to the LaSalle Hotel's courtyard, which hosts live musicians in the evenings and delectable brunch in the mornings.
---
Final Thoughts About Hotels in Bryan Texas
With its warm hospitality, modern amenities, and proximity to local attractions, the hotels in Bryan, Texas have become an important part of the city's tourism sector.
Whether you are traveling for business, with a partner, or with a family the aforementioned hotels in Bryan, Texas will provide exceptional service and an enjoyable experience for everyone.
---
Frequently Asked Questions about Hotels in Bryan Texas
Is The Stella Hotel pet friendly?
Yes! For a $50 fee, you can bring your furry friend along on your trip.
Does The George have a swimming pool?
Yes. It is located outside in their courtyard.
Where can I find Messina How wine outside of Texas?
Messina Hof ships their wine to 41 of 50 states. 
Learn more here.
---
If you enjoyed our list of the 4 best hotels in Bryan Texas, you might also like:
15 AMAZING THINGS TO DO IN TYLER TEXAS WITH KIDS!
THE BEST TEXAS GETAWAY FOR FAMILIES; ROUGH CREEK LODGE AND RESORT
22 AMAZING THINGS TO DO IN AUSTIN WITH KIDS!
---
Pin-it for later: 4 Best Hotels in Bryan Texas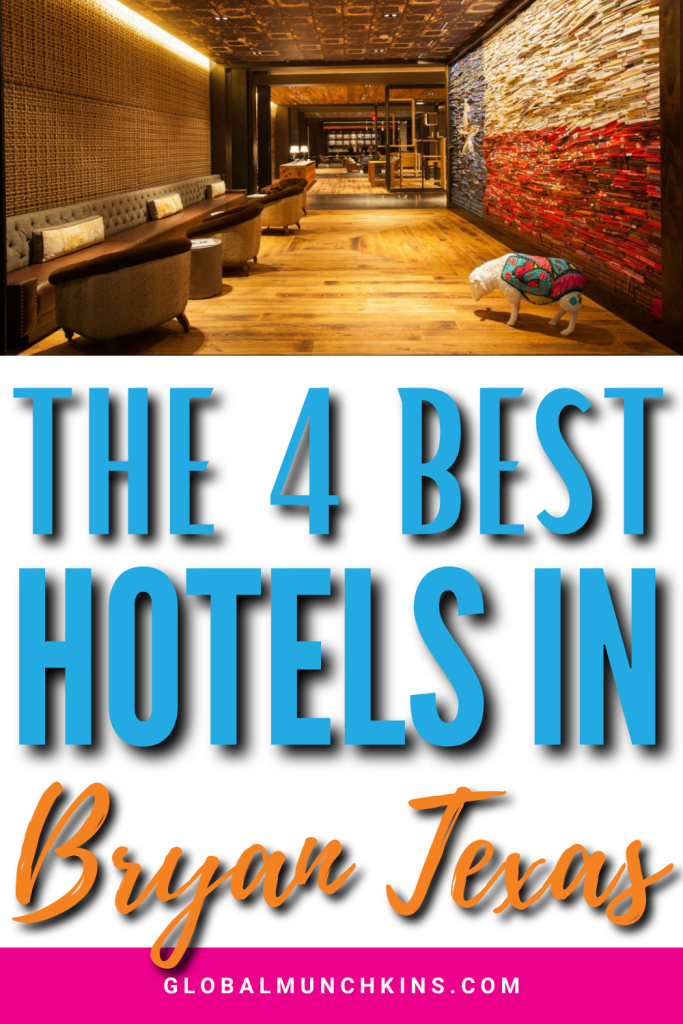 Latest posts by Ashland Hendrix
(see all)