A trip to Austin presents hundreds of opportunities, especially if you bring the kids along. While we had a blast in Houston and San Antonio, Austin was our favorite. With so many things to do, planning out an itinerary can be a bit overwhelming. Luckily, we have some experience in this beautiful city.
Come dive in with us as we explore the top 15 things to do in Austin with kids!
#1 Run Around at Zilker Park
Why You Should Go
If the weather permits, head out to Zilker Park for the day and let the kids run around. Plus, there is so much to do at Zilker Park, including the Zilker Botanical Garden and the Austin Nature and Science Center. While you're there, you may even consider heading over to the indoor exhibit for the UMLAUF Sculpture Garden and Museum.
#2 Sightseeing With Austin's Duck Adventures
Why You Should Go
One of the coolest ways to explore the city with the kids is by hopping on the Austin Duck Adventures tour, where you can travel by land and water. Ride this amphibious vehicle around the city and head to some of the most significant spots in Austin, including the Texas State Capitol and Sixth Street before you end up splashing into Lake Austin.
#3 Work On Your Form at Peter Pan Mini-Golf
Why You Should Go
Peter Pan Mini-Golf came around back in 1948 and has been an Austin family tradition ever since. Both parents and kids enjoy getting a few rounds in! There are two 18-hole courses filled to the brim with challenging obstacles and colorful characters, including Peter Pan and a massive T-Rex!
#4 Visit The Thinkery
Why You Should Go
The Thinkery is a unique hands-on Childen's Museum in the heart of East Austin's Mueller community. It is the perfect place for your little ones to experience a mixture of science and technology with engaging activities and interactive exhibits. Plus, you can head to the playground that is just across the street to visit the ducks when your museum trip comes to an end.
#5 Shop at South Congress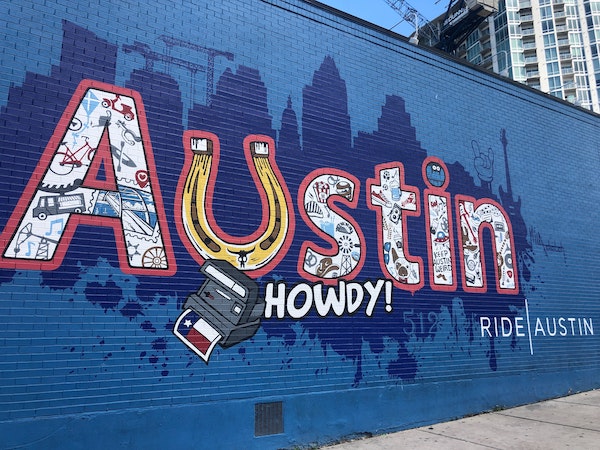 Why You Should Go
South Congress Ave has plenty to offer the entire family. The funky stores and restaurants here have a very unique vibe. During your shopping spree, you can head to the I Love You So Much mural and get a family photo, or head to the Big Top Candy Shop to let your little ones pick out candies.
#6 Watch a Show at the Zilker Hillside Theater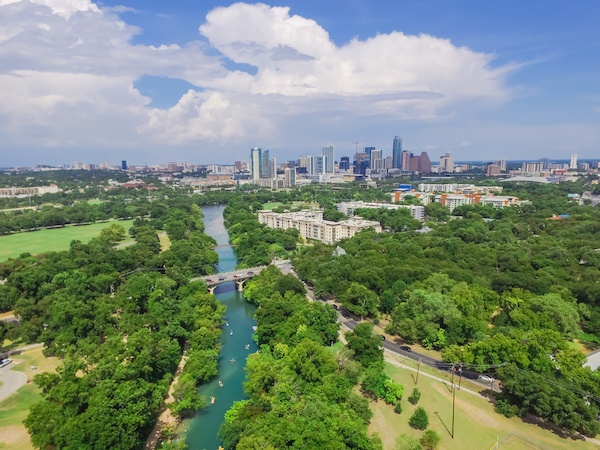 Why You Should Go
With free performances all summer long, the Zilker theater is the perfect way to spend a lovely evening in Austin. You'll have to check out the calendar to see when shows are happening, typically Thursdays through Sundays. This theater has been running since 1871, which is the same year Austin became Texas' capital.
#7 See the Wildlife at Austin Zoo
Why You Should Go
With more than 300 animals to see, the Austin Zoo is a must-visit. Here you'll find everything from monkeys to big cats to foxes and beyond. Plus, all of the animals are rescues here, so you know they are receiving the best possible treatment!
#8 Enjoy an Outing at Lady Bird Lake
Why You Should Go
Lady Bird Lake is an excellent destination for a family outing. We recommend getting on the water with some rented kayaks or paddleboards to enjoy gorgeous views of the city. However, you can also take the 10-mile Ann and Roy Butler Hike-and-Bike trail if you feel like sticking to land.
#9 Splash Around at Kalahari Resorts and Conventions
Why You Should Go
The indoor waterpark at Kalahari Resorts and Conventions offers a cool way to spend a hot Austin day. This African-themed waterpark resort has 1.5 million square feet of space for the kids to play around. Beyond the indoor waterpark, you'll also find an indoor theme park, live entertainment, and world-class dining.
#10 Take A Dip In a Spring
Why You Should Go
Located in the heart of the city is the Barton Springs Pool, one of Austin's spring-fed swimming holes. All year-round, this spring retains a 68-70-degree temperature, perfect for swimming. Plus, there is tons of green space surrounding the pool, perfect for a picnic.
#11 Learn More About Austin's History
Why You Should Go
Enjoy one of the free tours offered by the staff at the Texas State Capitol to take in a bit of Austin history. Plus, just a block away from the Capitol is the Bullock Texas State History Museum. Here you'll find three floors of unique, interactive exhibits, including the IMAX Theatre and the Texas Spirit Theater.
#12 Immerse Yourself In Austin's Biggest Independent Bookstore
Why You Should Go
Bookpeople is the largest independent bookstore in Austin, offering a massive collection of children's books and gifts, perfect for a low-key Austin afternoon. They even have children's Zoom-based story time regularly. When you're done there, head to the rooftop plaza of Austin's flagship Whole Foods to spend some time at the playground.
#13 Watch The Bats
Why You Should Go
If you visit Austin between April and October, make sure to check out the natural sunset show over at Bat Bridge. Here you'll see over a million Mexican free-tailed bats fly out from under the Congress Ave Bridge into the evening sky. While you can watch from the bridge, we also recommend heading to the Statesman Bat Observation Center for a unique perspective.
#14 Ride Horseback At Texas Trail Rides
Why You Should Go
Giddyup on over to Texas Hill County to enjoy a beautiful horseback ride with Texas Trail Rides. Not only will you and your kids get into the cowboy spirit, but you'll also pass by some gorgeous scenery, including Onion Creek and several picturesque spring-fed lakes.
#15 Go Rock Climbing
Why You Should Go
Get a workout in at the Austin Bouldering Project, the largest bouldering gym on Earth. The kids can safely climb around until they are completely exhausted. Plus, there isn't a minimum age, meaning even the little ones can enjoy scampering up the walls! The floors are safely padded for hours of fun!
Map of Things to Do in Austin with Kids
Frequently Asked Questions about Austin
What can I do in Austin for fun?
Walk, run, or bike at Lady Bird Lake Hike and Bike Trail
Play a round of Peter Pan Mini Golf
Go Paddle Board on Lady Bird Lake
Rent a boat
Visit all those famous murals
Go on a food crawl
What can I do in Austin for free?
Go on a Historic Tour. Get out there and experience Austin history
Rent a Bike
Visit Zilker Park
Play a Round of Disc Golf
Explore the Texas Hill Country
Hear Live Music Outdoors
See the Cathedral of Junk
Visit the UMLAUF Sculpture Garden
What are the must-try foods in Austin?
Micklethwait Craft Meats
Taco Joint
Lucy's Fried Chicken
Via 313
La Condesa
Tamale House East
Austin Kolache & Koffee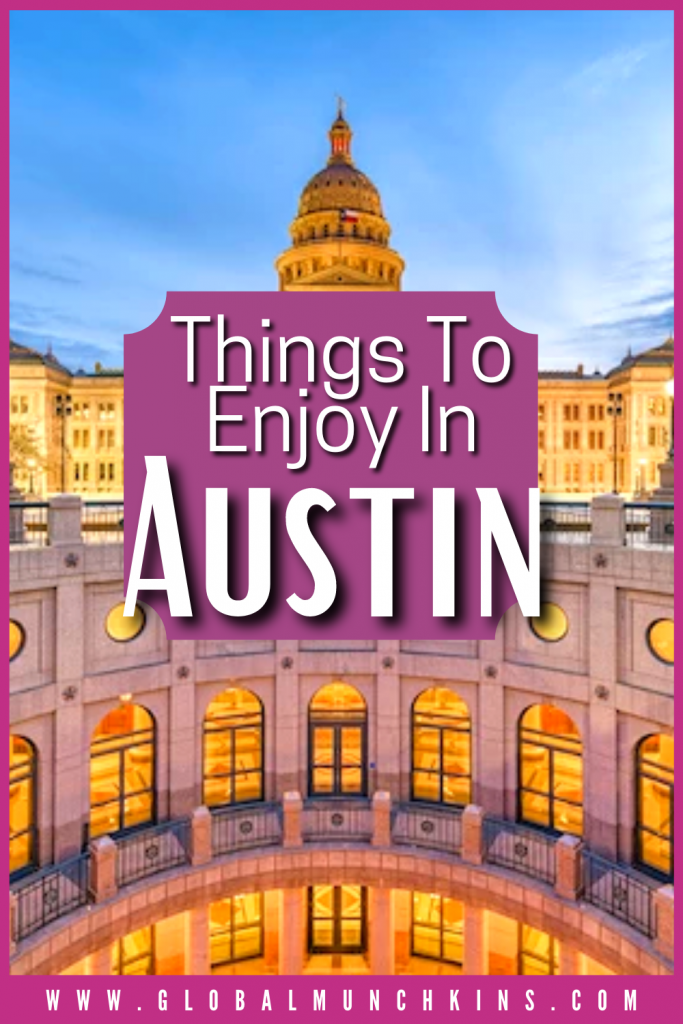 If you enjoyed our list of 15 fun things to do in Austin with kids, you might also enjoy:
15 INCREDIBLY FUN THINGS TO DO IN HOUSTON WITH KIDS