If you're hitting the road for a time for exploration and new experiences, you're inevitably going to need a place to lay your head to rest. But while you're searching for "new" why settle for the same old Airbnb Texas listings you come across every day?
Texas has some of the most unique Airbnbs in the country, so if you're looking for something truly special, be sure to check out one of these properties. Maybe you're looking for a cabin in the woods (in the middle of a major city) or a beachfront condo? How about a 19th century Victorian home or your very own castle?
Texas is big and has something for everyone; check out our top picks for Airbnbs in Texas.
Galveston Airbnbs
Galveston is a coastal city in Texas that is known for its unique history, beaches, and overall charm. It's also a popular destination for Airbnb guests and those looking for a weekend getaway. Galveston offers a variety of activities for visitors, including swimming, sunbathing, fishing, and exploring the many shops and restaurants downtown. The town has a laid-back vibe and is filled with historical buildings and sites. Overall, Galveston is a charming city with something to offer everyone.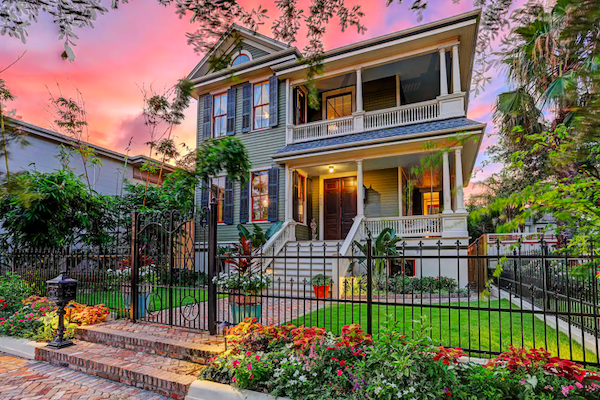 When you walk into this beautiful Victorian home in Galveston, Texas, it is as if time has stood still for a moment. Historic Shipman Hall is a gorgeous 19th century Victorian-style home that has been completely restored with added decks and gardens in Galveston.
You'll enjoy the charm of your surroundings with an enclosed garden patio and hardwood floors while sipping coffee on that welcoming front porch swing.
The house is a perfect example of historic architecture, with original wood floors and detailed carvings. If you're looking for somewhere relaxing to enjoy your time in Galveston and the historic East End Historic District then this home will not disappoint.
The Galveston Kettle House was originally built as a steel storage tank in the 1960s, but was completely renovated on the HGTV show "Big Texas Fix".
The Kettle House has all the luxuries to keep the family happy including WiFi, a 4K Smart TV, air conditioning, as well as a huge deck where you can soak up the sun in peace. It's a quick walk to the beach and a short drive to the Galveston historic district.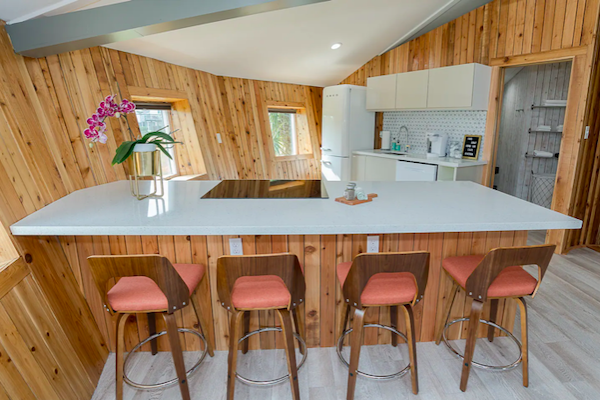 Up to six guests can enjoy this charming island getaway.
Austin Airbnbs
Austin, Texas is a city known for its live music and nightlife scene. Austin is also home to many state parks, museums, and historical sites. While the city is teeming with fun and excitement, it still lauds a charming historic downtown area and a lively arts district.
There are plenty of Airbnbs available in Austin, so finding a place to stay isn't a problem. But to keep things weird (just like the Austin motto "Keep Austin Weird"), we started searching for truly unique locations and found Texas Airbnbs that should be at the top of your travel list.
The Bloomhouse is an Austin Airbnb legend, a house inspired by the "Keep Austin Weird" spirit that makes the Texas capital city a truly unique destination.
It's described as a giant seashell unicorn, a rare mix of Willy Wonka and the Big Lebowski, the Bloomhouse features zero straight lines or corners (minus the sliding back doors) and invites you to think outside our angular world.
This wonderfully weird structure may invite you to let your mind wander, but you still won't have to go out of your way for modern comforts as the Bloomhouse comes equipped with WiFi, an updated kitchen, and central air conditioning, as well as a washer and dryer.
The Bloomhouse can accommodate up to four guests, but not children under five years of age, so please check with the Airbnb host team before making any arrangements if you're traveling with small children.
If you've ever wanted to spend a weekend being King or Queen of your own piece of Texas, then your wish is about to be granted. The Falkenstein Castle is a Bavarian-styled castle that is located in Texas Hill Country, about an hour northwest of Austin.
The castle features 14,000 square feet of medieval architecture with the latest modern comforts including a master bedroom with a massive interior heated jacuzzi tub. Up to 16 guests, including any young princesses or princes in your group, will get hours of fun and entertainment from the ping pong tables, indoor basketball game, and 40,000 gallon Koi pond (with a waterfall!), and a 9,000-gallon babbling stream right on the property.
The highlight of your stay may be the scenic views from the castle towers where you have a near-unlimited viewing experience on clear days and nights. The castle also boasts museum-level art pieces, and a fascinating origin story, and is available for special occasions such as weddings.
When you have the choice between an ordinary house and a castle in Texas, you always choose the castle.
Dallas Airbnbs
Dallas is one of the liveliest and most energetic cities in North America. Whether you're traveling with a group of friends or with the kids, there is so much to do in Big D that you'll need to plan future trips well in advance.
Take your crew to the Dallas Museum of Art, the Dallas World Aquarium, or the Dallas Zoo. You can also take a walk in the Dallas Arboretum and Botanical Gardens. Dallas is also home to many professional sports teams, including the Dallas Cowboys, the Dallas Mavericks, and the Dallas Stars.
If you're looking for a night out on the town, Dallas has plenty to offer, from world-renowned restaurants to lively bars and clubs.
Step into the magical world of Little Forest Hills, where modern day charm meets rustic elegance. This exquisite Texas Airbnb is a blend of Bauhaus design with Japanese Maples screening sunlight through their leaves to create an otherworldly atmosphere throughout your stay here.
Described by one Airbnb guest reviewer as a "slice of peacefulness in the middle of the chaos that is city life", the Dallas Treehouse is an extremely popular Texas Airbnb option, so it needs to be booked well in advance of your trip.
Four guests can enjoy this Dallas Airbnb rarity which also has WiFi, modern amenities, and tons of charm.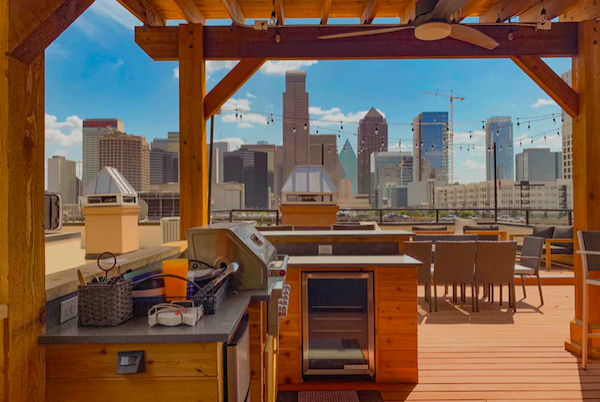 This luxurious townhome is a beautiful and inviting space that will make you feel at home. This amazing Dallas Airbnb find has stunning renovated amenities like towering ceilings, gorgeous furnishings, plus an additional 800 square foot rooftop deck equipped with a 57″ TV, grill, beverage and wine coolers, and outdoor heaters.
This Texas Airbnb jewel sleeps up to nine guests and features all the modern comforts that classy people such as yourself enjoy: WiFi, air conditioning, washer, dryer, an indoor fireplace, and a completely updated kitchen.
It's also a perfect location (right between uptown and downtown Dallas) for small social gatherings or outings. Plus, your four-legged friends are welcome to join your family, so grab the leash and bring Mr. Pugglesworth with you.
South Padre Airbnbs
South Padre Island is known for its white sandy beaches, crystal clear waters, and abundance of sea life. Visitors can enjoy activities such as swimming, sunbathing, fishing, windsurfing, and kayaking. South Padre Island is also a popular destination for bird watching, as it is home to over 400 different species of birds.
There are also a variety of Texas Airbnb vacation rentals available in South Padre Island, making it a convenient and affordable place to stay.
This top-floor condo is dubbed the "Sunrise Retreat" and when you see its jaw-dropping panoramic views you'll understand why.
The condo is located just off South Padre's connection to the mainland, the Queen Isabella Causeway, which will save you the hassle of backed-up traffic on the island during peak summer seasons. It sits within a condominium so your group will have access to a grill, two pools (one heated in the winter), hot tubs, tennis courts, and more.
The Sunrise Retreat Airbnb is also steps from the beautiful beaches of South Padre Island which is perfect for sun worshippers looking to soak up the rays, while the warm salt air and the gentle crashing of the waves take all your troubles off your mind.
Sounds nice, right? South Padre Island is extremely popular during the summer months so you'll want to book your retreat well in advance.
On an island populated by condos, the Retro Beach Bungalow called "The Beach Pit" is a welcomed South Padre Airbnb experience.
You and six other guests can enjoy the run of this stylish 50-year-old, fully renovated bungalow that offers privacy on immaculate South Padre Island. The Retro Bungalow is pet friendly with a big fenced yard, plus a deck that's perfect for grilling. The sand castle builders in your group will be happy to be just a few feet from beach access. You're going to be closer to the beach than most parking on the island!
The Beach Pit has fast WiFi, three smart TVs, and comfortable mattresses for those who get too much sun and need to hide out. Did we mention how close the bungalow is to the beaches? Yeah, that's all you need to know really.
Terlingua Airbnbs
Terlingua was once a thriving mining town but was abandoned after the mines closed. Today, Terlingua is home to a few hundred people and is a popular tourist destination. There are several unique Texas Airbnb listings in the city, giving travelers plenty of options beyond typical housing structures.
Terlingua is located on the edge of Big Bend National Park, at the foot of the Chisos Mountains, and there are plenty of hiking and biking trails nearby. The city also has several restaurants and cafes, as well as art galleries and shops. Terlingua is a unique place to visit, and visitors will enjoy exploring its history and culture.
A yurt is sometimes referred to as a "tent" but there's nothing primitive about these luxurious desert dwellings. The Big Bend Luxury Yurt is just a few yards away from the entrance to Big Bend National Park but offers all the comforts of home.
This Texas Airbnb offers a king-size bed, plush designer seating, and a full bathroom with a kitchenette that's perfect to cook up your favorite meal. You'll also find a dining table ready so you can enjoy quality time together as well as a wood-burning fireplace that makes you feel right at home during those cold desert winter nights.
Despite it being less than 600 square feet, the Big Bend Luxury Yurt has electricity, running water, and all the conveniences you would expect from first-class desert lodging.
While it sounds like a sequel to Mad Max, the Dome has been featured on HGTV's "Mighty Tiny Houses" series. With that in mind, this is a Texas Airbnb experience for the brave and the adventurous.
The Dome is an off-the-grid, solar-powered adobe dome that is perfect for a couple's getaway whether your destination is Big Bend National Park or an out-of-the-way location for stargazing and communing with nature.
While the solar power will keep the oven and refrigerator on and power your phones and small devices, other items, such as hair dryers, will place a strain on the system. The kitchen sink pumps in water from a small rain collection cistern, so you'll need to bring your drinking water, but it's a small price to pay for unobstructed views of the South Texas desert and the Chisos Mountains. It does have WiFi just in case you have an insect bite that you need to identify quickly, or for Netflix if that's your thing.
If you enjoyed our list of the best Airbnbs in Texas, you might also like:
21 AMAZING THINGS TO DO IN AUSTIN WITH KIDS!
Pin for later: 10 Unique Airbnbs in Texas for the Entire Family