Finding the perfect spring break location can be tricky for families as college craziness takes over some of our favorite destinations. That is why I have put together a list of 23 Spring Break Ideas for Families. Whether you are looking to spend spring break with the fam on the slopes, on a beach or in a saddle…
I've got an awesome recommendation for you + tips on how to SAVE money on your family spring break.
---
Why should you take a Spring Break Vacation in 2023
We only get 18 summers with our kids. We have to make each school vacation count. So, here are my 23 FAVORITE spring break ideas for families. I have made sure to include plenty of options to appeal to every member of the family + tips on how to SAVE BIG this spring break on each of them.
When you are looking for the best spring break destinations for families you need to think first about the type of trip you want to have!
---
Beach Vacations!
After a long winter a Beach vacation really can hit the spot. Here are some of our favorite places to enjoy the beach and some beautiful sunny weather.
Tropical getaways are a favorite among spring breakers. Here are a few spring break ideas for families looking to thaw out. Grab your swimsuit because it's time for some serious sun.
---
Hawaii – Disney's Aulani Resort & Spa
One of the Best Spring Break Destinations + How to Save almost 50% OFF This Resort
Hawaii is an incredible vacation and will be ready to welcome visitors in 2021.
One of our ALL-TIME FAVORITE RESORTS is Disney's Aulani, the resort is incredible, it is a beautiful hotel with an amazing Disney service. You might find yourself spending the whole day at the hotel.
There is so much to do at this resort from amazing pools, incredible water slides, a beautiful beach, character breakfasts, an amazing luau, and incredible restaurants. Read my ULTIMATE Guide to Disney's Aulani to see ALL my tips & tricks for making this luxurious stay more affordable.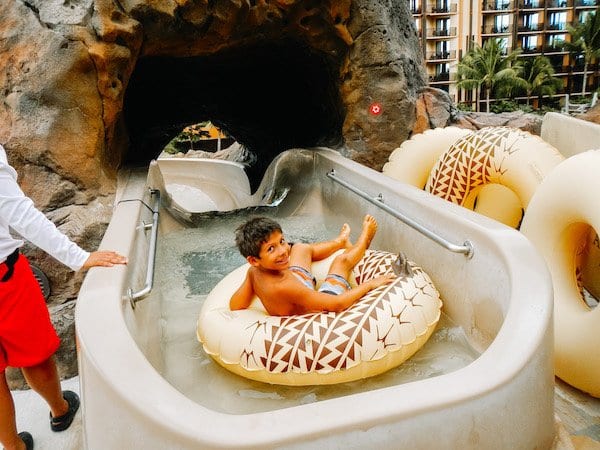 We LOVE the numerous Complimentary Activities at Aulani including:

Free kids camp at Aunty's Beach House
Menehune Adventure trail
Hula Lessons with characters
Gorgeous Beaches
Fireside Storytelling
Shows
Character meet-ups
Movies under the stars
Teen areas & more
You can save up to 50% off Rooms by Booking a Disney Vacation Club Villa through David's Vacation Club Rentals – (Basically, Disney has a Vacation Ownership similar to a timeshare at Disney's Aulani, some of those owners can't go every year so the rent out their time at the resort. You will save a ton of money. You can read all about renting Vacation Club rooms here)
---
30A in Florida
We just visited 30A and absolutely fell in love with it. Everybody is riding bikes or cruising on golf carts. The white sand beaches are incredible and all the homes and hotels are stunning. It is seriously a perfect beach town.
Plus, spring is the best time to visit. There are crowds but nothing compared to summer and the weather is perfect. Check out my full review of 30A here.
---
Coronado, California
One of my favorite places on the planet is Coronado California. It has some of the most beautiful beaches in Southern California with its soft white sand beaches. There are so many things to do in Coronado for families, our favorites include S'mores on the beach, jet-skiing along the coast, and
Where to Stay in Coronado – Loews Coronado Bay Resort
Located on Coronado Island in San Diego California this hotel offers SO MUCH for local SoCal families to do.

Excellent pools
Beach service (they actually take you and your fam over to a gorgeous beach in a golf cart and help set up chairs etc… for you)
Kids Club (seasonal)
Gifts for the kids (when available)
+ they are Pet-Friendly too!

Check out Prices for Loews Coronado Beach Resort Here!
---
Terranea, Ranchos Palos Verdes, Los Angeles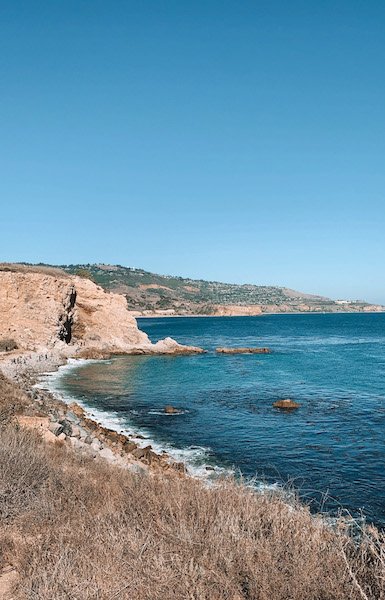 If you are looking for a place to get away from it all, then there is a place near Los Angeles (yes, Los Angeles), where you can. Just 20 minutes away from LAX, you'll feel like you are away from it all at Terranea, one of my favorite resorts on the planet.
The resort is stunning with over 100 acres of land to hike and explore. While at the resort, you'll find four large pools, 2 with beautiful ocean views and one of which has a waterslide.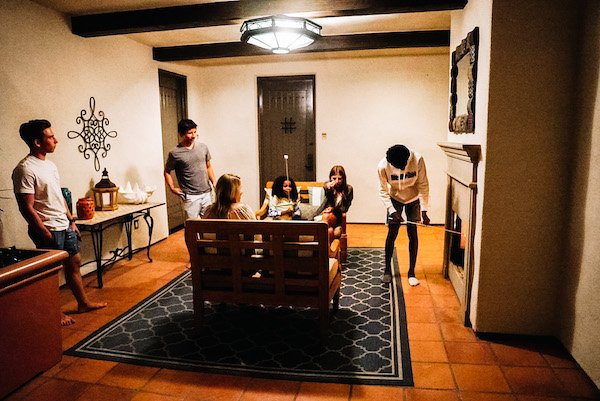 There are a ton of fun activities to do on the property including nine holes of golf, archery, falconry, horseback riding, and more. It is an incredible resort for the whole family.
On our last visit, we stayed in one of Terranea's Casitas. This 3-room casita is perfect for any family looking for a place to get away from it all. You have a living room and kitchen, and an outdoor fireplace for smores, and an indoor one as well. Then, you step out onto your deck for an incredible view of the ocean.
---
San Diego!
It's hard to imagine that California is on the list for a cheap spring break trip but you definitely can enjoy this beautiful city without breaking the bank. It truly is one of the best Spring break destinations for families is San Diego. There is an endless amount of things to do in San Diego for kids (and many of them are free)
When you are in San Diego you can easily visit the San Diego Zoo, Balboa Park Museums, Petco Park Baseball Games, Hiking, San Diego Tide Pools and kayak La Jolla Caves & More!
Where to Stay – Kona Kai Resort
We recently stayed at the recently renovated Kona Kai Resort & Spa last year and absolutely fell in love. You can't beat the amazing location on San Diego's historic Shelter Island (just 10 minutes from the San Diego airport). It is the perfect place for families because you are close to all of the popular San Diego attractions too!
Plus, the property boasts a great kid-friendly pool (and the NEW Paloma Adults-Only Pool too!), private beach,7,020-square-foot state-of-the-art spa, an incredible restaurant on property, complimentary beach cruisers, and nightly bonfires. Plus, the views of the marina are just gorgeous and oh, so peaceful too!
Check prices for this gorgeous family-friendly resort here.
If you have a large family, check out the best Airbnb's in San Diego, you will be in shock by the beauty of these Airbnb's
---
Tampa, Florida – (Yes, Tampa)
I had no idea, Tampa Bay was such a delightful city. I have passed right over it and gone to Orlando numerous times. We went recently and it was amazing. It is a beautiful city that is clean as can be and very family friendly. You can take the kids along the three mile river walk which has everything from Children's Museums, to Food Venues, an arts district, boating adventures and so much more. Also make sure to visit ZooTampa, it is amazing and worth a visit.
Check out everything to do in Tampa here, it is definitely worth a visit.
---
All-Inclusive Resorts – One of the Best Spring Break Ideas
All-inclusive vacations are one of my favorite Spring break ideas. There is nothing better than having your vacation prepaid so once you arrive, all you have to worry about is having a good time.
Soneva Resort Maldives
This is one of the most magical places on earth. Soneva is absolutely stunning. You will not find better service, food or a more incredible place to stay in your life. This place is the ultimate bucket list destination. Spring is the perfect time to visit as the weather is ideal.
Currently they have one of the best deals I have ever seen Soneva offer where up to 4 kids can stay complimentary and it will include full board (all meals). Check it out at here.
---
Finest Playa Mujeres – Our Favorite All-Inclusive!
This was probably our favorite trip last year. Finest resorts sets all-inclusive to a new level. There are incredible activities for everyone in the family. The kids club was my daughters favorite our of every resort we have been to (it even has it's own water park).
The food is top-notch, there are tons of fun water sports and the rooms, well they are beyond amazing. With swim up suites available (pictured above) your family will be in heaven at this resort. (You can check out my full review soon!)
The price of rooms is from $450 and up for a family of four and that includes pretty much everything, all your dining, activities, cocktails, room service, entertainment and more! Check out more details here!
---
Hard Rock Hotel in Cancun – One of our Most Surprising Spring Break Ideas for Families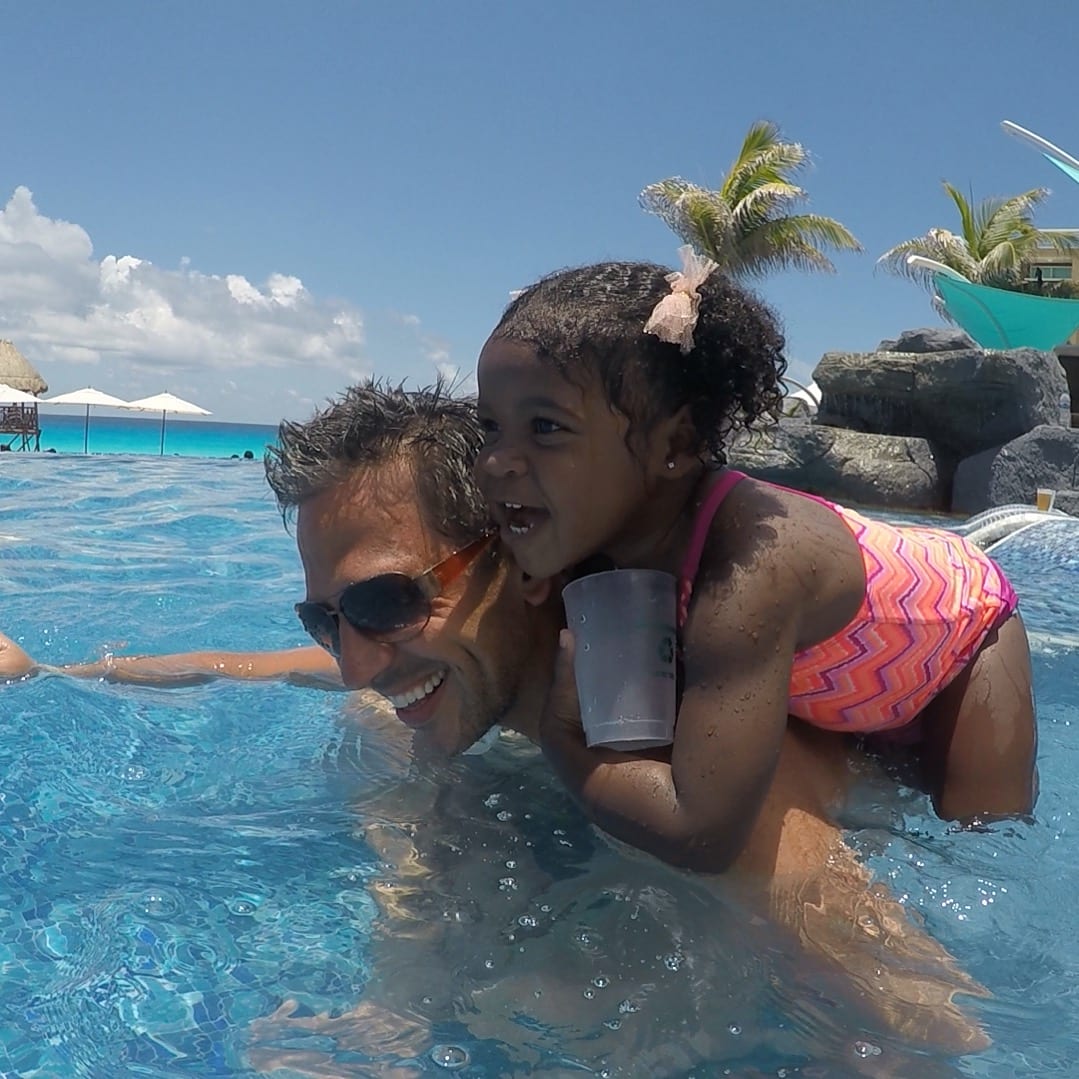 Mexico is one of my favorite warm-weather escapes and a great one to add to your list of Spring break ideas. The beaches are some of the most gorgeous in the world. There are plenty of affordable luxury resorts that are also kid-friendly and Hard Rock Cancun happens to be one that we could keep going back to OVER & OVER.
This resort is actually incredibly family-friendly (YES REALLY) they have amazing food, a beautiful beach, and excellent cocktails. Plus a ton of included activities for the kids.

Included Kid-Friendly Activities at the Hard Rock Cancun:

Barney, Thomas the Train, Angelina Ballerina and Bob the Builder characters + LIVE Shows
Awesome Kids Club
Teen areas with unique experiences like "Learn to DJ", make a rock band music video.
Amazing Pools + Beaches
Poolside crafts, ice cream, water balloon fights & more
---
Tanque Verde Ranch – Dude Ranch
Not every all inclusive has to be a beach or international destination, you can also enjoy some down home fun and hit up a dude ranch.
If you are looking to do something new that is both an amazing experience and also an incredible lesson in bravery and independence I CANNOT recommend Tanque Verde Ranch enough. It's WONDERFUL!!!
I wasn't sure that my family would like a dude ranch experience. My boys (and husband) had ZERO riding experience. But, it ended up being our favorite vacation in 2015. Read all about our experience here.
This AMAZING resort is also ALL-INCLUSIVE so meals, lodging, riding lessons, trail rides, kids club and more are included and during Spring Break they are running some fantastic promotions.
---
Ski Spring Break Destinations for Families
Ski destinations are often times a great family vacation and a great one to add to your Spring break ideas list. It's a great way to sneak in one last chance to hit the slopes before the season is done for good.
Northstar Resort, Tahoe
Another great option to get outdoors in California is the National Parks. Check out these 28 Epic National Parks in California from our friend Park Ranger John.
---
Steamboat Springs, Colorado
---
Park City & Deer Valley, Utah
We have now taken three ski trips to Park City and we are excited to go again this year for spring break in 2019. Main St. is absolutely adorable.
If you have 5th & 6th Graders Park City has an amazing pass which is only $45 and your 5th or 6th grader can ski at 13 amazing resorts. Check it out here!
If you want to go luxe but still have it affordable, check out the Silver Baron Lodge in Deer Valley
If you want to go Ultra-Luxe, check out the Stein Eriksen Lodge. It is unbelievable!
Each room comes with its own hot tub, and the rooms are massive. Our room slept over 16 people.
Check out my full Deer Valley review here!
---
Family Spring Break Adventures to Enjoy the Great Outdoors
Yosemite National Park – Tenaya Lodge
We have visited Yosemite several times and while I used to rough it with my family as a child. I absolutely love the luxury of staying at Tenaya Lodge. They now have new family cabins which give you the feel of staying in the great outdoors without the whole roughing it aspect.
There are plenty of ways to immerse yourself in the riches of the park, including hiking some of the many great trails, mountain bike riding, rock climbing, archery, and more! Yosemite is absolutely breathtaking and Tenaya Lodge offers one of the best ways to enjoy it. (You can check out my complete guide Tenaya here)
Banff, Canada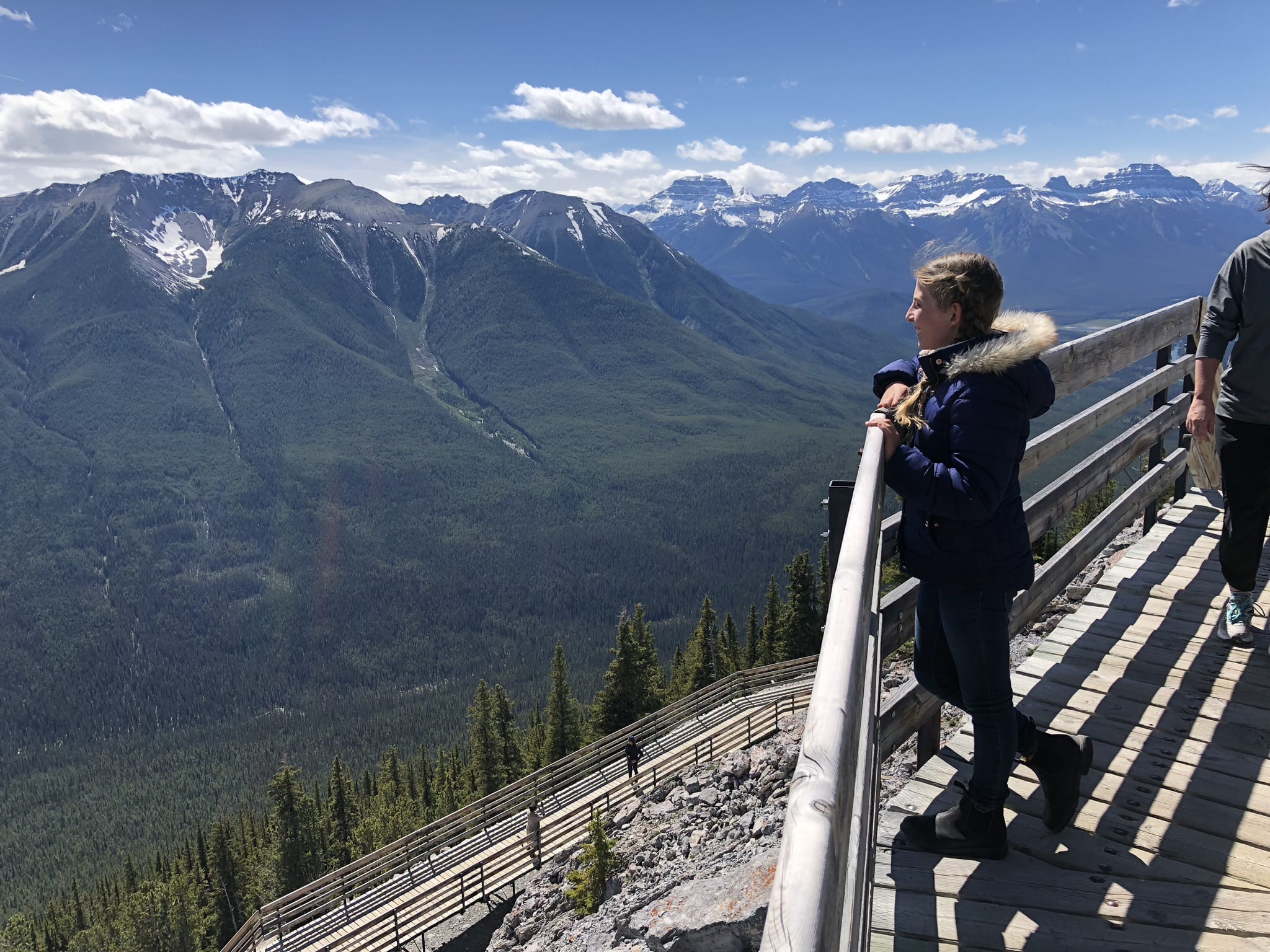 If you are looking for the most scenic spring break idea, you can't find a more beautiful place than Banff, Canada. This is probably my favorite place I have visited in years.
There is so much more to do than skiing (you can check out my things to do in Banff review here)
Looking for a luxurious place to stay for your family. Check out the Moose Lodge & Suites, the rooms can sleep up to 10 people and the rooftop pool and spa are definitely worth a visit.
---
Spring Break Ideas – City Escapes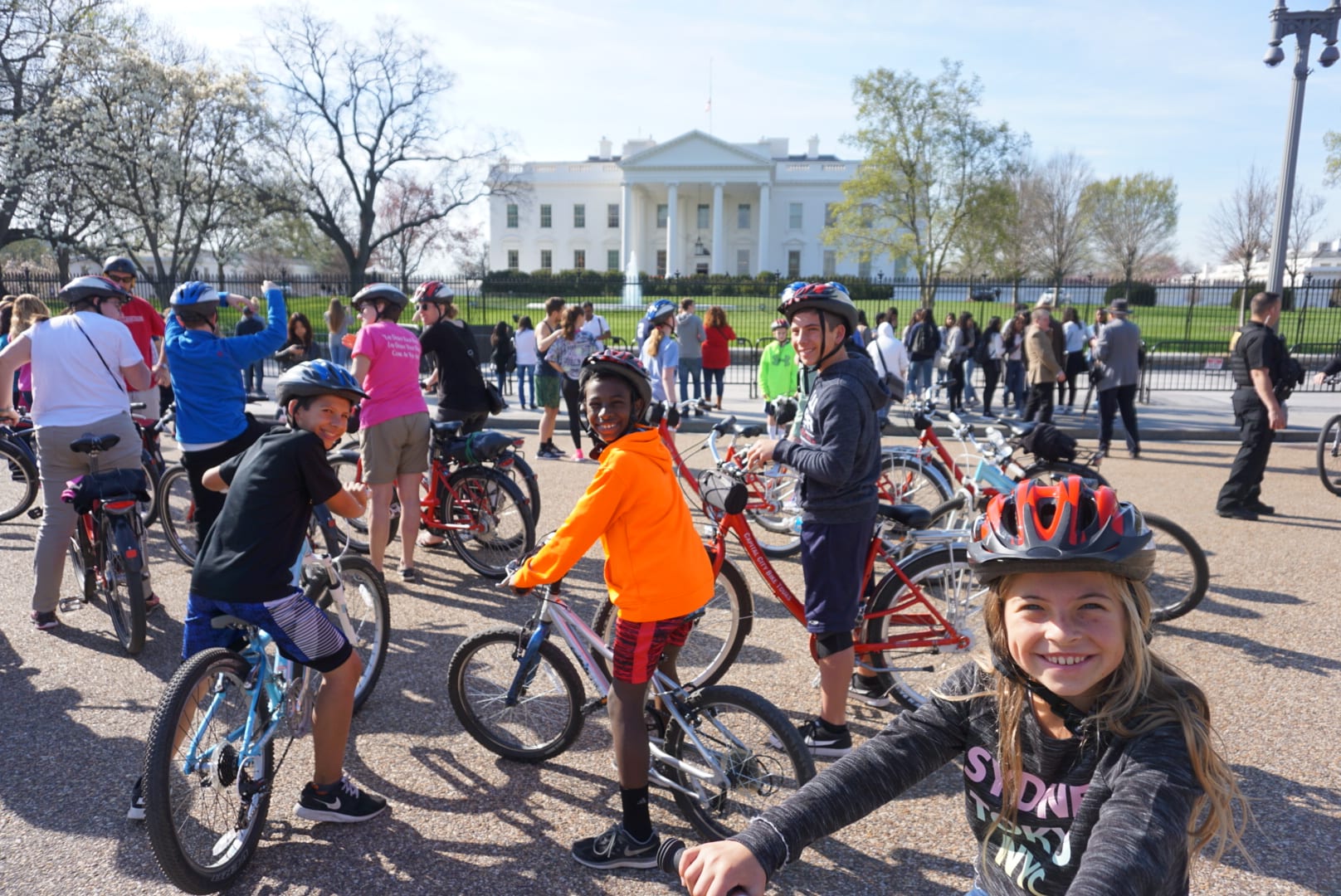 Washington DC – One of our favorite places to go for Spring Break
Washington D.C. in the springtime is definitely the best time to visit. The weather is not hot and swampy like in the summer and not freezing cold like the winter, plus you have the benefit of seeing the Cherry Blossoms in bloom + fewer crowds
DC has a ton of FREE museums to explore, parks perfect for picnics and you get the added benefit of squeezing in a few awesome history lessons too! Some of our favorite things to do in Washington DC was the spy museum, riding bikes through the Washington Mall, and of course the amazing monuments. You can check out everything to do in D.C. for Kids
For the education alone, you should add Washington DC to your list of Spring break ideas for the Family!
Check current rates on Family-Friendly Washington DC Hotels here.
---
Portland, Oregon
We could not figure out where to categorize Portland Oregon on our Spring Break Destination, it is both a city destination and also a quite unusual destination. Portland loves its quirkiness, in fact they embrace it.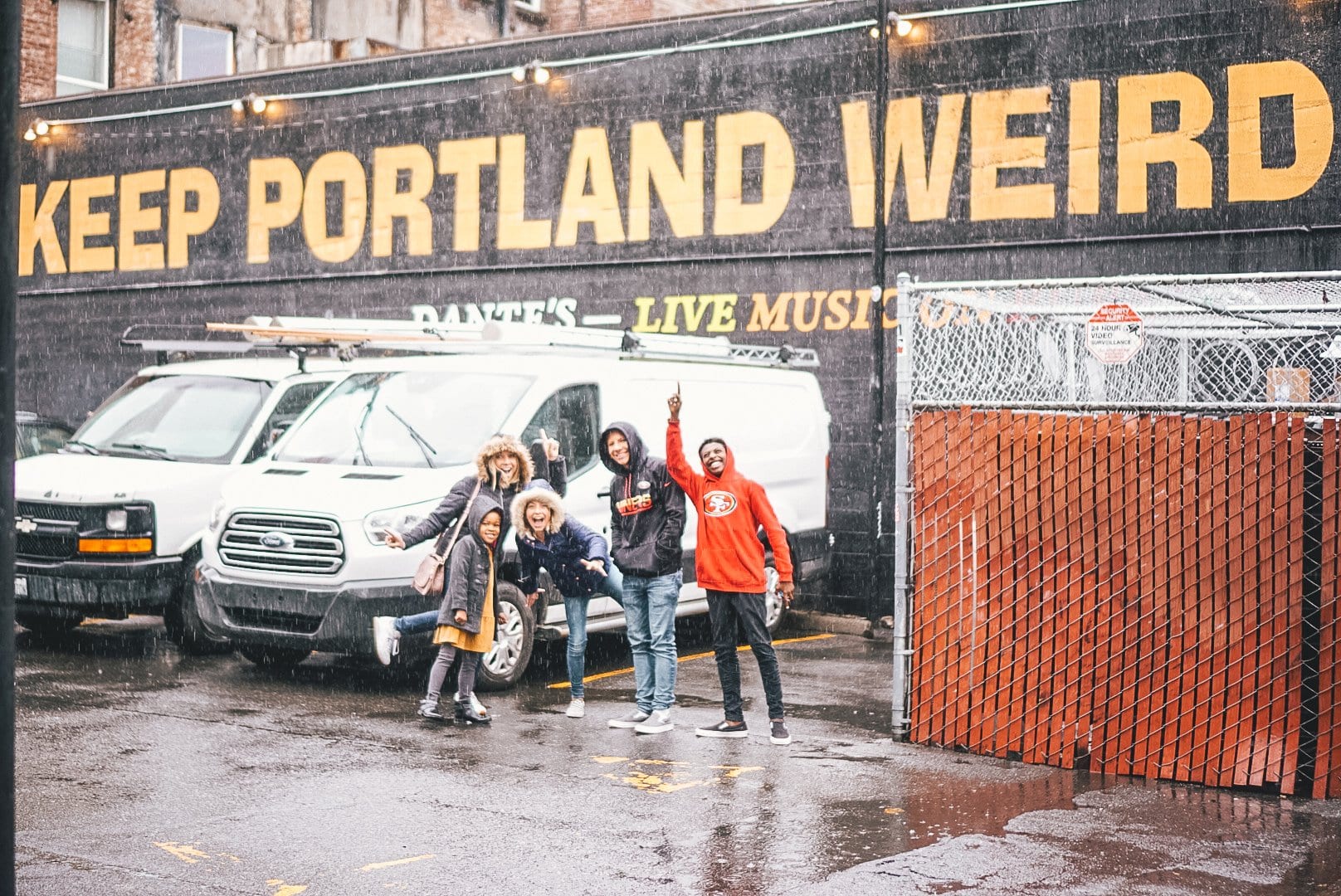 The city is filled with fun things to do for families. There are amazing places to eat, (we ate a lot of donuts and Ice cream) incredible shows and plenty of active things to do.
We absolutely loved being able to bike around the city. We also took a trip around Portland to see many of their amazing waterfalls. Plus, there are broadway-style shows and some fun sporting events to check out. There honestly is an endless amount of things you can do in Portland, Oregon. Check it out here
Let's talks some of the unusal things you can do in Portland, there are restaurants that are inside a school bus, you can visit the world's smallest park, you can go on a mural hunt (there are some interesting ones), and of course, there is a museum of horrors.
---
South East Spring Break Destinations for Families
Knoxville & Chattanooga Tennessee
Tennessee might night be on the top of your spring break ideas list, but let me tell you, it's an absolute blast. We visited both Knoxville and Chattanooga and both cities could not be more beautiful and more kid-friendly.
---
Knoxville
In Knoxville, check out the Ijams Nature Center. This is not your typical ziplining, there is an amazing ropes course and you are set back amongst thousands of trees. For little ones, the zoo is absolutely adorable and the Muse children's museum is a ton of fun. When you are hungry, head over to Market square, it's a great place to grab a bite to eat and just hang out. Check out our full list of things to do in Knoxville.
Where to Stay: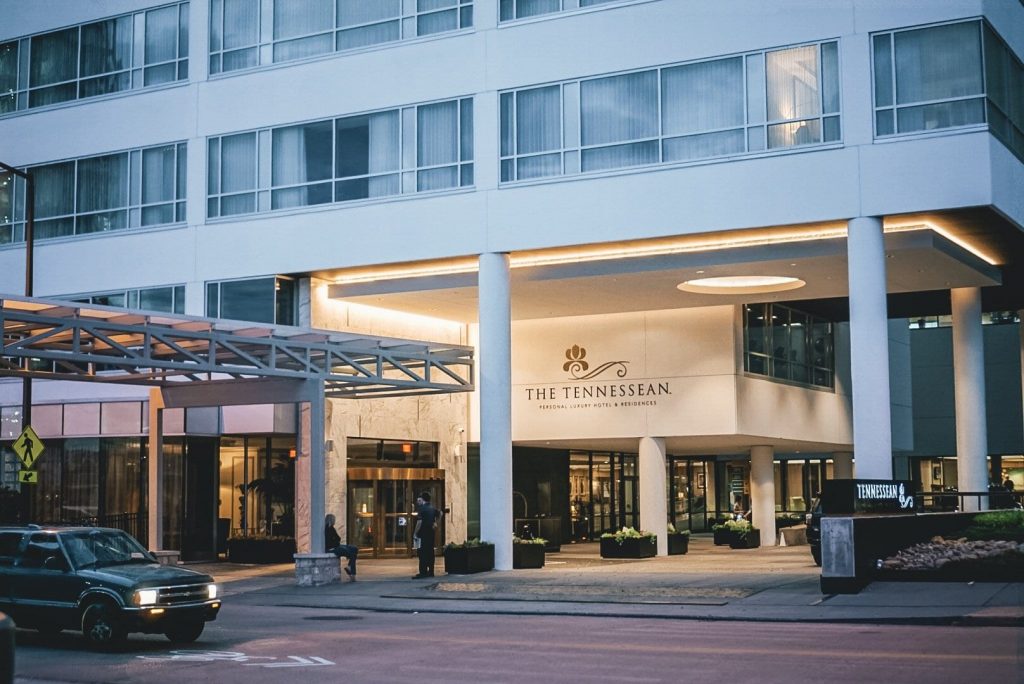 I recommend staying at THE TENNESSEAN, the rooms are beautiful and they have super spacious double king rooms with two showers for families.
---
Chattanooga
Over in Chattanooga, there is a ton of activities to do and so many are withing walking distance. The highlight of our trip was high-point climbing. It is one of the biggest rock climbing gyms.
It is perfect for families as it has different areas for small kids and older kids as well. If you are daring head outside and climb their outdoor climbing wall.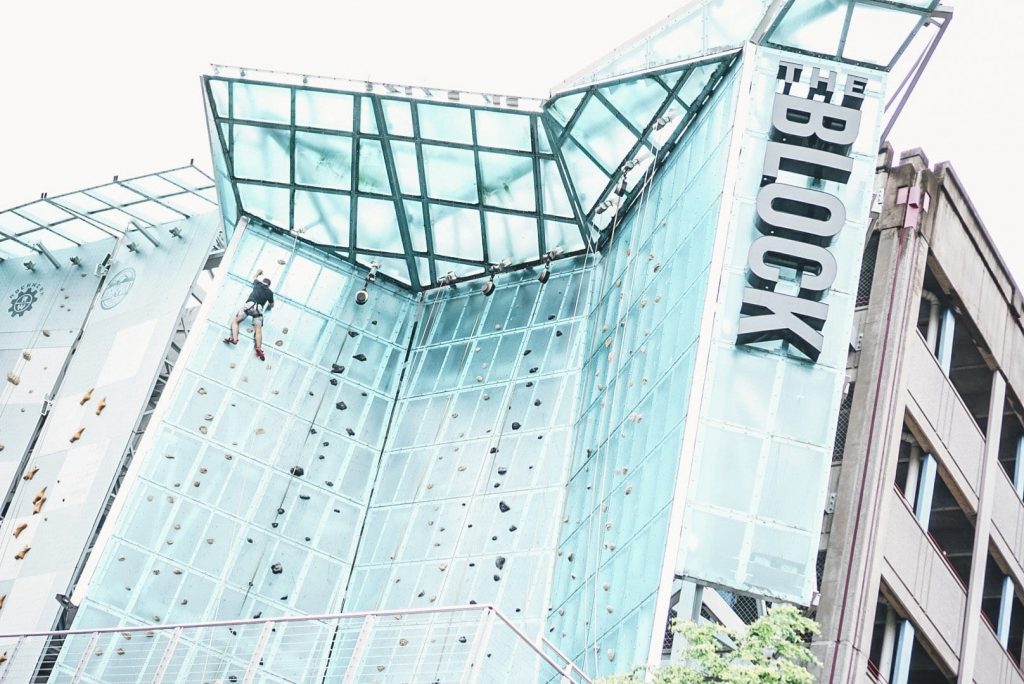 You should also check out the Tennessee Aquarium, Children's Museum, Rocky Point and Ruby Falls. Check out our best things to do in Chattanooga for families.
Where to Stay:
I recommend staying at The Read House. It is a throwback to the days of the Great Gatsby. The hotel has corner double rooms so if you have a large family you can turn the two rooms into a giant suite. There is a great indoor pool, and honestly, you can't beat the service.
---
---
Spring Break Ideas for Families on a Budget
Costa Rica
Our first ever adventure type travel trip was to Costa Rica and it was INCREDIBLE! Yes, getting to Costa Rica can be costly but once you get there it is very affordable.
There is so much to do in Costa Rica from whitewater rafting to horseback riding, flying on ziplines, to hanging out with sloths. We enjoyed amazing mud baths from hot springs and maybe the fastest natural water slide on earth.
Book an Airbnb Rental to save on accommodations, food and activities are already offered at incredible values once you are there 🙂
---
Spring Break Ideas – Arizona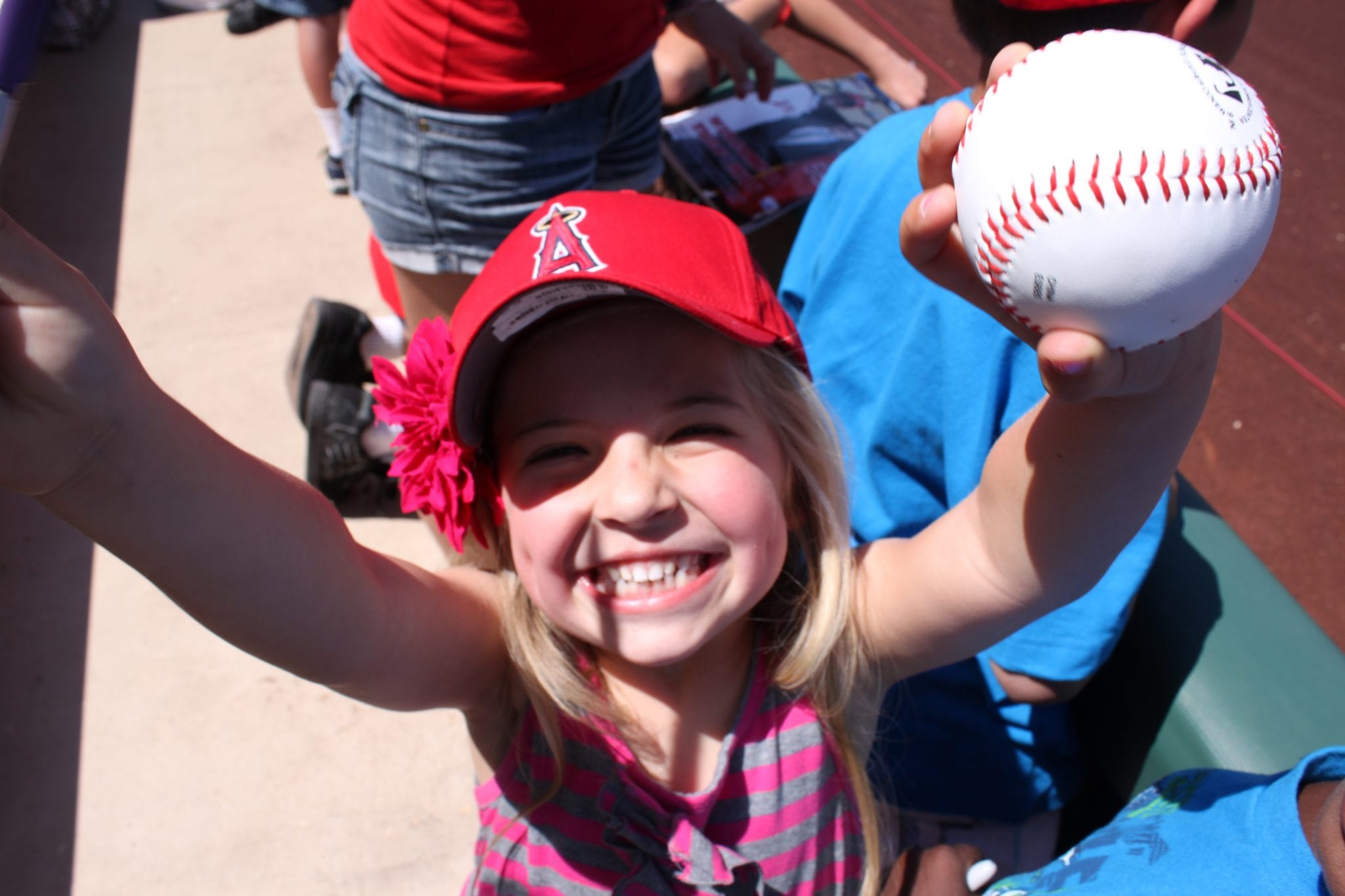 Arizona is such a fun place to go for spring break. You can enjoy all the baseball games during spring training. It is so fun to check out the games in these small intimate ballparks.
They also have a ton of other things to do including hikes, shopping in luxurious Scottsdale, or dining at some true Farm to table restaurants. It is a blast.
There are 3 Family-Friendly Resorts we recommend when visiting AZ with kids in tow.
1) The Arizona Grand

We love their on-site water park and super fun family restaurant, where kids get to enter the restaurant by wearing a bull horn hat and sliding down a slide.

2) Loews Ventana Hotel

This hotel has a gorgeous location, a beautiful pool, tons of hiking trails right from the resort, and it also has very spacious rooms.

3) Hilton El Conquistador

Another awesome choice for families is the Hilton El Conquistador Hotel
This resort is located in Tucson and it has a beautiful pool with a waterslide & the BEST churro waffles!
---
Disney Spring Break Vacation
The Iconic Disney World Vacation
Disney World is the iconic spring break vacation for families and it can both be quite luxurious and very affordable too. We love staying at Disney's Beach Club, but there are a ton of more affordable options and some incredible Disney World themed Airbnbs.
Disney World has 4 theme parks, 2 water parks, plus an incredible shopping and dining area at Disney Springs. So, whether you are into adrenaline producing rides, parades, fine dining, or just relaxing at the hotel and spa, Disney World has something for everyone.
How to Save Money at Disney World
Disney has 9 Deluxe Properties on their property, our personal favorites are Beach Club and Animal Kingdom. When you book a room through a DVC Member you can save close to 50% on your room. We highly recommend people use David's Vacation Rentals to book their rooms and save 50% off as they have the largest inventory of DVC Rooms.
You can also score discounted tickets to the parks of Disney World to help you with the cost. You can check out all my Disney World tips here!
---
Disney Cruise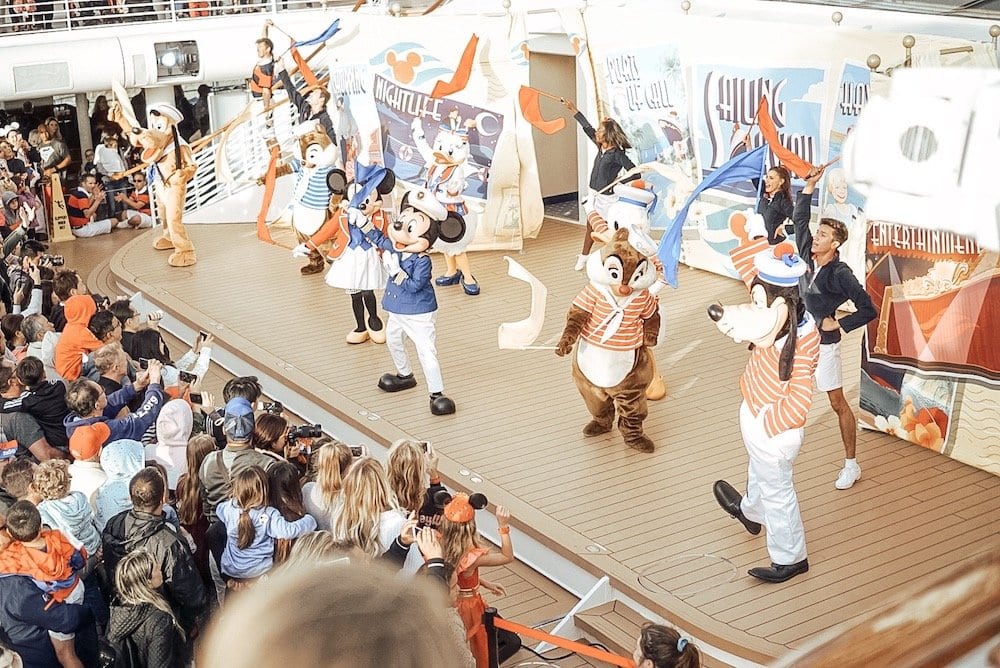 A Disney Cruise is another great option. There are so many things we love about the ship, like how the kids club is included and amazing. You can check how much a Disney Cruise costs here.
Cruise on the New Disney Wish
As a mom, I can confidently say that cruising on the Disney Wish is a perfect spring break idea for families. With its unparalleled entertainment and activities, delicious dining options, and top-notch service, the Disney Wish ensures that both parents and kids will have a blast.
We were able to experience the inaugural Disney Wish Cruise! Read all about it and our review here!
---
Disneyland & Anaheim
Why not visit the park that started it all, Disneyland. Disneyland is still my favorite theme park in the world and it's next door neighbor California Adventure is fantastic as well.
However, there is so much more to do in the city that hosts Disneyland, Anaheim. You can fly through a trapeze, see a medieval tournament, fly a jet simulator, take in major sporting events and so much more. You can check out everything to do in Anaheim here, it is an amazing destination for families.
---
The Symphony of the Seas
Our entire family can attest that the Royal Caribbean Symphony of the Seas Cruise is an amazing spring break idea for families. This massive ship boasts an incredible range of amenities and activities that are sure to delight kids and parents alike.
From thrilling waterslides to Broadway-style shows, there is never a dull moment on the Symphony of the Seas. Check out our entire review of the Symphony of the Seas here!
We also recommend checking out the Navigator of the Seas, which is another Royal Caribbean cruise we have been on! Check out our review here!
---
If you have any questions about any of these Spring Break Ideas? Let us know in the comments or send us a DM on Instagram?
---
Did you enjoy our article about Spring Break Ideas? You might also enjoy:
SPRING BREAK ARIZONA ULTIMATE GUIDE – BEST THINGS TO DO!
PLAN THE SPRING BREAK OF YOUR FAMILY'S DREAMS + GET AN AMAZING DEAL
WHY WE CHOSE UTAH FOR OUR SPRING BREAK SKIING ADVENTURE
---
Pin for Later – 23 Incredible Spring Break Ideas for Families in 2022 [Luxury & Affordable]
What is the best place to visit for Spring Break in 2023?
Oahu, Hawaii
San Diego, Ca.
Scottsdale, Az.
Cancun
Maldives
Banff, Canada
Washington D.C.
Disney Wold & Disneyland
Park City, Utah
Lake Tahoe, California
Chattanooga, TN
Knoxville, TN
The White House
Hilton Head
Red Rock
Road Trip around the United States
Where Can I go on an Affordable Spring Break Vacation in 2023?
San Diego, Ca.
Scottsdale Az.
Royal Caribbean Cruise
Disney Cruise
Where can families go for spring break in California?
San Diego
Disneyland
Los Angeles
Orange County
Palm Springs
Santa Barbara
Monterey Bay
Yosemite
Lake Tahoe
San Francisco
What are educational places to take kids on Spring Break?
Science museums (highly recommend the Kennedy Space Center)
National parks
Historical sites
Aquariums
Zoos or Amusement Parks
Art museums
Planetariums
Botanical gardens
Farms
Children's museums